Diana Stormrider Gen 2 Reviews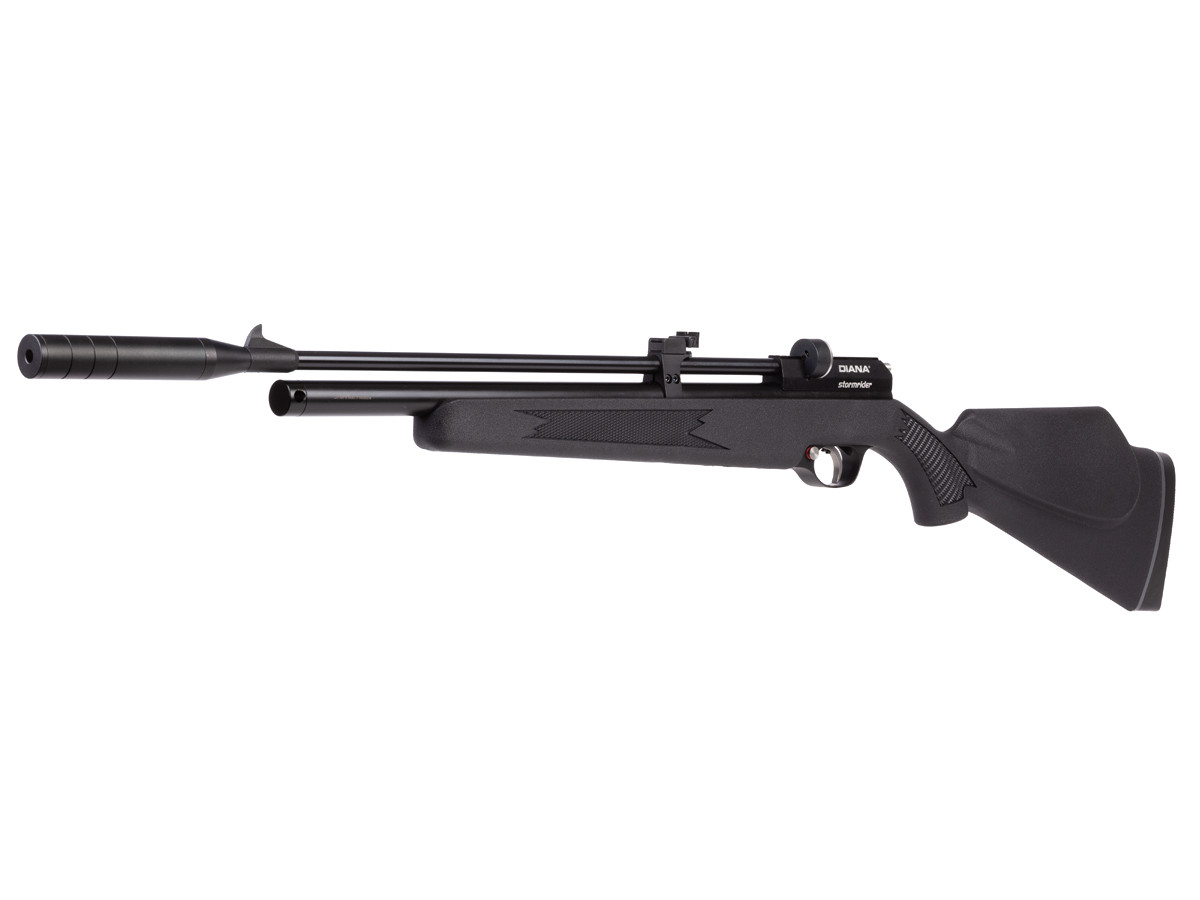 Average Customer Review
4.5
(65 reviews)
Create an online review   and share your thoughts with other customers
The most helpful favorable review
2 of 2 people found the following review helpful:
By Dick from USA on 2020-06-26 14:43:16
Things I liked:
Solid feel but light enough weight for comfort. Very accurate. Regulator available. Basic sub $200 price.
Things I would have changed:
Should have come with a second barrel band as stock. Cocking bolt is too light at M4. Should be at least M5. No charging port cover.
What others should know:
Test 1; 10.49 gr H&N Barracuda domed pellets. Hi=1034 fps, Lo=1018, Mean=1024.5, SD=5.06. Test 2: 7.4 gr Crossman Premier Wadcutters. Hi=1121 fps, Lo=1096, Mean=1107.5, SD=8.46. Stormrider likes H&N Barracuda 10.49 gr. Very Accurate. Crossman at 7.4 gr achieves higher velocity due to lighter weight. Both pellets go supersonic, so long range would require higher weight pellets for stability. This is an excellent medium to short range shooter but would certainly be a very accurate long range shooter with the right pellets, a barrel band and some regulation. As it comes from the factory, it is a terrific value for the money. I plan on testing with some heavier pellets after I upgrade with a second barrel band (on back order) and a regulator. Both tests were made with a fresh 200 bar fill for each test run. I will update after those modifications.
The most helpful critical review
0 of 3 people found the following review helpful:
By George from USA on 2022-04-06 16:24:31
Things I liked:
Well we will see how good pyramyd airs customer service is i ordered $400 a rifle an air pump,pellets and warranty and service agreement been watching my email for 3 days it was finally delivered I couldn't wait to get home from work to set it up got home and there is a shoe box size box on the steps this couldn't be its to small but it had my name and address on it from PA lord and behold they sent me someone else's $140 order no where near what I ordered customer service said they would send me a return sticker and ship my order out asap I guess it will be a week before I get my correct order Believe you me I will let you know how it turns out and the stars are not correct did not receive the merchandise yet
Things I would have changed:
Making sure the does not go to the wrong person and place
What others should know:
We will see