SIG Sauer MCX Reviews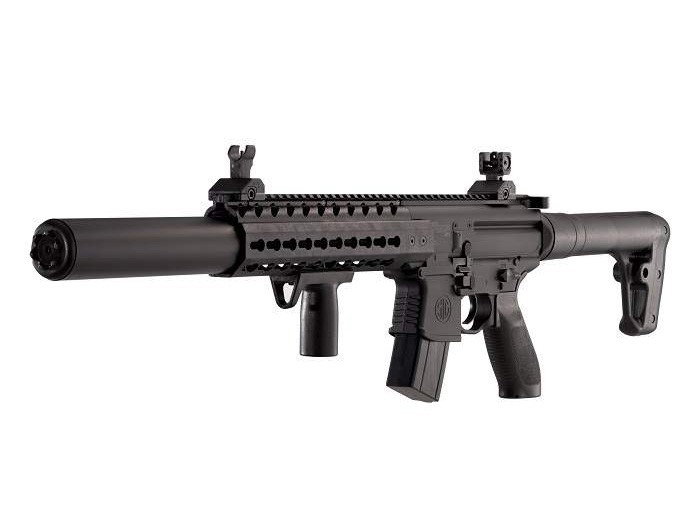 Average Customer Review
4.0
(69 reviews)
Create an online review   and share your thoughts with other customers
The most helpful favorable review
5 of 5 people found the following review helpful:
By Lucas from USA on 2015-10-09 05:15:19
Things I liked:
It is heavy 8lbs...It shoots what they claim it does 750 fps with Crossman SSP ...lots of metal (suppressor,reciever, flip up sights)..sound suppressor screws off revealing a unpainted skinney inner barrel and it appears Sig plans on offering different barrels because there is a break mid way in the barrel under the handguard where it threads together...possibly to place a A2 style barrel instead of a suppressed one...the trigger is so smooth a resets crisply..makes for great rapid fire...
Things I would have changed:
Make it like the Winchester mp4 and when you removed the mag pulling the trigger will release the bolt...not to crazy about leaving tension on the bolt or springs when it's stored but I can't use a 90 gram co2 in one sitting.. Also release an aftermarket aluminum stock instead of the plastic one it could easily be done...Also include a couple key mod rails like the MPX comes with...and make the QD sling slot in the buttstock actually accept a QD sling ..it's fake..
What others should know:
This is not a toy...if you shoot something with it... it will break that object...I defiantly feel it's strong enough to kill small game no problem.. also the Manuel states that the MCX and MPX are the same gun with the exception that the MCX has a 21 inch barrel and MPX has a 16 inch barrel... Also Im pretty sure you can thread a bulk fill adapter to the co2 spot but you would have to drill out a hole for the co2 line if you want the stock back on..
The most helpful critical review
0 of 0 people found the following review helpful:
By marc from USA on 2022-03-16 13:44:41
Things I liked:
Looks good
Things I would have changed:
Pressurized assembly is TOTAL JUNK, it will fail , Sig sells NO parts and will return or replace with the same junk, as in JUNK Look into this yourself.
What others should know:
Sig does not seem to want to remedy this, you might want to go with a brand that does it right the first time