Beeman Kodiak Extra, .22 Reviews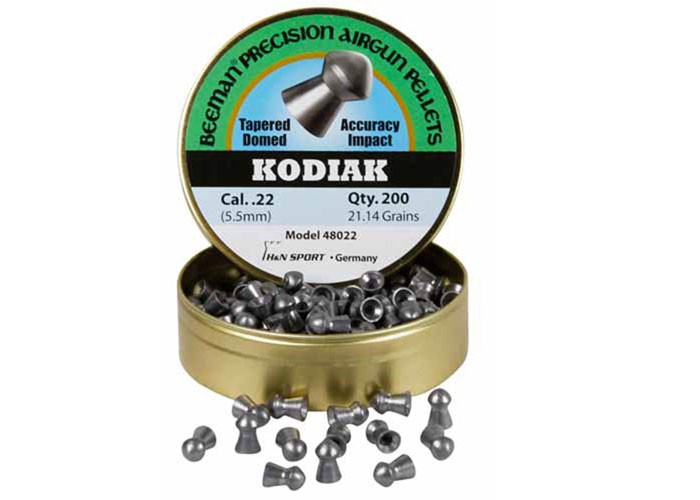 Average Customer Review
4.5
(191 reviews)
Create an online review   and share your thoughts with other customers
The most helpful favorable review
3 of 4 people found the following review helpful:
5.0 5.0
4.0 4.0
By Ronald from USA on 2011-04-07 18:19:25
Things I liked:
I have a RWS 350 magnum combo .22 and this pellet is one of the heaviest I can find. It is accurate for short distances (20 yards) then falls off. It hits hard and makes a twack that other pellets don't. By putting a little petroleum jelly in the skirt - and I mean LITTLE. I can increase the power and the speed of the pellet to blow through 1 inch wood at 20 yards. I can hit a target at 50 yards pretty hard but the patern is not tight. For a heavy pellet this one works fine if your gun has the power. They are a fine choice for large critters at short distances because it will hit hard and penetrate. Not a good all around pellet for plinking, targets and small game.
Things I would have changed:
The dome should be smoother which would help it's aerodynamics.
What others should know:
Dome pellets are good all around, they are more accurate at longer distances than wadcutter or point. The heavier pellet is less influenced by wind. Heavy pellets don't fly as far but that is not a problem 20 yards and under. Set your scope for 20 yards if your gun can do 800 to 1000 fps for greatest overall accuracy. This means your cross hairs will hit anything from 18 to 30 yards. After that the drop depends on the weight of the pellet. Heavy pellets are for bigger game at short distances. These pellets are to big for squirls, birds and anything under 20 pounds. If you were too far away these would injure but not kill - not good. It seems the RWS 350 magnum likes the RWS 14 grain pellets best but these 21 grain have their place in the total equation.
The most helpful critical review
0 of 0 people found the following review helpful:
1.0 1.0
1.0 1.0
3.0 3.0
By jack from USA on 2012-07-11 23:05:26
Things I liked:
These pellets do not work well with the Walther Talon Magnum, or the Benjamin Discovery. The Crosman Ultra Magnum worked very well with both rifles. The Crosman Hollow points gave slightly better groups and the JSB match JH 18.13gr the best (Walther Talon). The best I found for the Discovery has been the JSB Jumbo Express Diabolo 14.35gr. In fourth place and almost as bad as these Kodiaks were the RWS Superdome 14.5gr. My targets are set at 35 and 50 yards. I used a bench rest and the iron sights on the Walther Talon Magnum and a 4-16x44 scope on the Benjamin Discovery. So, maybe better results can be had at close range with these pellets, 10 yards or so, but I have not tested nor plan to do any shooting at such a close range.
Things I would have changed:
Not to have selected these as a free 4th tin to try out.
What others should know:
These fit very well in both rifles. Maybe they will work well in yours. But I do not recommend wasting your money on these if you own either of the two rifles mentioned.