Posts Tagged 'spring-piston'
by Tom Gaylord, a.k.a. B.B. Pelletier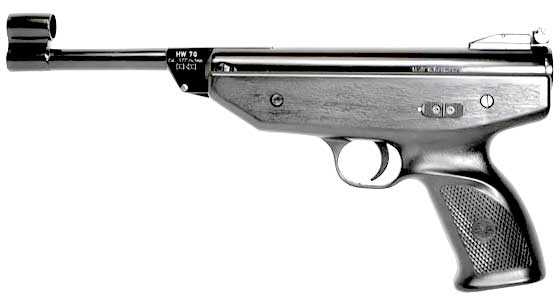 Beeman's HW 70A breakbarrel spring pistol.
Okay, there's some interest in this Beeman HW 70A, but many of you have avoided it like I have. Let's see what it can do.
First, the cocking effort. HW advertises 21 lbs., however the test pistol registered 27 lbs. on my bathroom scale. While that may not sound like a lot, remember this is a close-coupled pistol, so there's no long lever like you have on a breakbarrel rifle. So, 27 lbs. does feel like a lot.
The trigger-pull, on the other hand, is very light. The test pistol releases at just 2 lbs., 3 ozs. And that's after I adjusted it to be heavier. I'd gotten it so low that it surprised me when it went off. That felt too dangerous; but where it is now feels pretty good.
Premier 7.9-grain domes
The first pellet to be tested was the Crosman Premier 7.9-grain pellet. It averaged 371 f.p.s., and the spread went from a low of 364 to a high of 381 f.p.s. At the average velocity, this pellet generates an average 2.43 foot-pounds of energy at the muzzle.
RWS Hobby
Next up was the 7-grain RWS Hobby. As light as they are, I expected Hobbys to be the speed demons of the bunch, but they weren't. Hobbys averaged just 363 f.p.s., with a spread that went from 354 to 372 f.p.s. At their average velocity, Hobbys produced 2.05 foot-pounds of energy at the muzzle.
Beeman H&N Match
The last pellet I tested was the Beeman H&N Match pellet. This wadcutter weighs 8.18 grains and was the heaviest pellet I tested. The average nuzzle velocity was 383 f.p.s. — making this not only the heaviest but also the fastest of the 3 pellets tested. The range went from 371 to 395 f.p.s. At the average velocity, they generated 2.67 foot-pounds of energy at the muzzle.
I was puzzled
After testing these 3 pellets, I was puzzled about the velocity claims of 440 f.p.s. by the manufacturer. I thought that Hobbys would at least get close to that number, but as you can see, they were the slowest pellets of all, not to mention being the lightest. That made me wonder why they would be so slow. It seemed that they were also the pellet with the largest skirt, so maybe the gun was having difficulty overcoming the pellet in the breech. That's when I thought about deep-seating each pellet with the Air Venturi Pellet Pen and Seater to see how it would change — if at all.
Deep-seated Hobbys now averaged 419 f.p.s. and the spread that had been 18 f.p.s. before was now down to just 9 f.p.s. The muzzle energy went up from 2.05 foot-pounds to 2.73 foot-pounds.
H&N Match also increased, but the difference was much less. After deep seating, they averaged 392 f.p.s. and generated 2.79 foot-pounds at the muzzle. The total spread dropped from 24 f.p.s. to just 7 f.p.s.
Even Premier lites increased from 371 to 380 f.p.s., bumping the muzzle energy to 2.53 foot-pounds. And the total spread dropped from 17 f.p.s. to just 8 f.p.s.
Deep-seating seems to help calm this gun down and also to boost velocities. I guess I'll have to try it when I test the pistol for accuracy, as well.
Impression thus far
Though the velocity seems to be a little low, the firing behavior is smooth and positive. The pistol feels right when it fires, and I think it's going to turn in some surprising accuracy. But we shall see.
by Tom Gaylord, a.k.a. B.B. Pelletier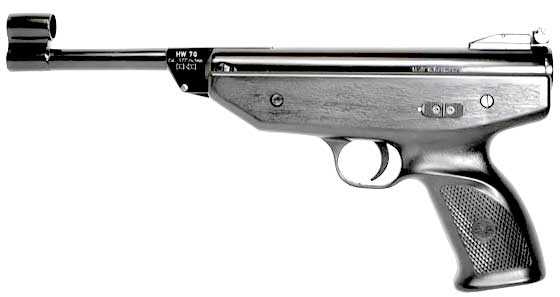 Beeman's HW 70A breakbarrel spring pistol.
I'm about 19 years late on this report. The Beeman HW 70A air pistol was around in 1994 when I started writing about airguns, and I ignored it — finding other guns to occupy my time. I guess there are several reasons for that.
For starters, this pistol always looked large and rough to me. I never saw one of these guns close up in the early days, and I certainly never shot one; but I did see the BSF S-20 pistol that looked for all the world like a small air rifle — cut down and fitted to an outlandish wooden pistol grip. I projected that image onto the HW70, as in the catalog photos it looked very similar.
It was called just the HW 70 back in those days. The "A" designator was added to the model number when they put it into a synthetic black pistol grip that's on the gun I'm testing for you now. And the size was mostly an illusion. This pistol is similar to a Crosman 2240 rather than the outlandish BSF S-20.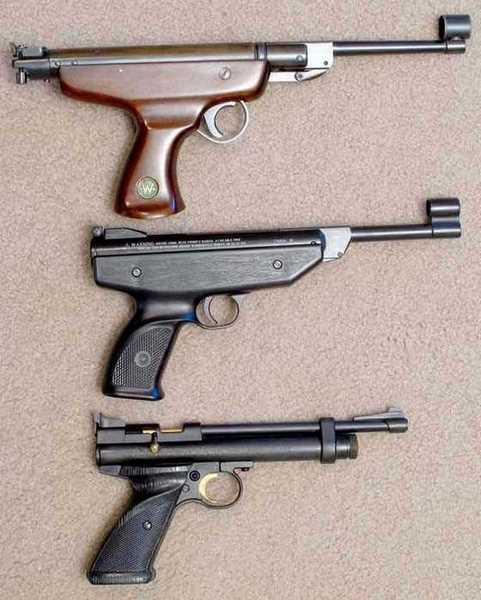 Compared to the BSF S-20 (top) and the Crosman 2240 (bottom), the HW 70A doesn't seem that big.
For those with a real collector bent, the automatic safety was added some time after the A model was already on the market — so the auto safety on the left side of the stock isn't what makes it an A version. It's the synthetic stock. There are A-version guns with synthetic stocks and no auto-saftety out there in collectorland, for those who obsess over minutia.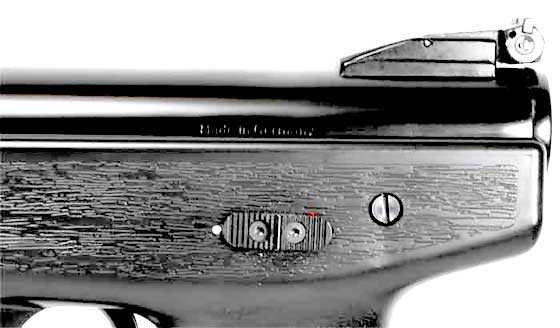 The automatic safety switch is on the left side of the stock.
Another turn-off for me was the anticipated cocking effort such a pistol was sure to require. I imagined cocking it would be like bending the bow of Hercules. I had also thought that about the big BSF and only discovered after getting one that the gun is relatively easy to cock. The HW 70A, on the other hand, does take some muscle power, and that can be attributed to its 6-inch barrel, which is rather short for a breakbarrel springer.
And, finally, I was concerned that the pistol would be very rough to shoot. When I got to shoot the BSF, its smoothness surprised me, but it's nothing compared to this HW 70A. This is a very smooth air pistol!
Perhaps, that's because the makers are not trying to send pellets downrange at the speed of light. The velocity specs of the .177 HW 70A have been 440 f.p.s. for as long as I've been writing about airguns. What it can really do is something we'll discover together as I test this gun for you.
I know this — the HW70A is not usually the top air pistol on anyone's list. Those who want power will gravitate toward the Diana RWS LP8 or the Beeman P1. Others wanting accuracy will go for the Beeman P17 or perhaps the IZH 46M. Almost nobody goes after the HW 70A as a first choice.
The pistol
This is a breakbarrel spring-piston air pistol that comes in .177 caliber, only. It weighs 2 lbs., 6 oz., and the grip is contoured to fit very well in medium to large hands. The grip/stock is black synthetic and checkered on both sides. The triggerguard is molded right into the stock.
Extensive use is made of aluminum in the construction of this pistol. The spring tube and outer barrel jacket are made of it, but the true barrel is a thin steel tube inside the outer jacket. The finish is a dark black epoxy that will fool everyone into thinking it's black oxide, which is what we commonly call bluing. I only know that from an old Beeman catalog entry.
Most of what the hand touches on this pistol is cold metal, except for the grips. Even the sights that could be made from plastic are metal.
The pistol is very nearly 100 percent ambidextrous. The only feature that favors one side over the other is the safety switch that slides on the left side of the stock.
The barrel is held closed by a ball-bearing detent that allows the barrel to open easier, while still maintaining a tight seal when closed. It's a classic means of locking the barrel when the pressure level doesn't go too high.
Trigger
The trigger is two-stage and adjustable for pull weight. A screw in front of the trigger blade is turned to make the adjustment. It seems like the adjustment acts on a direct sear, apparently decreasing the sear contact area. Even if that's not the case, though, I was able to adjust the trigger too light for safe operation. The second-stage stop disappeared, and I had a trigger that was guesswork instead of positive; so, I adjusted it back to where it had been from the factory, and that's where I'll leave it.
The trigger blade is wide and smooth. It's made of aluminum, which will appeal to many shooters.
Sights
The sights are thankfully NOT fiberoptic! The rear sight is fully adjustable. Elevation has crisp detents, but windage has none, nor is there a scale for reference. You just have to watch where the notch is and where it moves when you adjust it.
The front sight is a very sharp, square post that fits very well into the rear notch. It's covered by a steel hood to protect the hands when cocking.
Accuracy
The Beeman catalog used to claim this pistol could group 5 shots in 0.32 inches at 10 meters. I'll test that when we get to the accuracy report. The gun is not scopeable by normal means, but at one time Beeman sold a special model called the Black Arrow that did come scoped. It had a proprietary scope mount that replaced the rear sight, but it's no longer available.
That doesn't matter to me because I would only shoot a handgun like this with open sights anyway. But some shooters want to scope even their handguns, so they need to know that this one can't be scoped.
I'm looking forward to testing this airgun — I have been for nearly two decades. It's time to hear the fat lady sing!
And now for something completely different
Pyramyd Air is looking for a manager for their tech department. This position was posted on the blog several weeks ago, but they're still looking. If you're interested, please apply. Below is the job info and where to send your resume.
Directs and coordinates activities of the department in providing customers technical services and support; directly supervises employees. Responsibilities include but are not limited to:
Coordinates technical support services between management, tech support staff, sales department, and customers.
Establishes and documents department procedures and objectives.
Accomplishes department objectives by selecting, orienting, training, assigning, coaching, counseling, and disciplining employees; communicating job expectations; and monitoring performance.
Maintains and improves support operations by monitoring staff and system performance, identifying and resolving problems, and preparing and completing action plans
Provides technical assistance to customers and labor quotes. Handles escalated calls or provides assistance requiring more complex issues.
Installs common accessories and kits in accordance with customer orders.
Performs tests on guns to determine advertised performance specifications.
Required experience, skills and background:
Bachelor's degree and 3 years managerial experience, or an equivalent combination of education and experience required. Previous industry experience required.
Must be detail-oriented with good mechanical aptitude.
Ability to prioritize and multi-task.
Good communication and customer service skills.
Good computer skills.
Hours: Monday through Friday, 9am until 5:30pm; longer hours and some Saturdays are expected, especially during our busy peak periods.
Preferred experience, skills and background:
Previous experience in airgun repair or troubleshooting desired.
Send your resume to resumes@pyramydair.com
by Tom Gaylord, a.k.a. B.B. Pelletier
Let's begin testing the effects of oiling pellets. There are numerous ways to approach this issue, and I have to pick one at a time and limit the test to just that. But I think as long as I'm testing one aspect, I ought to test it thoroughly so someone can't come back and second-guess me later in the report.
So, today I'll test with one rifle, and the next time I'll test with another. What I won't do is test with each different brand of airgun, just to see what will happen. If a powerful gas spring rifle performs in a certain way, I'll assume that all powerful gas spring rifles are going to do the same. If the difference between dry pellets and oiled pellets is close, I may do additional testing; but if there's clear separation, I'll accept that as the way it works.
What am I testing?
The question that started this experiment was, "How much faster will oiled pellets shoot than those that are not oiled?" One reader has asked me to also test this downrange because he wonders if a thin coat of oil changes the laminar flow of air around a pellet. I may get to that at some point, but for the present I'm just concerned with muzzle velocity because all pellets slow down after they exit the muzzle — oiled or not.
I suppose this needs to be tested in all three powerplant types, but today I'm testing it in a spring-piston powerplant. Today's gun is a weak powerplant, so next time I'll test it in a more powerful gun.
I'm using an HW55 SF target rifle to test three pellets. This rifle is a variation of the old HW50 rifle, so it shoots in the 600-650 f.p.s. region with lead pellets.
Since oiled pellets will leave a film in the bore, I tested all pellets dry first, and then tested the oiled pellets afterwards. Before the first test shot with oiled pellets, I fired two pellets to condition the bore. That turned out not to be enough, but I'll come to that later.
Pellet shapes
I'll test the three major pellet shapes in this test. They're the wadcutter, dome and pointed head. There are other shapes, like hollowpoints, but they're based on one of these three main shapes, so this is all I'm testing.
How I oil pellets
I oil pellets in the following manner. A foam liner is placed in the bottom of a pellet tin, and 20 drops of Whiscombe Honey are dropped onto the foam. Then, a single layer of pellets is spread on the foam, and the tin is rolled around. I shake the tin lightly to move the pellets around…but not enough to damage them. Whatever oil transfers to the pellet is all the oil it gets. I've been doing this for many years and it works well.

Twenty drops of oil on the foam is what I use. Then, a single layer of pellets.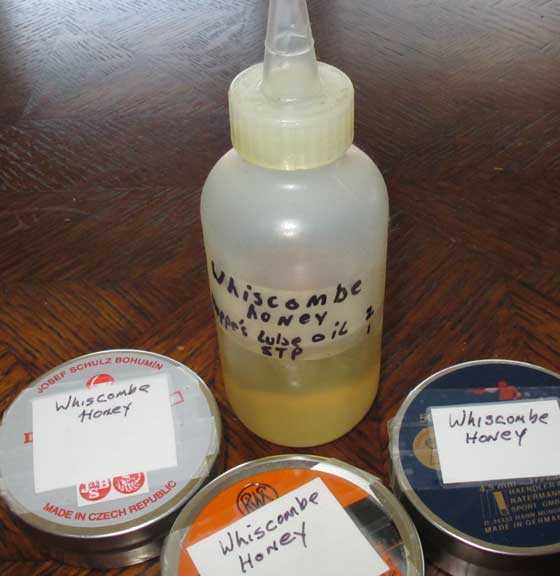 One tin for each type of pellet used in the test.
The pellets end up with a very light and uniform coat of oil. When I handle them the tips of my fingers become oily, but I can't see any oil on the pellets. Other people use more oil than I do, but this is what I am testing.
Whiscombe Honey is a mixture of two-thirds Hoppes Gun Oil (not Number 9 bore cleaner!) and one-third STP Engine Treatment, by volume. Shake the mixture until is takes on a light yellow color. It will look like thin honey, hence the name. This mixture should not detonate easily in a spring gun.
Test one — dry pellets
Crosman Premiers
Crosman Premier 7.9-grain pellets were the domes I tested. The average velocity for dry Premiers was 606 f.p.s., with a low of 577 and a high of 616. So, the spread was 39 f.p.s. The average muzzle energy was 6.44 foot-pounds.
Gamo Match
For wadcutters, I tested Gamo Match pellets. The average for dry pellets was 652 f.p.s., with a low of 640 and a high of 663 f.p.s. The spread was 17 f.p.s. The average energy was 7.14 foot-pounds.
H&N Neue Spitzkugel
The pointed pellet I selected was the H&N Neue Spitzgugel. When shot dry, they averaged 601 f.p.s., with a low of 585 and a high of 620 f.p.s. The spread was 34 f.p.s. The average muzzle energy was 6.81 foot-pounds at the muzzle.
Oiled pellets
Now, I shot two oiled pellets through the bore to condition it and began the test.
Oiled Crosman Premiers
Oiled 7.9-grain Premiers averaged 591 f.p.s., but the spread went from a low of 545 to a high of 612 f.p.s. That's a spread of 67 .p.s. The average energy for oiled pellets was 6.13 foot-pounds. I did notice the pellets were going faster at the end of the shot string, so I thought I might come back to them after testing the other pellets.
Oiled Gamo Match pellets
The oiled wadcutters averaged 658 f.p.s. — a slight gain over the dry pellets. But the real news was the spread, which went from a low of 651 to a high of 663 f.p.s. Instead of a 17 f.p.s. for the dry pellets, the oiled pellets gave a spread of just 12 f.p.s. That's too close to draw any conclusions, but it's interesting. The average energy with the oiled pellets was 7.27 foot-pounds. So, with the oiled pellets, the velocity went up — along with the energy — and the shot-to-shot variance went down.
Oiled H&N Neue Spitzkugel
Oiled Spitzkugels averaged 609 f.p.s. — which was a small increase over the same pellet when dry. The average energy was 6.99 foot-pounds. The spread went from 585 to 620 f.p.s, which was identical for the same pellet dry. Velocity and energy were both up slightly from dry pellets, and the shot-to-shot variance remained the same.
By now, it's obvious that the bore needed more than two shots to condition it, so I retested the oiled Crosman Premiers. The second time the oiled pellets averaged 604 f.p.s., which is just 2 f.p.s. slower than the same pellets dry. But the spread that was 67 f.p.s. on the first test of oiled pellets and 39 f.p.s. with dry Premiers now went from a low of 594 to a high of 613 f.p.s. — a much tighter 19 f.p.s. total. The average energy was 6.40 foot-pounds.
Observations
From this test, I observed that these three pellets either remained at the same velocity or increased very slightly from the light oiling I gave them. In two of the three cases, the velocity spread got tighter when the pellets were oiled.
I further observed that it's necessary to condition a bore with oiled pellets before doing any testing. As a minimum, I would say that 20 oiled pellets should be fired before testing.
These are very small differences from oiling; and although I can't draw any conclusions yet, I would think that such a small change is not enough to matter. It hardly seems worth doing at this point. However, there's still a test to be done in a powerful airgun. Until we see those results, I think it's too soon to say anything for sure.
Although the question that drove this test was how much faster oiling pellets makes them shoot, I think we still have to take accuracy into account before forming any opinions.
And now for something completely different
Pyramyd Air is looking for a manager for their tech department. If you're interested in the position, below is the job info and where to send your resume.
Directs and coordinates activities of the department in providing customers technical services and support; directly supervises employees. Responsibilities include but are not limited to:
Coordinates technical support services between management, tech support staff, sales department, and customers.
Establishes and documents department procedures and objectives.
Accomplishes department objectives by selecting, orienting, training, assigning, coaching, counseling, and disciplining employees; communicating job expectations; and monitoring performance.
Maintains and improves support operations by monitoring staff and system performance, identifying and resolving problems, and preparing and completing action plans
Provides technical assistance to customers and labor quotes. Handles escalated calls or provides assistance requiring more complex issues.
Installs common accessories and kits in accordance with customer orders.
Performs tests on guns to determine advertised performance specifications.
Required experience, skills and background:
Bachelor's degree and 3 years managerial experience, or an equivalent combination of education and experience required. Previous industry experience required.
Must be detail-oriented with good mechanical aptitude.
Ability to prioritize and multi-task.
Good communication and customer service skills.
Good computer skills.
Hours: Monday through Friday, 9am until 5:30pm; longer hours and some Saturdays are expected, especially during our busy peak periods.
Preferred experience, skills and background:
Previous experience in airgun repair or troubleshooting desired.
Send your resume to resumes@pyramydair.com
by Tom Gaylord, a.k.a. B.B. Pelletier
This report will be lengthy because I want to test several aspects of oiling pellets. For starters, I want to test it with spring guns, PCPs and CO2 guns just to get a complete picture of what, if anything, oiling pellets is doing in each of those powerplants. I'm interested in velocity because of the question that spawned this blog, but accuracy might also be interesting to test.
The question
We received this question in the following form. I will paraphrase, but this is the gist of it, "How much faster do pellets go when they are oiled?" That question came in on one of our social networks and was referred to me for an answer. Well, you know me! Give me a topic and I turn it into a week's worth of blogs. But this question really begged for the full treatment because there's so much to cover.
History
When I got interested in shooting airguns as an adult in the middle 1970s, the question of oiling pellets wasn't around (as far as I know). In talking with the late Rodney Boyce, I learned that the oiling question really came to a head when PCPs first started being used in the early 1980s. A PCP shoots very dry air, and their barrels are made from steel; so, at the higher velocities, they tend to get leaded bores. Some shooters were also oiling pellets for their spring guns; but a lot of the time they did it because they washed the pellets, thinking the black compound on them was dirt. In fact, it was anti-oxidant to keep the pellets from turning to white dust. Had they just left the pellets alone, they wouldn't have oxidized.
In defense of the spring-gun guys who washed their pellets, though, some brands did have a lot of lead swarf (flakes of lead from the manufacturing process) inside some of the pellets, and vigorous washing did remove it. But then the pellets needed to be oiled again, or they would quickly oxidize.
Why we oil pellets
We oil pellets for two reasons. The first is to prevent the oxidation of the lead after washing. The second is to reduce the leading of the bore, though this is principally a PCP problem. Other pneumatics either shoot too slowly or they have brass or bronze barrels that do not allow the lead to attach itself, so they do not lead up.
Do oiled pellets shoot faster?
That was the question that started this report. I've tested this in the past and found that with a PCP shooting .177 pellets at 850-900 f.p.s., oiled pellets went slower, not faster. But that was just one test, and I don't want to say what oiling will do for other guns until I do some more testing.
Flimflam man
I'll tell you this — oiling pellets became such a hot topic in the late '90s that people were swapping their favorite secret formulas on the internet. And I know one UK company that sells an oil for pellets that they still claim gives increased velocity. Well, that's too good to pass up, so I'll test some of their oil in this test.
Not just oil
Don't think that oil is the only thing people put on pellets. I remember lengthy discussions of how to apply a thin even coat of wax on pellets. Then, the topic shifted to what kind of wax to use! One guy went so far as to specify a high-tech boat hull compound called Bo-Shield for his pellets. When he talked about it his eyes got that faraway stare, as though he was transcending the real world and entering the spirit world.
What I will test
The first thing I want to do — have to do, in my mind — is test what the application of oil does to the velocity of pellets. Okay, that opens about 10 worm cans, right there:
What constitutes "an application of oil"? (I have seen paragraphs of instructions telling you how to know if the application of oil has been enough or if you need more.)
Am I testing this on lightweight pellets? Heavy pellets?
Do I test a powerful springer as well as a lower-powered springer?
Do I also test this on a precharged pneumatic?
A powerful PCP and a lower-powered PCP?
What about testing on a CO2 gun?
And on and on….
I think the best approach is to ask the question: Why do we oil pellets and who does it? We know that people who wash pellets also oil them, and we know that PCP users oil them; so that includes all the categories above. I don't see a need to go to the extremes with this test. I'm not HP White Labs, and this isn't a burning consumer question. If the findings suggest further testing, I could decide at that point?
What about the possible side effects?
Will oiling a pellet cause extra dieseling? Maybe. Is that what's behind those flimflam salesmen who claim that oiled pellets go faster than dry pellets? I don't know for certain; but as long as I'm going down the path, this is something I want to look at. Obviously, we're talking only about powerful spring guns.
Does oiling affect accuracy?
I don't know, but it seems we ought to find out. This gives me another excuse to unlimber my R8…so, hurrah!
Have I forgotten anything?
You tell me if I've overlooked any test that ought to be conducted. This isn't a guessing game or a creativity contest, so please tell me only things that really matter to you.
by Tom Gaylord, a.k.a. B.B. Pelletier
Today, blog reader Paul Hudson shares his Theoben Crusader rifle with us. The Crusader is not as well-known in the U.S. as some other Theoben models, so this will be an interesting report.
If you'd like to write a guest post for this blog, please email us.

With its walnut stock, the Theoben Crusader is a large, handsome airgun.
The Theoben Crusader is a high-power breakbarrel airgun, identical in size and performance to the Beeman R1. Its stablemate, the Theoben Eliminator, seems to get far more press since it's one of the most powerful breakbarrel airguns available. That power comes with a high price — a cocking effort of 50+ lbs. — that most shooters are not willing to endure for very long. The Crusader, on the other hand, is far easier to cock and is a more practical airgun. Based on the used guns I've seen for sale, either the Crusader sales are much lower or people tend to keep them. Few are seen on the usual airgun sales sites or at airgun shows.

The Crusader is a high-quality spring-piston rifle.
Measuring a full four feet in length and weighing 8 lbs., 3 oz. unscoped, the Crusader is a large airgun. Mine is .177 caliber; but .20, .22, and .25 calibers are also available. The Lothar Walther barrel is 16 inches long, and a muzzlebrake is standard equipment (.22-caliber Crusaders have an Anschütz barrel). There are no baffles in the muzzlebrake. No open sights are supplied by the factory, making an optical sight a necessity. My rifle has a right-hand walnut stock, but an ambidextrous stock can be had from the factory as a no-cost option. The pressed checkering does give enough grip to be functional. A very good non-slip recoil pad keeps the rifle in place. No plastic parts are used on the rifle.
The metal work on the Crusader is first-rate, with a high polish that's typical of many British airguns, and the wood-to-metal fit is excellent. Allen-head screws are used throughout the gun except for one screw that secures the triggerguard.

Behind that screw, a Schrader valve allows the owner to change the air pressure in the gas spring. Note the thumb rest in the stock.
A gas spring
Like all Theoben springers, the Crusader uses a gas spring, not a metal spring. Cocking is butter-smooth and requires 38 lbs. of effort. The piston includes a sliding weight that reduces piston bounce and felt recoil. A Schrader valve at the rear of the receiver allows the pressure in the gas spring assembly to be adjusted to vary the power of the gun. Upon firing there's no spring twang or vibration, just a quick snap. The sound level is moderate. And, due to the size of the gun and careful tuning, the felt recoil is mild for the power level.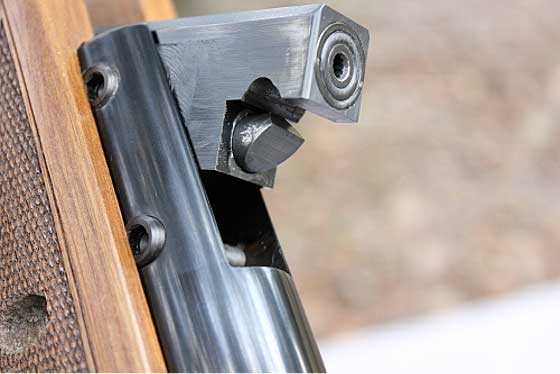 The lower bolt is pinched between the breech block and the locking wedge to prevent vertical barrel movement. Note the taper at the rear of the barrel to make pellets easier to seat.
The barrel pivot setup on the Crusader is a little unusual. Most breakbarrels use a breechblock that's close to the width of the forks of the receiver. Wide, thin shims may also be present between the breechblock and the receiver forks. The pivot bolt is then tensioned to the point that the lateral barrel movement is constrained. The breechblock on the Crusader has much more side clearance. Belleville washers are used to control the lateral movement. Belleville washers are cone-shaped from the side and are actually considered to be springs. A second bolt behind the pivot bolt mates with a hook on the back of the breechblock. The locking wedge pulls the breechblock tightly against this bolt to control the vertical movement of the barrel. Like many classic Webley rifles, the Crusader takes a bit of a slap to open the barrel for cocking.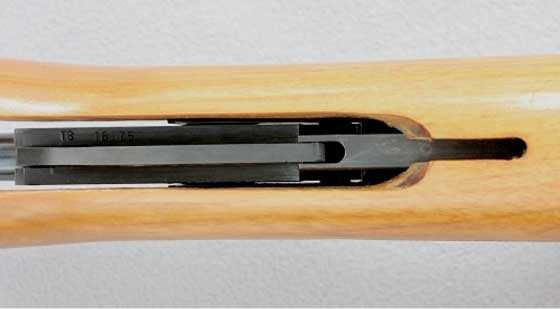 The unusually wide breechblock/fork clearance is visible from below the action. (The photo is overexposed, leading to the yellow stock color. This was necessary to bring out the detail within the cocking slot.)
The trigger
The Evolution trigger of the Crusader and other models has been criticized by some; and given the price of the gun, that may be justified. No creep is felt in the first stage, but the second stage is not as crisp as a Rekord trigger. As the gun came from the factory, the second stage breaks cleanly at 1 lb., 13 oz. The safety blade resides in front of the trigger and automatically sets when the gun is cocked. It can also be manually reset. Overall, I would rate the Crusader trigger as very good, just not quite as good as a Rekord or TX200 unit but not a reason to avoid the gun.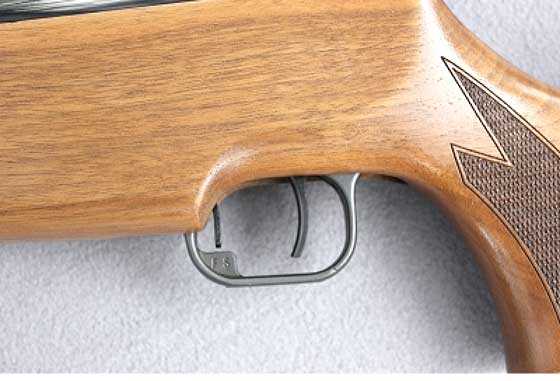 The trigger blade is almost straight; the automatic safety resides in the front of the triggerguard and is pressed forward to fire.
Performance
Velocities with the Crusader are similar to what's found in a Beeman R1, and some lighter pellets in a .177-caliber rifle will go supersonic and ruin the accuracy. I tried a couple H&N Field Target Trophy Green pellets, but they traveled almost 1200 feet per second and missed the bullet trap at 25 yards. Extreme spreads with most pellets were under 20 feet per second, and a few varied by less than 10…very good for a springer.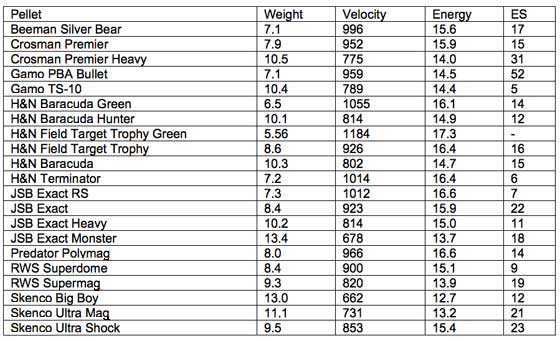 These are the velocities the Crusader can deliver with the selected pellets.
25-yard accuracy
Many pellets gave 5-shot groups around an inch in size at 25 yards. Several gave very good accuracy, including a few that surprised me. To get the best accuracy shooting from the bench, I had to hold the airgun loosely with my right hand and keep my left hand open. If I let my fingers touch the forearm, I had to make sure I didn't squeeze the gun at all or the groups would open up. In other words, use the classic artillery hold. You cannot grip this airgun tightly and get good accuracy; it'll take practice and proper technique to get the best results.
All groups were 5 shots at 25 yards, and the sights were not adjusted for the different pellets. It was interesting to see the difference in the points of impact. Predator Polymags and 8.4-grain JSB Exacts shot especially high in relation to the other pellets. Unfortunately, neither 7.9-grain Crosman Premier lites nor 10.5-grain Premiers heavies did much better than one-inch groups at 25 yards. While that's not too bad, a number of pellets did far better.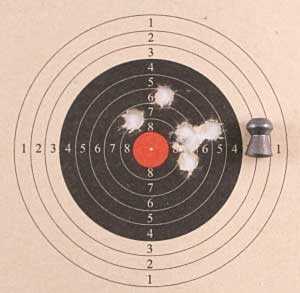 Five H&N Baracuda Hunters made this 0.50-inch group.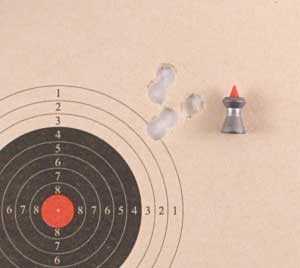 Five Predator Polymag pellets made this 0.40-inch group. Good enough for hunting.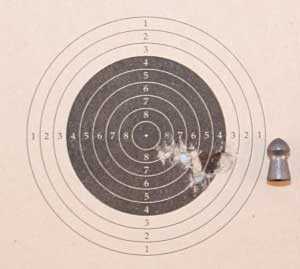 Gamo TS-10 surprised me with a 0.45-inch group; but their size seemed a bit inconsistent, and there were some flyers with this pellet.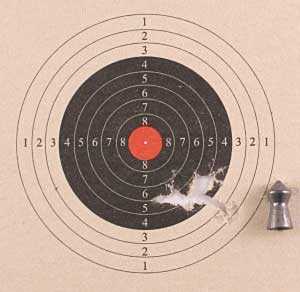 Skenco Big Boys gave this nice 0.43-inch group. The group is almost twice as wide as tall.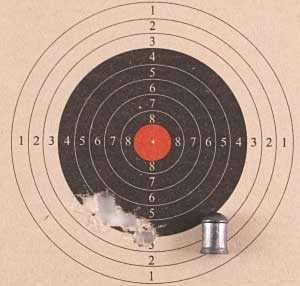 The 13.4-grain JSB Monster also produced a 0.43-inch group.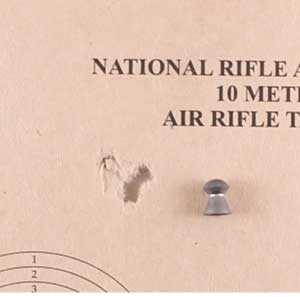 The Crusader really liked the 8.4-grain JSB Exacts, as this round 0.24-inch group shows.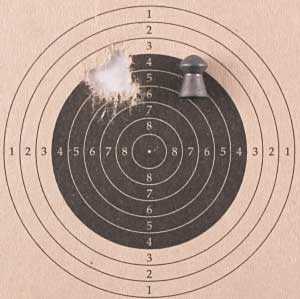 Best accuracy came from the Beeman Kodiak pellet. This group above is just 0.23 inches.
Adding it all up
Why buy a Crusader? After all, it costs just over $1000, and that price will keep many away. Compared to a Beeman R1, the size and power are identical. The R1 has a better trigger, but the Crusader has a better firing behavior due to the gas spring. The Crusader also has a far nicer stock, better metal finish and includes a factory muzzlebrake. Between my Crusader and my R1, the Crusader shoots more pellets accurately and will shoot slightly smaller groups, probably due to the fine Lothar Walther barrel. Unfortunately, the Crusader is more hold sensitive than my R1.
Both rifles should last a lifetime with proper care. It's possible to upgrade an R1 with a new stock, a gas spring, muzzlebrake, etc., but you'll end up spending more than the cost of the Crusader and still do not have the nice metal work. If you can afford it, the Crusader offers very good accuracy in a nicely finished package.
Theoben Production ceases
In October, 2012, Theoben Ltd. in England announced that they were entering liquidation (bankruptcy). It remains to be seen whether another company will take over production rights for Theoben springers.
by Tom Gaylord, a.k.a. B.B. Pelletier
Today, blog reader Vince continues the saga of converting a steel spring rifle to use a gas spring. We last read about this project in Part 2 of I've got gas, where he showed us the pitfalls of making such a conversion to a Gamo breakbarrel. Let's see how he does the second time around with a Crosman rifle.
If you'd like to write a guest post for this blog, please email us.
by Vince
Back when I tried reworking the Crosman gas spring retainer, I discovered that drilling a straight and properly located hole on a round surface is a bit, well… tedious. And hard to do, at least without the proper drilling jig.
Of course, it would be very expedient to use the spring tube itself as a jig. After all, it's perfect — as long as I can keep from damaging it, that is — because all the holes are obviously already in the right places. Put the retainer in place, pop in the pin and go at it through the existing bolt hole.
Two minor problems became apparent. First, the hole is too large to properly guide a 1/4-inch bit. Second, the edges of the bit might damage the existing hole in the spring tube. But both problems have an obvious, simple and cheap solution: a bushing.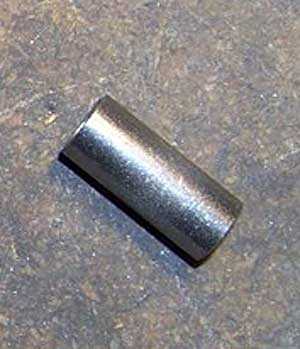 Bushing for under $1.00 from McMaster-Carr.
I got mine from McMaster-Carr (part #2868T44) for less than 70 cents. If you're feeling rich, you can probably get an equivalent at Home Depot for about $3.00. The important thing is that it has a 1/4-inch inside diameter, a 5/16-inch outside diameter, and that it be made from brass, bronze or steel. Plastic probably isn't a good idea.
The process is simple — and THIS time I'm doing it on a Crosman rifle instead of a Gamo. No particular reason, I just wanted to show that it works on the Crosman platform as well. Specifically, this is a Crosman Sierra Pro, but mechanically it's the same as the other Quest variants.

It looks like a Gamo, talks like a Gamo…

I ran into a bit of a problem sliding out the piston — it seems that the scope stop screw that I identified in this picture was binding the piston. Backing it out one turn solves the problem. As expected, the threaded hole in the Crosman gas spring retainer doesn't align with the one in the spring tube — just like the Gamo.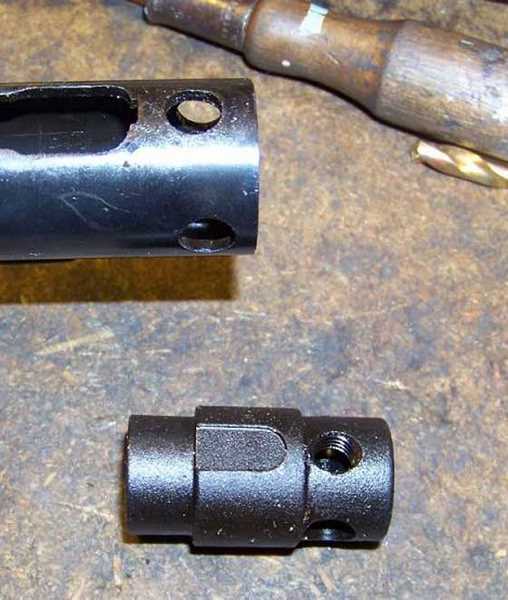 The Nitro-Piston gas spring retainer…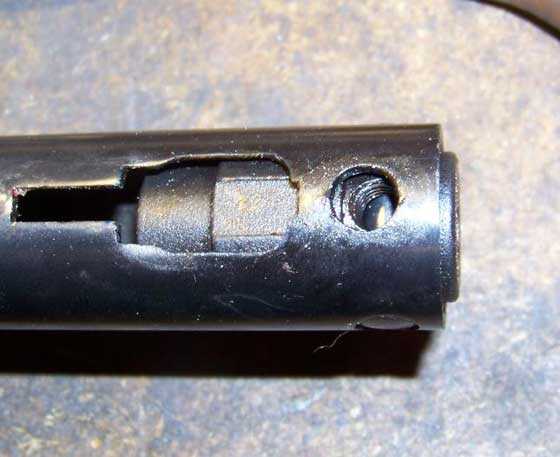 …and why it doesn't work.
So, what we're gonna do is turn it 90 degrees and drill a hole on the other side.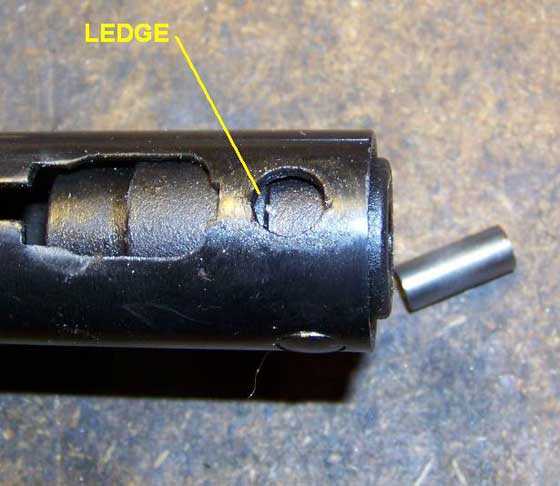 This is where we have to drill.
See that little ledge sticking into the hole? I'm going to grind it out of the way: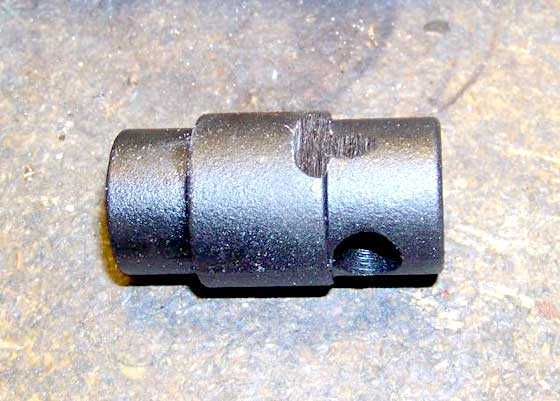 Ground a flat spot, just in case.
In retrospect, though, this step may have been unnecessary.
Setting up the jig is about as straightforward as it gets. After installing the gas spring retainer and securing it with the retaining pin, I place the bushing in the hole in the spring tube and start drilling. The steel is pretty soft, so it's not that difficult.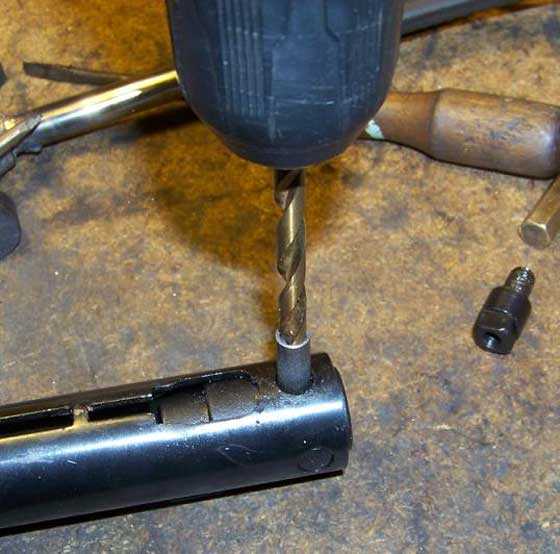 The bushing sits in the hole and is the jig for drilling. Simple!
But I only drill about half way and for a very good reason. If I keep going like this, I'll hit something I don't want to hit. Not a water or gas main, but that retaining pin is very definitely in the path of that drill bit. The solution is to slide the pin almost all the way out (but still engaging the retainer on one side); so when the bit breaks through, the pin won't be damaged. Drilling the rest of the way thus proves uneventful.

Don't want to drill through that pin.
Next comes the tapping — M8x1.25 inches, which is very close to 5/16-inch NC. If you don't have a metric tap, get one. Do NOT try to make the SAE size work. You'll regret it if you do! But my old and worn tap steadfastly refuses to start because it wants something a tiny bit bigger than 1/4 inch, so I have to bore out the hole to 17/64 inches. That makes all the difference, and a few minutes later I have a properly tapped hole.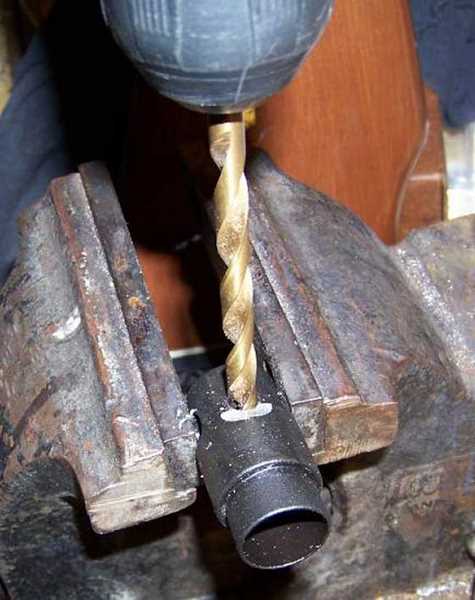 Just a smidgen bigger…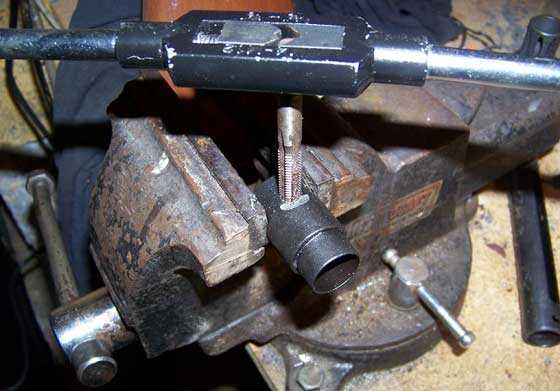 …before I can tap the hole.
A quick test-fit shows that everything goes together just as it should.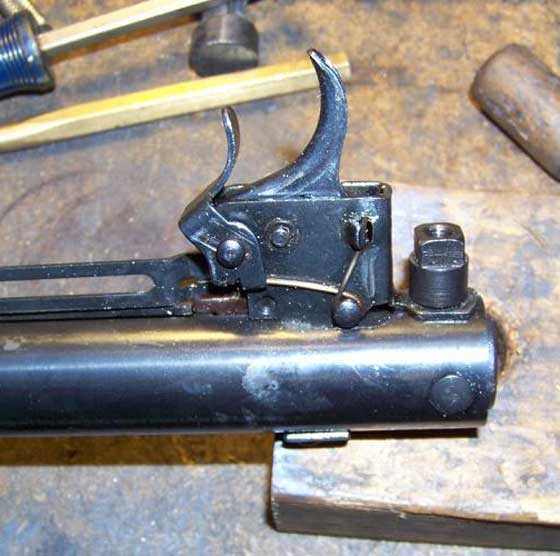 Success!
As for the rest of the work, it's a simple matter of cleaning everything out, lubrication and assembly. If you recall, the gas spring got scratched up from rubbing on the piston in my Gamo 220, so I colored those scratches with a Sharpie. That way, if I wind up with more rubbing in the same place, it'll be readily apparent.
After a good cleaning, everything goes back together just as I described for the Gamo. But don't forget that little disc that goes into the retainer.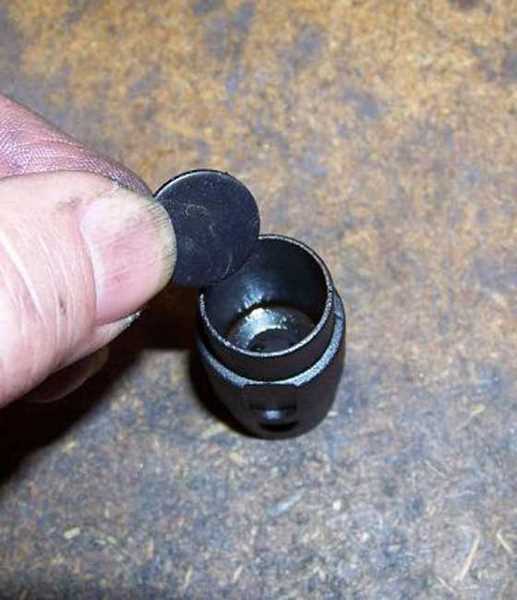 I suspect this may be important.
One thing I sort of glossed over last time is how to get that pin installed. Since the gas spring has all of about 1/8 inch of preload, the pin can be started using a screwdriver to pry the retainer into place.

Prying the retainer to start the pin.
That's good for getting the pin started. But you won't be able to get it the rest of the way through because that spring is still pushing the retainer rearward, and the itty-bit of slop in the whole thing means that the holes won't quite line up on the other side of the tube.
The solution is easy enough. Once it's started, tap the pin in until it gets to that point. Then, lay the action on its side with the protruding pin downward, and push down on the spring tube while tapping the retainer with a hammer or mallet. The impact of the hammer will make the retainer jump forward just enough to momentarily line up the holes and allow the pin to start coming through. Three or four taps ought to be enough.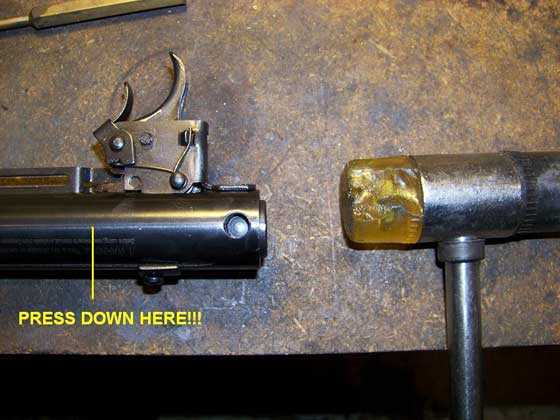 Tapping the retainer allows the pin to slide home.
The only minor difference between this Crosman gun and the Gamo is the endcap, which on the Crosman slides inside the tube. It's a little different from the one that comes installed on the springer: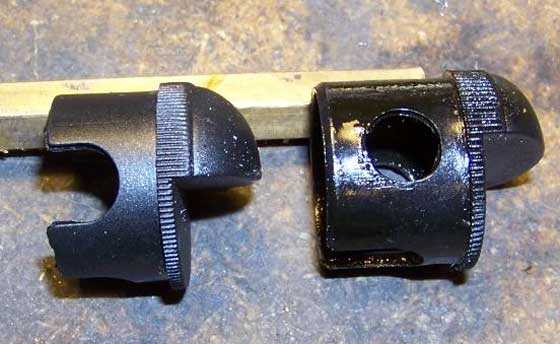 The gas spring endcap is on the left, the original on the right.
The gas spring version just slides into the rear after it's all together, and we're done!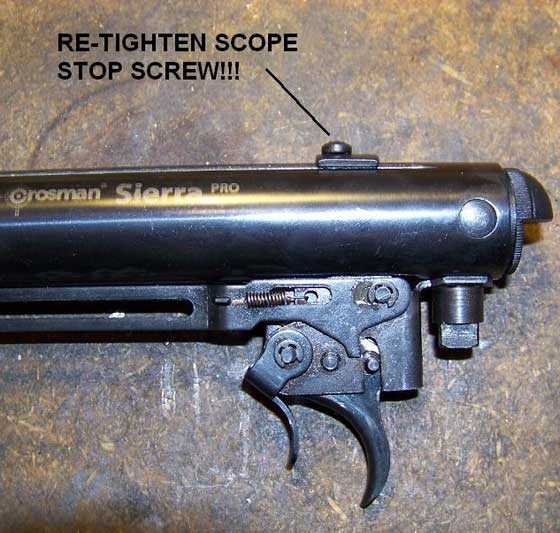 Don't forget to tighten the scope stop screw.
The action reinstalls in the stock with no mismatched screw holes.
Shooting it demonstrates the same sort of changes in behavior as with the Gamo I converted, only more so — and less so — all at the same time. For one thing, it runs a little hotter than it did in the Gamo. With the same RWS Basic pellets, it did the following:
991 f.p.s.
997 f.p.s.
1014 f.p.s.
1005 f.p.s.
990 f.p.s.
1007 f.p.s.
992 f.p.s.
1002 f.p.s.
1004 f.p.s.
994 f.p.s.
That's an average of just about 1000 f.p.s., or 15.5 foot-pounds of energy. This represents an improvement of just about 100 f.p.s. over the original Crosman powerplant.
Firing behavior and feel, however, wasn't as vastly different as it was in the Gamo. The Crosman "sproings" a fair bit less than its Spanish forebearer (the rear guide tends to be a tighter fit); and with a tarred spring, the smoothness of the firing cycle is pretty close to that of the gas spring.
After I returned the Crosman to its original configuration, I was able to examine the gas spring for any damage. Oddly enough, there was some scratching again but nowhere near as bad as the last time and only on the front 1 inch of the cylinder. So, it's not related to the centering of the gas spring at all. I suspect the end of the cocking link may have been rubbing it.
I remember a while ago a reader asked about the specs of the gas spring, in particular its pressure. I decided to measure that using my high-precision bathroom scale (!) and a Chinese hydraulic press. This was a quick and dirty way to get a ballpark figure. The pressure was almost constant as it was compressed but not quite. It did creep up just a bit, starting at about 130 lbs. and ending in the vicinity of 150. Overall length of the spring is 10.25 inches with a cylinder diameter of 0.715 inches.
And that pretty much wraps up my gas attack. Exactly where does that leave us?
Well, we've shown that the gas spring conversion is certainly doable. It's not as straightforward as I would have liked — buy a few parts and stick 'em in — but it's not beyond the realm of the average handyman. The gas spring itself pretty much lives up to its reputation… smoother, somewhat harder to cock for a somewhat elevated power level. The big mechanical advantages — no coils to break, no degradation from being cocked for long periods of time — are already well-known. The main subjective advantage, the smoothness of the firing cycle, all depends on how bad was it to start with. In a 10-year-old Gamo, the improvement is likely to be rather spectacular (especially in an untuned gun), but if the rifle is already a smooth shooter, less is going to be gained. I guess it just comes down to personal preference — whether it's worth $50 and a couple hours of your time is up to you.
by Tom Gaylord, a.k.a. B.B. Pelletier
Today, we'll finish the conversion of a Gamo 220 from steel spring to gas spring, and blog reader Vince gives us a report on the outcome.
If you'd like to write a guest post for this blog, please email us.
Take it away, Vince!
by Vince
When we last saw the Gamo 220, I'd disassembled the powerplant and compared the old parts to the parts I ordered from Crosman. Today, I'll install those new parts and test the gun for you.
The gun is laying on the bench, ready for assembly. The new piston slides in, followed by the gas spring. Be careful when sliding the piston seal past the end of the cocking slot and tuck the soft seal material away from the sharp edges of the cocking slot so the seal isn't damaged. A flat-bladed screwdriver works well for this.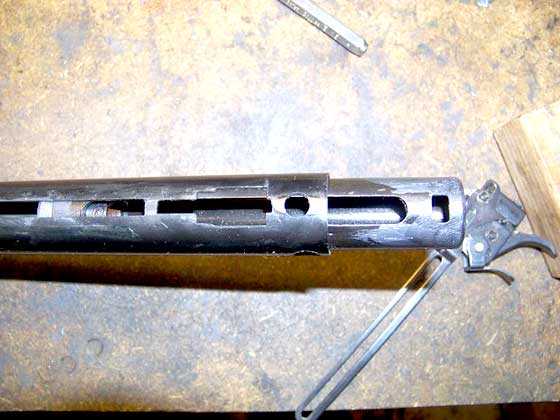 The new piston that works with the gas spring is slid into the spring tube. Notice that I've lubricated both ends of the new piston with moly grease.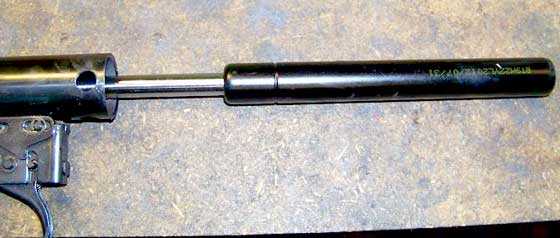 The new gas spring (Nitro Piston) slides in after the piston. The small end of the spring fits into the socket inside the new piston I mentioned in Part 1. No lubrication is required.
The trigger and cocking link go back in (reverse order of removal), and the plain plate gets dropped into the rear spring retainer.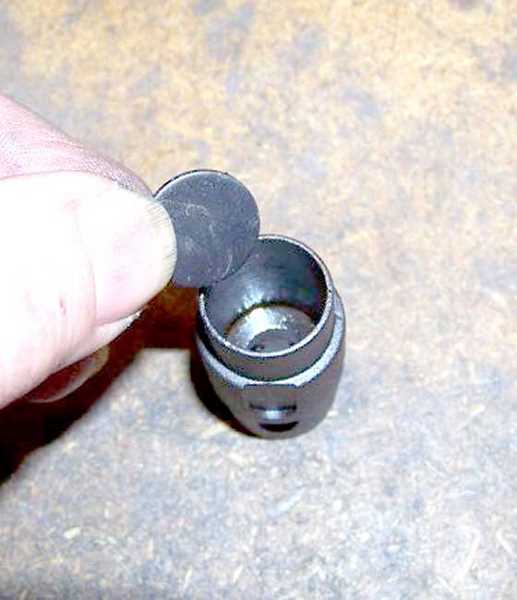 I'm dropping the plain plate into the rear spring retainer.
Now, I'm starting to sweat a bit. You see, I KNOW that the gas spring has a TON of pressure on it even when fully extended (very much unlike a coil spring) — so, how on earth am I gonna compress it enough to reassemble the gun? Oh, well, I'll cross that bridge when I come to it –which is, well, right about now. After I install the rear retainer, I notice something.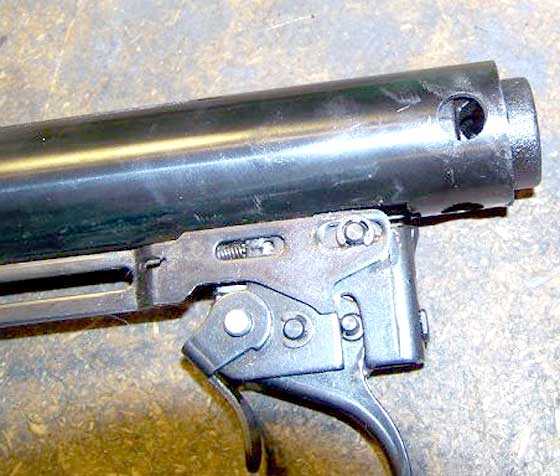 There's almost no preload on the gas spring
Almost no preload at all! THAT'S right. Because the gas spring is ALWAYS at or near full pressure, there's plenty of preload pressure as soon as the piston comes off its stop, so very little preload travel is required.
What is preload?
When a conventional coiled steel mainspring is installed in a spring gun, it's usually longer than the space into which it must fit. It is, therefore, necessary to compress the spring by some amount to get it to fit inside the spring tube. This compression causes the spring to be under pressure even when at rest — this is called preload. If you've ever seen a long, empty flatbed trailer on the interstate that looked bowed up in the center because there's no weight on it, you've seen what no preload looks like. It takes several tons of weight just to get that trailer flat again — and much more to make it bow the other way.
Airgun tuners can add spacers that preload the mainspring even more when it's resting, which causes it to develop greater power when compressed because it's closer to its maximum potential that exists at the point when all the coils are touching. But gas springs don't work that way. They're under full compression (internal gas pressure) when they're at rest. All cocking the gun does is move the internal piston against the already-compressed gas that's ready to blast it back when the sear releases it. There's a very small amount of additional compression of the gas, but it isn't what makes the gas spring work as well as it does. The gas spring unit is always at full potential — even at rest.
So, this gas spring unit has very little farther to go at this point…under a quarter-inch, in fact. THIS sure makes things easy for me. Pry the retainer forward on one side while starting the pin through the other. [Note: If I used a mainspring compressor, I wouldn't need to pry anything. I would just tighten the compressor until the assembly pin holes lined up, then insert the large crosspin.]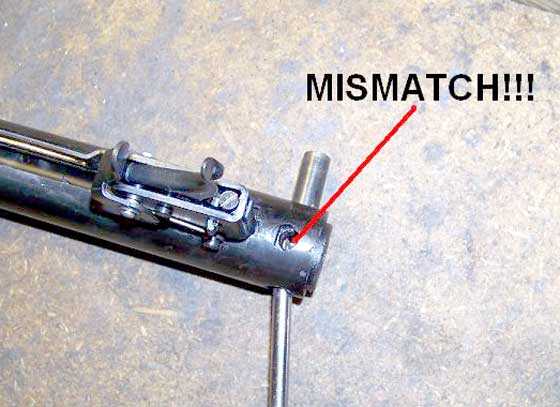 The crosspin will go in, but the hole for the rear spring retainer bolt (that large-headed bolt I removed when I disassembled the powerplant in Part 1) doesn't line up with the hole in the spring tube. This is a problem.
Immediately, a problem becomes apparent. Look at the hole where the rear spring retainer bolt goes. It's not lined up with the hole in the tube. There's approximately a .080″ misalignment here. This ain't gonna work. My first inclination is to simply elongate the hole. But when I reinstall it, there's another problem.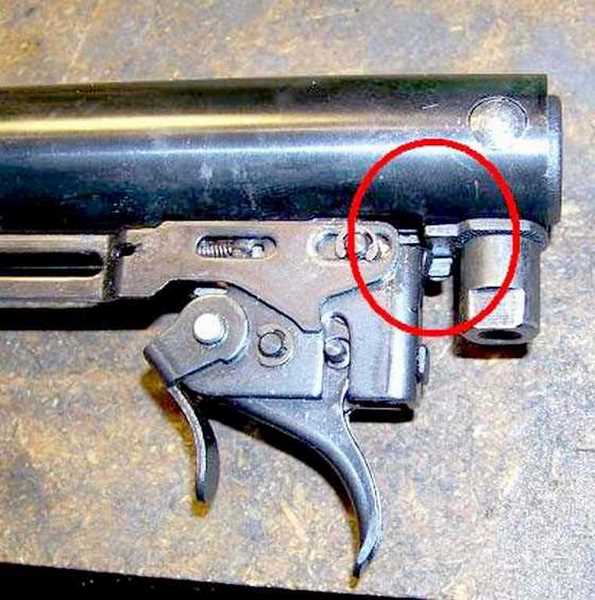 There's a gap between the plate on the spring retaining bolt and the trigger assembly. It won't support the trigger this way!
The trigger isn't properly supported by the plate that's attached to the bolt. Worse, this changes the spacing between the front and rear stock screws and doesn't allow the action to be reinstalled.
Hmmm. I'm wondering if this is exactly what Crosman (or BAM) had in mind — preclude an easy conversion with existing parts (since the same problem would exist on a normal Quest). That leaves me thinking: Can I just butt the gas spring against the original Gamo spring retainer?
If you look at the picture of the new rear spring retainer above, you'll see that there's a small plate that drops into the cup that retains the gas spring cylinder. The cylinder wants to butt up against a flat surface, and the Gamo retainer has a large (approx. 1/2″) hole in it. I need a metal plate to go over it. Wait a minute! I've got one right here in my pocket!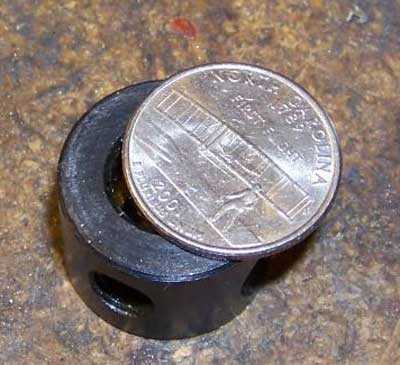 A perfect spacer for the new gas spring and it costs — well, about a quarter!
And, so, it gets reassembled. Believe it or not, the whole thing works.
Time to test!
I'll run through this pretty quickly — the velocity is now up to about 964 f.p.s., which represents a muzzle energy of about 14.5 ft-lbs. Not killer, but obviously a lot better than the detuned gun. Accuracy shouldn't be changed — or should it? Oftentimes, guys will detune their guns to make them more accurate — or to simply make them easier to shoot. That might have some merit, as I now couldn't break 0.37 inches at the same range. Not a big difference, and I'm certainly not gonna suggest that the gas spring decreased accuracy. But I don't think it helped.
So what's it like to shoot?
First of all, everything anyone ever said about "thunk" vs. "sproing" is absolutely correct. The gun "wumps" with a gas spring, and you can actually feel a kick back into your shoulder. Nothing like a typical centerfire gun, although maybe something like an 1894 shooting low-velocity .38 specials might be comparable. But that's just a guess.
Cocking the gun is another matter. Effort peaks at about 33 lbs., which isn't all that high — except for the fact the effort before that peak is certainly a lot higher than with a normal coil spring. This is what we'd expect, of course, with the relatively constant pressure of the gas spring. It isn't unbearable, but it does take some getting used to.
Back to a coiled steel mainspring
After about 40-50 rounds, I decided it's time to restore the gun back to original spec. I rummage around my spring box and find a REAL low-mileage Gamo spring, and put it all back together the way God intended it. NOW, I can really get a back-to-back series of impressions.
First, the velocity did drop a smidgen. It's now down to an average of about 943 f.p.s., or a little under 14 ft-lbs. Second, and despite the tar on the spring and rear guide, we DEFINITELY are sproinging ourselves rather energetically. Lastly, the cocking effort is predictably much milder. Peak effort is down by 5 lbs., and the effort before that peak is even easier. Accuracy is unchanged from the gas spring.
How did my quarter, er, my impromptu gas spring backing plate pan out? Not too well.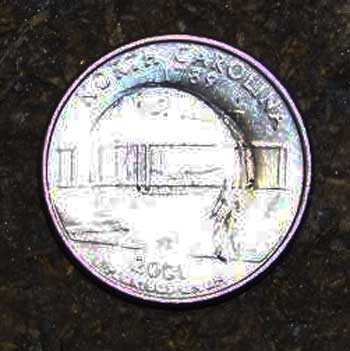 The pressure of the gas spring punched a deep divot into the quarter.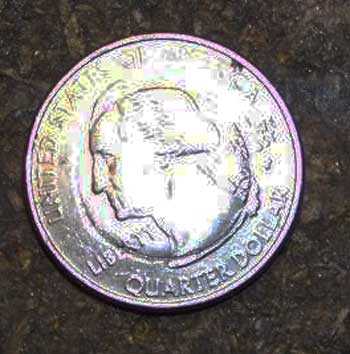 The flip side doesn't look any better.
I flattened it back out with a hammer, and I'm really hoping it's still legal tender. Anyway, as I sort of expected, the relatively soft quarter didn't do well. The backing plate really ought to be steel, 0.060 inches (1.5mm or 1/16″), just like the original.
But the bigger problem wasn't the quarter.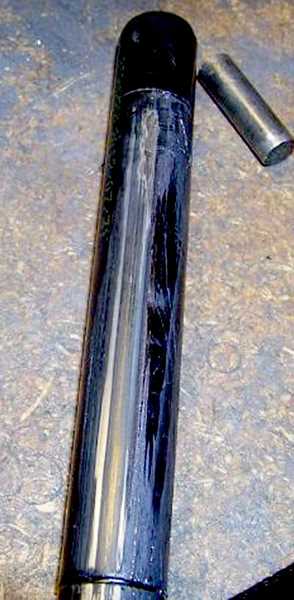 There's a serious indication of metal-to-metal galling.
There was some serious metal-to-metal contact going on here between the cylinder of the gas spring and the inside of the piston. If you look at the above pictures of the quarter, you'll see that the indent isn't centered. The pocket in the original rear spring retainer keeps the spring cylinder right in the middle, and apparently that's real important because it won't center itself.
And that's about it for now. If this is going to work, we need a simple and cost-effective way of keeping the gas spring centered properly without permanently altering the original parts…and do it in a way that the average tinkerer can accomplish on his own. The first thing that comes to mind is to drill and tap a new hole in the new rear spring retainer, opposite of and slightly forward of the existing hole. I tried that, and found (predictably) that getting the hole in just the right spot is a bit difficult without a custom drilling jig.
For now, I'm just going to give it some thought.
WAIT! I JUST GOT AN IDEA….