Track down cottontail and squirrel sized game
Interest in using airguns for hunting and recreational shooting have gained a lot of traction with hunters and shooters that traditionally have only used firearms in their pursuits. Choosing a top 10 list of the best small game air rifles is a difficult task, because there are so many options, features, and prices available in the rifles of today.
Just like choosing a partner, the looks, size, and whether they are high or low maintenance are all pieces of the puzzle that factor into your choice of what rifle you will buy.
The air rifles that are capable of harvesting small game are not the Red Ryder BB gun your dad grew up shooting, nor the one you just had to have after watching a particular Christmas movie when you were younger.
Best Air Rifles for Rabbits Share These Attributes:
Accurate enough to reliably hit the vitals of your quarry.
Powerful enough to ethically and humanely harvest the animal.
Light enough to carry all day, or have an option to use a sling.
Rails to mount optics to aid in precision shot placement.
While not essential, having a multi shot rifle does help with reloading.
A quiet gun is also a desirable trait as it spooks the other animals less.
With that, let's take a look at the most commonly chosen air rifles used by small game hunters.
Top 10 Best Best Small Game Air Rifles
1. Benjamin Marauder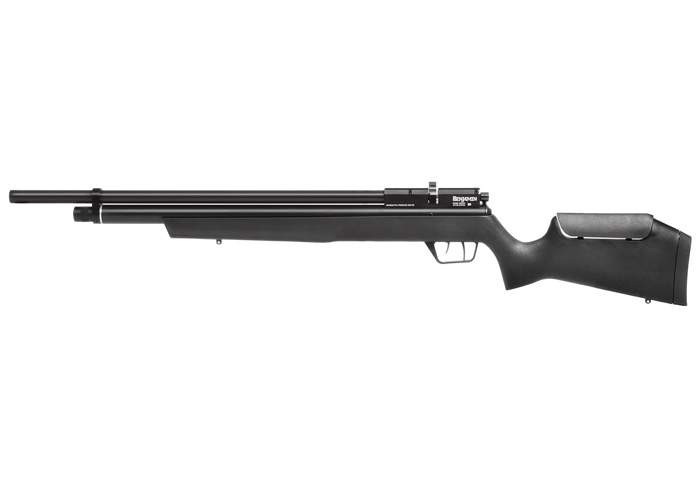 Product Details
The Marauder was introduced in 2009 and changed the way shooters thought about precharged air rifles. The Marauder was the first pre-charged pneumatic (PCP) air rifle that offered premium level accuracy and features at an affordable price.
The Benjamin Marauder rifle is offered in .177, .22, and .25 caliber. It comes standard with the option of using an automatically indexing magazine, or a single shot adapter.
It uses a shrouded barrel to make it one of the quietest airguns on the market, the barrel itself is capable of astounding accuracy, and the newest models are available with a Lothar Walther match grade barrel.
Couple it with the match-grade adjustable trigger that is one of the best PCP's on the market at any price, making the Benjamin Marauder our number 1 choice for this list.
Why We Like It
The rifle fills to about 2600 psi, so it can be filled using an economical hand pump. Depending upon the caliber, it will get about 40 shots per fill, so it has more than enough shots for a morning of small game hunting.
The model with a synthetic stock reduces weight for less fatigue and has sling swivels already installed from the factory. The valve has been redesigned to give the rifle more shots per fill, and deliver more power per shot. The bolt is reversible so it is friendly to left-handed shooters.
Things To Consider
Like some others on this list, the Marauder is a PCP rifle, so it needs a source of compressed air to fill the onboard air reservoir, be it a scuba tank, high-pressure air compressor, or a hand pump capable of producing at least 3000 psi.
The rifle does not have open sights, so you will need to provide a scope and rings.
2. Umarex Gauntlet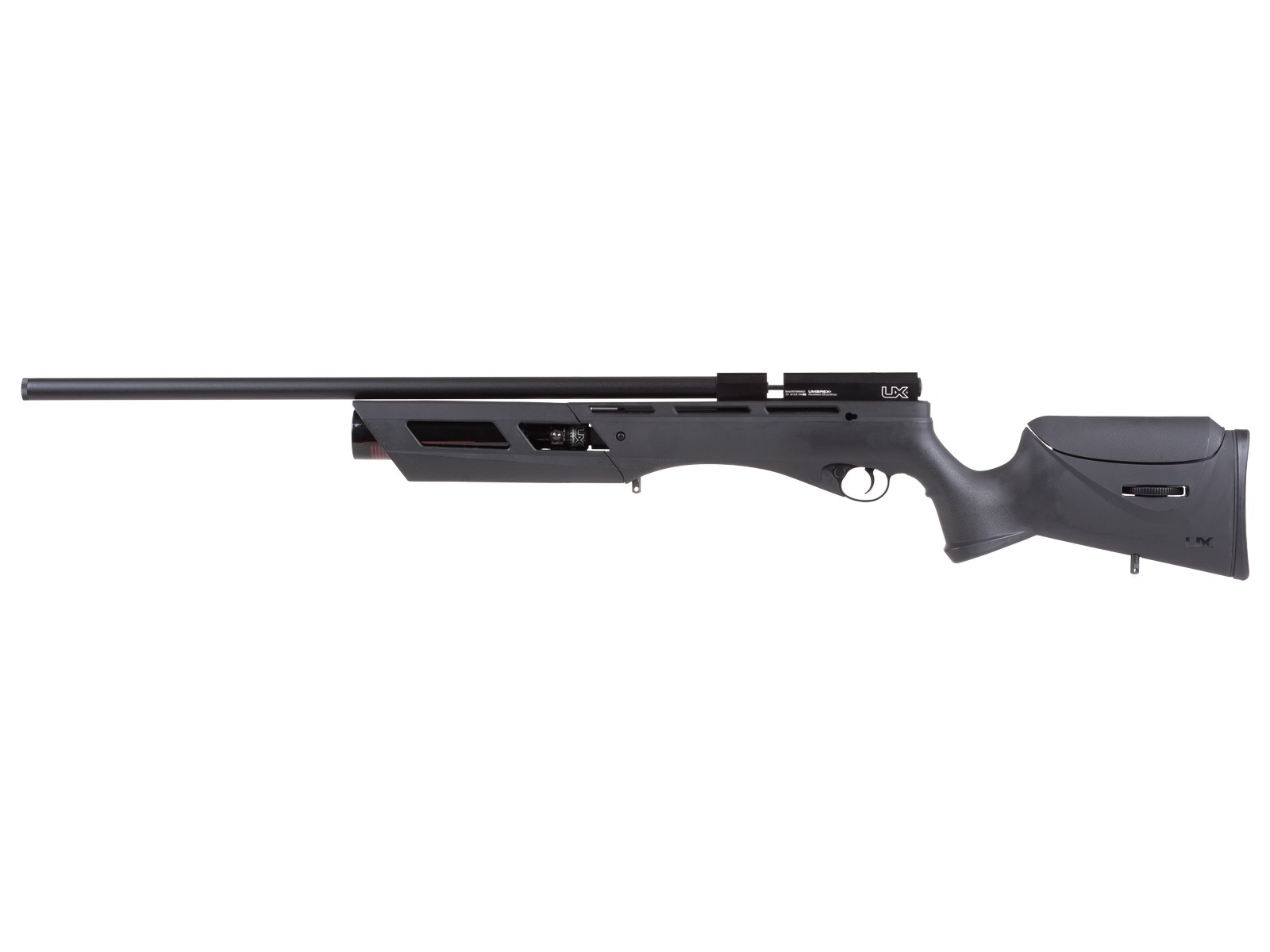 Product Details
The Umarex Gauntlet is one of the new breed of Price Point PCP rifles (PPP) which is a Precharged Pneumatic rifle that is built to a budget price.
But they are built with decidedly non-budget amenities like accurate barrels, adjustable triggers, adjustable stocks, shrouded barrels, and removable constant pressure-regulated tanks.
A complete wish list of things hunters and shooters alike have always wanted in a rifle but could not always afford. The Umarex Gauntlet checks every box on that wish list and more.
Why We Like It
It's a very accurate, quiet rifle and has a removable regulated tank for over 80 consistent shots. The stock has an adjustable cheek rest, and sling swivels are already installed.
The trigger is adjustable, and it has an oversized bolt knob to aid in cocking the rifle. It comes with a self-indexing magazine and a single shot tray. The rifle also sports a 3-year limited warranty.
Things To Consider
Like others on this list, the Gauntlet is a small game PCP rifle, so it needs a source of compressed air to fill the onboard air reservoir.
The rifle does not have open sights, a scope and rings will be needed. It is also a very long rifle at 46 inches overall length.
3. Air Venturi Avenger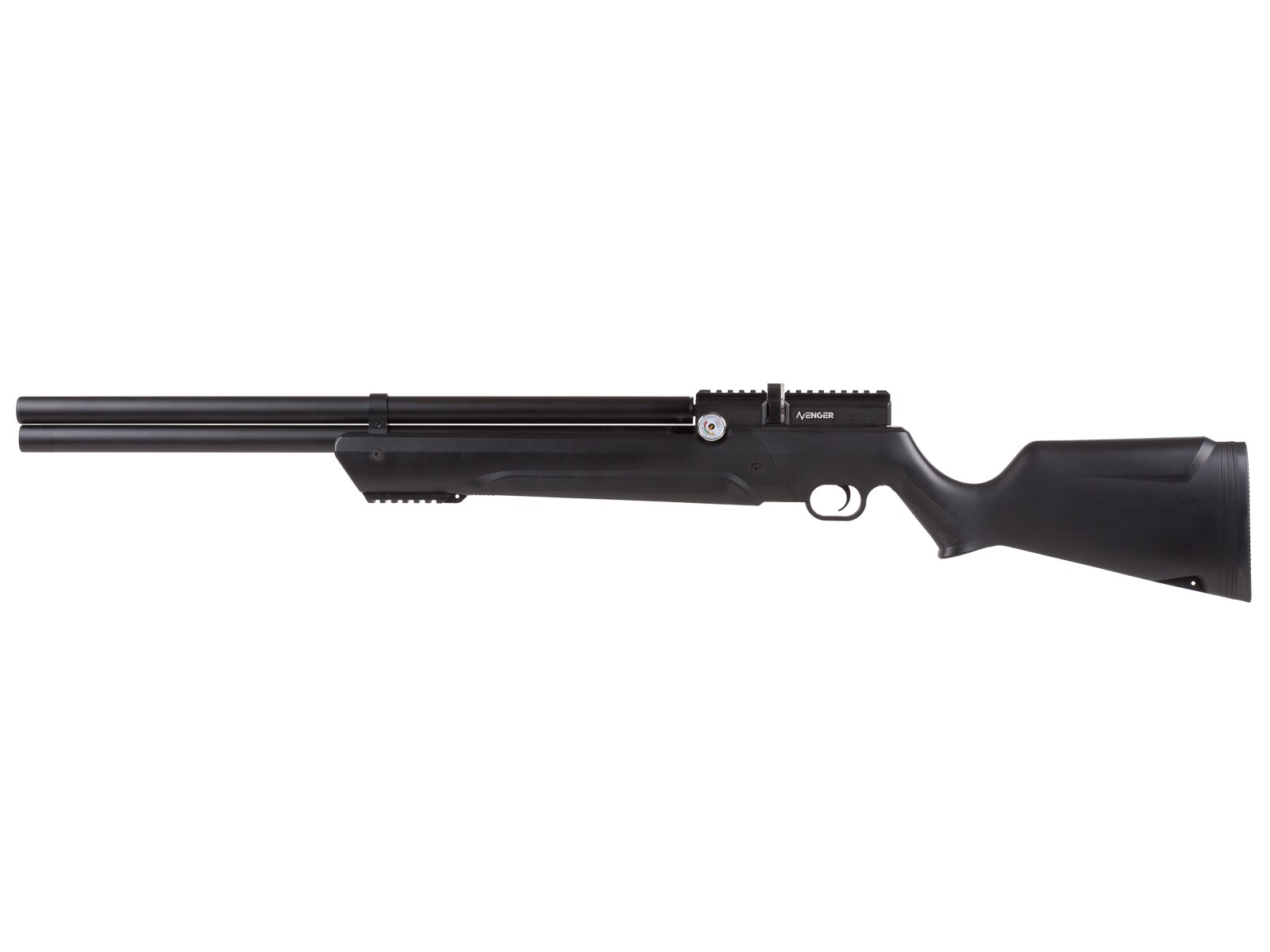 Product Details
The Avenger by Air Venturi is a Price Point PCP (PPP) that checks the wish list of many hunters and shooters, but somehow manages to raise the bar with included features that are usually found on rifles costing over $1000.
Somehow they can bring a rifle to the market that includes things like an externally adjustable regulator that you can adjust to your desired power level, shot count, even a side lever cocking instead of a bolt action. This feature is normally found only on rifles costing hundreds of dollars more than the Avenger.
These luxury features are in addition to a very accurate shrouded barrel, a 2 stage adjustable trigger, sling mounts, and a foster quick fill.
Why We Like It
It's a very accurate and quiet air rifle. A built-in Picatinny rail on the stock for mounting a bipod or light. It has an externally adjustable regulator so you can control the power and shot count. A side lever cocking is located conveniently right over the trigger and 2 gauges. One for the fill pressure, and one for the regulator pressure.
The Air Venturi Avenger has been proven to be extremely accurate with any pellet and since it's regulated it has a very stable velocity. The rifle is tuneable, so you can raise or lower power depending on the need. It delivers features only found on guns double or triple its price, and if worse comes to worse, you can always fill it with an inexpensive PCP hand pump.
Things To Consider
The rifle has a maximum fill pressure of 4351psi, so it is best filled with a 4500psi tank or high-pressure air compressor. You can fill the rifle to 3000psi with a hand pump, and you will get the same velocity from your shots, but you will get a lower shot count than if you filled the gun to 4351psi. Another downside I see to the Air Venturi Avenger for some people is that it requires an external fill source
The safety and cocking lever are not reversible so the controls are geared to a right-handed shooter, but the stock is ambidextrous so it can be comfortably used left-handed. The rifle does not have open sights, so you will need to provide a scope and rings.
4. Air Arms TX200 MKIII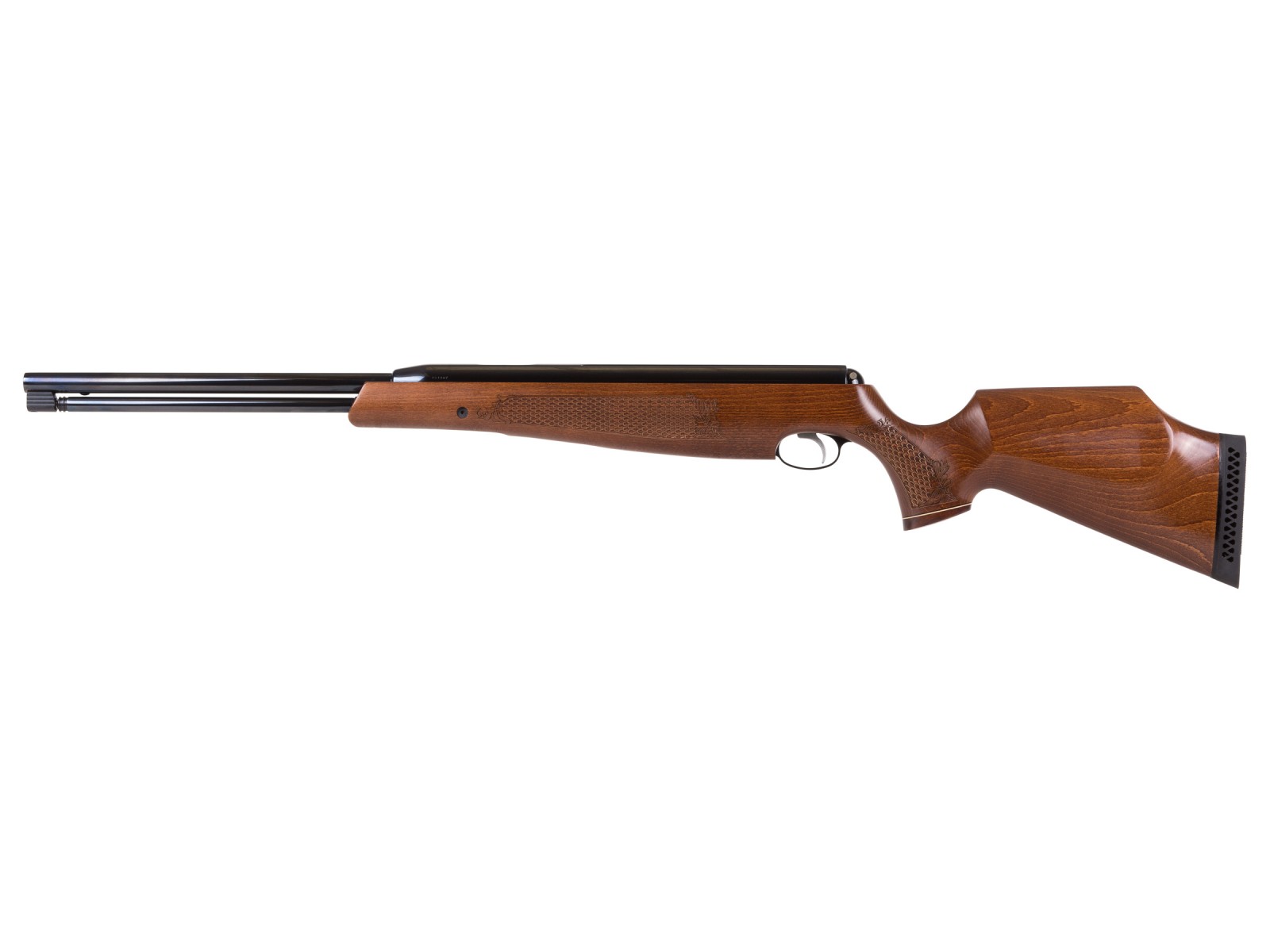 Product Details
Tom Gaylord, the Godfather of airguns, called the Air Arms TX200 "The spring powered air rifle to which all others are compared". This statement is well justified as the level of accuracy, fit finish and quality the rifle exhibits is second to none.
The stock is beautifully checkered, and the metal is richly polished and deeply blued. It can be had in Walnut or Beechwood stocks, and either left or right-handed configurations.
The match-grade trigger and shrouded Lothar Walther barrel have made the Air Arms TX200 a favorite for hunters and field target shooters all over the world year after year. The smooth and easy cocking underlever design requires no special field equipment for a day of hunting or shooting, just a tin of pellets in your pocket, and the rifle.
This is an heirloom-grade rifle your grandkids will be enjoying.
Why We Like It
The shrouded Lothar Walther barrel makes it extremely accurate and quiet. Since it is spring powered, it does not require any special fill equipment to operate while out in the field or while on the bench.
It has an anti-beartrap mechanism to protect the breech from closing inadvertently while loading the pellet. The beauty and quality of the rifle coupled with its legendary accuracy and power make this a rifle you will be proud to own and pass down to your descendants.
Air Arms backs this rifle with a Limited Lifetime Warranty.
Things To Consider
This is a spring-powered rifle so it is a single shot only design. Being made of steel and wood it is heavier than rifles that use a synthetic stock.
Some spring-powered rifles are hold sensitive, so there may be a learning curve to get the best accuracy from the rifle. You will need to provide a scope and dovetail mounts as the rifle does not have open sights.
5. Beeman R9 Elite Series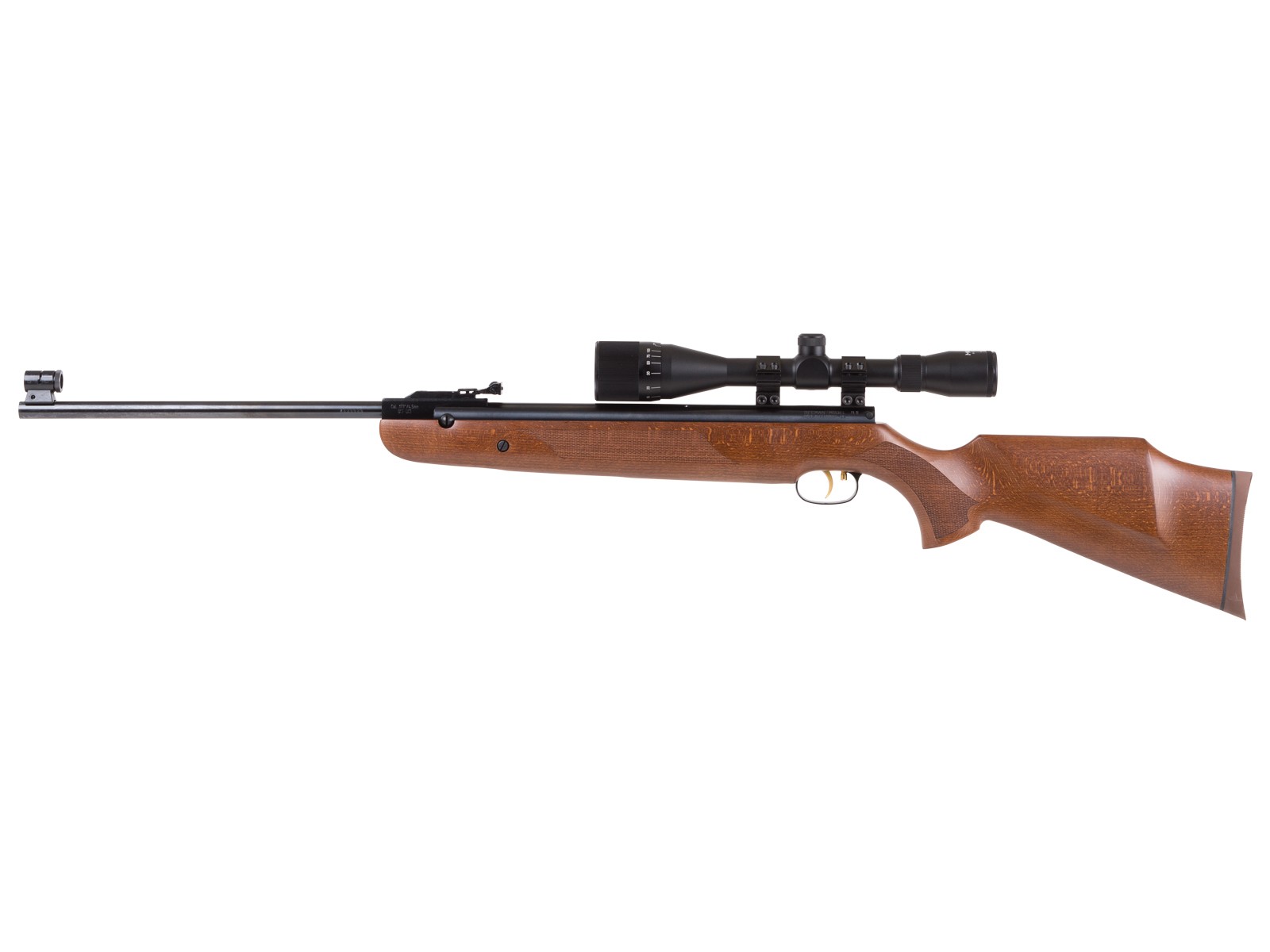 Product Details
The Beeman R9 is made in Germany to the highest standards of quality for a break barrel rifle. It also is equipped with the legendary Rekord trigger that gives a smooth light first stage then a clean crisp break for the second stage, the trigger pull weight is also adjustable to your liking.
The Beeman R9 is one of the few spring-powered rifles that is shipped with both a scope and removable open sights at no additional cost. The R9 is available in both .177 and .22 caliber, either of which is perfect for small game hunting or backyard enjoyment.
Why We Like It
The Beeman R9 combines both the precision accuracy and power necessary for small game hunting. The Rekord trigger aids greatly in making the rifle easy to shoot accurately. The R9 is not pellet picky, shooting most pellets equally well.
You have the option of using either open sights, or the included 4-12 power scope with an adjustable objective to correct for parallax, or you may remove the open sights altogether if you want to clean up the lines of the rifle.
The R9 has an exceptionally smooth cocking action for a break barrel air rifle. The rifle has a nicely finished checkered hardwood stock for a good grip, and a deeply blued steel barrel and receiver.
Things To Consider
The Beeman R9 is expensive for a break barrel air rifle, there is no getting around that fact, but the precision manufacturing, outstanding accuracy, and the level of quality this rifle has, do not come cheap.
The rifle has an automatic safety that is engaged every time you cock the gun, some people like this feature, some people do not.
The R9 does not have an anti-beartrap mechanism, so when you are loading the pellet, hold on to the barrel with your other hand to ensure the barrel does not inadvertently close.
6. Benjamin Marauder Pistol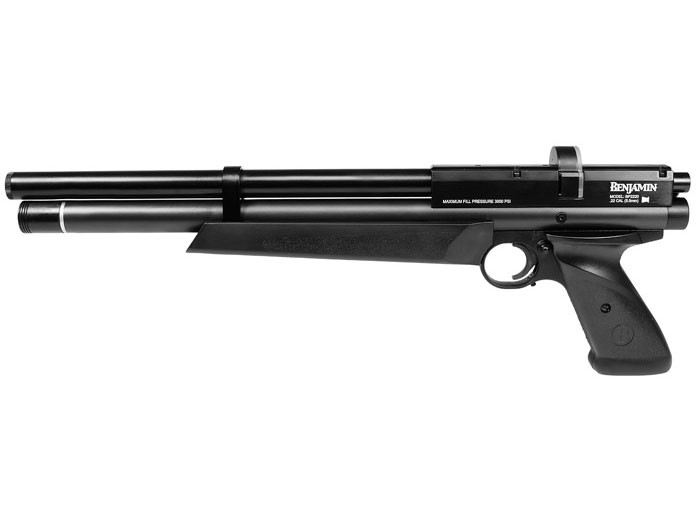 Product Details
When the Benjamin Marauder pistol was introduced in 2010 it stood the air pistol market on its ear by redefining what an air pistol is capable of. It combines the fully adjustable trigger group of the 1701p Silhouette match pistol with a smaller version of the top half of the Marauder rifle.
The Marauder pistol is a .22 caliber magazine-fed precharged pneumatic air pistol that fills to a maximum pressure of 3000psi. so it is hand pump friendly for backwoods enjoyment. By attaching the included shoulder stock it turns the pistol into a small compact carbine that is perfect for small game hunting, pest control, and plinking.
If you were to make a list of features you wanted in a hunting carbine, the Marauder pistol would check off all of the boxes.
Why We Like It
The Marauder pistol is a short lightweight carbine with a removable stock that can fit into a backpack or small case. The regular pistol grips are also included with the package. Also, a fully adjustable trigger.
It is a bolt action multi-shot repeater that has a shrouded barrel, so it is very quiet in the woods and backyard friendly. It has both the power and accuracy needed for small game hunting out to 35 about yards. It is hand pump friendly so you do not have to carry bulky or expensive fill equipment.
The Marauder pistol is equipped with a dovetail rail for your choice of either a scope or red dot sight depending on your needs.
Things To Consider
It is a PCP airgun, so it does need a fill source for the high-pressure air. Without the stock installed it is 18 inches long, which is long for a pistol, but it is still a manageable length.
The Marauder pistol does not have open sights, you will need a scope or red dot sight.
7. Hatsan Flashpup QE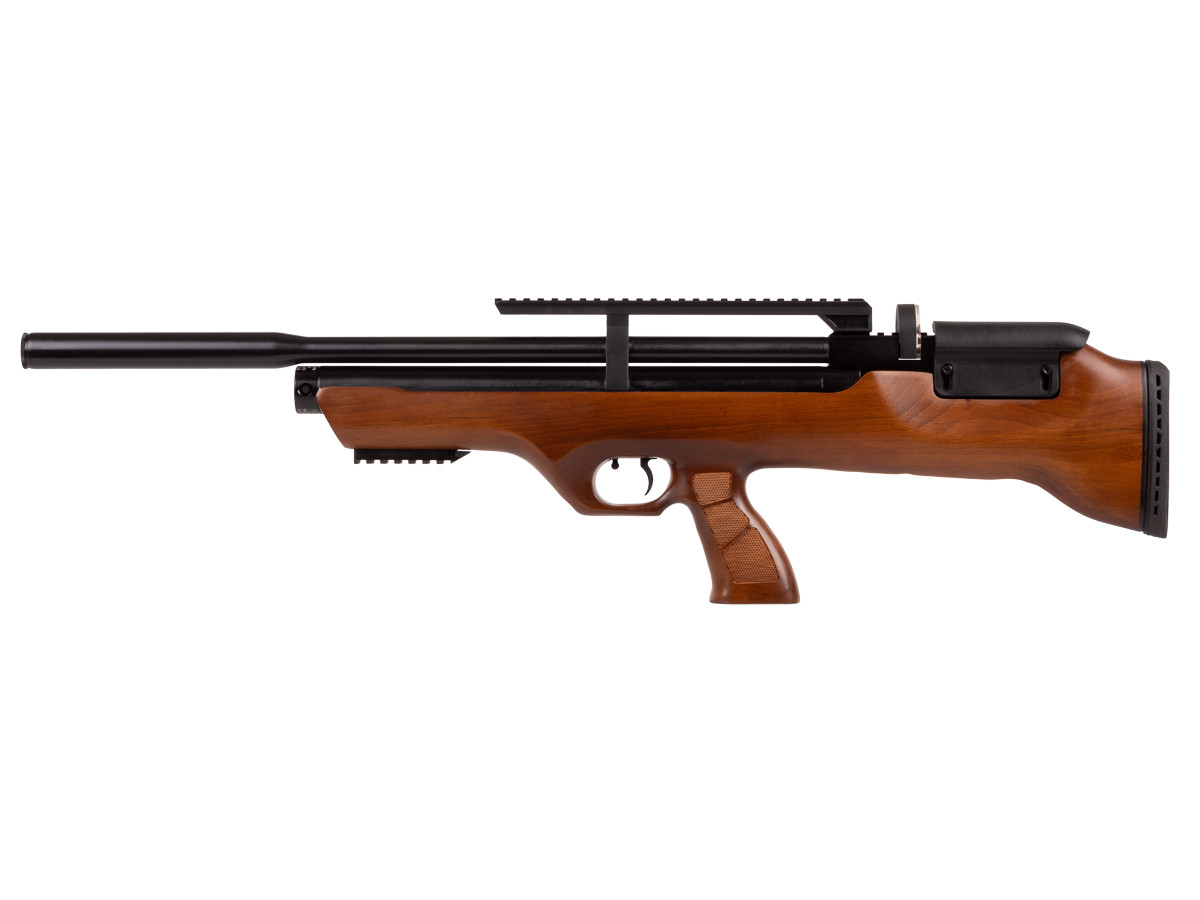 Product Details
Hatsan is known in the firearm world for making quality shotguns of many types, they entered the airgun market and continue to innovate across the airgun spectrum, bringing spring-powered airguns, big bore PCP, bullpup, and both semi and fully automatic airguns to market. The Hatsan FlashPup is made in Turkey, and is Hatsan's first bullpup rifle in standard air gun calibers, meaning .177, .22, and .25 caliber.
The FlashPup is available in both synthetic stocked and wooden stocked versions, and both come with the QE (Quiet Energy) shrouded barrel delivering a lot of power, in a short, quiet package. The rifle is light at 6.8 pounds, slim, and handles easily whether you are out in the woods, or on the shooting bench.
The magazines hold 14 rounds in .177, 12 rounds in .22, or 10 rounds in .25 caliber, and Hatsan's removable pressure tube allows you to carry extra filled air cylinders to extend your day in the field. The fully adjustable Quattro 2 stage Match trigger is a bonus.
The Hatsan FlashPup offers many top-tier features in a gun that is both easy on the eyes, and the wallet, things that are not always easy to find in an airgun.
Why We Like It
Starting with the fully adjustable Quattro trigger, it allows the owner to tailor it to their exact needs. Next, would be the patented anti-knock feature that keeps the gun from losing any air if the gas tube is knocked about, or when you change gas tubes for a full one.
The FlashPup has a 165cc air cylinder that fills to 200 bar, so it is handpump friendly, but the shot count and power it gets from that 165cc volume is testimony to its air management, generating up to 29 ft-lbs for the .177, 38 ft-lbs for the .22, and 40 ft-lbs in the .25 caliber.
Last, and most certainly not least is the QE shrouded barrel, it is quiet, and above all else accurate, it has proven to consistently shoot inch groups at 50 yards, if the shooter can do their part, the FlashPup will keep up with you.
Things To Consider
Being a bullpup design, it is inherently a right-handed gun, not lending itself to left-handed operation. It is a precharged airgun so you will need a way to fill it to 2900psi.
The side lever bolt is towards the rear of the gun, it is out of the way, but does require you to move your right hand from the stock to operate the bolt.
8. Benjamin Trail NP XL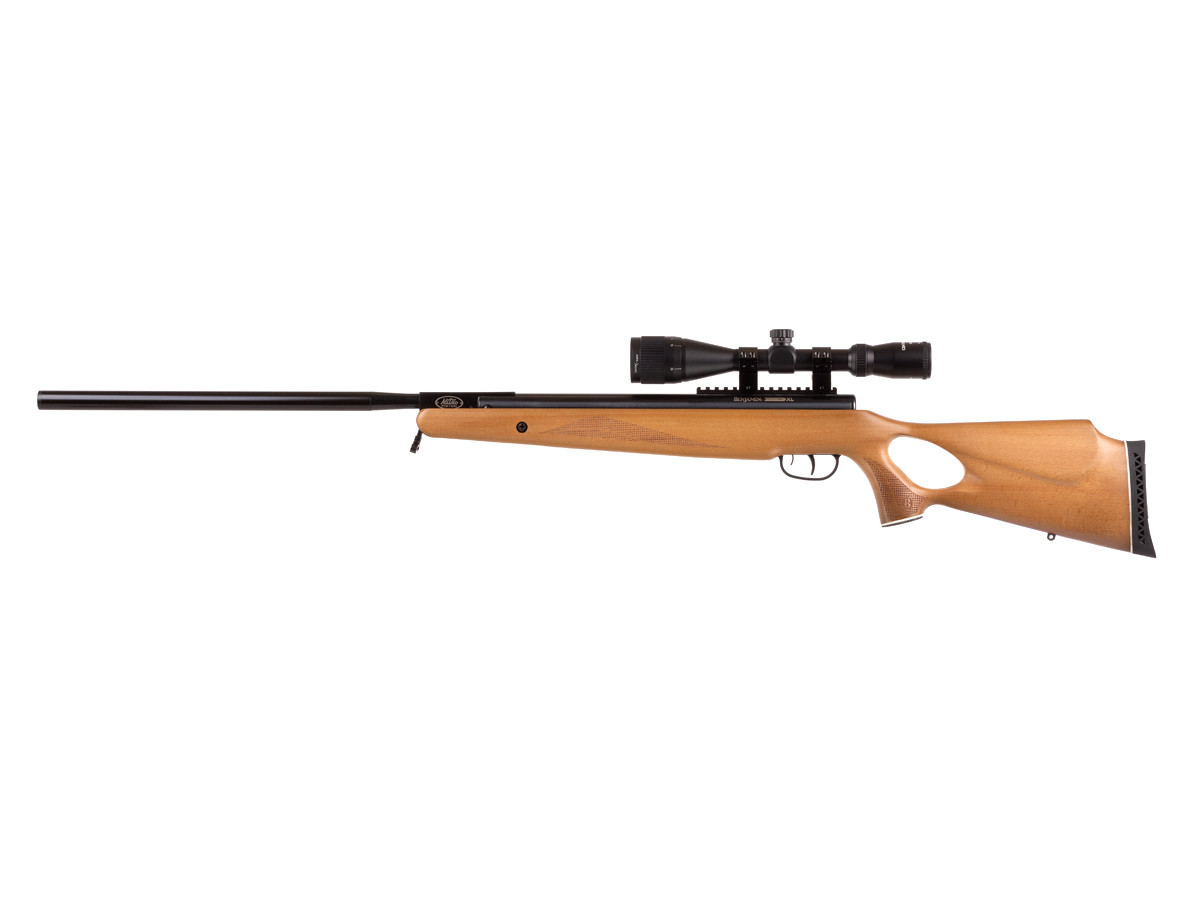 Product Details
The Benjamin Trail NP XL air rifle was designed with small game airgun hunting in mind.
The rifle uses a Nitrogen filled gas piston instead of a coiled spring to power the gun, it is still a single-shot air rifle, but it is smoother to cock, and can be left cocked for hours while hunting, and not have to worry about spring fatigue over time.
It includes a 3x9x40 Centerpoint scope with an adjustable objective to reduce parallax error. The scope mount is a Weaver/Picatinny rail that is welded to the receiver.
The NP XL is available in all of the standard calibers, .177, .22, and if you need a sledgehammer to do the job, it can even be had in a .25 caliber. The barrel is shrouded, so it is 70% quieter than most other break barrel air guns. The hardwood thumbhole stock is completely ambidextrous and comes with sling mounts already installed.
All you will need for a day of hunting or plinking is the Benjamin NP XL rifle and a tin of pellets.
Why We Like It
The Nitro piston makes the rifle both smooth to cock, and quieter than spring-powered hunting rifles. The ambidextrous stock and controls are left-hand friendly.
The included Centerpoint scope is a good match for this air rifle and is amazingly clear and has a mil-dot reticle to aid in hold over for long-range targets. The weaver rail scope mount holds the scope firmly in position.
Things To Consider
The Benjamin NP XL is a powerful air rifle designed for hunting, so it will be harder to cock than lesser-powered air rifles. At 48 inches, it is a long air rifle, but the power generated by the 19.5-inch barrel and the effectiveness of the shrouded barrel is worth the extra length.
If you chose the .25 caliber option, you will not find ammo in most big box stores, they normally only carry .177 and .22 caliber pellets.
9. Hatsan 135 QE Vortex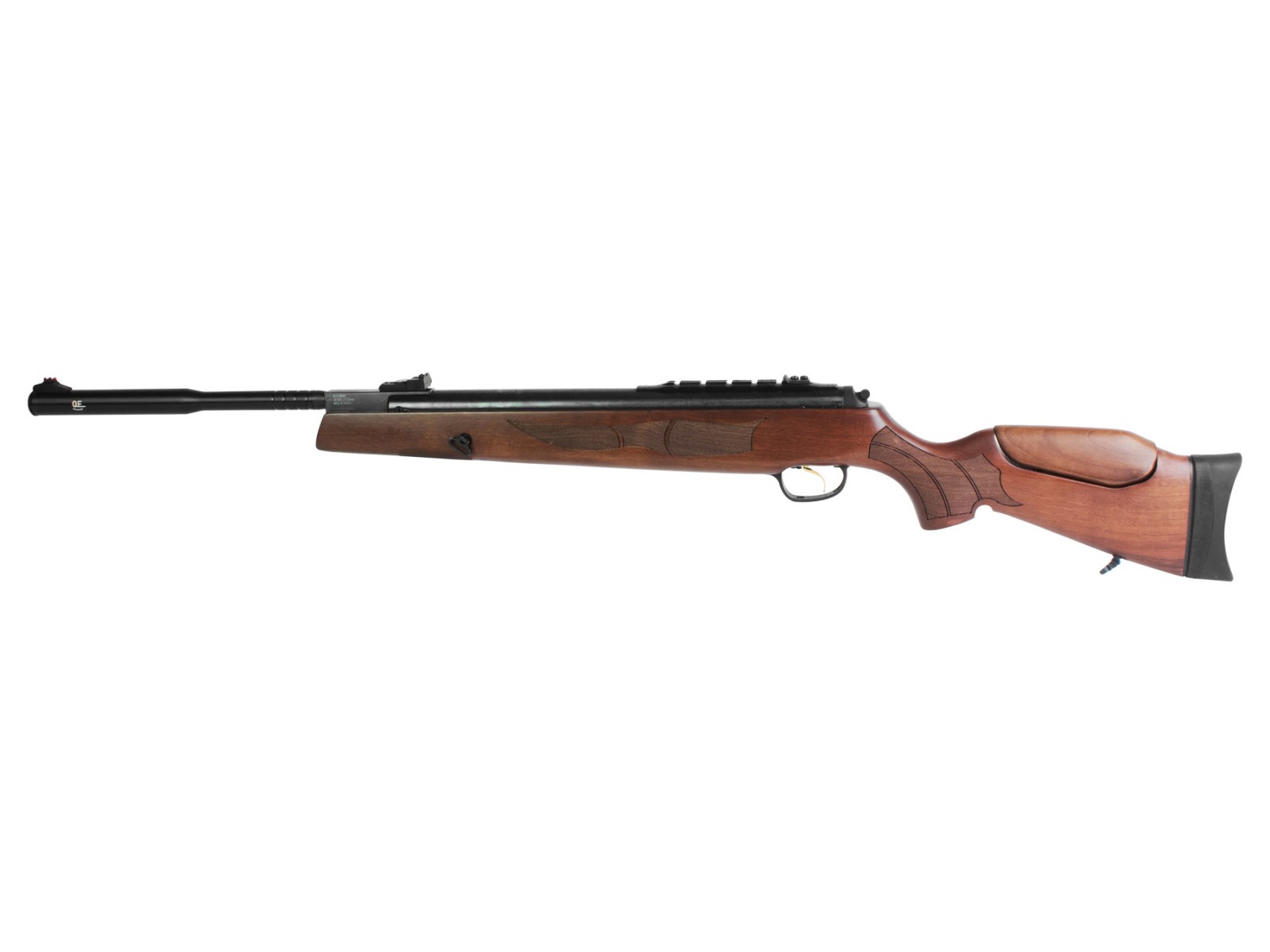 Product Details
Sometimes you make something just because you can, the Hatsan 135 Vortex is the embodiment of go big or go home. The Hatsan 135 is available in .177, .22, .25, and .30 caliber.
The larger pellet diameter of the .30 caliber projectile transfers its energy faster to the target providing the knockdown and penetration needed for small to medium game hunting.
The list of features found in the Hatsan 135 QE is reminiscent of a much more expensive air rifle. Some of the amenities are a Turkish walnut stock, with an adjustable cheekpiece, the much-acclaimed QE barrel and shroud to keep things quiet and on target, and the equally renowned adjustable Quattro trigger from Hatsan.
Add to that the Vortex gas ram which makes the rifle smoother and easier to cock, all of these combined make the 135QE an exceptional value for the money.
Why We Like It
The Hatsan 135 QE is available in calibers from .177 up to .30 caliber.
The QE barrel and shroud deliver the accuracy and power you want, quietly. The adjustable Quattro trigger allows you the flexibility to set your own pull weight. The rifle comes with Tru-Glo fiber optic sights as standard equipment.
It also includes Weaver-style scope bases, and last but not least, it is very eye-catching with the beautiful Turkish walnut stock.
Things To Consider
There is no hiding the fact that to generate the power this rifle makes, it will be hard to cock. While the gun has a smooth shot cycle, this monster has some kick, so learn your rifle's tendencies. It may not be suitable for younger shooters.
If you choose the .25 or .30 caliber model, you will have to order your ammunition online as those calibers are normally not sold in big box stores.
10. Diana Chaser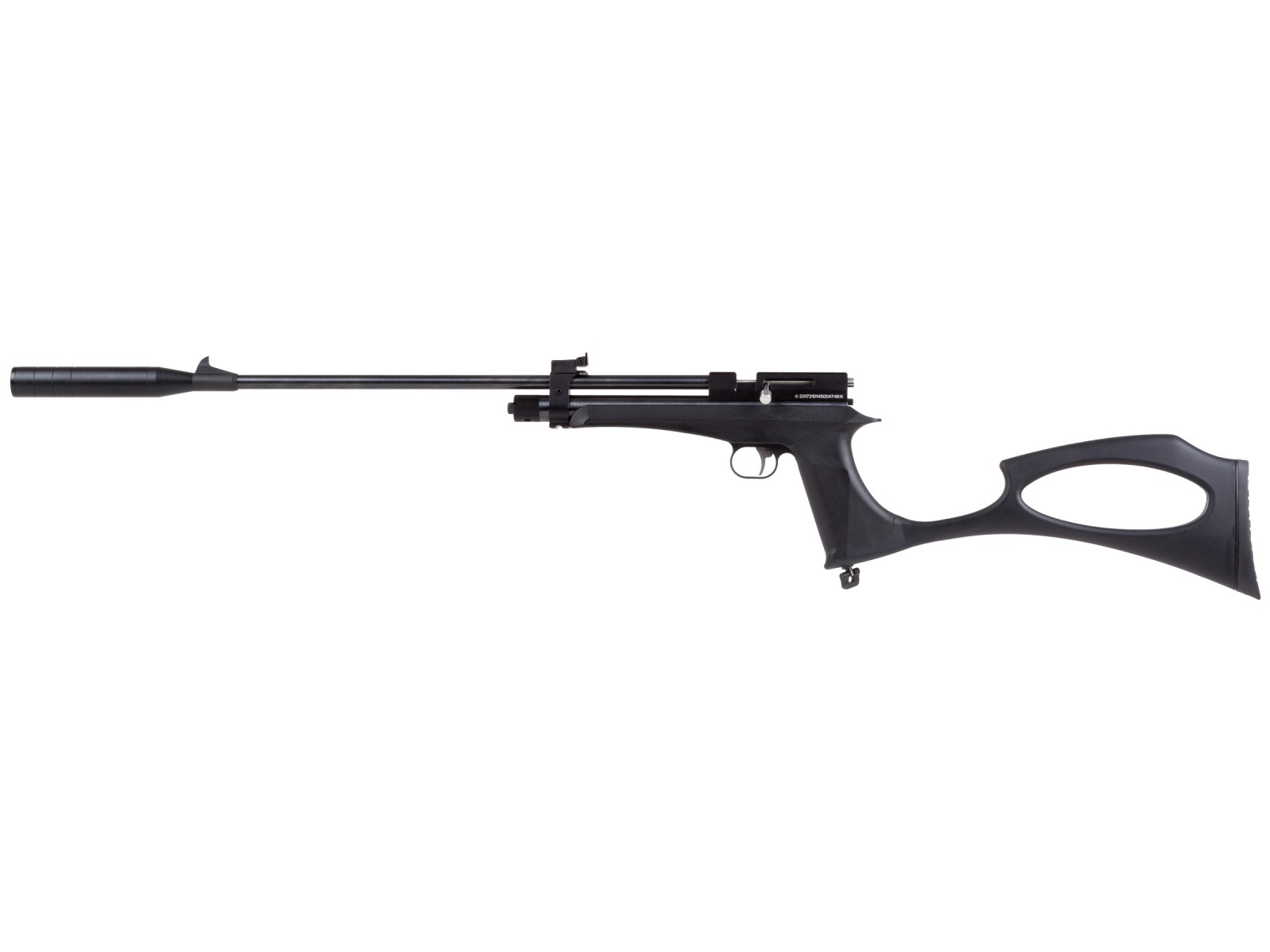 Product Details
The Diana Chaser kit is the only co2 rifle on this list, but it has some very special treats in store. First of all, it is available in both .177 and .22 caliber, it can be configured as a pistol, a carbine, or a rifle, or even a long-barrelled pistol with a suppressor.
It comes with a single shot tray, but Diana Stormrider magazines are available to make it a bolt action multi-shot repeater. With about 6 ft-lbs of energy, it is perfect for close-range pest control and backyard small game hunting.
It comes with open sights, but it has a dovetail rail to mount a red dot sight or scope. The kit is light and easy to carry, it can be broken down and put in a backpack for transport.
Why We Like It
The Diana Chaser uses inexpensive and commonly available 12-gram co2 cartridges for power and gets about 50 powerful accurate shots per 12-gram cartridge.
You can store an extra 12-gram cartridge inside of the pistol grip to keep the fun going even longer.
The rifle barrel includes an integrated suppressor making the gun extremely quiet and backyard friendly. The longer barrel gives about a 35fps boost in velocity over the pistol barrel.
A soft carrying case is included to keep everything safe and secure during transport. The changeover from pistol to rifle only takes a few minutes and can be done in the field.
Things To Consider
The Diana Chaser is powered by co2, so it is temperature dependent, meaning on cold days the gun will have less velocity than on a warmer day.
Magazines are not included with the kit, they have to be bought separately.
Common Questions
What is the best air rifle for small game?
Choosing the best air rifle to hunt small game with is a tough call, as there are so many options and price ranges to choose from.
There is an old saying; "Beware the person who only has 1 gun, because he probably knows how to use it." Meaning, choose one gun and learn how it performs at every possible distance you may encounter.
That being said, I think a perfect choice for someone just getting into small game hunting with an airgun would be the Hatsan 135 QE, in either .177 or .22 caliber.
The rifle has many features that make it a perfect small game gun. In .177 or .22, it has the power and accuracy needed to humanely harvest small game. It is very economically priced compared to other air guns.
It does not require any extra equipment like a PCP would need, just the gun, pellets, and a walk in the woods. From mice to squirrels, rabbits, and raccoons, the Hatsan 135 QE can handle the job.
What type of air rifle would you use to hunt small game?
There are a bunch of different options to go with, but we would recommend looking for something in .177 or .22 caliber rifle. The energy combined with the accuracy at 50 yards, makes for a great flat-shooting, small game hunting option.
Make sure the rifle you pick has certain elements to make hunting that small game easier. Power and precision are the name of the game, so you want to make sure your rifle has the ability for humane hunting. Having a scope rail so you can mount a great optic on your rifle. This gives you the best possible vantage point for your target.
We would recommend a PCP air rifle for small game hunting. Co2 can be an option but in colder climates you may see a drop in pressure which will lead to missed shots. Having something ready to go at a moments notice is key to making the most out of your day hunting.
A rifle like the Air Venturi Avenger would be a perfect option. It has a great ergonomic design, features that you only find on rifles costing much more, and the power can be adjusted for what animal you are hunting.
You could also look into the FX Impact. The rugged, lightweight bullpup design is perfect for small game hunts. If you are in need of multiple calibers, the FX design allows the shooter swap out barrels, magazines and probes to fit your hunting needs. A removable 480 cc carbon fiber tank that is able to be charged to 3600 psi. This allows extra bottles to be carried with you in the field.
Other factors to consider include:
Power Supply: Hunting normally takes place in colder weather, and a CO2 air rifle is dependent on warm temperatures for its power source. For this reason, you may want to avoid a CO2 rifle altogether.
Distance: The air rifle must be able to hit the kill zone over longer distances. This means you should look for an air rifle that can hit a one inch mark at the appropriate distance every time you shoot.
Power: For small game, such as squirrels and cottontail rabbits, you will need an air rifle capable of providing eight pounds of energy at target -- and as the size of the game increases, so will the amount of power you need.
What is the best caliber for hunting small game?
This is a hotly debated question among air gunners, as each thinks their choice in caliber is the only one that will do the job. All things considered, .22 caliber has long been the king of the small game hunting air rifle calibers.
But just like golf clubs, no single caliber will fulfill every niche. You would not use a putter to tee off on a 200-yard fairway, likewise, you would not use a 9 iron to sink a 2-foot putt.
The .177 caliber shoots fast and flat on its way to the target, whereas the .22 caliber shot from the same model rifle is slower. It will have more of a rainbow trajectory to the target, but the heavier .22 caliber is less affected by crosswinds.
Because of the larger diameter of the .22 pellet, it transfers its energy to the target faster, where the .177 caliber pellet will penetrate deeper than the .22 pellet. It could possibly over-penetrate the animal if it is small enough.
The .25 caliber is even heavier and has a much greater rainbow-shaped trajectory than the other 2 calibers, but at shorter distances, it is truly a sledgehammer when it comes to energy transfer.
But modern advances in airguns using higher and higher air pressures, coupled with the advances made in airgun specific slugs with a high ballistic coefficient, we are starting to see the larger caliber pellets move more into the mainstream of airgunning.