by B.B. Pelletier
I started this series for Wayne in Ashland, but since we won't be running the Pyramyd Air field target course this year, I am going to present as many of the classroom segments of the course as possible in the blog. This is for anyone who wants to shoot field target but doesn't have a place to do it.
In Part 1, I told you how to start a club and how to find land for the field target course. Let me add that if you can't find as much land as you think you need, there are things you can do creatively to expand the use of very little land. Let's suppose that you can get access to a very small patch of land. It's 100 feet wide by 200 feet deep – that's less than one-half acre, or not much larger than a suburban tract house lot. But, it's large enough to hold a field target match under the right conditions.
If the downrange area (the area beyond the end of the plot and about the same distance to either side of downrange) is safe from accidental intrusion (people or pets walking through), you can fit about 7 or 8 field target lanes in the 100 feet without too much crowding. The 200 feet is the depth of your lanes, but here is a trick to multiply the number of lanes. Use two different firing points on each lane! I've drawn a diagram to make it clear how you do that. First everyone walks down path one, then they all walk down path two and engage the same targets from different firing points. Obviously the reset strings have to run back to the firing point farthest to the rear.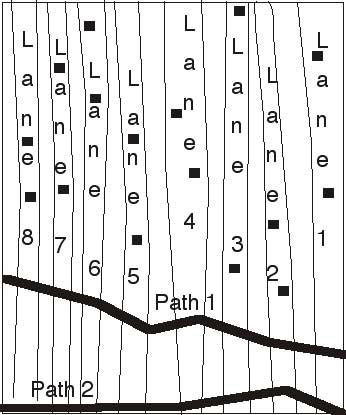 This small course is crowded but not overly so. By putting some targets in trees you can keep things interesting. Use the terrain to help divide the lanes.
How 16 targets become 64
If you count the number of targets on our hypothetical course, you'll see there are 16. But you will have each shooter fire two shots at each target, so that's 32. And there are two different paths to shoot from, so that makes a total of 64 shots we can get from just 16 field targets.
But where do I get my FIRST target?
I currently own about 10 field targets, but it took several years for me to acquire that many. There was a time when I had none. You read in the first part about how I was able to borrow 20 field targets from another field target club in my area, but what if you don't have one of those nearby? Well, do you remember the friend I told you to find? Here's where he pays off. You and your friend hold a field target-making party. Then you follow the plans set forth in the article on the AAFTA website, How to make field targets.
You can also buy field targets, but here's a tip. Don't buy too many of any one kind until you have time to evaluate them. At DIFTA, we found that targets from some makers were finicky and difficult to emplace and keep running (reliably) while others were no trouble at all. Once we learned what the good ones were, we bought them exclusively. There are more good field target makers today than ever before. Back in the 1990s, Rick Stoutenberg made targets that would function in almost any sort of situation. I don't know if he still makes them, but if he does, he's a great resource. Dick Otten's After Hours target company still makes targets, and his mechanisms are different but just as reliable as Rick's.
Of course, you can also buy ready-made Gamo field targets from Pyramyd Air. At just $20 apiece, these are a bargain. I've never used them so I can't comment on how reliable they are, but they have very good customer reviews.
The good thing about Gamo targets, besides the low price, is the ability to change the target faceplate with another animal silhouette. You can have quite a few different types of animals. They come with a huge 2-1/2″ kill zone, but each target also comes with a set of kill-zone reducers of 1-1/8″, 3/4″, 1/2″ and 1/4″ – all very handy FT sizes. And, the replacement target faces also come with a set of kill-zone reducers.
You have to make money for the club
This ties in directly with the targets and other equipment. It all costs money. Nothing is terribly expensive, but 10 Gamo targets represents $200, and nobody is going to want to spend their own money that way. So, you charge for shooters to shoot every match. At DIFTA, we charged $10 a match, but we discounted $5 to those who helped set up or run the course. We didn't make a bucket of money, but it was enough to buy and maintain targets. We also started an airgun show that generated several thousand dollars in revenue. That went to the local Izaak Walton league, but we were favorably considered whenever we requested funds for our projects. However, if you feed cash directly into the FT club, it's yours to spend as you desire.
What do I mean by target maintenance?
The field targets do have a little maintenance, depending on the models you have. Lubrication of the hinge is the big one and general cleaning (knocking the dirt off) is the rest. But you also have target reset strings and hardware that has to be made and maintained all the time. You will start breaking reset strings in your first match, so some small amount of money will have to be spent on a regular basis. I used to paint the targets before each match and during the match at the lunch break, so the cans of flat black and international orange paint are a small ongoing expense. Every little thing adds up, and you'll want to have a budget to draw upon. In the beginning, the money comes out of the founder's pockets, and when you start holding matches they get repaid, plus you build a cash fund for club operations.
Next time, I'll tell you a lot more about the targets – like emplacing them, permanent stands (these are great!), reset string hardware and the art of maintaining a reliable field target.