by B.B. Pelletier
I was discharged from the hospital on Friday, June 4. I'll continue my recovery at home. I get daily visits from a visiting nurse and see doctors weekly to track my progress. Thank you for your prayers and concern!
Now, on to today's blog.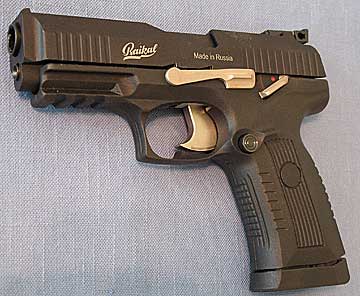 The IZH MP-655K BB and pellet repeater.
This is my last report on the MP655 BB/pellet pistol. Today, we'll look at accuracy for both BBs and pellets.
I want you to pay close attention to the BBs, because I think the test shows a lot about how well the pistol is designed and manufactured. Mac used a 15′ range and shot Daisy Premium Grade zinc-plated BBs. He shot using a 6 o'clock hold, and only one target is necessary to show what this phenomenal pistol can do. Since there are 90 shots available per CO2 cartridge, he could have torn a big hole in the target. But he fired only 10, and you can see where they landed.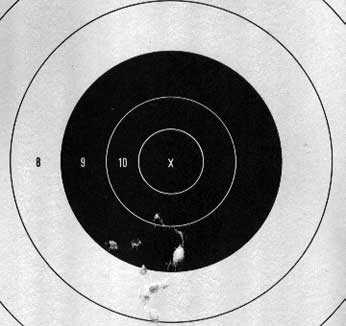 The gun shot to the exact point of aim as it came from the factory. Also, note how tight the group is. This is a very fine BB pistol.
Loading BBs
It's pretty easy to load BBs in this gun. The operation goes this way: Open the accumulator on top of the slide and pour in the BBs.

Pour BBs into this open space, and the gun will organize them properly.
As BB pistols go, I don't know how you could ask for more. It has accuracy, shoots to the POA and holds 100 BBs, 90 of which can be fired on a single CO2 cartridge. What a gun!
Now with pellets
With pellets, Mac moved back to 10 meters and used the circular pellet magazine. First were Hobby pellets. They shot pretty well; certainly the gun is equal to an Umarex pellet gun.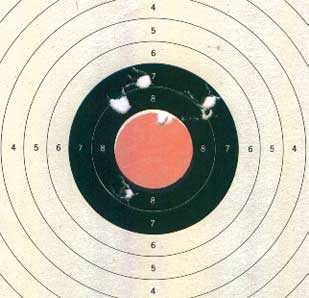 Hobbys made this well-centered 8-shot group at 10 meters.
H&N Finale Match, Hi-Speed
Next, Mac tried H&N Finale Match High-Speed, which is the pistol weight target pellet. Normally, these would group well, but they didn't seem to group as well as some other pellets in this gun.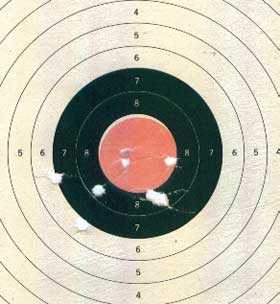 A decent 8-shot group and well-centered, but not quite as good as Hobbys.
Crosman Premier 7.9 grains
The last pellet Mac tried was the Crosman Premier Light. Surprisingly, they out-shot everything else. They shot almost to the POA, which was a 6 o'clock hold, and were well-centered in the target.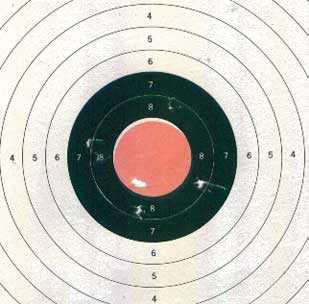 Crosman Premier Lights delivered the best pellet group of the test.
Final assessment
As we've seen, this is quite a novel BB pistol. It's pricey but seems to have all the features that you could ask for and some you never dreamed of.