by Tom Gaylord
Writing as B.B. Pelletier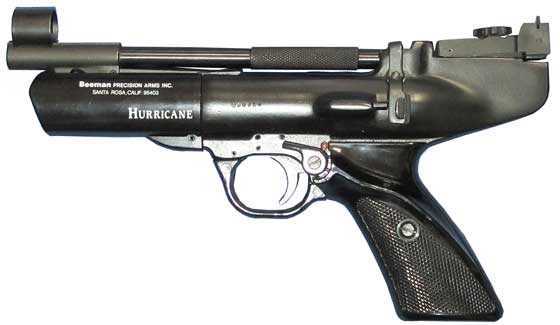 Webley Hurricane
This report covers:
Remember
The test
H&N Finale Match Light
Sig Match Ballistic Alloy 
Air Arms Falcon
Firing behavior
RWS R10 Match Pistol
Gamo Match
H&N Baracuda with 4.50mm head
Summary
Today we see the accuracy of the Webley Hurricane. I have to tell you, this has never been a particularly accurate airgun in the past, so I'm not looking for much today. I will do my best though.
Remember…
No — I am not carrying Mr. Spock's katra — Star Trek III, The Search for Spock. I want you to remember what I am trying to do with this report.
One thing I'm especially interested in with the Hurricane is how well the Extreme Weapons Grease performs. I used it on all the places where there was galling of the metal. You can read about that in Part 3. Normally I would have used moly grease, but I had a small tube of this stuff that was given to me at some SHOT Show and I decided to see if it was really up to the task. So I'm watching how smoothly the pistol cocks. read more