by B.B. Pelletier
Well, we all wondered a month ago whether the Roanoke show would run this year after the passing of the organizer, Fred Liady, but it did run exactly as planned. Fred's widow, Dee, made sure that the show went off exactly as Fred would have wanted it, which was her memorial to his memory.
All of the attendees had Fred foremost in their minds as they set up in preparation for the doors to open. Dennis Quackenbush conducted a short but heartfelt ceremony a few minutes before the doors opened on Friday for all of the attendees to remember not only Fred but other noted airgunners who left the building this year. There weren't many dry eyes in the crowd when Dennis finished his short eulogy in front of the Fred Liady memorial table at the front of the show hall. Then, everyone filed past Dee and told her how much they missed her husband. I was surprised she had the strength to stand there and greet over 100 people who'd known Fred for so many years. At the end of the ceremony, the mood in the room was one of quiet remembrance that lasted until the doors finally closed the next day.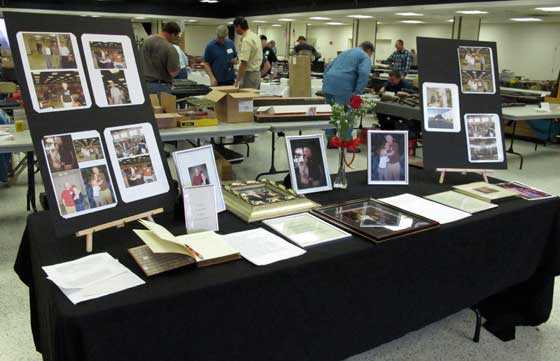 The show was dedicated to the memory of organizer Fred Liady. Attendees were invited to sign his memorial document, and there were numerous people who signed in from the internet.
Roanoke was different this year
Besides the somberness under which everything operated, this was a very different show. It was quieter, slower and more reflective of the current economic times. By that remark, I mean to imply that the prices on airguns were lower than I've seen them for many years! That'll come out in this report, but I'm going to take a different perspective, because to me, this show also happened very differently.
Instead of me flitting from table to table and deal to deal, the show literally came to me. Most of the deals I made were thrust upon me rather than me having to seek them out. Allow me to explain.
Marv Freund, a good Maryland friend for many years, told me he had a strange airgun at his table that he thought I'd be interested in. He wasn't certain of the name, but by the time we walked over to his table I'd pinned it down to Falke, a German maker of classic springers. And of the many models that Falke (falcon in English) made, the model 90 underlever was the top…and Marv had a Falke 90 to show me! They don't get much harder to find than that. This was the first Falke 90 I have ever seen at any airgun show, and I've been attending shows since 1993!
The wood stock has been worked over by a budding folk artist. When I finally show it to you, you'll see that the stock has definitely been folked-over, but the metal seems to be in good shape and it's all there. Marv named a price that would have been good for 1980, and I acquired my first airgun of this show.
Back at my table, I was marveling at my good fortune when several blog readers walked up and introduced themselves. Most of those I met have not yet commented on the blog. I encouraged them to do so, but it was just nice to meet them and put faces on more readers. Then, Fred from the People's Republic of New Jersey (FredPRoNJ) arrived. I've met him before and he's kept in touch this year following my hospital stay. With him was his friend, Tom, the former Navy SEAL, who I suspect is starting to warm up to airguns from constant exposure through Fred.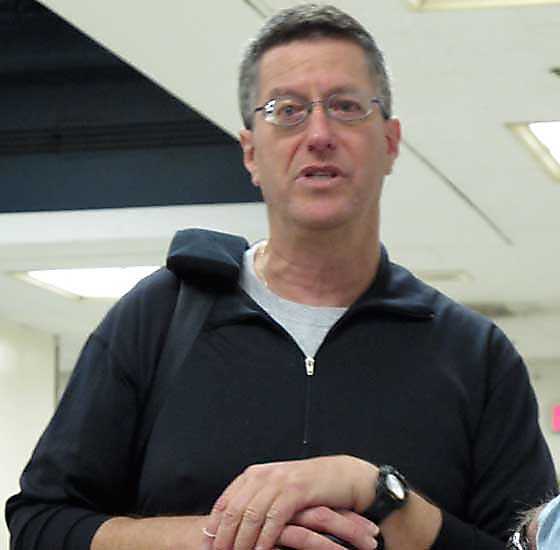 Reader Fred, from the People's Republic of New Jersey, was the first to spot my table.
He handed me the logbook for his new Benjamin Marauder that showed the work he'd done to get the valve as stable and conservative as possible. The data I saw were quite impressive, and I know that when he finishes his experiment we'll all be treated to an excellent guest blog. But Fred had some guns he wanted to buy and one RWS 350 he wanted to trade or sell, so I bid him well as he wandered off in search of his dreams.
Then strange deal No. 2 happened. Richard Schmidt, a dealer from New York, came by my table and we chatted about airguns in general. Back at my first airgun show in 1993, I bought a Hy-Score model 807 (Diana 27) from him at the Winston-Salem airgun show, which was the forerunner of the Roanoke show. I still have that 27, and you can read about it here. Anyway, Richard knows I have a weakness for 27s, so he offered me a nice one he'd brought. When he showed it to me, I was very pleased at the overall condition. He named a price that was mid-1990s, and I reached for my wallet. But Mac broke open the barrel and pointed out that the breech had some bad damage that was not repairable. Richard was as surprised as I was, and he took the gun back for a barrel replacement after the show.
A couple of hours later, I was relating this story to Mac and to blog reader Lloyd. As I was lamenting the loss of a good model 27 a man walked up and said, "You want a Diana model 27? Here's one for you! I'm sorry that this one says Winchester 427 instead of Diana 27, but you know they're the same guns."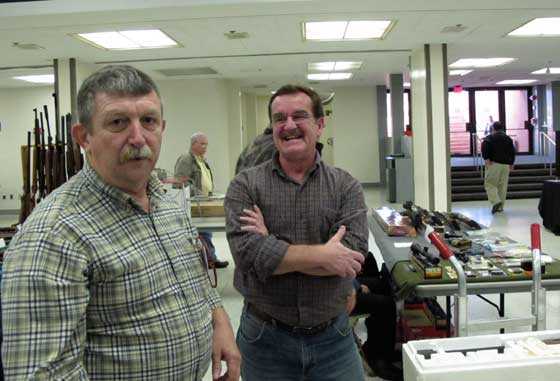 Mac on the left and reader Lloyd were ready for a great show.
Well, a Winchester 427 is the top of the Diana 27 hierarchy. It's like saying you're sorry that this is a Rolls-Royce instead of a Bentley! I told him I would like to pay the price I had negotiated with Richard Schmidt and he agreed. After a quick once-over, I couldn't get the money out fast enough — and my second purchase was history.
Elsewhere in the show there were deals spilling off dealer tables — literally, in one case, when a gun rack dropped all of its vintage guns into the aisle. Not once, but twice! If you wanted a Feinwerkbau 124, the show was loaded with them. Prices started at $170 for a standard model in good shape and never got up to $400. If the same guns had been advertised on the Yellow Forum classified ads, they'd have sold in a day.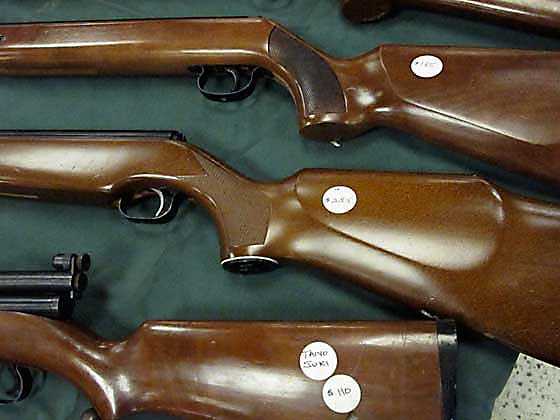 That FWB 124 in the center is a deluxe model going for only $285!
But is wasn't just 124s that were hot. I saw hundreds of vintage guns at prices that reminded me of 20 years ago. How about a Diana model 66 target rifle for $350! Or a new-in-the-box HW 55! I didn't catch the price of that one, but it was NIB, so who really cares!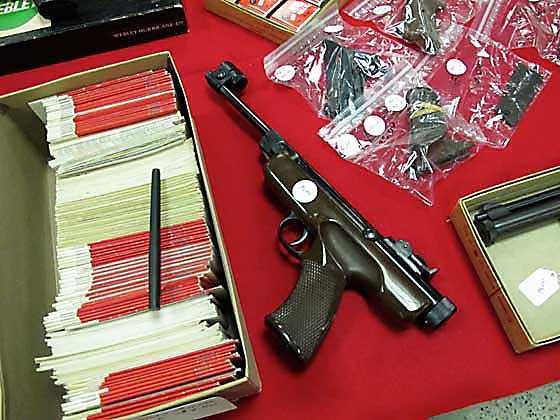 How about a Diana model 5 pistol from RWS for just $75? It was like new.
Then there were the REALLY old airguns. Cased air canes and dart guns from the 1700s. A cased butt-flask rifle with all the tools. Yes, they weren't cheap because they never are, but they were there — and in profusion. A serious collector could not have discounted this show. But something was different.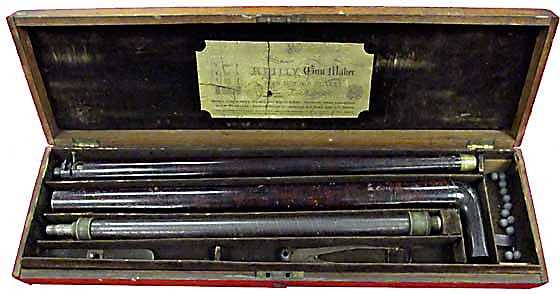 This cased air cane with the pump and all the tools was made by Reilly of London. One of many fine antique airguns at this show.


A dart gun from the late 1700s was one of a pair. The set trigger could be fired by blowing on it.
In years past, I've witnessed deals involving huge sums of cash at this show. But I didn't see any of that this year. And, when people talked about it, they all seemed to say they had money to spend but were less willing to spend it than in years past.
Some were frustrated by not finding exactly what they came for. The R7 was high on many lists this year, but there seemed to be a shortage of them at this show. However, Fred from the PRoNJ did connect with a Beeman model HW 50S that satisfied him quite well. I expect him to let us know how this rifle meets his needs.
He got it in a super deal from Pyramyd AIR, which had four tables of guns, pellets and accessories and was always busy. Mac bought a Daisy model 25, one of the new ones I'd just finished testing, for a super deal! And, he bought as many pellets as he could carry in a super dented-tin sale they had. Pyramyd AIR Tech Manager Gene Salvino was doing anything and everything to sell guns and equipment to anyone who dropped by their tables. Blog reader Lloyd bought a great AirForce scope from them to use on a Benjamin Discovery he also picked up.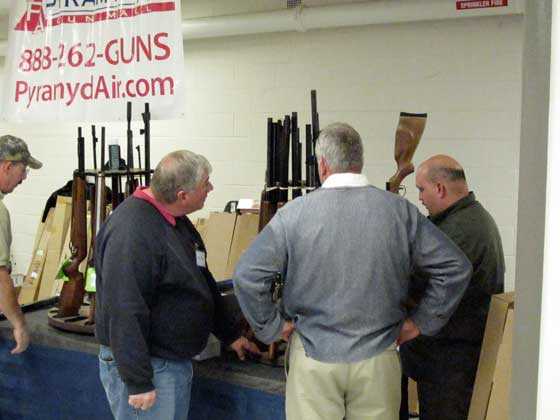 Gene Salvino (right) the Pyramyd AIR tech manager, shows a rack of precharged rifles to interested buyers.
I returned half a truckload of test guns to Pyramyd AIR at the start of the show. Some of these went back as far as three years.
I was back at my table when a tall gentleman stopped by to say hello. When I heard him say he was our very own reader Kevin, I came out from around the table and hugged him, which I'm sure embarrassed him to no end. Months ago, when I was flat on my back, Kevin and several other blog contributors, including Lloyd and Fred, virtually took over the duties of answering the questions that came in. This blog would not have functioned as well as it did without their help, and Edith and I will never forget what a wonderful thing they did for us all.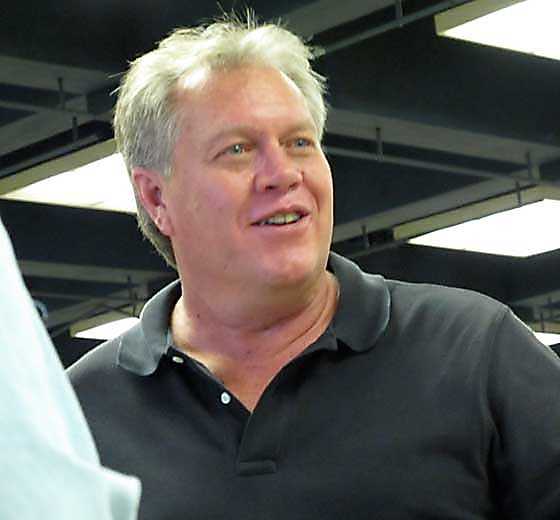 Reader Kevin arrived on day one and toured the show floor.
Toward the end of the first day, Paul, another contributor and guest blogger, stopped by the table to say hi and we talked for a bit. He's got another guest blog coming together, but it may be a while, as building a new house is on the front burner in his life right now. However, Paul's still an airgunner, and he revealed that he'd seen a gun he thought would be perfect for his needs. But the outcome of that story will have to wait my report about day two.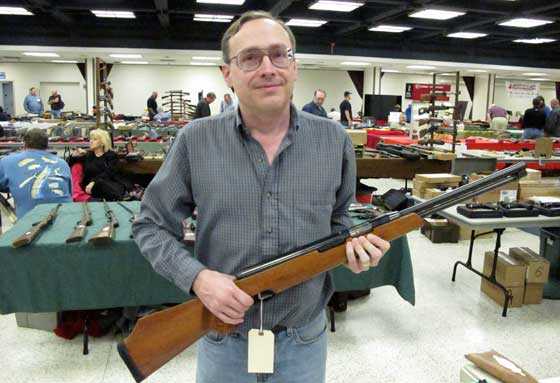 Reader Paul holds a BAM B40 at my table. He stayed for both days and found a couple of nice airguns.