by B.B. Pelletier
Test and photos by Earl "Mac" McDonald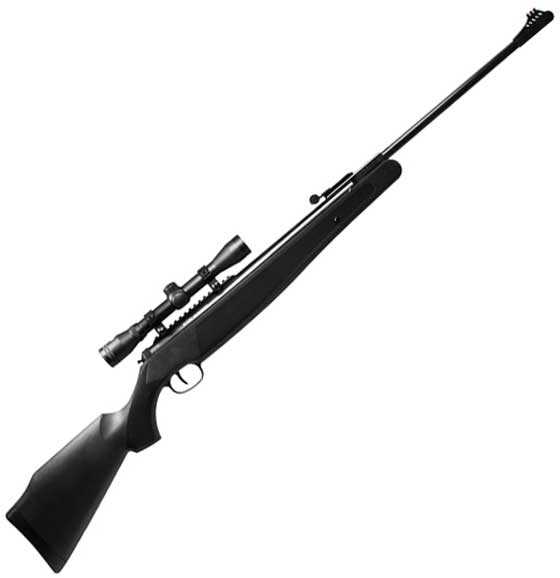 Ruger's Air Magnum Combo is a big, new, powerful breakbarrel.
Today, we'll begin a look at a brand-new übermagnum from Ruger, the Ruger Air Magnum Combo. This is another spring-piston breakbarrel with smashing power, and I can tell you where that power comes from — in a moment.
Mac described the rifle as a Diana RWS 34P on steroids. And, then it hit him. Maybe, it's really more of a Diana RWS 350P Magnum. Regardless of what it reminds him of, the report will focus on this new rifle, only.
Now, being both a breakbarrel and powerful is going to mean one thing for sure. This rifle will take some technique to shoot well. You'll have to apply the artillery hold and find and use the one best pellet no matter how many tins of lead sinker larvae you can find on sale at Wal-Mart. You know, praying doesn't make bad ammo good, and no amount of savings will ever be enough to compensate for the miss you know started out as a good shot.
The rifle comes with open sights. In this case, they're fiberoptic, front and rear, which is probably the right choice for a hunting gun. And, the rear sight is fully adjustable.
A scoped combo
Being a combo, though, the rifle also comes with a scope. In this case, it's a 4×32 that I'm sure you'll want to upgrade at some time, though Mac tells me the one on his test gun is pretty darned clear. It doesn't have parallax adjustment at this price level, but Mac will share how to adjust the parallax on this scope in part three of this report. You can set it to 25 yards, if you like, and you'll be averaged for hunting. Or, if you just want to shoot it at 10 meters (even though this is not an indoor plinker by any means), it should be possible to set it for that range.
And, some very good news. The rifle has a Weaver base permanently attached to the spring tube. So, buy Weaver rings and forget all scope mount movement problems. Of course, if you get the combo you also get a scope mount set, so there's nothing more to buy.
Big gun!
The rifle is very large, Mac says, though at 8 lbs. it isn't a heavyweight. It's 48.5 inches long, which makes it much longer than the average breakbarrel. The length of pull is a good 14.25 inches, which most adults will find in the right range. The barrel measures 19.5 inches, which you're going to want for some cocking leverage.
Where the power comes from
The cocking effort on Mac's test rifle measures 58 lbs.! Yes, I said 58 lbs. If you want to know how that would be measured, look at this video. Please, think that through before you order one, because at that level of effort you're not going to use one of these rifles for plinking. Even bodybuilder Lou Ferrigno would soon tire of that much effort. But, hunters shouldn't care one way or the other, because they don't have to cock their rifles that often. Umarex, which imports the gun, lists the cocking effort at 42 lbs. Even that's substantial.
However, it isn't just the powerful mainspring that creates the extra power of this rifle. Mac reports that the barrel also comes back about 120 degrees from closed before the rifle is cocked. That extra stroke of the piston is where the real secret of power lies. We know today that swept volume in springers is the real secret of their power, which begs the question of why the rifle has to cock at 58 lbs. Maybe it was a poor mainspring choice and maybe an aftermarket tuner can chop out 20 lbs. of effort without losing much power, but that's not a question we'll address in this report.
The one note Mac added about cocking is that he cannot feel the sear set when the rifle is cocked. The safety comes on automatically, but you really have to give the barrel a hard last yank to ensure the rifle is cocked. Maybe that'll change with break-in, like the older Gamo triggers and BSF triggers used to, but we shall see.
Mac measured the two-stage trigger at 53 oz. He says stage two is a bit vague, but you can feel it. The trigger is also adjustable, but only for the length of first-stage travel.
You can see that the butt is synthetic, and Mac noted the thick, smooth buttpad. The stock design is conventional Monte Carlo style, but without a raised cheekpiece. Note the complete ambidextrous design because of where the automatic safety is placed, at the rear of the spring tube. The metal is nicely finished medium satin and sets off the dark stock perfectly.
More toys, boys!