by B.B. Pelletier
A few weeks ago, blog regular Fred PRoNJ told us about a great find he made. Today, he's going to tell us more about it.
If you'd like to write a guest post for this blog, please email us.
Bloggers must know how to take clear photos and size them for the internet (if their post requires them), and they must use proper English. We'll edit each submission, but we won't work on any submission that contains gross misspellings and/or grammatical errors.
Take it away, Fred!
by Fred Nemiroff, aka Fred PRoNJ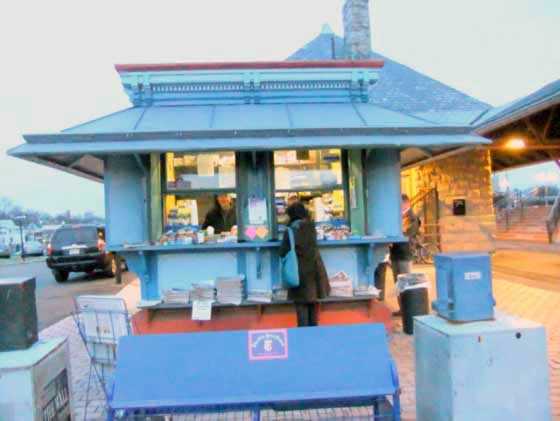 You can find airguns in the most unlikely places!
Say hello to Murray and Tom. In the image above, Tom, the gentleman on the left, is a retired accountant, Vietnam vet and a once-avid hunter and target shooter. The owner, Murray, is being shielded from a customer, on is the far right of the building.
The day before I left for the Roanoke Airgun show, I bid good-bye to Tom and Murray. When I told Tom where I was going, he told me he had an airgun he inherited from his father. I asked him if he was interested in selling it, and he said he'd think about it. Two weeks after I returned from Roanoke, Tom told me he'd sell me the airgun.
The next Saturday, Tom stopped by my house with a wooden box that held the pistol, a holster, pellets and more.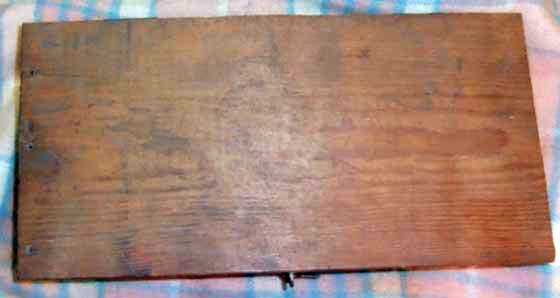 This wooden box holds my newest prize…a Diana 5V air pistol.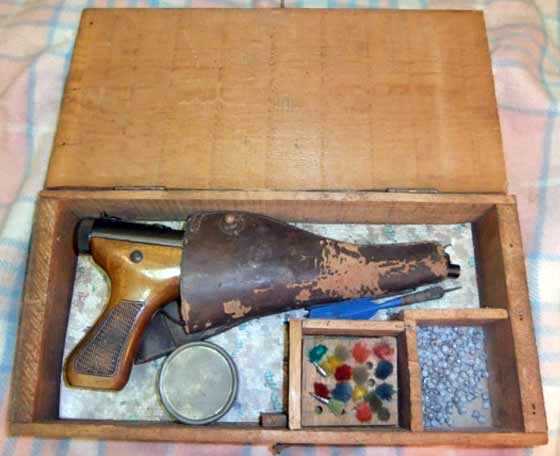 Lots of goodies came with the gun, including a holster. The holster is a lefty and is face down when the gun is properly inserted. The gun and holster were flipped around to give you a better view of them in the box. Those feathered things are darts, which came with the gun originally.
In addition to the Diana Model 5V in the 1905 Rock Island Arsenal holster, there were a bunch of oxidized pellets in the little box and in the unmarked tin, and some darts.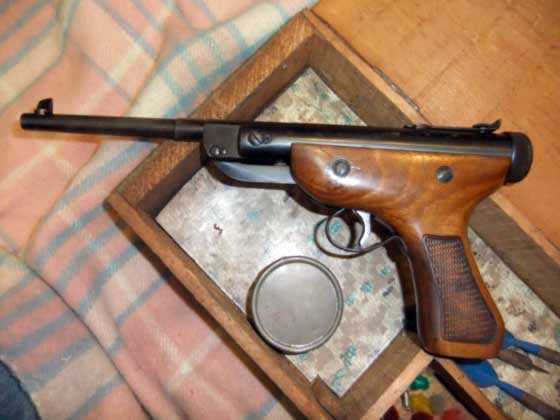 Left view of the gun showing hand-checkering on the grip.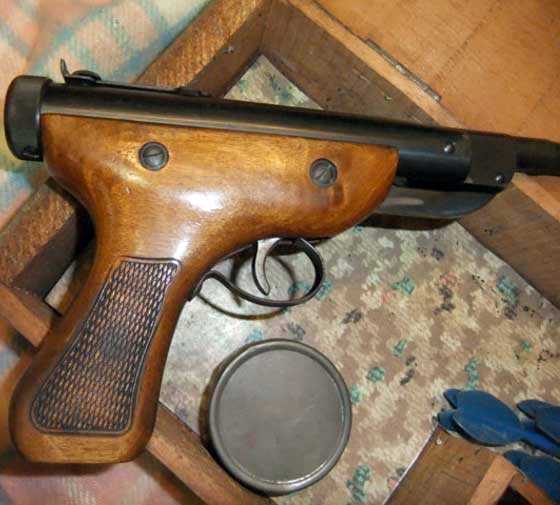 The unmarked tin contains oxidized wadcutter pellets.
The gun is a spring-piston breakbarrel with a fixed barrel sight and a breech mounted sight that's adjustable for elevation. A screw that goes through a threaded hole in the sight is how the rear sight adjusts up and down.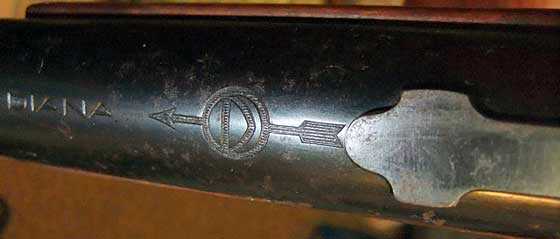 Note the capital "D" and arrow. That makes this a rare gun!
The Blue Book of Airguns states that this may be the only example of any of the guns manufactured by Diana that used the circle "D" trademark. The gun was manufactured from 1933 to 1945. I've looked all over the gun and find no serial number. I haven't removed the grips to check underneath, not wanting to be the first one to take the gun apart. Looking closely at the various screws, there's no evidence that this gun has ever been opened since it left the factory. The Blue Book goes on to say that the gun was made with a smoothbore as well as a rifled barrel. This example has a rifled barrel.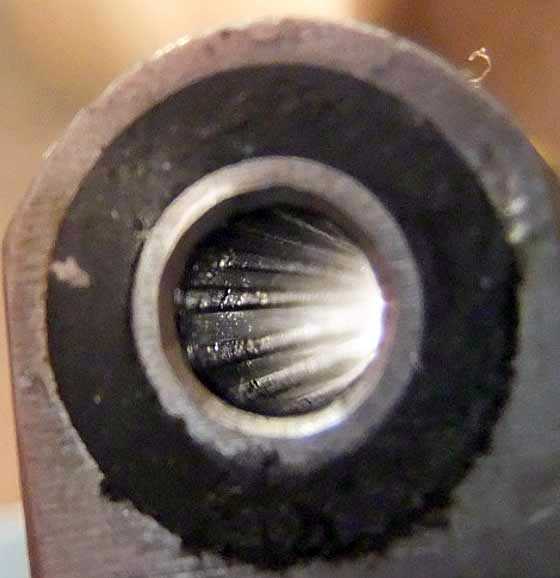 My gun is a .22, yet the Blue Book mentions only .177 cal. guns.
One other item of interest. The Blue Book only lists this gun as being made in .177 caliber. This model is a .22!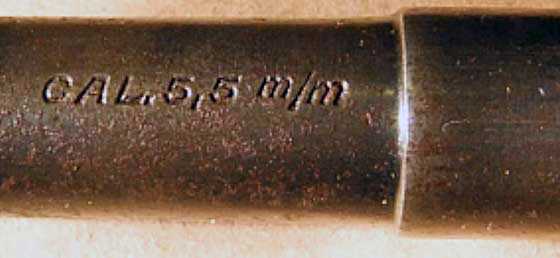 Some rust, although it looks worse in the pictures than in person.
There's a moderate amount of surface rust along the barrel where it's grabbed to cock the gun. The wood grip appears to be in very good condition. I don't know what type of wood this is. Anyone out there reading this blog care to hazard a guess?
Being a man of limited patience, I cocked the gun and inserted an RWS Hobby pellet. From 10 feet away, I bounced a pellet off the paper target that was resting on a piece of cardboard. The impact was so light that I couldn't tell where the pellet hit the paper.
The breech seal is leather, as you'd expect and as you can see going back to the photo of the rifled barrel. The piston seal is probably leather also. I took out my container of 30-weight motor oil and put an ample amount on the breech seal and poured some down the transfer port. The gun then sat on its butt for two days.
After two days of allowing the seals to soak up the motor oil, I repeated my firing test 10 feet away from my target. This time, the pellet penetrated paper and cardboard. Now, it was time for a session with my Shooting Chrony. The average velocity of the .22 cal. Hobby pellets (11.9 gr.) was 208 fps. I recorded a high of 216.9 fps and low of 200 fps.
Finally, I needed to find out what level of accuracy this old feller was capable of. From 25 feet away, I launched a pellet right into the wall some 2 feet above the target. While the gun is not powerful enough to penetrate sheetrock, it did leave a nice mark. I lowered the rear sight as far as it would go and, from 10 feet away, confirmed the pellet was hitting paper. Backing up to 25 feet, I giggled as I found out I could actually watch the pellets trundling their way through the air to strike the target.
I used a two-handed stance, shooting 5 Hobby pellets and 5 RWS Superpoints. The accuracy, I think, is pretty good, and I'm sure if I'd tried to shoot from a semi-rest or if a better shooter was available, the groups would have been much smaller.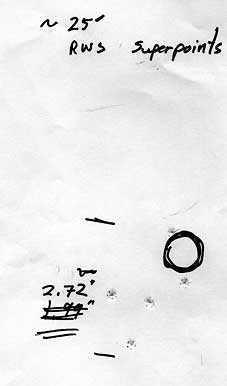 RWS Superpoints, although not the most accurate of pellets in my experience, would at least penetrate this sheet of paper.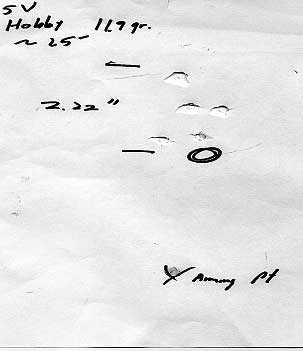 Hobbys produced a slightly better grouping. The target is compressed because I shrank it to take up less space in the blog.
I estimate that this gun is 80-90% condition due to the rust. Since this is a rifled, .22 cal. example and is probably a very limited gun, I'm not sure what it's worth. I'll enjoy owning it and eventually will take it to Roanoke or Baldwinsville and offer it for sale to someone else who would love to have this rare gun in their collection.