by B.B. Pelletier
Before we begin, I have an announcement about Pyramyd Air's holiday operating hours. Pyramyd Air will close at 1 p.m. Eastern on Thursday, December 23. They will remain closed Friday, December 24, through Sunday, December 26.
FedEx will not make deliveries on December 24. So, if you're going to pull that trigger on an airgun buy, guys, the clock is ticking.
Today's report series was inspired by a report from last week — Roundball accuracy in smoothbores. I wrote that one while I was in the hospital, mostly because I didn't have much access to airguns. But, whenever I start writing about the fundamentals of stuff…like accuracy, my juices start flowing.
To tell the truth, I was so impressed by the smooth, uniform appearance of the RWS BB that I promised myself that I'd do this report. In the past, I pitted both Daisy zinc-plated BBs and Crosman Copperheads against Daisy's Avanti Precision Ground Shot in a test using the Daisy Avanti 499 — the undisputed world's most accurate BB gun.
Another thing I really wanted to do this time was shoot my targets offhand from the regulation 16.4 feet (5 meters). I've often rested the 499 when I used it in the past, but today I want to see what a 63-year-old man just out of major surgery could do while standing on his feet. Since this will not be the only testing I'll do with this BB, I figure it doesn't make that much difference.
Now, for the bad news. I'm not that stable, yet. I was weaving around so much while standing offhand that I finally rested the side of my right arm on the top of a dresser to stop me from weaving around too much. The rifle wasn't rested in any way, but I was touching some furniture, so I wouldn't have been in a legal stance for a match.
My heart rate is normally 55-65 bpm when shooting offhand. During this test, it was 88 bpm and hammering hard because of all the medication I'm taking (fortunately, that's temporary). That would be my heart rated two minutes after the end of a short but hard bike ride, when the breathing had just returned to normal.
The gun weighs about 3.5 lbs. so it was no challenge to hold. And, the cocking effort is also just over 3 lbs., so again, no strain.
Now, for the BBs
I normally don't do comparisons, but since that's exactly what this report series is about, I have to. Daisy's Avanti Precision Ground Shot, which I have also called by its older name in past reports, No. 515 precision Ground Shot, is exceptionally smooth and uniform. The reason Daisy wouldn't sell the 499 gun to the general public for many years was because they felt they couldn't keep up with the demand for ammo. This shot is made by processes not unlike those that make regular BBs, but the level of tolerance is held closer to that of ball bearings.
The 499 is loaded singly at the muzzle, and it takes Avanti Precision Shot three to five seconds to roll down the tube and seat against the magnet. I'll admit the time is most often closer to three seconds than five, but once during the session I had one take the full amount. So, this really is precision shot — it's not just a name.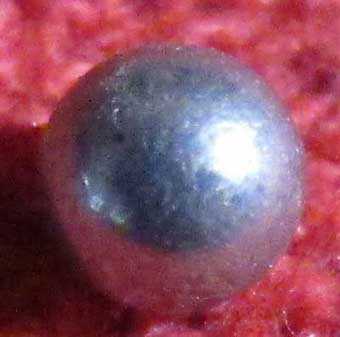 This is the Avanti Precision Ground Shot that makes the 499 do what it does. I know this photo isn't the sharpest, but you can still see enough to make a rough comparison. I'll try to get a sharper image for a future report.
RWS Match Grade Precision Steel BBs
The RWS BB caught my eye because I noticed during the BB submachine gun tests how uniform they look. They appear to be even smoother than the Avanti shot under a 10x jeweler's loupe. Of course, that could just be how the plating makes them appear, but I wanted to conduct this test to find out if they were indeed more uniform.
They roll down the 499 barrel in 1.5 seconds. So, they're ever-so-slightly smaller in diameter. I think we're talking one ten-thousandth of an inch and no more. The sound they make rolling down is very different, too. They sound smoother, while the Avanti BBs sound like they have a tiny bit of roughness.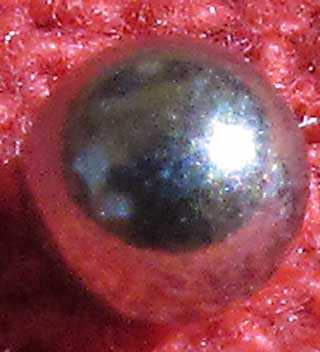 The reflective index of the RWS BB is higher than the Avanti, and it's impossible to see any imperfections on the surface of the ball at 10x. Again, I'll try to get a sharper image in the future.
My test plan was real simple. I would shoot several 5-shot groups at the target with each BB, alternating them so I wasn't tiring as I went. Then I would select the best group from each BB to show. I will also comment on the rest of the groups.
The rifle turned out to not be sighted-in, but I didn't worry about that. I was looking for grouping over score in this test. Right from the start I discovered that even an old sicko can still shoot this marvelous BB gun. My best groups are all half the size of a dime and the worst are only slightly larger than that coin.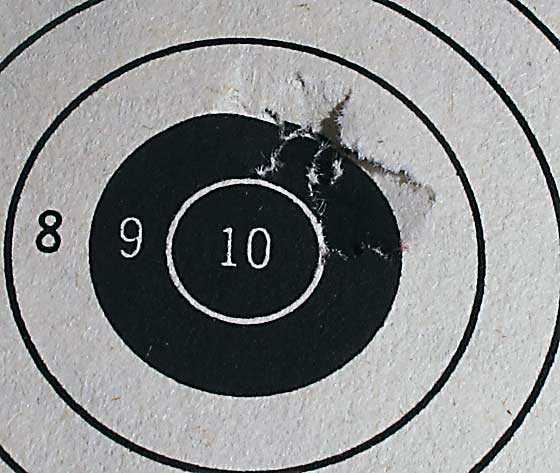 The best of several groups that were very nearly the same size. Five Daisy Avanti Precision Ground Shot. The black bull is about the size of an American dime.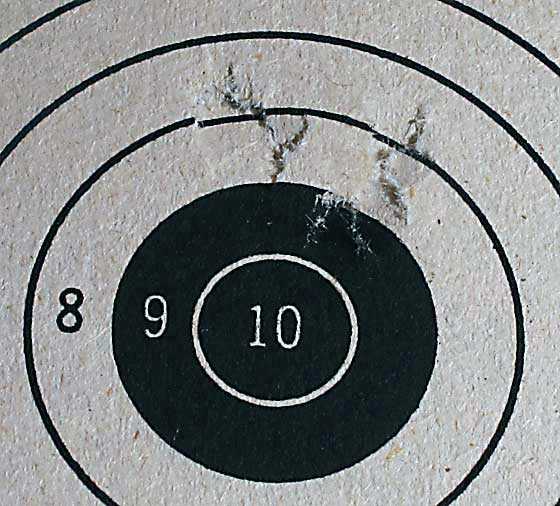 Five RWS BBs did very well, but they're not quite equal to the Avanti shot.
All the groups, save the first, were very nearly the same size. And, it was clear that the worst group of 5 Avanti BBs is about as good as the best group of 5 RWS Match Grade BBs.
What surprised me the most was the consistency of both BBs in this gun. Their groups were not that dissimilar from one to another. Except for the very first group where I was still learning the gun, all are far smaller than an American dime.
Testing doesn't end here, though. I still want to test both BBs in the No. 25 pump gun to see if a non-target gun can detect a difference.