by B.B. Pelletier
In case you haven't had a chance to view Pyramyd Air's 2010 Xmas video, here it is!
Part 1
Part 2
Part 3
Before I start today's blog, please note that I'm undergoing another outpatient procedure this morning and will be out of the loop much of the day. Edith will monitor the blog and answer comments as she's able. I would appreciate it if the blog readers could help out by answering the comments from new people and others who might usually get an answer from me.
The covert deal
I call this report the covert deal because that's what it's about. I'll explain a few of the uncommon deals I've made as an airgun collector/buyer and seller. I'm doing this to encourage those among you who want to get out and try this for themselves but haven't gotten up the courage to try it, yet. Hopefully, you'll see from what I am about to tell you that there are plenty of great airgun deals still to be made. Okay, here we go.
While you're standing at your airgun table at an airgun show, someone comes up and offers you a firearm. He tells you that he knows nothing about firearms and he recently inherited one that he wants to get rid of right away. Without saying so, you gather that he is uncomfortable around firearms, and he sees you as his chance to get rid of this one.
Think it can't happen? I've had it happen many times at different shows; so much so, in fact, that I am now prepared to talk to this person, because I know exactly what he wants and where he's coming from. I won't bore you with all the details; but the quick and dirty is that he somehow feels owning a firearm makes him a marked man, and he wants to keep this transaction as quiet and private as possible. That's what you need to know — keep things quiet and private and let this fellow go his way, unencumbered by any firearms.
He says he has in his car what looks like a Civil War musket, and the plate on the right side just says Springfield with an eagle and the date 1873. There appear to be additional words on the gun, but they're impossible for him to read. You can relax, because what he has is not considered to be a firearm by the ATF. It was made before 1898 and is classified as an antique. This is no M4 that was used to rob a liquor store last week, then thrown into the bushes during the getaway.
Also, if you know that the American Civil War lasted from 1860 until early 1865, you know that this isn't a Civil War gun. With that date of 1873, it's most likely a Trapdoor Springfield.
Now, this could either be the real deal from the late-19th century, or it could just as easily be a modern reproduction. You won't know until you see it. The genuine rifle in overall good condition should be worth about $700. A modern replica in excellent condition is worth about $800-900.
You wander out to his car which you notice he's parked far from the show entrance. He asks you to get in the back seat, where you find the rifle wrapped in a dirty beach towel. It turns out t0 be the real deal, so you ask him what he wants. "I saw something on your table that I'd like to trade for, if that's okay. He describes it and you know he's interested in an IZH 61 that you have priced at $75.


This is a real Trapdoor Springfield.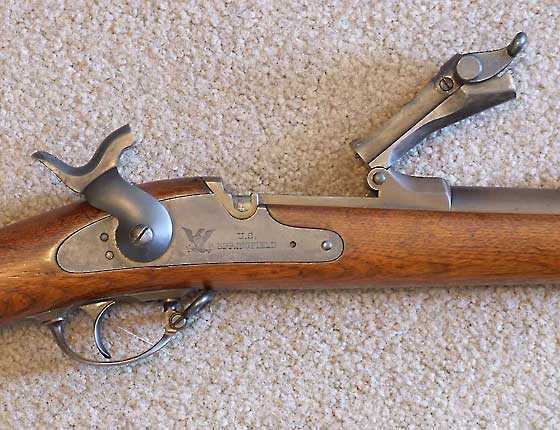 The nickname "Trapdoor" comes from the way the breech bolt operates. This one is in just good condition, because all original finish is gone. But, the barrel is clean and shiny with sharp rifling. That means that if the rest of the rifle is in good condition, it's safe to shoot with vintage-powered ammunition.
You answer, "Sure, I'll do that, plus I'll throw in some pellets and targets to get you started. Let's go back inside, and I'll show you how it works." You take the Trapdoor over to your own car and lock it in the trunk. Then the two of you head inside to finish the deal.
Have you just taken this guy to the cleaners? I used to think so, until I came to realize that he has absolutely no interest in guns, and you've just done him a big favor. That Trapdoor Springfield is worthless to him, and every time he has to venture out in public with it is a big risk, as far as he is concerned. Besides, you may not get a fair market price for it if you decide to sell it, because the market is severely depressed these days. Yes, you're going to make money on the deal, but since you didn't define the terms of the deal and, indeed, didn't look for the deal to begin with, accept what has happened as a little windfall.
Now, had the gun been a prime German Jaeger hunting rifle with engraving, gold inlay, fluted barrel and bas-relief carving on the wood, it would have been worth four times as much, and then I think you should have given him some money to boot. But the point is, you didn't seek this deal out. He came to you, and if you have satisfied his needs, then you have done him a kindness.
Here's the big question. Why did he come to an airgun show? The surprising answer is that people who don't like firearms also can't discriminate between them and airguns. Everything at your show looked like a firearm to him. He doesn't know exactly why airguns are not regulated the same as firearm, but he does know that they aren't, and he just felt under less pressure at your low-profile airgun show. Bottom line, he had a gun to get rid of and he knew that you were the right guy to turn to.
The desperate seller
It's getting on toward the end of the airgun show and a man you don't know walks briskly up to your table. He's holding several boxes, plus a nickel-plated Daisy Targeteer. "I want to sell you all of this stuff and I'm going to price it right. How about $100 for everything?"
"That's all the money I have at the moment. I'm flying home in three hours and I'll need some money in my pocket for that," you respond.
"Aww, you can probably resell this for three times a hundred dollars in the remaining time the show is open. Come on!"
What he is offering you is a nickel-plated Daisy Targeteer in 98 percent condition, a blued gun that's in 80 percent condition and a very early 100-percent blued gun in the box with everything. On top of that there are seven red-white-blue metal tubes of Daisy .118 copper-plated steel shot. Each of the shot tubes is worth at least $10 , the boxed gun is worth $150, the nickel-plated gun is worth $90 and the other blued gun is worth at least $50. This whole package is worth $360, or just a little more than he estimates.
You pull out all your money and buy it. He is happy because he needed gas money to get home. And you now have a quick sales job to do. Just because something is worth a certain amount doesn't mean that anyone at this show wants to buy it. Mr. Desperate knew that when he came to you.
So the safest thing to do is lowball the whole deal away. You sell the Nickel Targeteer, the 80-percent Blue Targeteer and six tubes of steel shot to a Daisy collector for $100. You keep the boxed pistol and one tube of shot for yourself. Mr. Desperate hasn't left the building before you have your money back and people are wondering why you are selling so cheap.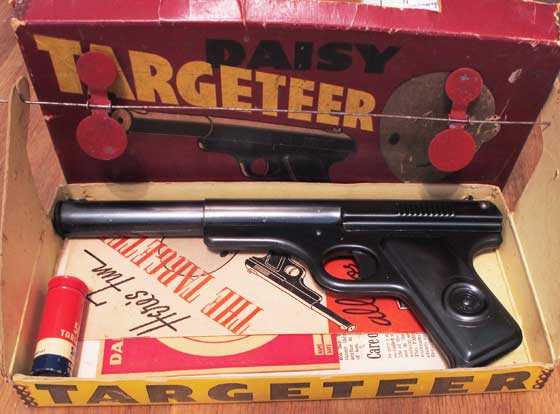 The boxed Targeteer is worth more than the asking price for the whole package.
The buyer with specific tastes
Here's another one that I don't have a picture for. A guy comes up to your table and offers you a Weihrauch HW 55 target rifle for your Diana model 24 youth rifle. You tell him that his gun is worth five times what yours is and he responds that it's okay, because he still has three more 55s and he has been searching for a 24 like yours all year. You do the trade and everyone is happy.
Sound impossible? I can assure you it isn't. Sometimes having a surplus of certain models can devaluate them in the owner's mind. Familiarity breeds contempt.
In fact, all of these stories are true ones and the guns shown are the very ones that came from the deals described. I have changed the description of the deals to disguise the other party, but these exact things have all happened to me.
Things like this can happen to you at an airgun show, so always be ready to step into prosperity.
Now for a small homework assignment. I'm going to show you several bad images that were recently used in auction sales. I want you to discuss them amongst yourselves, and be ready to critique them so we will be ready for the next part of this report.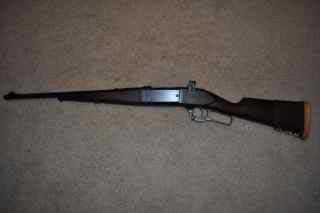 I see three things wrong with this picture. It's so insulting that it might stop me from doing a deal with this seller.

The photographer was so close on this one. He just missed one thing.

This photographer has made the classic mistake. Can you tell what it is?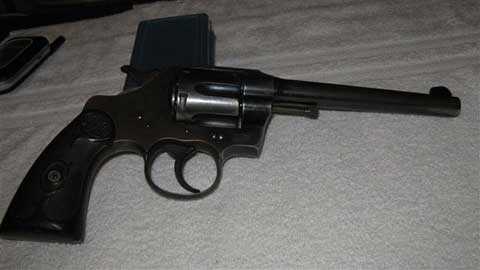 Another classic gun photo mistake. What is it?
Alright, that's a wrap for today. In the next report, I'll get into the fundamentals of taking good pictures to sell airguns.