by B.B. Pelletier
Photos and testing by Earl "Mac" McDonald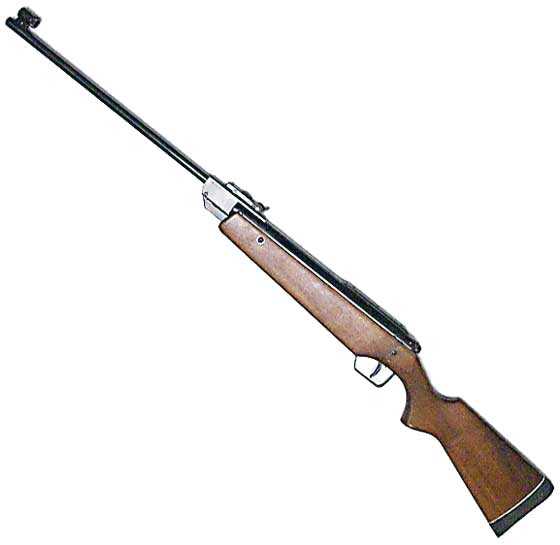 RWS Diana 45 is a magnum springer from the past.
Well, Mac has been testing this rifle for us, and a lot of you have commented that you like what you see. It does look nice in contrast to today's magnum blasters. In its day, it was considered the most powerful of magnum springers, but those days are long past and now the rifle looks like a classic sweetie.
I do have to tell you, though, there are two sides to this rifle. For every smooth shooter like the one Mac is testing, there are other 45s that buck and buzz terribly. This seems to be independent of caliber or the year of manufacture. I just want you to be aware of that if you decide to get one for yourself.
Accuracy test
I normally don't write the finish before describing how we got there, but Mac was disappointed by the accuracy of his 45 until he discovered its secret. So, I want to share that with you now. To be accurate in this rifle, a pellet needs to fit the bore tightly. If he had known that in the beginning, this test would have been conducted differently. But he didn't, so here's how it went.
All shooting is off a rest at 30 yards outdoors. H&N Diabolo Sport wadcutters were up first and they not only fit the bore loosely, they're also wadcutters that normally aren't accurate beyond about 25 yards. The faster they go, the quicker the accuracy falls away. In this case, 10 shots ripped a group that measured 2.1 inches in diameter. Of the groups shown, this pellet is clearly the worst.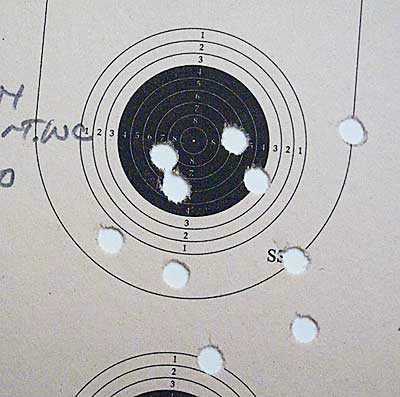 Ten H&N Diabolo Sport wadcutter pellets made this 2.1-inch group at 30 yards.
Next, Mac tried JSB Jumbo Exact Express domes. These lighter 14.3-grain domes sometimes do very well, but once again, these did not fit the bore of Mac's test rifle very well. Ten of them made a 1.1-inch group at 30 yards. That isn't horrible, but we would always like to do better, if possible.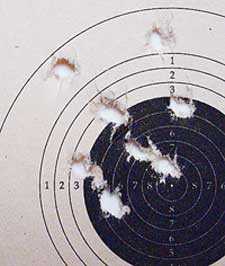 Compared to the target above, this looks like a huge improvement. Actually, it is considered usable accuracy for hunting at this range. Ten JSB Exact Express domes went into 1.1-inches at 30 yards.
The next pellet Mac tried was the venerable RWS Superdome. He likes that pellet a lot and always seems to get better results from it. This time, 10 pellets went smaller than one inch at 30 yards, vindicating his position.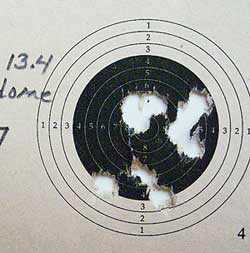 Ten RWS Superdomes went into this group measuring 0.97 inches at 30 yards.
Crosman Premier pellets were the tightest in Mac's barrel. Part of that may be due to the harder lead, but they also fit the bore tightly. And, they grouped the best in this test. Ten shots clustered into a tight 0.76-inch group, which is exceptional accuracy. Remember, these are 10-shot groups, not 5-shot, which are much easier to shoot.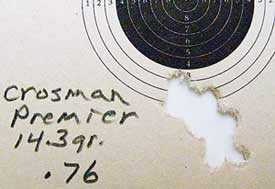 A great group of 10 Crosman Premiers went into this group measuring 0.76 inches at 30 yards.
Mac also tried JSB Exact Jumbo Heavy and HyperMAX pellets, but the groups were too large to measure, as not all pellets hit the target paper. He tried Eley Wasps, as well, but didn't make a report on them because we cannot get them here in the U.S. I would imagine they did worse than the Premiers but better than just about anything else. But that's only a guess.
Thanks to Mac, we've seen what a vintage breakbarrel rifle could do. The RWS Diana 45 is held in high regard by many airgunners who remember the heady days in the late 1970s and the shattering of the 800 f.p.s. barrier. Now, we have some real data to go with all the fond memories. Thanks, Mac!