by B.B. Pelletier
This is the second part of blog reader Vince's test of Gamo Match pellets. This will conclude the .177 pellets, and next week we'll give you his report on .22 Gamo Match pellets.
If you'd like to write a guest post for this blog, please email us.
Bloggers must be proficient in the simple html that Blogger software uses, know how to take clear photos and size them for the internet (if their post requires them), and they must use proper English. We'll edit each submission, but we won't work on any submission that contains gross misspellings and/or grammatical errors.
by Vince
Pointy
This is the unnamed Chinese sidelever I blogged a little while ago, and it turned out that it was made by EMEI of China. It also turned out to be a very basic, simple gun with a very decent barrel that would shoot better and more consistently than expected. In this test it didn't do quite as well as it had in the past.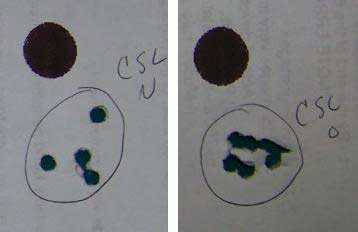 And, it definitely votes "NO!" on the new pellet. The difference isn't gargantuan, but it is significant. Verdict: Older is better.
Daisy 1150
The Daisy 1150 is one of the Gamo Daisys, this one being a rebadged Delta Cadet. It's the same action that lives on in the Recon. It's definitely in the youth gun category.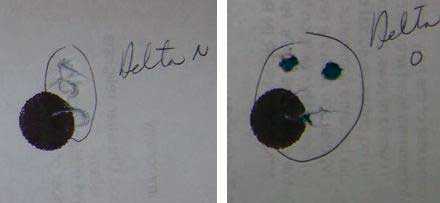 These results surprised me since this gun and the older Match pellets were being made at the same time as this rifle. But, holes don't lie. While the actual ctc (center-to-center) isn't that much different, it's obvious that the new ones are shooting more consistently. Verdict: Newer is better.
GT600
This is the Norica Beeman I blogged a little while ago, a gun that did well with Premiers. From these groups, you can see why I didn't report its performance with Gamo Match pellets of any stripe.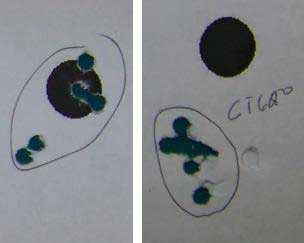 Yes, the older pellets did better, but neither was anything to write home about. I wouldn't use them in this gun as a matter of course. Verdict: Both poor.
HW30
Possibly the best air rifle I have, the HW30 holds (for me) the best open-sight group I've ever shot — about 1/8″ at 10 meters for 5 shots. This was done with the old-style Gamo Match pellets, so I knew the newer ones weren't gonna beat it.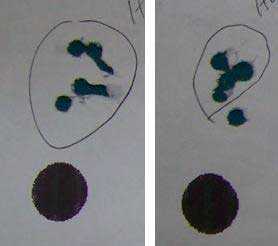 Near as I can tell, I just didn't have my technique down quite right, as the HW is a bit hold sensitive. Still, it's a fair group, and the comparison clearly illustrates the preference for the older pellets. Verdict: Older is better.
QB51
The last of my novelty guns, the Industry QB51 is another folding-stock air rifle. This one is a breakbarrel that's not trying to resemble anything in particular. It's a crude gun with poor cocking geometry, giving a short but stiff cocking stroke, and a stiff trigger make it difficult to keep on target. So I wasn't expecting much.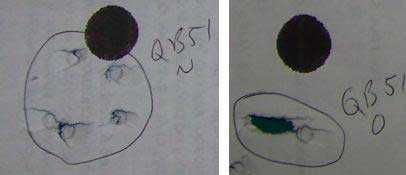 It actually didn't do too bad with the old pellets but didn't get along with the new ones very well. Verdict: Older is better.
QB88
The QB88 is another sidelever produced by Industry Brand, a notch or two up from the TS45/TS41/B4-1 garden stakes that made up their entry level sidelevers. This gun has Shanghai's copy of the Gamo trigger and actually feels nicer than some real Gamo triggers I've sampled. The gun used to be advertised as having a choked barrel, not sure if that's true or not. But, it's a fair plinker, nonetheless — easy to cock, not harsh at all and fairly accurate.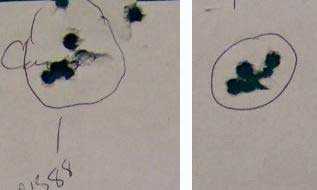 Yes, that little half-circle at the top of the picture is included in the group. When I tried a make-up shot for that flier, it landed even further away. By contrast,the older Gamo pellets preferred to live in the same neighborhood. Verdict: Older is better.
Mendoza RM200
The RM200 is one of Mendoza's mid-powered springers, very similar to the Air Venturi Bronco sold by Pyramyd Air. I've had them apart and side-by-side, and the only substantial difference I could find in the action was the spring.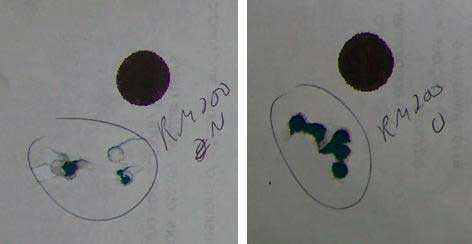 The RM200 doesn't really care for either pellet. The group clustered with the newer ones and smeared' for the older, but the overall group size is about the same. Verdict: Comparable.
Gamo Sporter 500
A more powerful cousin to the itty-bitty Delta Cadet, the Sporter 500 featured similar hybrid plastic/metal construction but bolted into a wood stock. It, of course, shares the same trigger as almost every other Gamo rifle produced over the past umpteen years and is one of the most stubbornly twangy airguns I've ever shot. Still, it's light, easy to cock and shoots well with Premiers.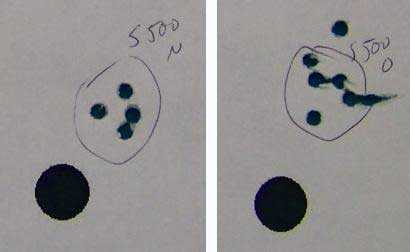 The newer pellets went into a tighter group than the older, showing the same preference for the new pellets as the Daisy 1150/Delta Cadet. Verdict: Newer is better.
Sea Lion
This is another rifle that has something of an unclear lineage. All I know for sure is that the Sea Lion underlever was imported in some quantity some time back, and its overall appearance is certainly evocative of the more recent Industry B3. But, evocative in appearance, only. I've had this one apart, and it's not an early B3 variant. The innards are too different. I'm wondering if it's a stablemate of sorts to that old Chinese sidelever I have — based on its simple design, good construction and decent barrel.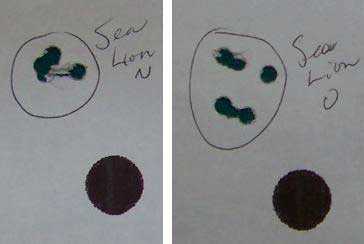 The new pellets actually produced a pretty good group for open sights. Certainly far better than the old. Verdict: Newer is better.
How do the totals tally up? I tested 15 guns, and of those 15 almost half (7) liked the older pellets better. The newer ones were favored by 4 guns, and the remaining 4 seem to think they were comparable.
The inescapable conclusion remains that these pellets are indeed significantly different despite their superficial similarities, and while some guns will shoot them well the fact is that if your gun liked the old pellets, there's no guarantee that it will like the new ones. Lastly, based on this sample, they simply aren't as good overall.
Look for a test of the .22 Gamo Match pellets next week.