by B.B. Pelletier
Part 1
Part 2
Part 3
Part 4
Part 5
Part 6
This blog has done a lot to stimulate my own airgun hobby. I told you about the lucky accident that got me a 19th century crank-wound shooting gallery dart gun for Christmas, now it's time for an update.
Like many of you, I cannot get out to as many flea markets, garage sales and auctions as I would like. In fact, I get to almost none of them! Instead, I have to look for alternative means of finding airguns for my collection. One of the best ways, and I have documented it already in this series, is watching the airgun classified ads and the other buying and selling websites on the internet.
We've discussed the dangers of dealing with people you don't know. I told you about how I came in possession of my Walther LGV Olympia target rifle for only $425. It was a rifle advertised on the Yellow Forum classified ads website, but I already knew the seller was an honorable man. So, there was no risk dealing with him.
Well, two weeks ago, I did it again, only this time I scored a double! Allow me to tell you the tale.
One place I watch for buys is a website called Texas Gun Trader. It's mostly a firearm website that gun owners in Texas use to buy, sell and trade guns. Because it's all in-state and because this is Texas and therefore free from restrictive state legislation, this practice is still legal. There are thousands of entries on this site, but I seldom find anything that I want, because its mostly new guns, black rifles and plastic pistols. But, by watching i, I do catch the few good buys that come along — most of the time.
As an airgunner, I know and love the Sheridan company. Did you know that back in the 1950s, they also made a firearm? They made just over 15,000 single-shot .22 rimfire pistols that were low cost ($17.95) and originally meant to be thrown into tackle boxes and under truck seats. Remember, those were the 1950s, and freedoms abounded back then.
Anyway, the Sheridan Knocabout, as it was called, was never a star in its day. But today, an airgun collector may have an interest in owning a firearm made by one of the best-recognized airgun companies in America. I certainly do. It's just the reverse of wanting to own a "Winchester" model 427 spring rifle, even though you know it was made in Germany by Diana.
A couple weeks ago, I saw that I'd just missed a Knocabout pistol posted a few hours ago on Texas Gun Trader. It was up only a few hours before it sold, and the selling price was $185 — a good price if the gun's in good shape, which this one was. Better than that, it also came with a genuine Sheridan leather holster marked with the Knocabout name. That's much harder to find and probably adds considerable value to the package. But I'd missed it — darn!
So, I went over to to the firearm auction website, gunbroker.com and searched on the name Knocabout. To my utter astonishment, there was one listed! I've done this numerous times before and always came up empty-handed, but this time I struck gold. The listing was for a gun in excellent condition, the original box with the owner's instructions and another pamphlet about shooting. And, beside that, it also came with a leather holster!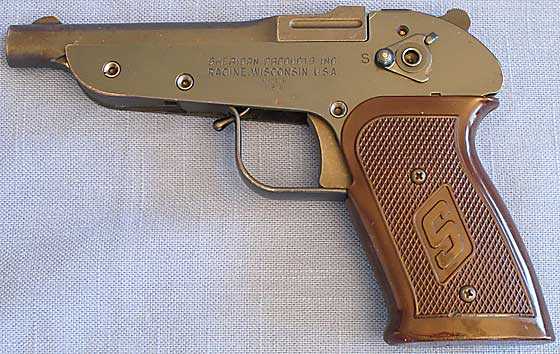 The Sheridan Knocabout is a single-shot .22 rimfire pistol from the 1950s. This one is in excellent condition.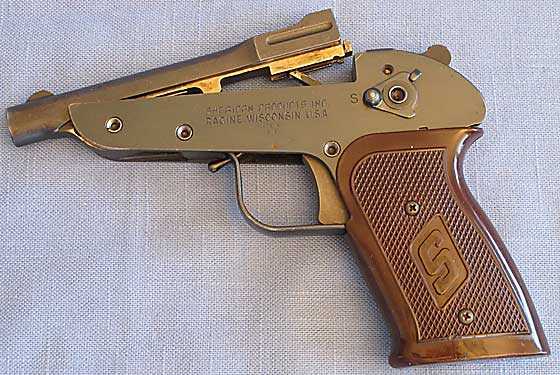 The small stud through the front of the triggerguard is pressed down to open the action for loading. The action opens via a spring, and the cartridge is ejected automatically.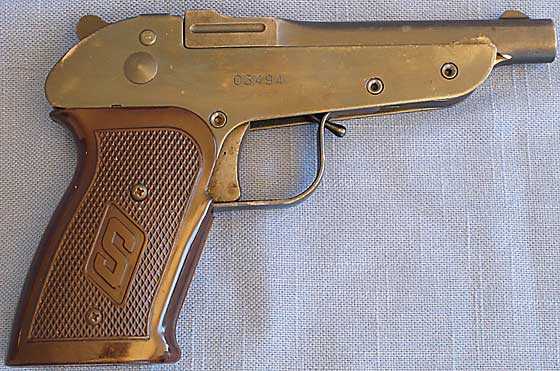 Slightly over 15,000 pistols were produced. This is an early one.

The box is the only place that has the name. It cannot be found on the pistol. Note the unusual spelling that led to my good fortune.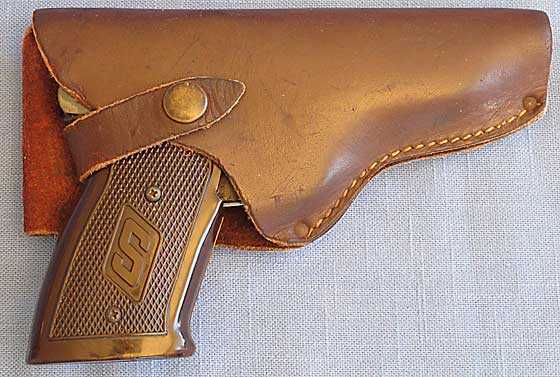 The holster is made to fit the pistol. It's much more scarce than the pistol, as not many of the $18 utility-grade pistols had $3 holsters bought for them.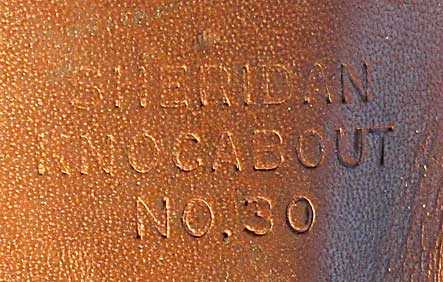 Boring to anyone but a collector, the markings on the holster positively identify it.
The starting bid for this gun on the auction site was $250, which is high for a gun alone in excellent condition, but only perhaps slightly over half of what a boxed gun with a holster is worth. Then I looked at the number of times the listing had been viewed. It was less than 50! Nobody was looking at this gun! Want to know why?
It was hidden from view because the name Knocabout is a misspelling of the word knockabout! The second "K" is missing. Just on a whim, I did a search on the term Sheridan Knockabout and I found another gun in excellent condition listed on the same website, but there were already 12 bids on it. The gun I wanted to buy had nobody looking at it, while the same gun, minus the box, instructions and holster, had lots of interest.
This is a search strategy I've written about before, and it's so powerful that you really should try it. Search for Daisys all day long, then search for Daiseys. You'll find them. There are almost as many Crossman airguns as there are genuine Crosmans. Internet search engine optimizers know that misspellings are so common they must be incorporated into addresses, so you should learn to use this powerful tool, too.
I waited out the bid cycle and won the gun, submitting the only bid it received. I then made arrangements to pay and have the gun shipped to my local Texas FFL dealer. Because the gun was coming from another state, I had to register it through a licensed dealer in my state. That's the law. The gun that was listed on the Texas Gun Trader was located in Dallas and would not have had to be registered because it was being sold between residents of the same state. That's the way the federal law is written, and only a few states have created additional laws on top of it. Not Texas.
Okay, so now I go to my gun dealer to arrange the transfer of the gun. I pay them a $30 transfer fee and they arrange to receive the gun and register it to me. While I'm talking to the salesman there, I mention I'm into airguns, and he tells me about an airgun he's had for years, but it no longer works. His father bought it many years before, and they've had some wonderful times shooting it together. I tell him that I will help him get it running again, and asked him to bring it into the shop so I can look at it. He said he would because he's been looking for someone who knows something about airguns. I assured him that one way or another we'll get his rifle fixed.
While we talked, I tried to guess what kind of gun he had. It was a breakbarrel for sure, but he couldn't remember the brand or model. He thought it was from Germany. When I got home, I told Edith about my encounter and about the breakbarrel spring gun that stopped working (wouldn't shoot a pellet out the barrel) and simultaneously we guessed that it might be an FWB 124. That would make perfect sense with the gun suddenly stopping like that, because the 124 had a bad formula for the piston seal and eventually all failed.
So, last week I went back to the shop to register my new pistol that had just arrived. After everything was finished, he showed me his late model Beeman FWB 124. It was the final model model that has no palm swell, has the aluminum trigger blade and the serial number is above 40,000. Oh, boy! According to Jim Maccari, this is a gun that will respond quite well to one of his tuneup kits. I told the guy that and I told him what his rifle was worth. I figured he would be delighted to have this cherished old favorite back in operation. Then, IT happened. You know what I mean. He asked me if I knew of anybody who might be interested in buying his rifle.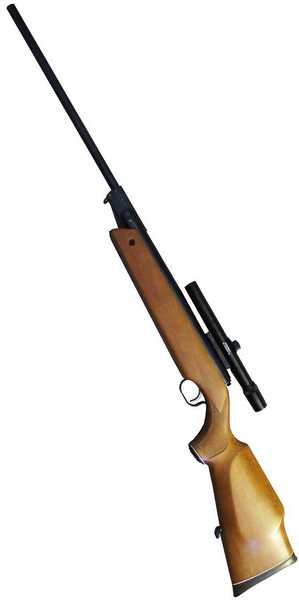 This 124 just snuck up on me at a gun store. And, yes, the scope is all wrong but I'm going to try it anyway.
I'd assumed that since it was his father's rifle there was a lot of emotional attachment, and I would just be happy to get it running for them again. I never imagined he might want to sell it. So, I offered a fair price that was about a tuneup kit's value less than the price I had told him it was worth. Long story short, I bought the rifle. That's what I meant by this tale being about a double score. Not only did I get the great Sheridan Knocabout pistol, I also got an FWB 124 that I can now tune for you and share as part 14 to the FWB 124 series. I never planned this or even thought about it, but you can bet I moved plenty fast when the opportunity presented itself.
I also told the seller to watch this blog; and if he had regrets or second thoughts, I would sell his rifle back for what I paid. I usually do that if there's a possibility of any emotional attachment.
So, this was a great find on two nice collectible guns: one is a firearm with an airgun connection, and the other is a fine vintage air rifle that has a lot of potential to be a nice shooter after I fix it.
All of which leads me to the rest of this report. Here I have some things for you if you're a collector. All the time the story of the Knocabout and 124 was happening to me privately, another story of airgun acquisition has been unfolding right on this blog in front of you! I'm talking about the Whiscombe JW 75 serial No. 5 that was up for sale that I announced in the comments section. That rifle, which as of today has not been sold, has had the interest of two of our active readers. Maybe it will sell and maybe not, but it's a story of acquisition that's happening right now.
The rifle has a Tyrolean stock and is the same breakbarrel/underlever design as my own Whiscombe. The owner of this .22 caliber rifle wasn't satisfied with the accuracy he was getting at 50 yards, so he did some experimental work that lead to the gun being returned to Whiscombe for another barrel. There's more to it than that, but those are the highlights. Since Whiscombes don't come on the market that often, I wanted to make sure all of you knew about this one. Contact me and I'll put you in touch with the seller if you're seriously interested.
There's also the cased air cane made by Reilly of London that has all the tools, plus the pump and everything is in the original wooden case with maker's label. That gun is another costly collectible that has been in play since last November. And, it's still available the last time I checked.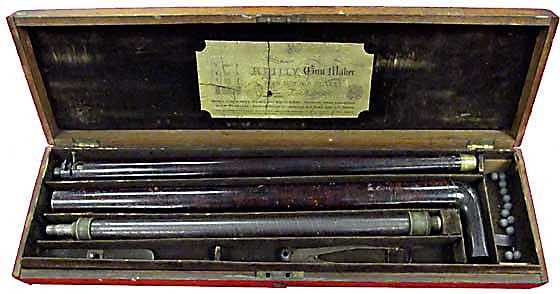 In the collectible airgun world, it doesn't get much better than a 19th century cased air cane from London…with all the tools.
And, now for a new prize that hasn't been seen for almost a decade. Do you remember the article Steel Dreams, about the attempt to build a spring rifle in .22 caliber that would exceed the speed of sound? Well, that rifle is now available. Read the article and see if this is something you're interested in, because it isn't a rifle to shoot a lot. If you are serious, email me, and I'll forward your message to the seller.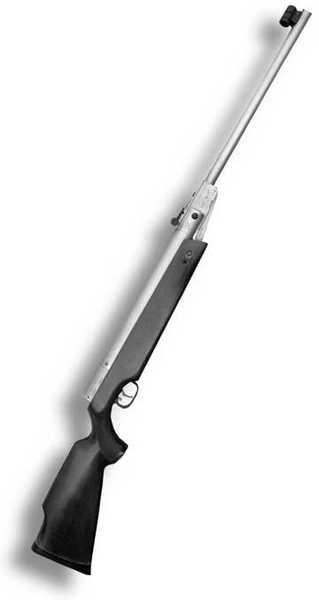 It's a bruiser! One of two handmade guns designed to take .22 caliber pellets through the sound barrier.
Since this report is about collectible airguns, I want to make sure you all know about the best finds that come to my attention. You can do your own searching, as I've outlined above and good luck to you, but sometimes there are special things that are directed to me, alone. When I see them, I try to get the word out. If you're a serious airgun collector, keep an eye on this blog and neat things will pop up from time to time.