by Tom Gaylord
Writing as B.B. Pelletier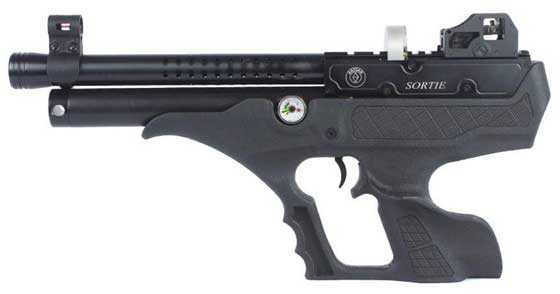 Hatsan Sortie semiautomatic pistol.
This report covers:
An announcement
Today
Familiarization
Still learning the magazine
The trigger
The test
The sights
RWS Superdome — sight in
JSB Exact RS
H&N Baracuda with 5.50mm head
H&N Field Target Trophy with 5.53mm head
Summary
An announcement
This morning I shaved with a straight razor in a completely different way, after reading a book about shaving that was written in 1905. While very different from anything I had been doing, it all sounded very good and authoritative until I tried it. Then I needed a pint of blood after finishing! The author of this book says many things that run contrary to conventional wisdom and what is being taught today.
As a result of this experience, I have decided that there is more to sharpening a straight razor than I thought. There will be another report coming in which I examine some of the facts and some old wive's tales about sharpening straight razors. I will try to show you the results more graphically. I don't want to wreck the surprises that I hope are coming, so that is all I will say at this time. Let's now turn our attention to today's report.