by B.B. Pelletier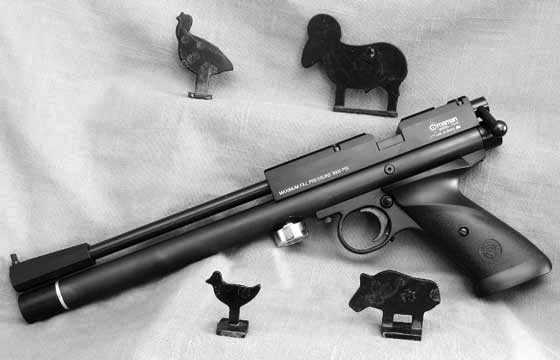 This is the new Crosman Silhouette PCP pistol. It'll send those light little airgun silhouettes into orbit.
Today is velocity day for the Crosman Silhouette PCP pistol, and there's much to report. For starter…what a little sweetie this pistol is! This is one of those every-so-often-they-make-a great-one guns. The trigger seems to make all the difference in the world, but the power it generates is an additional benefit.
But I'm getting ahead of myself. First, I filled the gun to 3,000 psi, as indicated by the gauge on my carbon fiber tank. The onboard manometer read about 100 psi less. But no matter, as I only watch one gauge during the fill, and the larger one on the tank is very reliable.
Let's shoot!
Then, I just started shooting. Since this pistol is for airgun silhouette, domed pellets are fine, and I selected Crosman Premier 7.9-grain pellets. The shot string is presented below.
Shot…Vel.
1……458
2……464
3……473
4……470
5……472
6……477
7……469
8……474
9……473
10……476
11……476
12……479
13……476
14……476
15……481
16……479
17……477
18……476
19……483
20……486
21……481
22……479
23……477
24……479
25……484 (avg. 1st 25 shots 476)
26……485
27……484
28……484
29……479
30……487
31……483
32……484
33……482
34……487 (fastest shot in string)
35……482
36……484
37……483
38……482
39……481
40……485
41……482
42……480
43……481
44……479
45……484
46……478
47……475
48……476
49……483
50……474 (avg. for shots 26-50 482)
51……479
52……470
53……475
54……475
55……473
56……475
57……473
58……475
59……471
60……469
61……467
62……468
63……465
64……469
65……466
66……465
67……465
68……464
69……461
70……458
71……460
72……458
73……458
74……457
75……455 end
The string shows that this pistol is well above the advertised 450 f.p.s. mark. It also shows that there are more than the claimed 50 good shots in the string. Whether you start with the first shot or drop 100 psi from the fill and start with shot number 6 (that's a guess), you'll still get over 60 good shots. We've discussed shot string analysis enough by now that you understand all too well how to look at this string and evaluate it. If you're new to this blog and would like to see that analysis in greater detail, look at this report on the first Crosman Silhouette PCP pistol to see how a long shot string should be analyzed.
Foot-pounds of energy don't matter that much in the silhouette game, because it doesn't take much energy to send these little metal targets flying. Even the big rams that sit out at 18 yards will be bowled over by the energy that starts out at around four foot-pounds.
In centerfire rifle silhouette, the ram is at 500 yards and a light strike by a small caliber like the .243 Winchester is likely to turn the target sideways on the stand, but not knock it off. That's a bad thing, for the target must be knocked off its stand to count. In airgun silhouette, it takes a really poor shot to not knock it off the stand. The real problem is finding those tiny chicken silhouettes on the dirt and grass after they've been launched 10 yards by a pellet. So, the power of this pistol is more than adequate.
They've come a long way
Five years ago, Crosman couldn't even spell PCP, and now they're one of the world leaders in the technology! That says a lot about the company and the resolute vision they have of the future. The valve in this test pistol seems to defy belief, getting so many powerful shots from such a small reservoir. It shows that Crosman knows how to design a valve and also how to build precharged pneumatics. Twenty years ago, the world would not have believed that such efficiency could be gotten from an air pistol.
Okay, so let's test the pistol with some more potential pellets.
RWS Hobbys
I won't put you through the agony of the shot strings for these pellets. RWS Hobbys averaged 483 f.p.s. The spread went from 478 to 491 f.p.s. over a 10-shot string. The average muzzle energy was 3.63 foot-pounds.
RWS Hobbys aren't used for shooting silhouettes, but they are a legitimate lead pellet that people really shoot. They demonstrate that Crosman's advertised velocity of 450 f.p.s. is extremely conservative.
Gamo Match
The next pellet I tried was Gamo Match. This is another lead wadcutter that no one will use to shoot silhouette, but they showcase what the powerplant can do. The website says they weigh 7.71 grains, but mine must be older because they weigh 7.5 grains. They average 484 f.p.s. in the Crosmann Silhouette with a spread from 479 to 490 f.p.s. At the average velocity, they generate 3.9 foot-pounds.
JSB Exact 8.4-grain domes
The 8.4-grain JSB Exact dome averaged 469 f.p.s. in this pistol. It's a pellet that might be used for silhouette. The spread went from 456 to 475 f.p.s. At the average velocity, they generated 4.1 foot-pounds at the muzzle.
Trigger-pull
I said in Part 1 that I would report on the new trigger and this is it. As it came from the factory, the trigger had a 1-lb. first stage, then a definite second-stage stop and it broke at 2 lbs. on the nose. Because there's an overtravel adjustment that's set perfectly, the trigger is the paragon of crispness. If you're a 10-meter pistol competitor, you'll be used to pulling through stage one and stopping at stage two, waiting for the opportune moment for the break. Then, the trigger becomes like a 1-lb. trigger because the first stage has been removed from the equation. Don't try to over-think it. It just works that way, and you need a precision trigger to learn that. This one certainly is.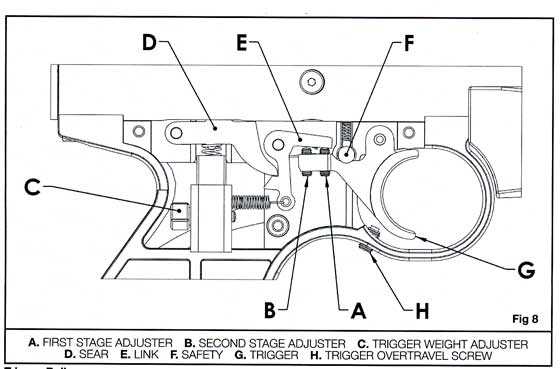 Well, there it is and that's how it works. It's very sophisticated, yet not very complicated. If you like good triggers, you'll like this one. (From Crosman's owner's manual)
A good day of testing and promise for a great finish for this latest release. Of course accuracy matters, so we still need to see that.