by B.B. Pelletier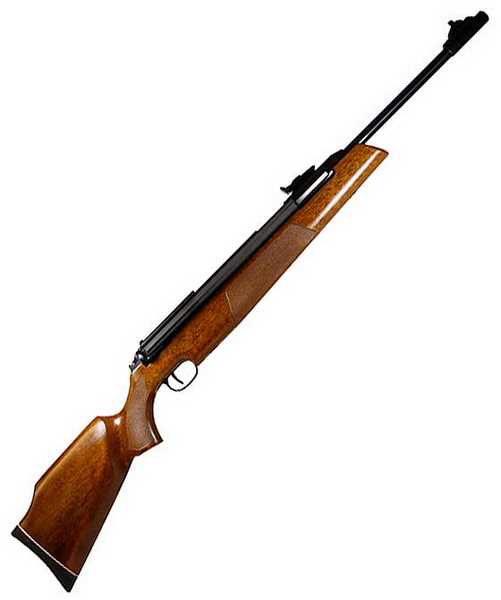 The RWS Diana 54 recoilless air rifle, also called the Air King, is big, beautiful, powerful and accurate.
Today, we'll test the RWS Diana model 54 Air King for accuracy. Before I show you the targets, however, let me mention a couple of things.
Some observations
First, I shot this rifle for today's test rested directly on a sandbag. There was no artillery hold. As I mentioned in the earlier reports, the Air King anti-recoil system acts like an artillery hold and is able to do so perfectly. There's no reason to rest this gun on the palm of your hand. That's not because the rifle is recoilless, but rather because of how the rifle handles recoil.
In the 54, the action slides in the stock when the gun fires. It always slides the same distance and always contacts the same points within the stock, so the system acts like a perfect artillery hold. A rifle having a different anti-recoil system like the Giss contra-piston system, for example, doesn't work the same way and does need to be held in the artillery hold for best accuracy; but those guns that use the sledge system — like this one and a few FWB target rifles — do not.
Next I want to comment on the trigger. The one I'm testing is a T05 and very nice. It has a positive two-stage pull with a crisp second-stage let-off. It does have a plastic trigger blade, but that isn't important because it isn't one of the wearing parts within the trigger assembly. Everything that wears is steel and properly hardened.
The one detractor of this trigger is that the blade is too curved. A straighter blade would feel better. I am going to test the new T06 trigger soon, and I'm going to scrutinize it closely because it has a long way to go to be better than the T05.
Finally, I used a prototype UTG scope base with a lot of built-in droop to mount the CenterPoint 3-9x40AO scope on the test rifle, and it STILL shot low. So, a lot of droop is still present in Diana guns, and it still needs to be addressed with a drooper mount. I did find that the UTG base sped up the scope-mounting process, turning a half-hour job into a 10-minute task. The scope I used is an older one and doesn't have the illuminated reticle of the scope I linked to here.
The UTG scope base does raise the scope quite high, but the high comb on the 54 was able to elevate my face to the exit pupil. I could have easily used a scope with a 56mm objective lens and still had clearance for the scope over the spring tube.
Accuracy
Because I am still recovering from a hernia operation, I shot only a single 10-shot group with each pellet tested. Ten-shot groups really require a lot of cocking, and this sidelever isn't the easiest gun to cock. The distance was 25 yards, and all groups contain 10 shots.
The first pellet I tested was the venerable 14.3-grain Crosman Premier, which is well-known as one of the best for this .22 caliber rifle. They fit the breech easily but were not loose. And the gun buzzed a lot when firing them.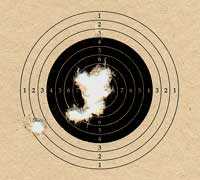 Nine of the ten pellets made a group measuring 0.518 inches between centers. But pellet six strayed outside this neat little hole to enlarge the group to 0.929 inches between centers. It wasn't a called flyer, it just went outside the group for no reason I can explain.
After the Premiers, I loaded 10 JSB Exact 15.8-grain domes, which are often even better than Premiers in some airguns.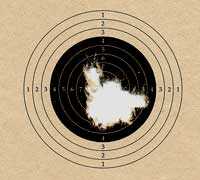 Ten JSB Exact 15.8-grain domes made this group, which measures 0.613 inches between centers.
Finally, I tried some Predator Polymag pellets that everyone likes to use for hunting. They fit the 54 breech very tight, but went in without a lot of forcing. They expand well on small game and are especially effective in .22 caliber.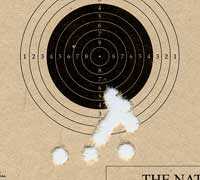 Ten JSB Predator Polymag pellets made this 0.975-inch group at 25 yards.
Well, there you have it. I think if I were to shoot additional groups of Premiers, most 10-shot groups would look like that first 9-shot group. Because I didn't season the bore with each new pellet, I think I would have gotten slightly better groups if I had.
Ten shots into a half-inch at 25 yards is not to be sneezed at, though I really thought I would do better. I was thinking I could get half-inch groups out at 35 yards from this rifle. It might still be possible, but I think I've demonstrated that the 54 is an air rifle to be reckoned with.