by B.B. Pelletier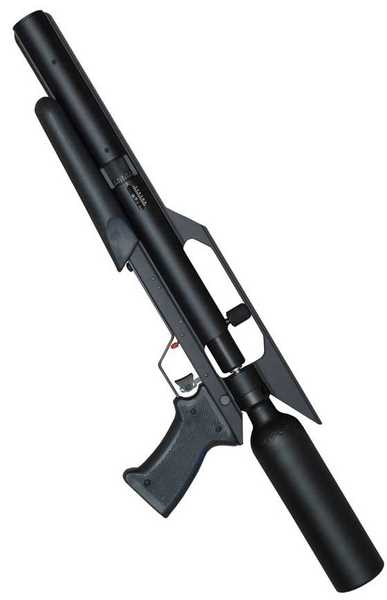 TalonP air pistol from AirForce is a powerful, new .25-caliber pneumatic hunter.
I'm surprised to have gotten this far without being besieged by requests for information about the TalonP air pistol from AirForce. I couldn't have told you anything, of course, except that the pistol was coming along fast. Well, the wait is over. The guns are being shipped, and Pyramyd Air already has their first batch.
What is the TalonP?
The TalonP is a .25-caliber, single-shot PCP pistol designed expressly for hunting. It doesn't have much competition, because of the power it projects — a solid and repeatable 50 foot-pounds for at least 10 good shots per reservoir fill to 3,000 psi. In that power range, there has only been one previous air pistol — the 6-shot revolver from Shinsung that left the market several years ago. There's never been an air pistol of this power in .25 caliber before now.
Customer-driven
The TalonP was strongly driven by customers who came to the AirForce booths at the SHOT Show and the NRA Annual Meetings and told them, "what they ought to do!" I can remember hearing such pronouncements back in 2004, when I first attended the SHOT Show representing them. People were fixated on the pistol grip on the three sporting rifles and said AirForce should design a pistol to go with the rifles. I'm sure everyone thought it was simply a matter of making a shorter reservoir, but that's not what was done. The TalonP is entirely new from the ground up.
New valve
For starters, the TalonP has a Direct-Flo valve, which is a completely new valve. It may look like a Hi-Flo valve to casual observers, but the porting has been entirely redone. It had to be to get those 10 good shots from the smaller reservoir (AirForce reports that you may get up to 12 shots on high power and up to 30 shots on low).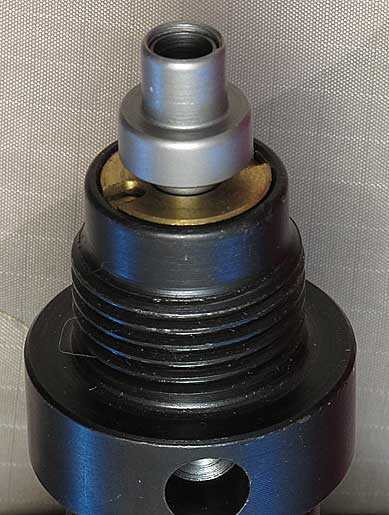 Although the valve looks like a Hi-Flo from the outside, it's actually all-new on the inside. Called the Direct-Flo valve, it's the secret behind 10 good shots per fill at the high-power level.
This is a loud airgun
Make no mistake, this is a loud airgun. You don't get 50 foot-pounds from a 12-inch barrel and stay quiet, too. No doubt there will be things done to tone it down in the future, but expect it to make some noise right out of the box.
I photographed the business end of the gun with the end cap removed to show the 1.5 inches of room beyond the true muzzle. There are things that can be done, and this is how much room you have to do them in. Of course, there's also the empty space inside the frame behind the muzzle to consider, as well. No doubt, the experimenters will be hard at work very soon, coming up with solutions for the discharge sound.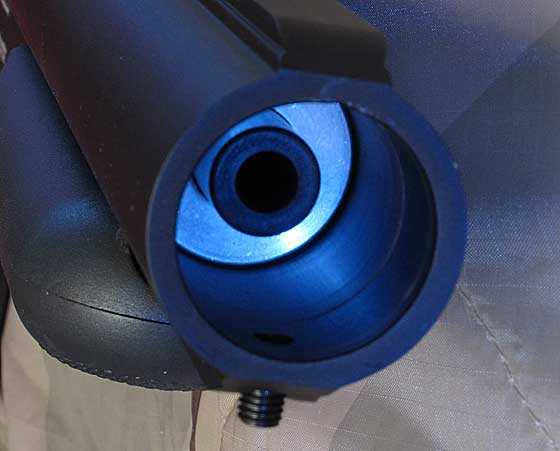 There's about an inch-and-a-half of dead space behind the end cap. More if the barrel bushings have holes in them.
Adjustable power
Upon first seeing the power adjuster wheel in the frame, I wondered why they bothered. No doubt that someone will find a good reason for it to be there. I plan to shoot the gun wide open all the time in this test, unless you readers can persuade me otherwise.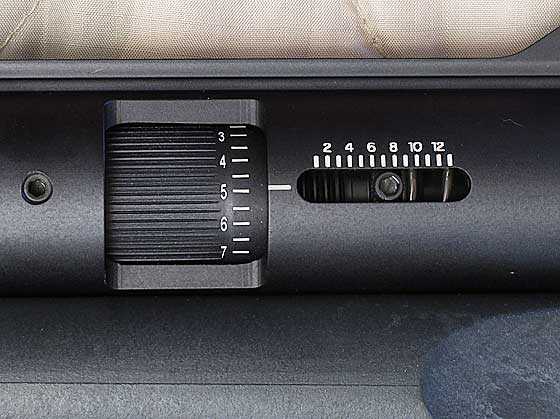 There's a power adjuster on the left side of the frame. Most shooters will probably leave it set to high, but some folks may find a use for it.
.25 caliber
This gun comes exclusively in .25 caliber for the time being. Even if they do offer it in other calibers in the future, the valve will probably have to be changed; so, this isn't a gun for which you'll be buying spare barrels. Buy it if you want .25 caliber or be prepared to wait.
I ordered a wide range of premium .25-caliber domed pellets for testing. The heaviest pellet available at this time, and therefore the one that generates the most power in this airgun, is the 43.2-grain pellet from Eun Jin. Unfortunately, it's pointed; but with a powerful gun like this on the market, someone will soon make a heavy domed pellet. JSB also makes some .25-caliber pellets, so we'll see how well this pistol can shoot with the best of what's out there today.
Doing a lot with a little
The TalonP reservoir is sized to the pistol, so it's a lot smaller than the reservoir found on the rifle. Still, the company claims you'll get at least 10 good shots from a fill. Naturally, that'll be something I'll check on the velocity test.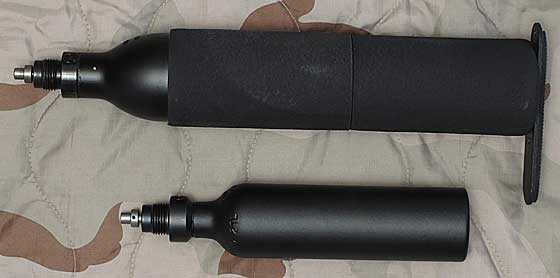 The TalonP reservoir (bottom) is small compared to the rifle reservoir. Yet, it manages to get 10 good shots from a single fill.
The rest of the gun
This is for those who may not be familiar with AirForce air rifles. The frame of the pistol is made from an aluminum extrusion. The barrel is housed inside the extrusion inside two bushings that keep it aligned with the sight base.
The trigger is not adjustable. It's two-stage and releases fairly crisply. I'll report the pull weight in Part 2. It's not a trigger that can be easily modified because of how it works, but it's better than average for a sporting PCP.
The gun has 11mm rails for mounting accessories both above and below the frame. You'll need to use a scope on this pistol because open sights won't work. The pistol has to be held too close to the eye for the rear sight to work unless it's an aperture sight.
The barrel is made by Lothar Walther and, as such, is vetted as one of the best of its kind on the market. As long as you can obtain good pellets, this gun should shoot well.
You might ask how you can shoot a pistol with a rifle scope. I'll be showing you how in Part 3 of this report. It isn't anything new, and silhouette pistol shooters have been doing it for a long time.
That might lead some of you to ask whether AirForce has plans for an optional shoulder stock, and the answer is yes. But even before they get theirs to market, I'd be willing to bet there will be at least a couple aftermarket options to choose from. If you're a backpacker, you can forgo the stock and carry the gun as it comes. I hope to show some good results of potential accuracy in Part 3.
The bottom line
When I heard the specs on this pistol, I knew AirForce had knocked one out of the park. Not everybody wants to hunt with an air rifle; and for those who don't, this is a viable option — maybe even the most viable option. It produces 50 foot-pounds and can deliver a lot of that energy to larger small-game targets.
This should be an interesting test!