by B.B. Pelletier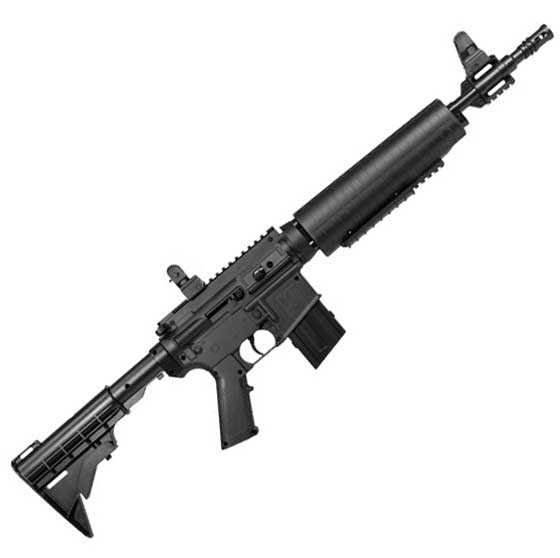 Crosman's new M4-177 is a smart-looking M4 battle rifle lookalike.
Here we are at accuracy day with the new Crosman M4-177 multi-pump air rifle that you steady readers also know as the M417. Speaking of that, Pyramyd Air sold out of their initial supply of guns and is now selling the second shipment of guns that are still marked M417. If you want one marked in that special way, the time to act is right now.
BBs and pellets
As you know, this multi-pump pneumatic will shoot both BBs and pellets, though not at the same time. Each type of ammunition requires a different loading procedure, so before you start shooting you have to pick one type. I decided to begin with steel BBs. I've been testing the gun with Daisy zinc-plated BBs, but during the velocity test I also tried Crosman Copperhead BBs. In the past, Daisy BBs have been more uniform and accurate, but in this gun the Crosman BBs are doing better — at least as far as velocity goes.
Sight-in
I decided to pump the gun five times for each shot. During the initial shooting, which I did at 25 feet, I found the gun shot very high and to the left. Elevation is adjusted at the front sight which, in this case, needed to go higher to bring down the strike of the BB. I had to adjust the front post an estimated eight full turns to lower the BB by the two-plus inches that were needed. The rear sight adjusts via a slotted screw on the left side of the sight, and to move the BBs by one inch required at least four full turns of the screw. As you'll see, my final impact point is still off by a little, but it's close enough.
I shot in the standing supported position, using a door jamb for support. While it's not as steady as shooting off a rest, it's much steadier than offhand. And the whole point of the test is to find out how well the rifle performs — not how good a shot I am.
Shooting for record
I shot 10-shot groups as always, and I think you will be glad that I did. The Daisy BBs went into a group that measures 1.594 inches between the two farthest centers. Throw out just one shot, and the other nine are in 1.046 inches. That's very good shooting for BBs at 25 feet.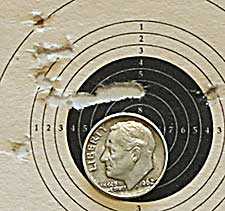 Ten Daisy BBs are grouped pretty tight for 25 feet. The center of the group is a little high and to the left, but I decided to leave it there.
Next up were the Crosman Copperhead BBs, and I wondered if they would also beat the Daisys at accuracy. After all, this is a Crosman gun!
Beat them they did, with a ten-shot group measuring 1.585 inches across the two farthest centers. This time, though, there was no single stray that enlarged the group, so in general, it was more evenly spread than the Daisy target.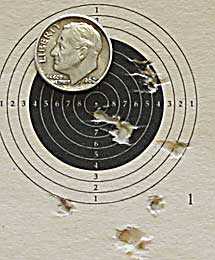 Ten Crosman Copperhead BBs gave this well-distributed ten-shot group measuring 1.585 inches at 25 feet.
By this point, I was definitely in the groove, so I decided to keep on shooting at 25 feet. That's arbitrary, I know, but I plan to visit this gun one more time, and perhaps then I'll push the distance out farther.
The M4 on pellets
It seemed like the rifle enjoyed Crosman ammunition, so for the pellet test I used Crosman Premier Super Match wadcutter target pellets. I was still pumping the gun five times for every shot. I did not adjust the sights for the first group, and the results were so encouraging that I forgot to shoot the second five pellets. So, my five-shot group measures 0.449 inches between the two farthest centers. When I saw it I had to adjust the sights just a little more to try to center the group on the next and final attempt.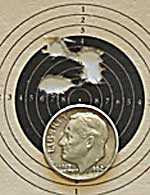 Five pellets went into this 0.449-inch group at 25 feet. Not a bad start!
The second time, I remembered to reload the clip after the first five shots, so this is a true 10-shot group with pellets from 25 feet in the standing supported position. This 10-shot group measures 0.519 inches between centers, so it's ever-so-slightly larger than the five-shot group.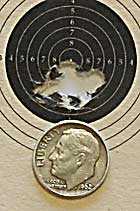 Ten pellets went into this 0.519-inch group at 25 feet. This is almost a screamer.
The sights
I find the peep sights on the M4 to be the easiest sights I've used in a long time. In fact they remind me of M1 Carbine sights. Yes, the peep holes are large, but that has nothing to do with their precision. All a larger hole does is pass more light, which decreases your depth of field. That makes it more difficult to focus on the front sight post and keep the bullseye in sharp focus as well. But you can light the range to compensate for most of that, which is what I did. The bottom line is that I like these sights a lot.
Trigger
The trigger, I don't care for. It's single-stage and has a long pull that, while at 3 lbs., 8 ozs. is not heavy, it's also not light. It's very consistent, though, I'll give them that.
Bottom line
I resist the tempation of calling this rifle a tackdriver, but it's surprisingly accurate. More so than any other 760-based rifle I've tested or owned.
We're not done with this airgun just yet. I plan to mount a dot sight on it and give it one more accuracy test at a longer range. But from what I see thus far, it's a no-brainer. This is one heck of a fine air rifle!