by B.B. Pelletier
Announcement: Aliabas Abas is this week's winner of Pyramyd Air's Big Shot of the Week on their facebook page. He'll receive a $50 Pyramyd Air gift card.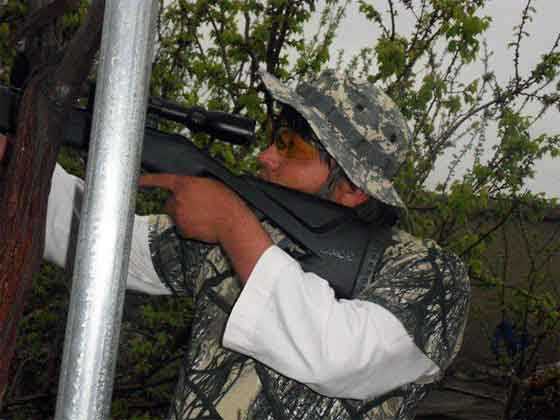 Aliabas' winning photo. Looks like he's got a Gamo.
I had a different blog prepared for today, but I can't use it because the products haven't arrived at Pyramyd Air yet, and I don't want to talk about something that you can't get.
Yesterday's blog got me thinking about lookalike airguns. I mentioned that Crosman had made the M1 Carbine BB gun that I love so much, and they made a host of others like the SA-6 that resembles a Colt SAA revolver, and the 38-T and 38-C revolvers that look something like Smith & Wessons.
Today, I want to talk about many airguns that are lookalikes. Some of these are airguns that are seldom seen, though they exist in quantity, while others are very unique. Let's go!
Makarov
I owned a Makarov BB pistol before I ever bought the actual firearm. And the pistol I owned was made on a genuine Makarov firearm frame. Then, I got a Bulgarian Mak in 9x18mm that hasn't jammed or failed to feed one time in close to a thousand rounds. It's accurate and has a soft recoil.What a great gun it is!
Then to my surprise, Umarex brought out their Makarov BB pistol, and it turned out to be a superior airgun. If you ever saw the American Airgunner TV show, it was the Makarov that I used to teach Crystal Ackley to shoot. And after a single lesson, she started out-shooting Paul Capello, me and even a national silhouette champion — WITH HIS OWN AIRGUN!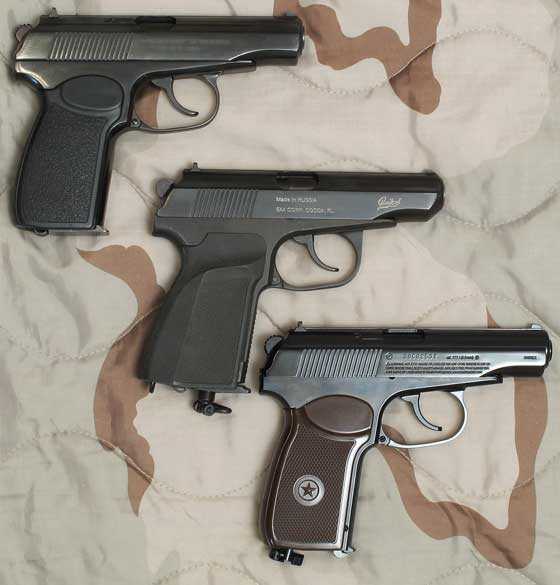 Mak firearm at top, then the first BB gun Mak that was made on a firearm frame and the Umarex Mak on the bottom. When I put these away, I got confused and put the Umarex gun in my nightstand, where the firearm should be!
M1911 A1
I was a 1911 fan long before Umarex brought out their CO2 version of the Colt M1911 A1, which is why I got one to keep forever. The realism is astounding. Of course, today I could say the same about many new BB pistols, because the 1911 is one of the most-copied firearms of all time.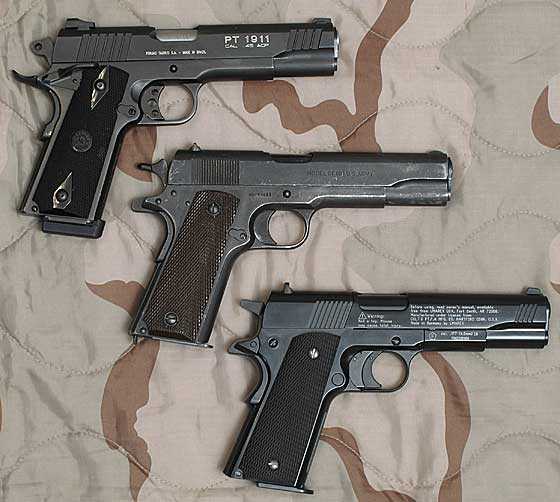 Taurus PT 1911 on top, genuine World War I 1911 in the center and Umarex Colt 1911 A1 CO2 pistol at the bottom.
PPK/S
The Walther PPK/S is the airgun that got me interested in lookalikes. I owned the Crosman M1 Carbine; but when I got the WaltherPPK/S, I decided that I also had to own the firearm, as well. So I got a .22-caliber PPK/S that's a bit of a rarity on its own.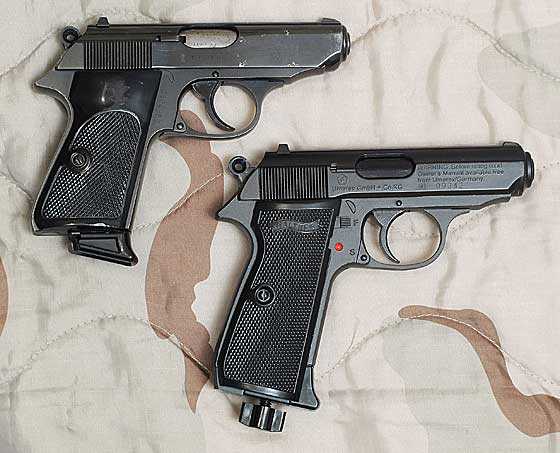 Both are genuine Walther PPK/S pistols. Top is a .22 rimfire. Bottom is a BB pistol.
M1 Carbine
I've owned three Crosman M1 Carbines. The first had a wood stock, which was only made in the first two years of production (1966-1967). Then I owned one with a Croswood (plastic) stock, but I let it get away. Then Mac gifted me the one I own today, which also has the Croswood stock and the original box.
I would own this even if it weren't any good as an airgun because of the association with the military rifle, but the irony is that this is also one heck of a BB gun! It's powerful and accurate and has fully adjustable sights. What's not to love?
The M1 Carbine is so very popular that besides the 6 million that were produced during World War II, there have been millions more made commercially after the war. They're still being made today! And some of these commercial guns are in calibers other than .30 Carbine. My .22 Long Rifle German-made Erma made for Iver Johnson is one such gun. So, here were have an original firearm, a copy that is also a firearm, as well as an airgun copy.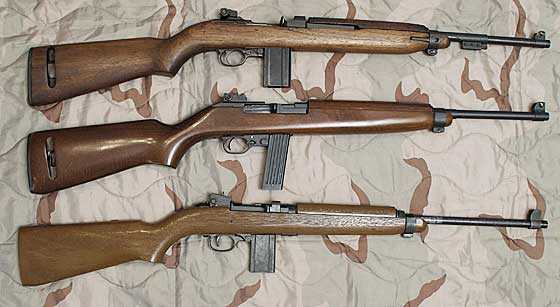 Genuine military carbine on top, then an Erma .22 carbine and the Crosman BB gun at the bottiom.
Walther Lever Action
The Walther Lever Action is a copy of the iconic Winchester 1894 lever action rifle that ushered in the era of smokeless powder for the maker. Except for the butt that is larger to house the 88-gram CO2 cartridge, it's very similar to the firearm. Not only is this air rifle a close copy of the firearm, it's also very accurate and a fun gun in its own right! While pricy, it's worth it if you value the similarity to both the look and operation of the firearm it mimics.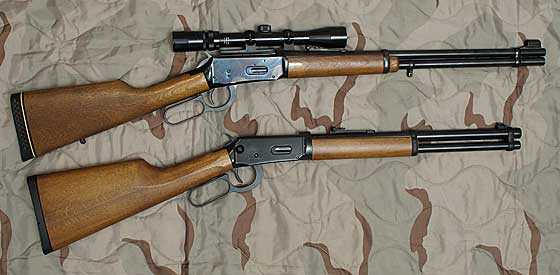 A Winchester 1894 30-30 on top and a Walther Lever Action at the bottom. The firearm has a side-mounted scope, because it ejects empty cartridge cases straight up.
Daisy model 26
Not to be outdone, Daisy had its own lookalikes — starting with the 1894 lever-action and progressing to a copy of the BB gun you're about to see. They copied the Remington Fieldmaster 572 — a slide-action (pump) — .22. Why they chose that particular model, I don't think we'll ever know. When I asked at Daisy, they told me that firearm was such a classic! Yeah! Like a Hudson Hornet is a classic car! Anyhow, they made a beautiful lookalike BB gun that was first marketed as the model 26 for reasons no one seems to know, and then as the model 572, which is understandable. The guns are identical, but the model change allows collectors to date their guns to a certain degree.


Daisy's model 26 was the first copy of the Remington Fieldmaster 572. Daisy later changed their model number to 572.
Something really odd
Up to this point, you could buy any of these airguns or firearms within a couple of months of diligent searching here in the United States. Now I want to show you something that I bet you've never seen and were not even aware that it existed. Even advanced airgun collectors do not know about what you're about to see.
In 1976, this country celebrated its 200th anniversary and the party was huge. I was in Germany at the time, so I missed it, but I see the reruns on TV all the time.
One gun manufacturer — called Ultra-Hi — had been manufacturing black powder guns in Japan and decided to make an airgun to commemorate the bicentennial. An underlever BB gun was made that looked very much like an 1840s caplock rifle. Airgun collectors know about the Pioneer '76 and consider it very collectible.
What they don't know is that Ultra-Hi copied one of their own black powder rifles when designing this BB gun. Here, for the first time, you'll see both the BB gun and the muzzleloading rifle it copied.


Here's an airgun and firearm pair nobody knows about. The Ultra-Hi Pioneer '76 on top is a BB gun that is well-known among collectors. The Ultra-Hi .45-caliber percussion rifle underneath is the gun nobody knows about. Both guns have fake brass-colored plates where there should be patchboxes, and both rifles have stocks made from two separate pieces of wood to save money. The brass strip on both stocks hides that fact.
What comes next?
I made this Part 1 in case this is a subject that interests you readers. This is an area of airgun collecting that's nearly ignored, because airgun collectors often don't like firearms and firearm collectors don't care for airguns, as a rule.
I'll watch your reactions to what I've shown today to determine if it's worth pursuing this subject any farther, but from the response to yesterday's report on the Crosman M4-177 Multi-Pump Air Rifle, it looks like it might be.