by B.B. Pelletier
It's been half a year since I did Part 1 of this report. I always meant to do today's test, but other things seemed to crop up every time I was ready. I did make an excursion in another direction to test BSA's 2×20 pistol scope using another mount on the Beeman P1 air pistol. Such is the tangled life of the airgun blogger!
New territory!
Today's report takes me into fresh territory with my Slavia 631 breakbarrel rifle. I had earmarked it as a testbed rifle for testing the accuracy of lead-free pellets a long time ago, but the lack of a scope mount caused me to substitute the Whiscombe rifle at the last minute. You see, the Slavia air rifles all share a common problem when it comes to mounting scopes. They have dovetails that are among the very widest on the market. Most 11mm scope mounts will not expand wide enough to fit the 14mm dovetails (they are still called 11mm, which creates a world of confusion among buyers who try to scope their rifles) that are standard on all Slavia breakbarrels. Even for me — with a drawerful of specialized airgun mounts and prototypes — the Slavia remained a gun I could not scope until this new BKL mount hit the market.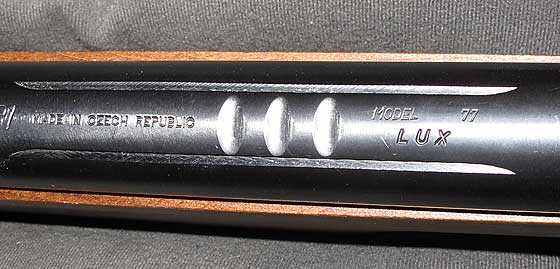 Those dovetail grooves may be called 11mm, but they're really 14mm apart. And that makes a huge difference. Almost no scope mounts will open that wide. Those three scalloped notches are for a specific type of scope stop that no longer exists in the U.S.
I've owned this 631 since back in the 1990s when I was still writing The Airgun Letter. I got it from Compasseco (now owned by Pyramyd Air) for a test and liked it so much I decided to keep it. Over the years, I've used it for other tests, such as testing the accuracy and penetration of round lead balls; but these tests were done with open sights. Today, I get to discover for the first time how the rifle shoots when a scope is mounted.
Just fit!
The BKL adjustable mount is a one-piece mount that just fits the length of the scope grooves on the 631. There isn't a millimeter to spare on either end. As for the width, the fit is much easier, though I did have to spread the clamping rails to get it on the gun. For those who are unfamiliar with BKL mounts, they hold onto the airgun by clamping pressure, alone — there are no mechanical scope stops on any BKL mount. It's often necessary to spread the mount base a little to get it onto the dovetails of the rifle. BKL has designed an ingenious way of doing this with the base screws applying reverse pressure to spread the base "jaws" just the right amount. It's easy to do and takes only a minute or two extra. Once the mount is on the gun and the base screws are tightened, you have a scope mount that's not going to move under recoil, no matter how severe.
Droop-compensating!
The second great thing about this new mount is that the rear scope ring elevates to compensate for barrel droop. Newer readers may wonder what droop is, so allow me to explain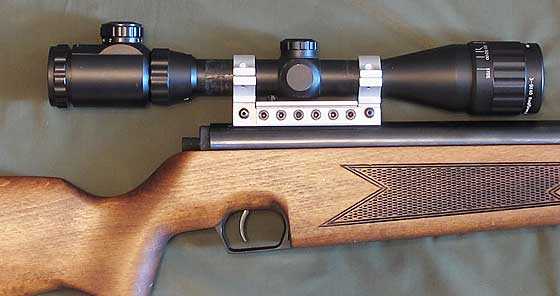 The BKL is mounted on my Slavia 631 rifle. The mount is silver because it's an unfinished preproduction model, not because it's finished that way.
Barrel droop
Breakbarrel springers are notorious for having barrels that are angled downward from the sight plane. Because the manufacturers mount both the front and rear sight on the barrel, they remain in a fixed relationship that masks the droop or downward slant of the barrel. When you install a scope, it goes on the spring tube and the barrel droop becomes painfully obvious. You adjust the scope up as far as it will go to bring the strike of the round back up to the intersection of the crosshairs. Sometimes, you just barely get there, but other times you can't even get that high before running out of adjustment. Either way, when a scope is adjusted all the way up as high as it will go, the internal springs relax and the point of aim starts moving all over the place. New shooters blame this on scope shift, but it's really a different problem that's completely correctable
You want to mount the scope in such a way that its vertical adjustment is about in the middle of the range or even closer to the low end. That's where the droop-compensation scope mount, or "drooper" as it's called, comes into play. With a droop-compensation scope mount you can slant the scope downward so it follows the line of the bore more closely.
And this new BKL is a drooper mount! But until I tried to sight in my Slavia 631, I had no way of knowing that it's a breakbarrel with a droop problem. Once I confirmed that it is, I adjusted the rear of the BKL mount upward and got the scope dead-on at 25 yards! It took only one adjustment, and I had the scope back into the middle of its adjustment range again. Now, it was time to see how this rifle shot.
Twitchy
This is going to be a longer report, so I'm cutting to the chase right away. When I started shooting the 631 at 25 yards, I discovered that this rifle is twitchy. What does that mean? Well, if a breakbarrel is very powerful, it's usually extremely difficult to hold for accuracy. It wants to spray its pellets all over the place — that's what I call twitchy.
But lower-powered breakbarrel springers like this 631 aren't usually twitchy. Usually, they lob all their shots to the same place. They're also very tolerant of different types of pellets. But my Slavia 631 is none of those things. It's twitchy. Allow me to show you what I mean. The first group I tried to shoot was with the Air Arms Falcon pellet.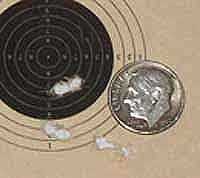 This first target shot with Falcon pellets revealed a lot about the gun. Do you see that two pellets are close together in each of the three groups, but the point of impact moves? That's due to very small changes in the hold. Four of the 10 pellets missed the target altogether!
The first group I attempted told me this rifle is twitchy. But sometimes that's only with a couple pellets, so I pressed on.
Next, I tried shooting RWS Hobby pellets. They did better and were less twitchy but were not really that good.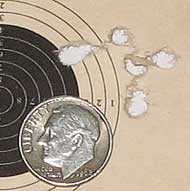 Ten Hobbys went into a real group at 25 yards. It looks like only 6 shots landed because several went through the same holes. This is a better group, measuring 0.73 inches between centers, but it's still not great.
I had to use every bit of technique, short of a scope level, to get that group. The differing points of impact were obviously the result of very subtle changes in the hold. This was obvious to me as I shot, because I was able to feel where the pellets wanted to go. But in spite of that, I did my best to shoot the tightest group I could.
I tried Crosman Premier lites next, but they were all over the place. Then, I tried the JSB Exact RS pellet that often proves best in rifles of this power level. This time, though, they were too hold-sensitive to do well.
Finally, I tried the BSA Wolverine pellet that's also a medium weight JSB but is subtly different from the others of the same weight (8.44 grains). Like the Hobbys, I got a group of 10; but like the others, it's interesting for being more of a cluster of several smaller groups.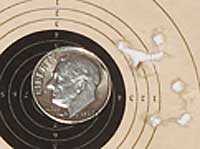 Ten BSA Wolverine pellets gave this group, which measures 0.75 inches across. There's a cluster of 6 in one hole, then 4 others below. The fourth shot lies between the two that are stacked vertically.
Bottom line
The BKL adjustable scope mount works as advertised. It's easy to install and to adjust. And it has jaws that are wide enough for the widest 11mm air rifle dovetails. Just don't try to use it on a Weaver base, because it isn't that wide, nor is it configured for the proprietary shape of a Weaver dovetail. This mount is one elegant solution for a drooper.
The Slavia 631 is a twitchy breakbarrel that shoots at a mild level of power. If I hadn't done this test, I never would have guessed that from the muzzle velocity, alone. That made me think of another report I can write — and probably should: What to do with a twitchy breakbarrel. It would be a collection of the tricks and techniques I would use when I encounter a twitchy breakbarrel. In my role as an airgun tester, I see a lot of them over time, so I've built up a bag of techniques I employ to deal with them when one comes along.
The 631 is also a great potential testbed for an adjustable muzzle weight to be used for tuning the harmonics of a spring gun. I'll look into that.