by B.B. Pelletier
Today is the day you find how I improved the accuracy of the Air Venturi Bronco rifle I'm testing with the Bronco Target Sight kit. I asked you to guess what I did to get better groups, but only Fred of PRoNJ got it right. I thought this would be a straightforward test and that one range session was all I needed for this rifle. After all, I already did a 7-part report on the gun, so there's been plenty of time to get to know how it shoots. In fact, I even installed a Williams peep sight on the gun, so I even know how it shoots with that. This was just supposed to be a test of the Bronco Target Sight kit and nothing more. But man plans, and God laughs!
Yesterday, I told you about the front sight screws and the barrel that obviously needed cleaning. Afterwards, I was not rewarded with those perfect groups I'd anticipated. The groups I got were better than before the rifle was cleaned, but they were still bad for an accurate rifle at 10 meters off a rest. Something else was needed.
The artillery hold
How many of you guessed that the secret to good shooting was the artillery hold? Guess again, because I saw no difference between resting the rifle on the flat of my palm and on the backs of my fingers.
One thing I did rediscover was the need to hold the Bronco absolutely "dead" in my hands rather than with any tension built in. For its power level, the Bronco seems to be on the twitchy side as far as hold sensitivity goes. So, before you shoot, it's imperative that you relax all the way and allow the rifle to settle in wherever it wants to. Then, you have to shift your hands and body until it settles in with the sights very close to on-target.
But that wasn't the secret I was looking for because the groups were still on the large side. Then, something cool happened. As you know, my friend, Mac, has been visiting us; and while he was here, I got a couple spring-piston air rifles to test before they come to market. I'll be starting some reports at the end of this month, so I asked Mac to test the rifle while I worked on other things. It's never difficult to get him to test a brand-new airgun!
One of the pellets he selected to test the rifles with was the venerable RWS Hobby, which is the lightest all-lead pellet around. Hobbys are often among the most accurate pellets for spring-piston airguns, and they did really well in these new rifles, so his choice seemed obvious. Since the Bronco is also a spring-piston gun, I wondered if Hobbys might do well in it.
Did Hobbys shoot better?
Yes, they really did. They gave groups that were in the ballpark for the rifle as it was now performing with the clean barrel, but they weren't the groups I'd hoped for. But something drove me to continue to shoot them. I guess I was thinking about the pellet seasoning effect we talk about. As I was shooting, another thought popped into my head.
Two years ago I was testing a Hy-Score 801 — a Belgian-made breakbarrel spring-piston air rifle that has a pellet seater built into the gun. It sits above the breech and swings down to push the pellet deep into the breech. When I tested it, the seated pellets increased in velocity by 100 f.p.s. and also grouped closer. Could that same thing be true for the Bronco, I wondered?
Well, it didn't take much to test the pellet-seating theory, because I've been testing the Air Venturi Pellet Pen and PellSet for some time. But this was the first time I had occasion to use the adjustable PellSet tool to push a pellet into the breech of an air rifle! Until now, I've always used a Bic pen, but this new tool is adjustable so I can control the depth to which each pellet is seated. And once the tool's adjusted, every pellet gets seated to exactly the same depth. Consistency is paramount to accuracy, so that's very important.
Success!
The moment I began seating the pellets deeply with the PellSet tool, the groups shrank to an acceptable size. It looked like a television infomercial, because the difference before and after was night and day. I shot another group but didn't seat the pellets. I held the rifle as carefully as I had when the pellets were seated deep, just to eliminate any bias. I'm not saying there still isn't some bias in my testing, but the results of seating the pellets looks very promising!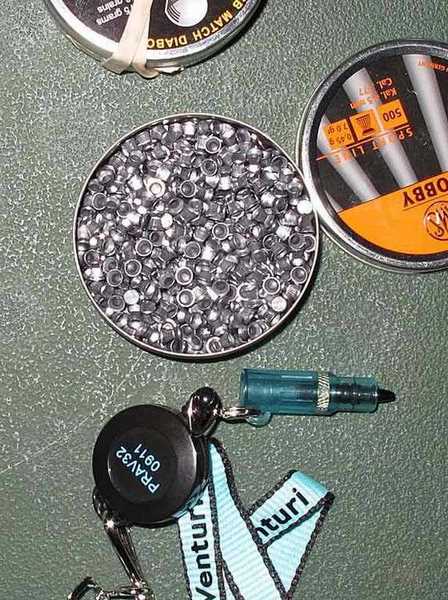 This PellSet tool is an adjustable pellet seater that hangs around your neck and seals each pellet to the correct depth in the breech. Using it immediately tightened the Bronco's groups!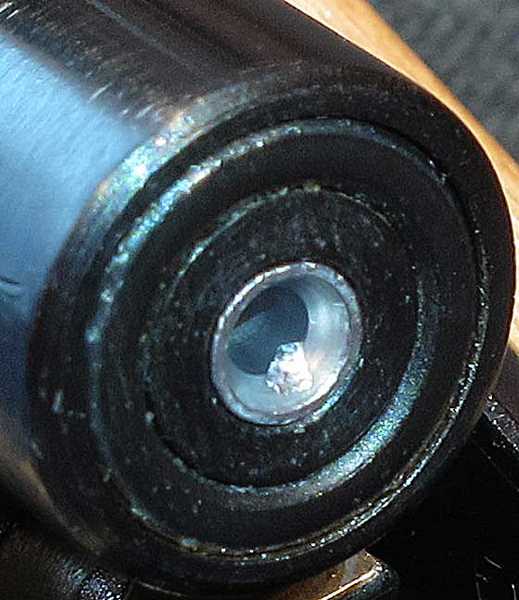 When you load a pellet manually, you seat it flush with the breech like this.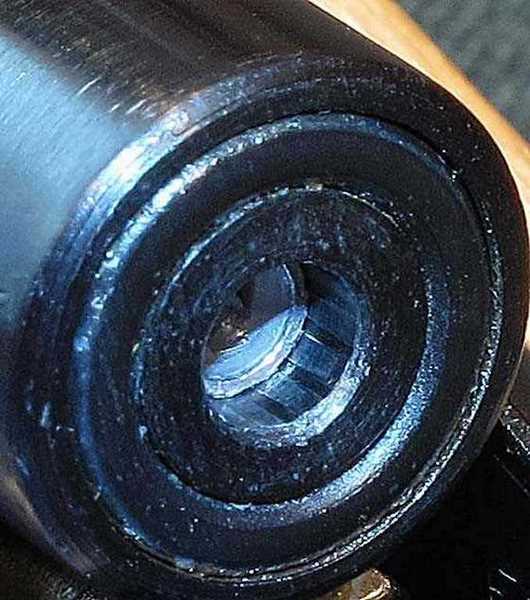 The PellSet tool enables you to seat each pellet to the same depth in the bore. The tool is adjustable so you can fine-tune it.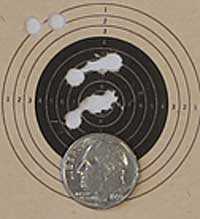 Ten RWS Hobby pellets seated flush with the end of the barrel grouped in 0.916b inches at 10 meters. While not a great target, this demonstrates that the Bronco wants to shoot Hobbys well, because 8 of the 10 pellets made a group about half the size of the large one.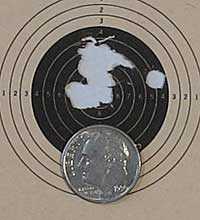 When the Hobbys were seated deep into the breech, they grouped into this 0.72 inch group. This is much better than the first group and clearly shows what deep-seating can do. But notice there's still one flier in this group.
When I saw the difference between the deep-seated and flush-seated pellets, I believed I was on to something. But one result doesn't make a conclusion, so I shot another two groups. This time, I was very careful with each shot to apply the artillery hold correctly.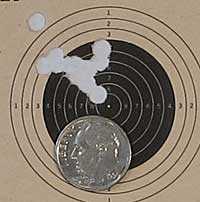 The second group of flush-seated pellets was tighter than the first, though not as tight as the first group of deep-seated pellets. Only a single flier this time. Group measures 0.845 inches between centers.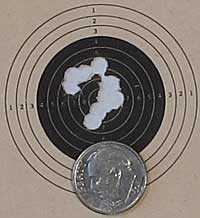 The second group of deep-seated pellets gave this 0.516 inch group. No fliers at all. This is the accuracy potential of the Bronco!
Conclusions
There was a lot to cover in this test. First: I found that the longer front sight screws do not present any problems as far as accuracy is concerned. That was a needless concern.
Next, I discovered that the barrel wasn't just dirty — the bore was actually constricted at the muzzle. Cleaning the bore (but not with J-B Non-Embedding Bore Cleaning Compound this time) did improve accuracy, but not as much as I'd hoped. Something else was needed.
I had shot decent groups with this rifle in the past, so it is accurate. After cleaning the barrel, I almost got groups as good as before, but not quite. However, I'd been shooting 10 shots at 25 yards before and only five shots at 10 meters. Any direct comparison between before and now was impossible.
Switching to RWS Hobby pellets was good, though Hobbys may not be the most accurate pellets for this rifle. But by staying with them, I eliminated any other comparisons that might lead me astray. I also seasoned the bore, so no one can say that accuracy suffered from switching pellets.
Finally, I used a pellet seater, and not just any seater, but one that's adjustable so I can set how deep the pellet goes. This tool has a lot of potential for improved accuracy in lower-powered spring-piston airguns, and I plan on using it in a lot of future tests.
Bottom line
The Bronco Target Sights are a nice addition to the rifle and far less expensive than any alternatives. A scope would work well, too, but for those who like iron sights, this sight set might be the best way to go.