by B.B. Pelletier
Recently, a reader asked me when I was going to write the part 4 I promised for the Crosman 2100B multi-pump rifle. I did Part 3 in March, and to be honest, I'd forgotten that a part 4 was promised.
Part 4 is going to be a 25-yard accuracy test with a scoped rifle, because I felt the 2100B deserves it from the performance it delivered in the 10-meter test. Fortunately, the rifle is still available to me, so I planned on doing my report today. All I had to do was install a scope on the scope rails and….
OH, NO!
[Let's pretend] the only scope available to me is already installed in Weaver scope rings. Whatever will I do?
Well, before 2012, I would suck wind. I'd sit on the curb and cry my eyes out, because I had the wrong scope mounts for this rifle. Fortunately, we now live in a world where the UTG 3/8″ dovetail-to-Weaver/Picatinny rail adapter is available. And I have one! Oh, happy day! The test will proceed as planned!
Readers with better memories than mine will recall that I showed you this adapter back in the SHOT Show report, Part 2 this year. You may have wondered why I made such a fuss in that report over two confusing pieces of metal I held in my hand. Today, you'll find out why.
This is a UTG product. UTG stands for Under The Gun, one of Leapers' trademarks. So, you've already learned something, haven't you? This adapter attaches to the base of a Weaver (or Picatinny) scope mount and converts it the mount to a 3/8-inch dovetail. Now, 3/8-inch — the rimfire dovetail width — is so close to 11mm — the airgun dovetail width — that it also works for most airguns. I say "most" because there may be a few very wide 11mm dovetail scope bases that are too wide to accept this adapter. I don't know that — I'm just saying that there might be.
The bottom line is that this adapter should work for all rimfires that have grooved receivers as well as for most airguns that have an 11mm dovetail scope base. And please know two additional things – – first, that 11mm is a nominal width and in reality the dovetails are from about 9.5mm to as much as 14mm wide; and second, that Weaver and Picatinny bases ARE ALSO DOVETAILS! It is completely incorrect to refer to an 11mm dovetail as just a "dovetail," because there are other different kinds of scope bases that are also dovetails. There — you've learned something else!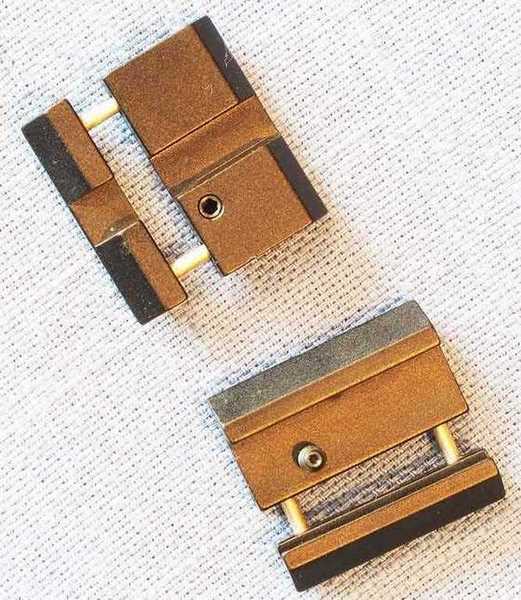 The UTG 3/8-inch dovetail-to-Weaver/Picatinny adapter comes as two identical pieces. Both piece have a vertical scope stop screw that can be removed for guns that don't need it. This photo shows both sides of the adapter.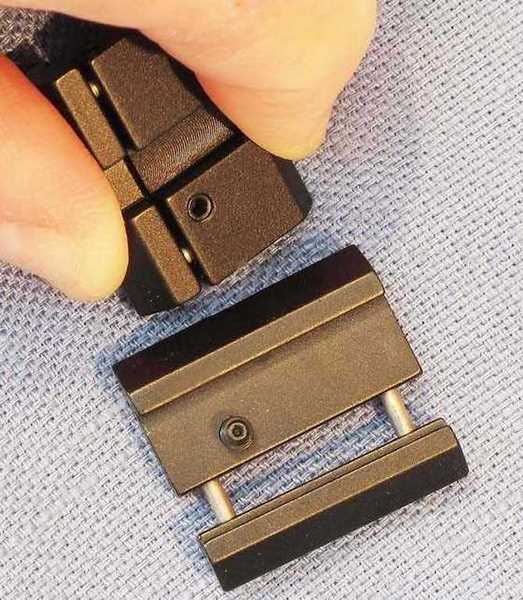 The adapters are spring-loaded. When the Weaver scope base screws are tightened, these jaws will also tighten on the 11mm dovetails.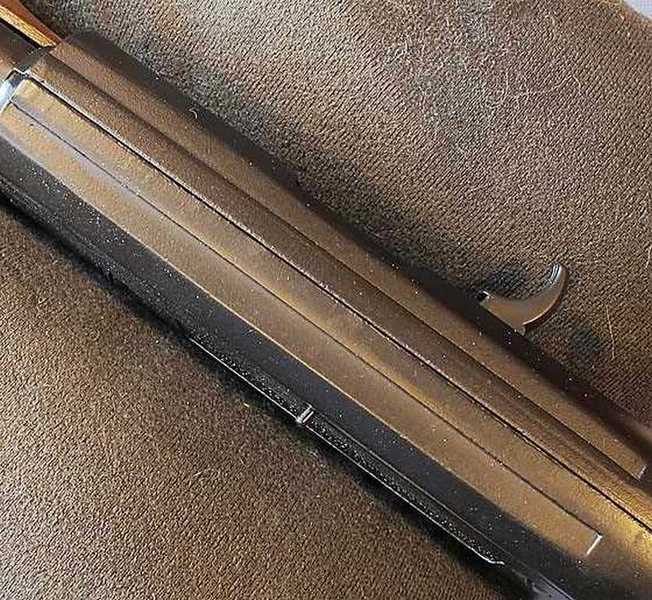 Looking down on the Crosman 2100, we see the 11mm dovetail on top of the action. That's where the scope rings are clamped.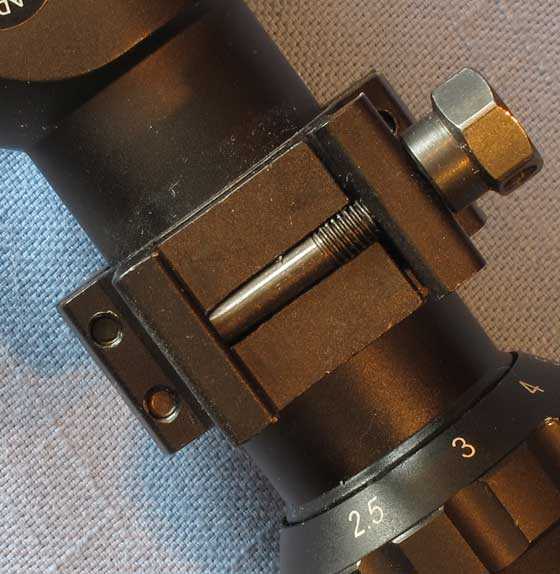 This Weaver scope mount is too wide to clamp to an 11mm dovetail rail, plus it has a transverse key that locks it in place, but the 11mm rail has no slot to receive it.
Those four pictures show you how these scope rings and bases work. You can see that the Weaver clamp will not fit an 11mm dovetail or a 3/8-inch dovetail that would be found on an air rifle or a rimfire. So, a Weaver mount will not attach to those guns — until now. The UTG adapter converts the Weaver scope ring base to an 11mm base.
The UTG adapter has been inserted into a Weaver ring base. The base will now fit an 11mm dovetail. Because the 2100B is a pneumatic rifle that does not recoil, I removed both scope stop screws before installing the adapter.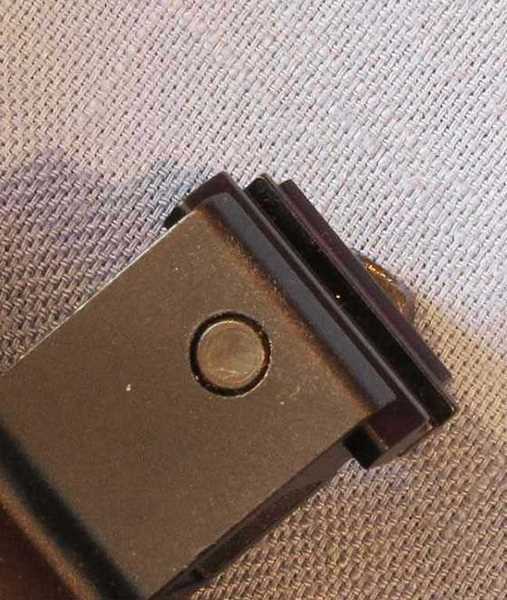 Here you see the adapter in the Weaver base from a side view. Notice that the adapter is only a few hundredths of an inch taller than the original base when installed. It makes no practical difference to the scope's height over the bore. The amount the adapter overhangs the ring base at either end is meaningless, as the adapter is locked in position by the Weaver cross key. As long as the adapters fit the gun you mount them on, you're good to go.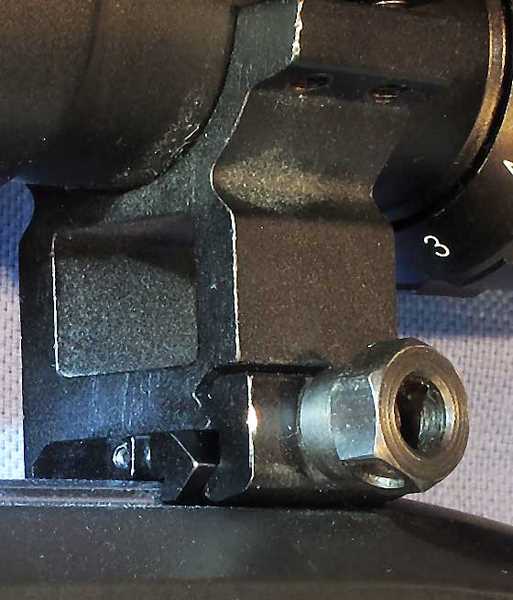 This view shows exactly how the adapter works.
Is this adapter useful?
If you need to mount Weaver rings to a gun that has either 3/8-inch or 11mm dovetails, this adapter is the only way to go. I don't know of another way to do it. Some of you are probably saying to yourselves, "Why wouldn't I just buy 11mm rings and be done with it?" Well, that's certainly what you had to do before this adapter came along.
But some of you have a favorite firearm scope that you like a lot, and maybe you have it installed perfectly in a nice sturdy set of Weaver rings. You guys understand the benefit of an adapter like this, because it allows you to use something you're comfortable with. It installs or removes in seconds, allowing you to use that scope wherever you choose. And, because the adapter comes with its own built-in scope-stop pins, it fits almost every airgun you can name.
I will mount this scope on the Crosman 2100B next and conduct the 25-yard accuracy test I promised many months ago.