by B.B. Pelletier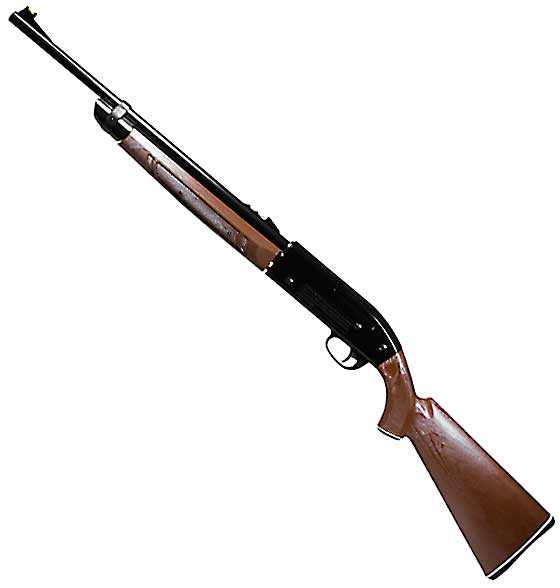 Crosman's 2100B is a full-sized multi-pump that delivers power and accuracy with a few economic concessions.
Yesterday, I told you that today's test was coming; but because I needed to mount a scope for this test, I was prompted to also test the UTG 3/8″ dovetail-to-Weaver/Picatinny rail adapter. There was some interest in this adapter; so I'll continue to test it with other airguns so we get a good look at the performance. Today, I want to do Part 4 on the Crosman 2100B multi-pump that I promised back in March.
I reread Part 3 of this report to see which pellet(s) did well at 10 meters. From what I see, only 7.9-grain Crosman Premiers did well in that test, so I added a couple pellets I had not tried before to today's test.
The scope I used is an Osprey 2.5-10×42 that has its parallax fixed at 100 yards. It's a firearm scope, pure and simple. At full magnification, the target was fuzzy, so I set it to about 5.5x for this test. It has a duplex reticle with mil-dots on the vertical reticle, which is about medium thickness. The optics are very clear, and I think the gun got all the help it needed from this scope.
For the 10-meter test, I pumped the rifle 5 times for every shot. Today, I'll be shooting 25 yards. Now that it has a scope mounted, pumping is more difficult because I cannot hold the gun at the optimum place, which is on top of the receiver. The scope is in the way, and don't you dare try to pump the rifle while holding onto the scope! Your hand has to hold the gun farther back, which winds up being the pistol grip of the stock. That isn't the best leverage to pump the rifle, but fortunately the 2100B has a short, easy pump stroke.
For today's 25-yard test, I pumped the rifle 6 times for every shot. My thought was to shoot the rifle 5 shots with each pellet and see if it was accurate enough with that pellet to warrant the work of shooting the second 5 shots. This would also tell me whether the shots were walking because the bore needed to be seasoned with each new pellet. As it turned out, though, all three pellets were worth the effort to shoot a full 10-shot group, so that's what you'll see.
Crosman Premier lites
The first pellet I tried was the 7.9-grain Crosman Premier dome. The first 5 shots seemed to group okay — about what I expected from the earlier results at 10 meters — so I just kept on shooting and finished the 10-shot group. Ten shots landed in a group measuring 0.809 inches between centers. The group is a little wider than it is tall, but you'll notice that 9 of the 10 shots are actually in a group that is fairly round.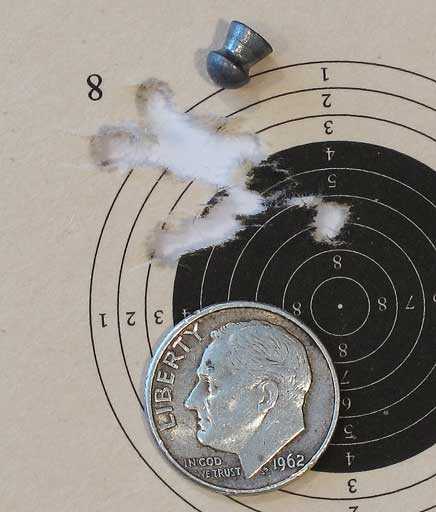 Ten Crosman Premier lites didn't do bad at 25 yards. Nine of them made a nice, round group. Total group measures 0.809 inches between centers.
This was better accuracy than I expected, based on the results of the 10-meter test. The group size there was 10 Premiers in a 0.539-inch group; and, at over twice the distance, the group only opened another three-tenths of an inch. I think that demonstrates how much greater accuracy is provided by a good optical sight.
The pace of shooting is slower
One thing about shooting a multi-pump is that everything slows down. It takes a while to make each shot ready, which is similar in concept to shooting a muzzleloading rifle that has to be loaded separately with powder and ball. That slower pace forces the shooter to concentrate more on what he's doing — or at least that's how it affects me. That's why I like single-shot rifles so much — for what they bring out in me.
RWS Superdomes
The second pellet I tried was the RWS Superdome. This 8.3-grain domed pellet is one I don't try too often — for no particular reason. It's made from pure lead and has a relatively thin skirt that takes the rifling very well. I really didn't know what to expect from it, but it's different enough than a Premier lite that I wanted to see how it might do.
Ten Superdomes made a rather open group that measures exactly the same as the group of Premiers — 0.809 inches between centers. It looks like a larger group, and there's undoubtedly some error in the measurement of both groups, but I cannot discern any difference between them with the dial calipers.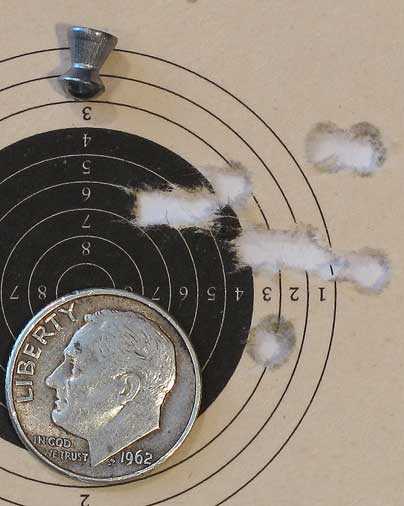 Ten RWS Superdomes made this open group at 25 yards. It seems to measure the same 0.809 inches between centers as the Premier group, above, but there is always measurement error.
H&N Baracuda Greens
The last pellet I tried was an afterthought, based on the success of the other day. H&N Baracuda Greens made such a great initial showing that I thought I would include them in this test, just for fun. Boy, am I glad I did!
I was unable to see the pellets that landed inside the black bulls because of the parallax setting of the scope, so it wasn't until I walked downrange to retrieve the target that I saw what the Baracuda Greens had done. Ten went into a group that measures 0.48 inches between centers! Not only is this the best group of this test, it actually outshot the M4-177 I tested at the end of 2011. That's Crosman's other hot, low-cost multi-pump, so don't get it confused with the MAR177 PCP. That kind of performance says a lot about this air rifle and the accuracy that it offers for very little money.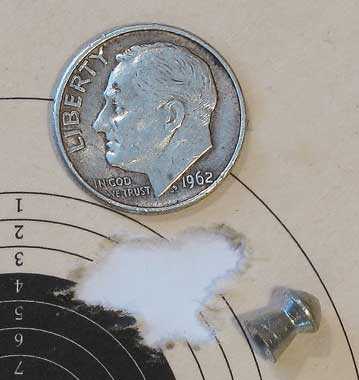 In light of the first two groups, this 0.48-inch group of 10 H&N Baracuda Greens seems amazing. These non-lead pellets are making a name for themselves!
This will be the last time I look at the 2100B, but it's been an interesting test. After Part 3, I didn't think the gun had much more to show us — but this final accuracy test changes everything.
We've looked at a fine multi-pump air rifle in addition to the UTG scope ring adapters that let you use Weaver rings on an 11mm airgun dovetail. They proved very easy to install and worked exactly as advertised in this test.
And the Baracuda Green gets another pat on the back. This is a pellet worth considering when you search for the best ammo.
All things considered, I would say this was a fine end to the test of a really great and also inexpensive air rifle!