by B.B. Pelletier
We have a lot of interest in non-lead or lead-free pellets. I heard from several readers on Part 2, which ran last week. That was when I used the Hatsan model 95 Combo breakbarrel to test both lead and non-lead .22-caliber pellets for accuracy at both 10 meters and 25 yards. I admit that was a scatterbrain test; but after seeing the results, I'm glad I did it. Here's why. If lead-free pellets do not perform in real-world airguns, they have no value. They shouldn't be a science experiment, requiring special guns and conditions. If they're going to succeed, they must work well in the kinds of guns that are used by many shooters.
That said, I'm dialing back my test parameters today and using a spring gun that I know is very accurate — my .177-caliber Beeman R8. It's probably best to start with a known good gun and then, if the green pellets do work, expand the test out into the more basic types of airguns.
This particular R8 works best with JSB Exact RS pellets. And I rediscovered that this rifle also shoots best when laid directly on a sandbag and is not held using the artillery hold. The advantage of shooting directly off a bag is that it gives the rifle a more stable platform.
I was going to shoot several green pellets for this test, but I decided to limit the test to just one pellet. If it was successful, I could always branch out from there. The pellet I selected for today's test is the H&N Baracuda Green, a 6.48-grain domed pellet (which is the same as the Beeman ECO Kodiak pellet). The equivalent pellet in lead weighs anywhere from 10.2-grains to 10.6-grains, depending on which H&N Baracuda you sample.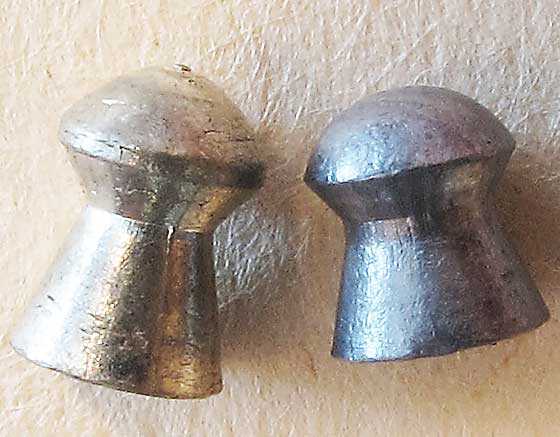 H&N Baracuda Green on the left and JSB Exact RS on the right. Notice how much shorter the heavier lead pellet is.
First, I shot a group of 10 JSB Exact RS domes at 25 yards. This group measures 0.502 inches between the two farthest centers. While it's not the best group this rifle has made at 25 yards, it's a good one, as can be seen in the photo.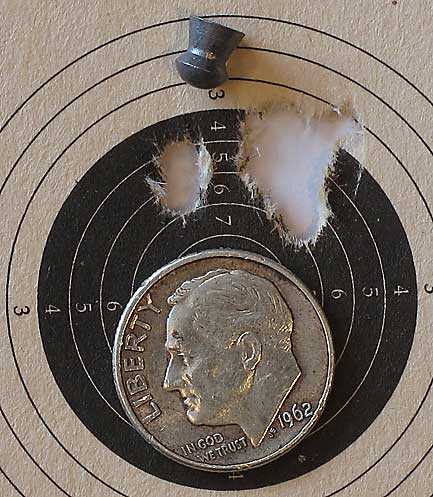 The first group of JSB Exact RS domes made this 0.502-inch group. Eight pellets in the larger hole on the right.
Following that group, I shot the first group of Baracuda Greens. I was prepared to season the bore by shooting as many pellets as necessary for the group to settle down; but as you'll see, there was no need. Ten shots gave a 0.442-inch group. That's right, the H&N Baracuda Green pellets beat the best lead pellet I know of for this rifle. I would have to say that's a positive result!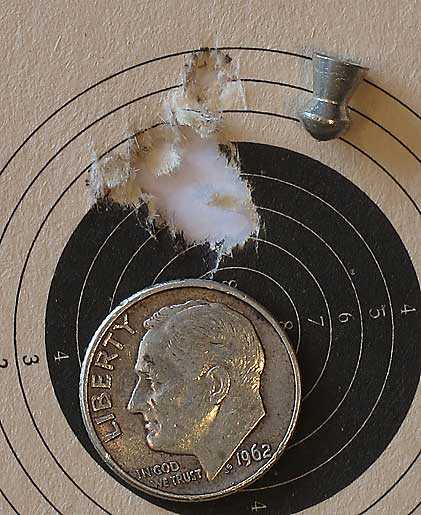 The first group of Baracuda Green pellets was surprisingly small. It measures 0.442 inches between centers.
After shooting this group, I fired a second 10-shot group of the Baracuda Greens to see if the first group was a fluke. Group number two measures 0.543 inches between centers. It's larger than the first group and also larger than the group of lead pellets I shot before that, but it's certainly in the same ballpark.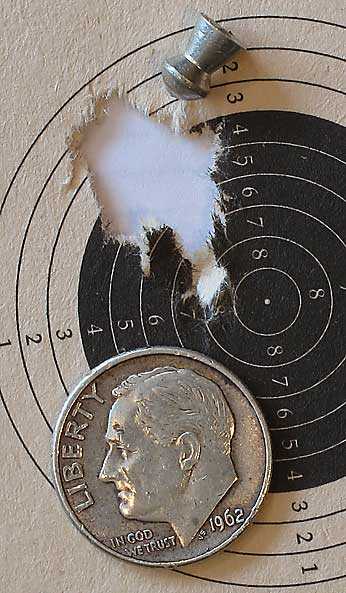 Group two of Baracuda Greens is a little larger, but it's still a fine group. This pellet is accurate in this rifle. Group measures 0.543 inches between centers.
Final group
To end this test, I fired a final group of the JSB Exact RS pellets. This time, the first shot did go to a different place than the following shots, so I guess some seasoning of the bore was required; but after that, the shots all went to the same place.
The second group of JSB Exact RS pellets measures 0.422 inches and is the smallest group of the test. But it's only 0.02 inches smaller than the best Baracuda Green group, and that's well within the margin of measurement error.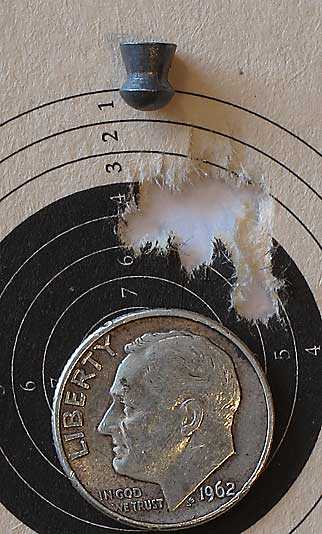 The smallest group of the test is this second group of JSB Exact RS pellets. It measures 0.422 inches between centers.
What can I say?
Obviously, H&N Baracuda Green pellets are very accurate in my Beeman R8. They may be equal to JSB Exact RS pellets, which have been the most accurate pellets for this rifle until now.
We have one good test under our belts. Next, I want to test these pellets in an accurate PCP. I happen to have a Benjamin Marauder in .177 caliber, so that's what I'll use.
The rest of you can help by testing the Baracuda Green pellets in other airguns and reporting the results. I want to stick with Baracuda Greens for a while before I branch out into other non-lead pellets. I'm glad I did today's test, and things are looking good for the greens.
You don't know how good we have it!
If you're a regular reader, you know that I built an AR-15 lower receiver to test the Crosman MAR177 AR-15 upper PCP conversion. After sending the upper back to Crosman, I was left with a lower and nothing to attach to it. So, I thought I'd buy an upper in .223 caliber to complete my rifle.
In my ignorance, I imagined that buying an upper was a simple process. Well, it's not! If you think airgunning has a lot of jargon and is confusing, you've never shopped in the confusing world of the AR! The websites abound with acronyms, slang and references to things I feel I should know but don't. Unless you're extremely careful, you can buy a partial upper and still need to spend a lot more money on parts that aren't necessarily compatible with what you've already purchased.
Ever hear the tale that all AR-15 parts interchange? Well, they don't, and the chat forums are full of complaints about it! Reading the customer reviews about certain products paints a nightmare tale of confusion, customer abandonment and outright lying by some of the major dealers.
What a snake-pit the AR market has become! I can see I will have to become very educated on the subject of the parts of the gun before I buy — or there's one other possibility. I could buy a a "completed" upper that has everything needed to fit on my lower and work. There's just one problem with that. Most (over 80 percent) of the .223-caliber (and yes, I am including those that are chambered for the 5.56mm in this number) complete uppers for sale today have 16-inch barrels, because buyers apparently want the M4 carbine look. But a 16-inch barrel has none of the things I want on my rifle. It's as if there are only gas spring super-magnums breakbarrels for sale, and I want a TX200 that nobody offers!
Then, there's the problem of supply. Buyers in this market are at the mercy of the manufacturers, whose websites are the most confusing places of all. It's a case of, "Place your order and shut up! We will get to you when we are good and ready!" I know they're experiencing a boom market of unparalleled proportions, but that's no excuse for the unhelpful fulfillment language they use on their sites.
When I see complaints about the Pyramyd Air website and then compare them to the trauma wards that sell (I guess?) AR-15 parts and assemblies, I thank my lucky stars I'm an airgunner. And, yes, I do plan to soldier on and see this thing through. Unfortunately, when I do get my upper, I may then be in the class of owners whose "half-minute of angle" upper prints a three-inch, five-shot group at 100 yards! Don't tell me there are good companies I can trust — I've seen complaints about all of them.
The bottom line is that if I wasn't working in airguns, there's a huge market of AR sales that needs a little honesty, education and Pyramyd Air-type retailing. Given the supply difficulties that exist, I'm not sure that a good dealer could make a go of it in this market, but it's obvious there would be no competition.