by Tom Gaylord, a.k.a. B.B. Pelletier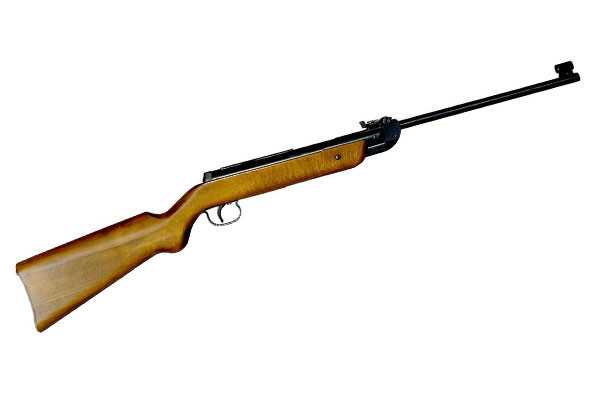 The Diana 25 (this one says Winchester 425) was made for decades. It's at the top of the youth line of air rifles from the '50s through '70s.
Before we begin, I owe you an explanation. Although the title of this report says the Diana model 25, the rifle we'll look at is actually a Winchester model 425 — Winchester's branding of the model from the 1970s. I used the Diana 25 model name because there are many times more Diana 25 air rifles than just the few thousand that carry the Winchester name. That way, all who read this will know the root airgun. If they ever need parts, they'll know what to look for.
At most airgun shows, I buy and sell as much from/to the other dealers as I do to the public. I'll often sit at my table with my eye on a certain gun for almost the entire show before making my move. I bought David Enoch's Gamo 68 as we were packing up to leave the Malvern show. I'd wanted it all show long and hoped it would still be there when I sold something and had the money to buy it. When I did have the money, I found my self unable to open my wallet until David started packing it up to go.
The Fast Deer I bought at Roanoke this year is another example of the same thing. I had the money, but still I putzed around for no reason, arguing with myself over a $40 purchase!
And all the while we were at this show, I watched Mac's Winchester 425 (Diana 25) sitting on the table next to me. He had it marked at $200, which is a very good price, because this is the model 25 that has the three-ball trigger. I had a Winchester model 427 (a Diana 27) for sale for $225, which is also a good price for that model, but people were overlooking my gun and focusing on Mac's 25. His rifle is even cleaner than mine and frankly, at $25 less, it looked like a better deal.
Finally, after much agonizing and hand-wringing, I either bought Mac's rifle or traded for it. I think we traded, which is always better, because then you never know for sure who got the better deal. It's the old two $2,500 dogs for a $5,000 cat routine.
Every time I buy an airgun, I'm always justifying it by thinking that I'll write a blog about it, which I almost always do. Sometimes, like the case of my Falke 90, I get so involved in the gun that I start investing even more time and money just because I get caught up in the story and want to see how it turns out. And, FYI, the Falke stock is on its way to the refinisher to get a new lease on life. The results of that will be coming in a separate report some time in the future.
Back to my report. So, I acquired this Diana 25, and now I want to share it with you. For years, Mac has told me that the 25 is just a 27 that's a little shorter. I wanted to test that. Mac has had a whole collection of these guns, including several 27 and 25 airguns. He sold a 27 at the Roanoke show the year before, and I was sad to see it go — even though I have two of them myself and do not need another. Mac's had more of these rifles than I, so I listen to what he has to say about them.


Diana 27 (top) was just slightly larger and more powerful than the 25.
The 25 stands out because there were several different versions of the same gun, built over the decades the model was being manufactured. There's the 25 that has a more or less simplistic trigger with a direct sear. That one isn't adjustable, as far as I know. It's not a bad trigger, but it doesn't compare to the model we're examining here.
Then, there's the model I'm testing for you that has two adjustment screws for the trigger — only one of which actually adjusts the pull. The other screw is nothing but a lock screw that holds the adjustment in place. People who are not familiar with the trigger adjustment process of the 25/27/35 will invariably mess up the adjustment and get a trigger-pull that's single-stage, long, creepy and vague as to the let-off point. They'll declare the trigger to be junk and get rid of the rifle when it could so easily be adjusted to a very fine pull if they only knew the secret.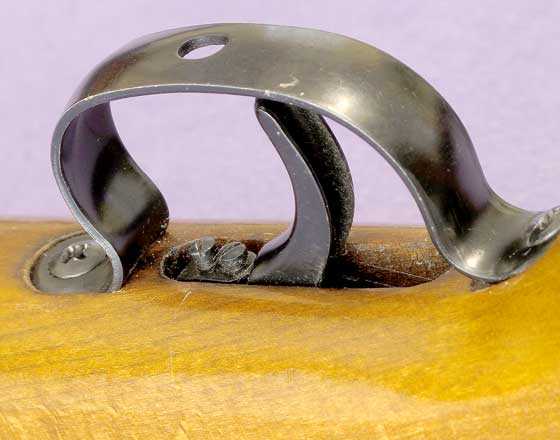 The presence of two screws on a Diana 25 air rifle trigger signifies a ball-bearing sear trigger. The front screw (left) is just a locking screw.
Adjusting a two-screw, three ball-bearing sear Diana trigger
Here are simple instructions for adjusting the Diana 25/27/35 triggers that have two screws. The front screw is just a lock screw. Loosen it and then screw the rear screw in as far as it will go (that's clockwise). Then, turn it back out two full turns and try cocking the rifle. Be careful not to let go of the barrel, because some guns may be adjusted to the razor's edge this way. If yours is and you need a little more sear engagement, try turning the screw in or out just a quarter turn until the sear holds well. Next, tighten the front screw, and the job is done. You'll have a long first stage followed by a definite stop and crisp stage-two break when the gun fires. You only have to experience one of these triggers adjusted correctly to know how nice they all are.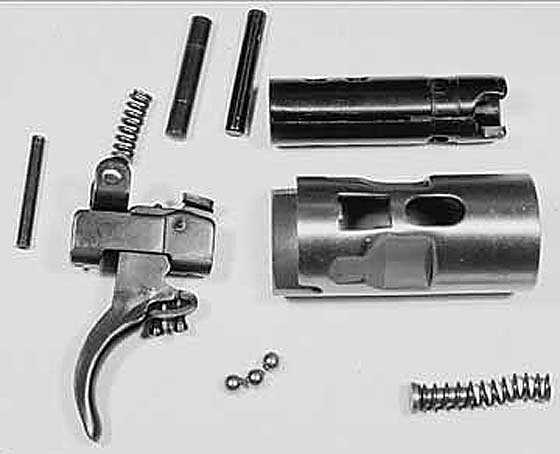 This trigger assembly from a Diana 35 is identical to the one found in the model 27 and the model 25 we're examining. These parts are held together inside the gun by the spring tube. Assembly requires a lot of tacky grease to hold these parts together until they're safely contained inside the spring tube.
There's one more variation of the 25, and that's a rifle with just a single trigger screw. It's a later design that did away with the need for a locking screw by virtue of having the adjustment screw pass through more metal and be less resistant to movement. This one is much easier to adjust because there's no chance of making a mistake with the locking screw since it isn't there.
The rifle is small, being made primarily for youth. At just 37-3/4 inches overall, it's sized like a carbine, though the proportions look more like those of a rifle. The pull is just 12-7/8 inches, which is short for an adult but about right for a teenager. Today, these rifles are more often used by older shooters than their builders intended. As Mac stated, they're viewed as smaller model 27 air rifles — especially when they have the ball-bearing sear. The barrel is shorter than the one on the model 27, at 14-1/2 inches. The rifle still cocks easily because the mainspring isn't that strong.
The stock is beech, which is stained very differently than the darker model 427 shown for comparison. There's actually a pleasing grain that isn't common to beech. The butt has a single rubber "button" at the top that confuses airgunners all the time. It's there to keep the wooden butt from sliding across the floor when the rifle is stood in the corner. There's a slab-sided profile to this 25 stock that isn't seen on the 427. It just means they started with a thinner blank.
The metal parts are all well-polished and deeply blued. Today, the finish looks exceptional; but when this rifle was made, it was considered standard for the time.
The rifle weighs 5-1/2 lbs. on the nose. It feels like a gun you could carry and shoot all day.
This model came in both .177 and .22 caliber, though all the Winchesters I've seen were in .22 caliber. That's a pretty large pellet for such a small powerplant, and you can expect velocities somewhere in the 400s with light- and medium-weight pellets. That sounds pretty anemic to those who are accustomed to supersonic velocities, but the fact is that these are pretty accurate at close range and a lot of fun to shoot.
Sights
The 25 and 27 air rifles have fully adjustable rear sights and hooded front posts that are fixed. There's also a serrated ramp on the back of the spring tube that accepts a Diana peep sight, should you be fortunate enough to find one.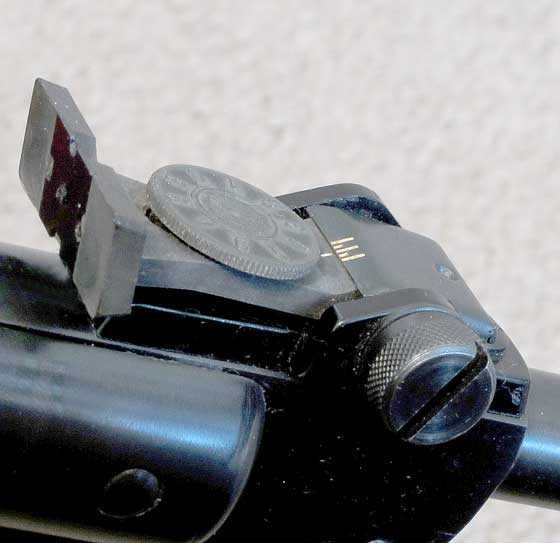 The rear sight adjusts in both directions. It's crisp, clear and an example to all airgun makers today.
I'm testing this rifle because Mac has piqued my interest over the years. Normally, I would say the Diana 27 is the epitome of lightweight spring guns, but there might be something here that I haven't yet seen. At any rate, it'll be fun to find out!