by Tom Gaylord, a.k.a. B.B. Pelletier
Announcement: Adam Vierra is this week's winner of Pyramyd Air's Big Shot of the Week on their airgun facebook page. He'll receive a $50 Pyramyd AIR gift card. Congratulations!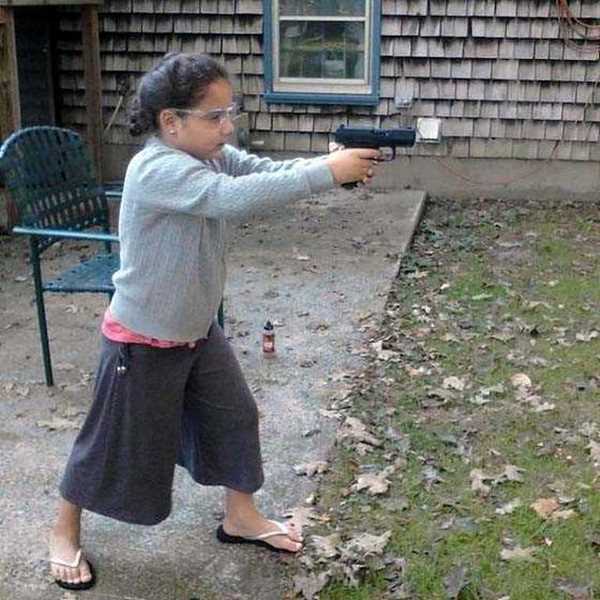 Adam Vierra is this week's Big Shot of the Week on Pyramyd Air's facebook page.
I wasn't sure there was going to be a Part 3 to this report. But yesterday, when I read your interest about the airguns with double-set triggers, I decided that it was okay to do one more, and this one will be about set triggers, match triggers and stuff like that.
As it happens, this blog is very timely for me, because this past Wednesday I was at the range shooting several firearms and a new airgun that you're going to read about in January. One of the firearms I shot was my new Winchester high wall in .219 Zipper Improved. Some of you may remember that was the rifle I recently bought and discovered after the fact that it has a single-set trigger.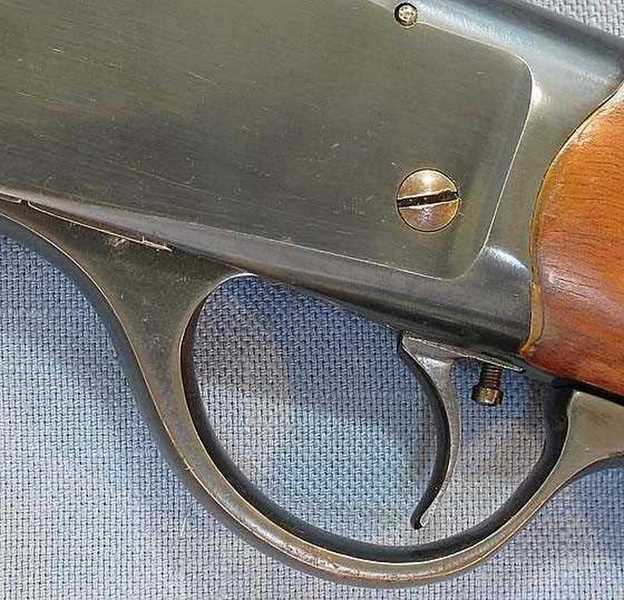 The screw that hangs down behind this trigger is the telltale clue that it's a single-set trigger. You can either pull it the usual way, in which case it breaks at about 3-1/2 lbs., or push the trigger forward after the rifle is cocked. It then breaks at just 6 oz.
Shooting an obsolete caliber like a .219 Zipper Improved is a lot of work because they don't make ammunition for it. In fact, they never have. This cartridge is called a wildcat because it's always been necessary for the shooter to make the ammunition from some other cartridge. The .219 Zipper was a standard commercial cartridge at one time and is based on a 30-30 case. The Zipper Improved is based on the standard Zipper case, which means it, too, can be made from a 30-30 case. In fact, that's how they're made today.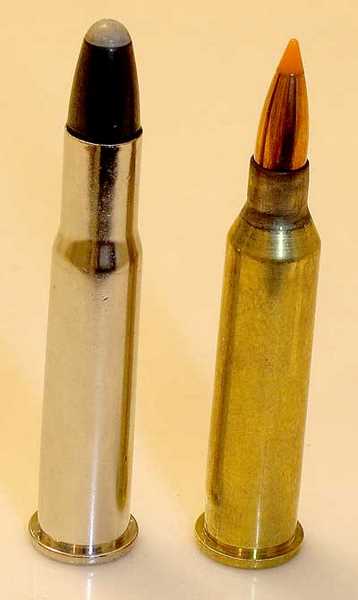 Here we see a 30-30 (left) and the .219 Zipper Improved that sprang from it.
But my shooting buddy, Otho, discovered that the case dimensions of the now-obsolete but far more recent .225 Winchester are virtually identical to the .219 Zipper Improved. The rim is thinner and a trifle narrower, but it's close. So, he thought we could make our cases from .225 Winchester cases, which are now being produced in limited quantities.
To make a long story short, the .225 case is so exact that all I have to do is prime it, fill it with powder and put a bullet in the neck. That saves me about 5 minutes of case preparation time for each case (when making them from a 30-30), and I also don't have to clean my gun after fire-forming the new cases, which is a royal pain. Also, I lose about 40 percent of the formed cases, and I don't think I'm going to lose any with this new method.
On Wednesday, I was at the range with 20 rounds of .219 Zipper Improved made from new .225 Winchester cases to see if this works. The measurements said it should, but since we're generating 45,000 psi with every shot, theory and practical application are two different things.
I loaded the cartridges on the light side for safety, and I loaded only 5 with each amount of powder so I wouldn't have to pull apart dozens of cartridges if they weren't right. I'd seated the 40-grain bullet out as far as I felt I could and still keep it stable in the case. That's supposed to improve accuracy — if the bullet doesn't travel far before engaging the rifling.
The set trigger
Now we come to the subject of this report. My rifle has an aftermarket single-set trigger that releases with 6 oz. of pressure. To me, it feels like nothing. I can barely feel my finger touch the trigger blade when the gun fires. That's as light as I ever want a trigger to be, and only then if it's on a target rifle or a varmint rifle like this one. I want to be in position and ready to take the shot before I touch that blade.
So, now you appreciate that everything was perfect for this endeavor. If the loads I cooked up were accurate, nothing should get in the way of the results. Put the crosshairs in the center of the aim point at 100 yards, get stable and touch the trigger — BAM! The deed is done. All you have to do is look through the scope. The bullet should be moving at about 3,600 f.p.s., so the hold isn't very much of a factor. Just make sure you have your head at the same spot every time so parallax cannot enter into the equation, and you should be good to go.
The first 5 shots included the very first shot after the barrel had been cleaned. That one went almost an inch wide, while the next 4 shots landed in a group that measures 0.51 inches between the centers of the two widest shots.
The rifle was shooting a little high so I adjusted the scope down for the next group.
The next 5 shots were with a powder charge weighing one grain more than the first load. I saw the first bullet from this batch land almost exactly on the vertical line above the center of the aim point, so I proceeded to shoot 4 more shots after it. I couldn't see these shots through my 10x rifle scope, but the spotting scope revealed a tight cluster next to the first shot. That was worth investigating. We called a cease fire, and I walked down to look at the target. What I saw was amazing. The final 4 shots had landed in a tiny cluster measuring 0.239 inches between center. When the first shot is added, the group opens to 0.444 inches. For me this is a very good group!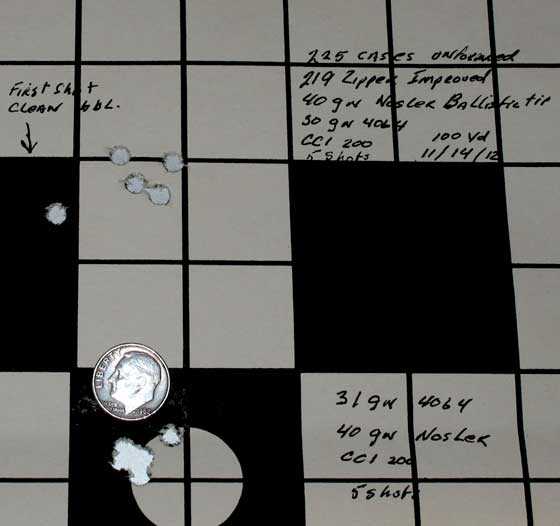 Top group is the first 5 shots with the new cases. Bottom group is the second 5 shots, using one grain more powder. The group measures 0.444 inches between centers…and the smaller group of 4 measures 0.239 inches, which is less than a quarter-inch at 100 yards.
Hurray!
But the single thing that made this group possible — other than lucking out and picking the right bullet and the absolute best powder charge on the first time out with these new cartridges (which is at least a thousand-to-one-guess) — was the set trigger. It took me out of the equation, by virtue of making the rifle fire when all things were perfect. Even a heartbeat, which can throw off a bullet by more than an inch at 100 yards, was not an issue because I was using the M-T-M Predator shooting rest that holds the rifle perfectly on target without my help.
And that's what set triggers do. They allow you to either eliminate the human from the shooting equation; or, conversely, they allow the human to knowingly pull the trigger at the exact instant the sight picture is perfect. That's called sniping the target, and it's usually not recommended; but since a set trigger doesn't move the gun like a standard trigger does when it's pulled, you get away with it.
Double-set trigger
So far, I've mentioned only the single-set trigger. The double-set trigger is more common and works just as well, if not better. Perhaps the most familiar place to see this kind of trigger is on a muzzleloading rifle, where they were favored over the plain trigger.
Double-set triggers often work like normal triggers if they're not set. Usually, the rear trigger is pulled to set the front one, though not always. The double-set was very popular on bellows dart rifles in the 1700s and 1800s, and these are the triggers that are famous for being so sensitive that a breath of air can make them fire. I've owned several rifles with double-set triggers, including a five-lever trigger made by Aydt that was extremely sensitive. But I've never experienced a trigger so light that air, alone, can set it off.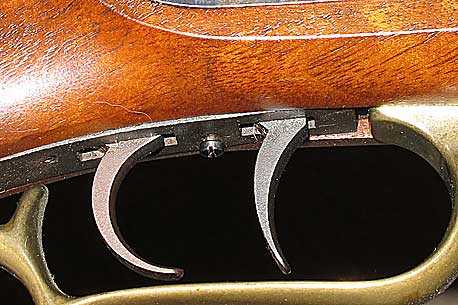 Pull the rear trigger to set the front trigger. The rifle can also be fired by just pulling the front trigger, though the pull will be heavier.
Set triggers and target rifles
Set triggers were once an important part of all target rifles. From the days of chunk shooting, when the rifle was a Kentucky long rifle rested on a log (called a chunk), to the final days of international match shooting at 1,000 yards, the set trigger was as common as the vernier peep sight and spirit level front sight that eliminated cant.
In the sporting world, set triggers were found on many varmint rifles of the past. The double-set was more common than the single-set, but either one can be a blessing when you're trying to do precise work. In recent years, set triggers have been making a comeback on many factory guns, but they may not be as necessary as they once were due to innovations in replacement sporting triggers. More on that in a moment, but let's now take a look at set triggers on airguns.
For some reason, set triggers have not been very popular in airgun target shooting. Perhaps this started as a safety rule; but considering the light match rifle triggers now in production, that cannot be the only reason. The fact that set triggers do exist on target air rifles indicates that some people wanted to try them at one time, but the rules were written to exclude them from competition…just like Tyrolean stocks and tube rear sights…and today they're seen only on vintage guns.
Here's a prediction: If an airgun manufacturer were to put a nice set trigger in an accurate low- to mid-powered .177-caliber air rifle today, they would have a hit on their hands!
Non-set triggers that are still remarkable
This is for our blog reader GenghisJan, who asked blog reader Kevin how he would compare a set trigger to a match trigger. I believe the big difference is that you must intentionally set the set trigger for it to be light. If you don't set it, the trigger-pull seems about normal. But a match trigger releases at just one weight, and it's always light. How many times have I seen people fire a match gun before they were ready, simply because they were unaccustomed to how light the trigger is? It actually takes some learning to operate a match trigger safely, and some people never get it.
A Benjamin Marauder trigger can be adjusted to have a two-stage release where the second stage is light, but also positive. It's more than the few grams of pressure that a true match trigger needs, but far lighter than most sporting triggers. This is a wonderful compromise in a trigger, to my way of thinking.
In the world of sporting guns, triggers have continued to improve until it's possible to buy drop-in units today, or sometimes the parts to make a factory trigger as light as a set trigger. There are many manufacturers doing this — companies like Jewell Trigger, which makes sporting triggers that break at mere ounces. They're a sort of set trigger that's always set!
But in airguns, the choices are fewer. In the world of spring guns, there's the Rekord that can be adjusted to release at just ounces of pressure if properly set up, and the Air Arms trigger that's even more adjustable. There used to be some aftermarket triggers from companies that would drop in certain guns and be even lighter and better than Rekords, but they're gone from the marketplace.
You'll find more good triggers in the PCP world because they don't have to restrain hundreds of pounds of force. And the state-of-the-art 10-meter match rifle trigger is at the top of the heap. With triggers this sensitive, you don't touch them until you're safely on target.
What's it going to be?
I like a set trigger in the right circumstances. And since most of them can be fired without setting, I found them to be ideal for everything. But I'm just starting to experiment with the crop of new and improved replacement triggers that have hit the market. Though they're less flexible than set triggers, they might be a good modern alternative.
As far as a true target trigger is concerned, the only place for that is on the range. And you have to train with it by dry-firing so you are ready when the time comes.