by Tom Gaylord, a.k.a. B.B. Pelletier
Umarex did it!
WOW! They did it! Umarex did what airgunners have been asking for years! They're going to make a P08 BB pistol. Many of you will call this a German Luger; but since Stoeger owns that name, Umarex has chosen to use the official military nomenclature of Pistole Model 08 or just P08.
I was looking at the new Walther LGV when the Umarex staffer mentioned they also had a replica BB pistol in the lineup this year. My heart skipped a beat as I hoped against hope it would turn out to be the Luger, er P08, and, glory be — it was!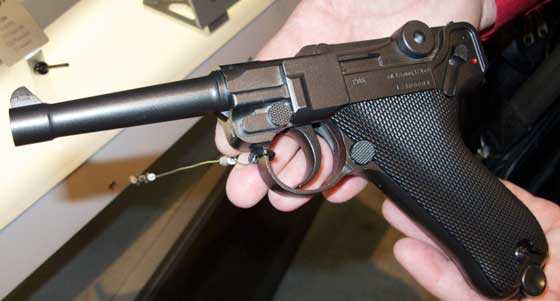 A fond wish is now reality. The P08 BB pistol will arrive this year!
As far as I'm concerned — this is the big news of the SHOT Show in airguns. However, I did mention that I was standing next to the the new Walther LGV rifles when this happened. They aren't small potatoes — either!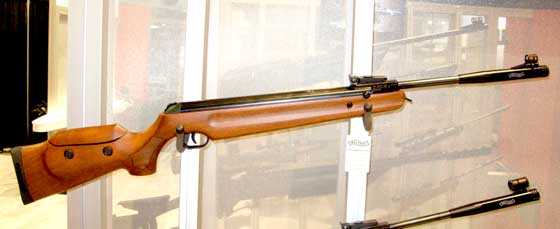 The new Walther LGV Competition Ultra is the top of the new LGV rifle line.
The new line of LGVs are all sporting breakbarrels, as contrasted with the vintage LGVs that were breakbarrel target rifles. They have Super Silent technology and a built-in vibration reduction system. Like the vintage LGV, all the new guns have a barrel lock that positively locks the breech, so accuracy should be pretty good.
There's a lot more to report from Umarex, but I'll have to return and get it later.
Crosman
Everybody is talking about what Crosman is doing these days, and a lot of it is new. Let's start with their highly popular PCP, the Benjamin Marauder. They put it in a synthetic stock and dropped a lot of the bulk and a pound of weight. The result is a slimmer rifle that's still everything the Marauder has always been. The old rifle will not fit into the new synthetic stock because the trigger group was moved backwards in the new rifle.


The Marauder drops weight and bulk with synthetics.
The next rifle I, frankly, did not believe until the Crosman rep demonstrated it to me. An M4 carbine, called the MSR77MPC, that's a Nitro Piston breakbarrel in disguise. It's a full 1,000 f.p.s. single-shot rifle, yet it looks way cool at the same time.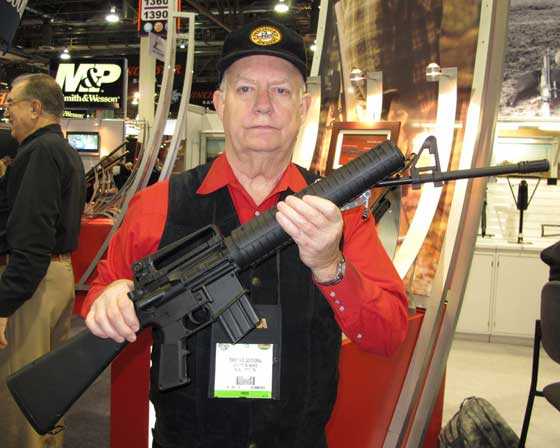 This sexy carbine is called the MSR77MPC. I broke the barrel open so you would believe it.
Speaking of M4s, Crosman has upgraded their multi-pump M4-177 with an improved internal pump that now develops 800 f.p.s. with BBs. It shoots both BBs and pellets — the same as the original gun, but as you can see, the styling is quite different.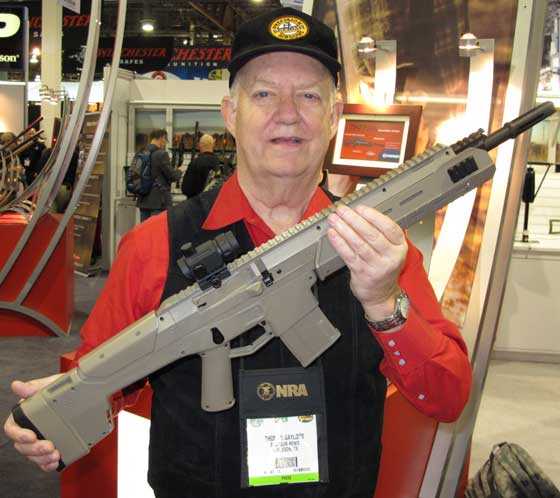 The MK 177 is an improved multi-pump BB and pellet shooter that hits 800 f.p.s. with BBs.
Hatsan
The other news I'll give you today comes from Hatsan. They have a whole new line of PCPs, starting with the AT44-10 TACT. Although it looks like a tactical rifle, the features seem to support the hunter quite well. It has a built-in circular clip and storage for two additional clips in the stock. And because it comes from Hatsan, it comes in .177, .22 and .25 calibers.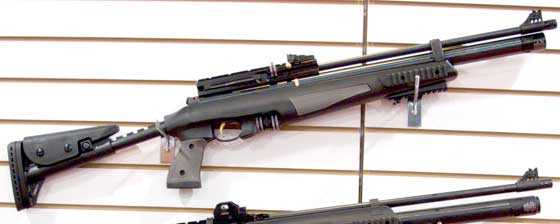 The AT44-10 TACT is a powerful PCP with an adjustable stock, circular clips and lots of shots per charge.
There are a host of other beautiful Hatsan rifles I'll cover in the next report; but for today, I'll close with something that's far removed from these powerful airguns. The little Striker Alpha is a youth-sized air rifle that I can't wait to test.


Hatsan's Striker Alpha is a quality youth spring gun. I can't wait to test it.