by Tom Gaylord, a.k.a. B.B. Pelletier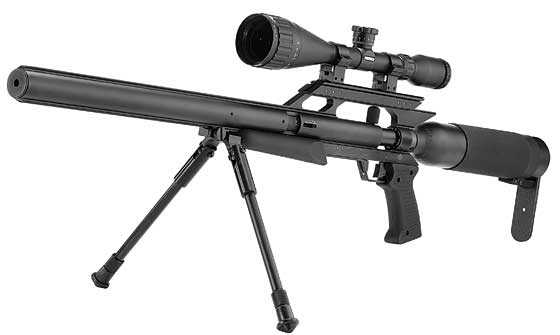 The new AirForce Condor SS has an improved trigger and safety. But the biggest news is that it's quiet!
Oh, boy, do I have a lot to tell you today! You're reading this while Mac and his wife (Elissa), Edith and I are attending the 2013 SHOT Show. I did the testing for this blog back in November of last year. See? I can keep a secret!
There are many new things coming from AirForce, and today they're showcasing them to the industry at the 2013 SHOT Show. Subscribers to Shotgun News got a sneak peak at them last week when the SHOT Show issue hit the newsstands with a full report.
There's a new trigger and safety that will appear on all the sporting rifles. Then, there's the new Condor SS and an updated Talon SS — both of which I will report for you today.
I was actually testing the new AirForce trigger and safety for them, to see if I could break it or make it malfunction. Then, at the end of my test, I visited AirForce for a day and got to see and hear the new Condor SS and Talon SS. And when I say hear, I do so only as in using a common phrase because you can't actually hear the discharge of either rifle!
How much better is the new trigger?
I'll never forget the day blog reader Kevin was visiting me and tried the trigger on my Wilson Combat 1911 CQB Light Rail pistol. He guessed it let off at one pound and simply refused to believe it was really three pounds. I got the trigger-pull gauge, and we tested it right there! Three pounds and an ounce or two, as I remember.
Well, that's what the new AirForce trigger is going to feel like to veteran AirForce owners. The trigger on my vintage Condor breaks at about the same 26 oz. as the trigger on the new gun, but what a difference it is! First of all, the new gun is a brand-new gun. My old Condor has an untold number of shots out the muzzle, all of which helped to smooth up the trigger parts. And I never took it apart, because I used to build these guns and I know they do not tolerate lubricants, dirt or modifications to parts.
The other thing the new trigger does is stop right after it releases. It's like a perfectly adjusted trigger stop, only there's no stop. It comes that way from the factory.
The new trigger cannot be exchanged for the old. The pins are in different places, and the parts are completely different. This was not done to make you buy a new rifle. It's just a fact that the new parts are all different and fit together differently.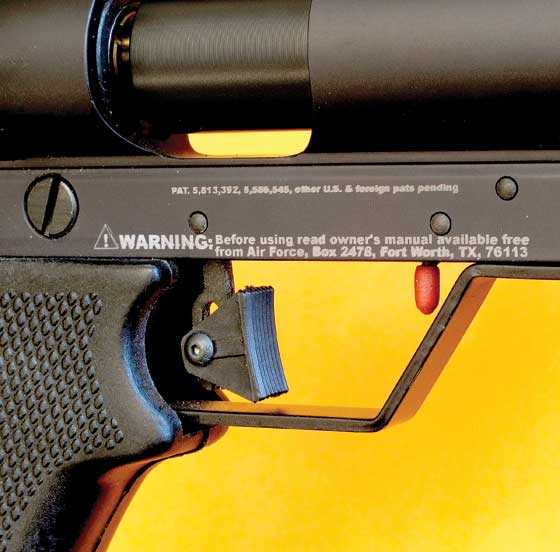 The old trigger and safety. The safety comes on automatically and is pushed forward to release.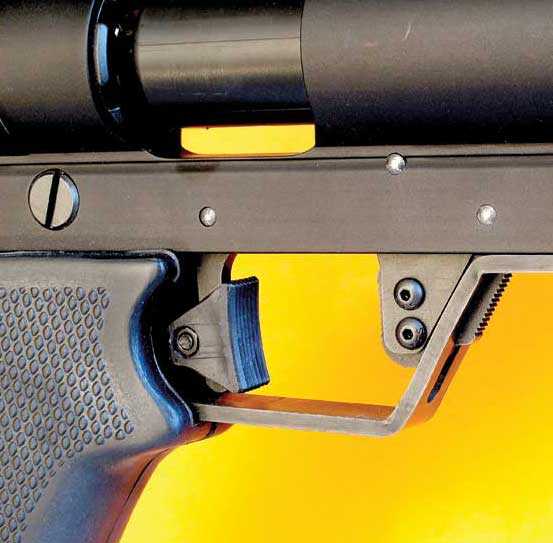 The new trigger doesn't look much different until you notice that the pins are in different places. This safety is a prototype, and the production safety will not have teeth on the end.
This new trigger and safety will become the standard of the AirForce sporting rifle line, so you'll find it on all three rifles — the Talon, Talon SS and Condor. And, of course, the new Condor SS will also have it when it comes to market.
All the new parts were designed on a CAD system that lets the designers play with different configurations without having to cut any metal. Only when they feel the design is right do they make the parts for testing.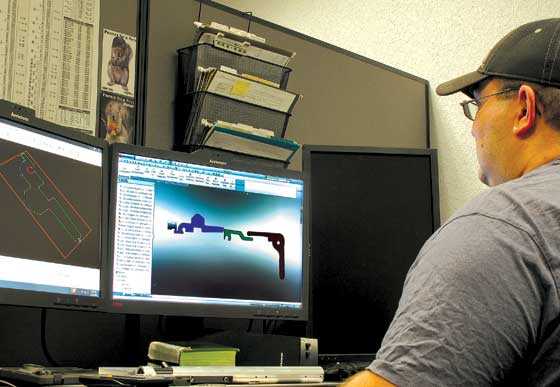 All the new trigger and safety parts were designed on a workstation. This allows incredible control over the final parts the machines make!
The new safety operates differently than the old one. It does not allow the rifle to be uncocked. There's an additional safety built in so the gun will not function until the bolt is almost closed — so no longer can you release the safety, pull the trigger and ride the bolt down slowly to uncock the gun. Once cocked, the trigger must be fired. To avoid exhausting any air, I found that if I unscrewed the air reservoir and held my hand behind the bolt cocking knob to catch it as the striker hit it I could avoid exhausting any air while uncocking the gun. This takes some practice, and you don't want to do it indoors the first time — don't ask!
The proof
Blah, blah, blah! Everyone knows I like AirForce guns, so what can I say about them that you haven't already heard? Those who agree with me don't need convincing, and everyone else believes I've sold out to the Dark Side. But — what if the new gun really shoots? What then?
So, I went to the range and shot it. And I did something that you haven't seen me do before — at least not with an air rifle. You all know what I mean by a "group." I mean 10 shots in succession, one after the other, and let the chips fall where they may. If 3-shot groups are like riding the bumper cars and 5-shot groups are like a drag race on city streets, then 10-shot groups are like Formula One racing.
I already knew the old Condor was an accurate air rifle, and I've shown that to you on several occasions. On this perfect, cold November day, I did something a little different. First, I shot 10 JSB 18.1-grain Jumbo Heavy pellets at 50 yards and got a group that measured 0.508 inches between centers. That's pretty darned good. In fact, that's a screamer in my book. And, in deference to people like my brother-in-law who thinks the shots must be centered in the bull to be good, I also centered them.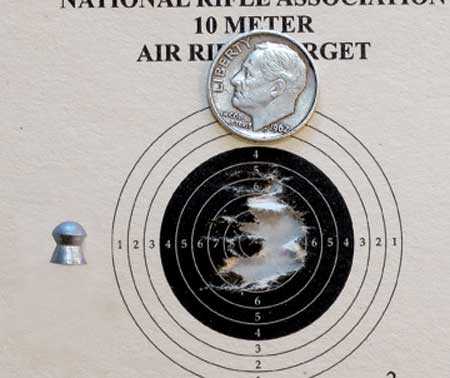 Ten JSB 18.1-grain Jumbo Heavies went into 0.506 inches at 50 yards. This group is a screamer!
Normally this is where I would load a different pellet and shoot another 50-yard group, but on this day I didn't do that. Instead, I walked out to the 100-yard berm and put up another target. Then, I shot another series of shots at that target. I'd elevated the scope by what amounted to several inches of elevation above the 50-yard zero, but the shots still fell below the bull. But they fell in a group that measured 1.003 inches between centers. Instead of 10 shots, there were 11 because I was so wrapped up in the shooting that I lost count of my shots.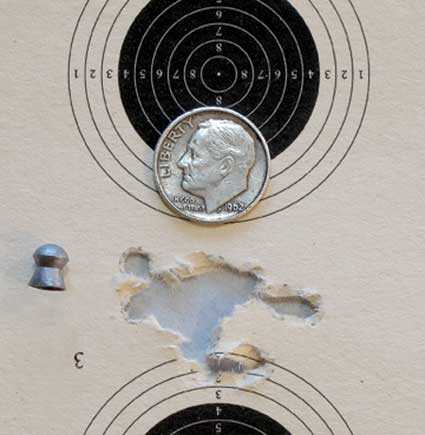 Eleven JSB 18.1-grain Jumbo Heavies went into 1.003 inches at 100 yards. I may never again shoot a group this good with an air rifle.
Did the new rifle shoot that well just because of the new trigger? Of course not. A Condor with the old trigger could shoot just as well. All the new trigger did was make it even easier to shoot that group.
Uniformity is king
What are your chances of getting a trigger just as good straight out of the box? They're excellent because one of the things the design of this new trigger does is make it easier to control dimensions and tolerances during manufacture. Each and every trigger should feel the same straight from the box. Even more important than how good the new trigger feels is the news about the uniformity.
On to the new quiet guns
I went to AirForce for a day to witness the new Condor SS and Talon SS upgrade perform. When I got there, we grabbed a Condor and immediately went outside where a chronograph was waiting. Why a chronograph? Because the new Condor SS is so quiet that it sounds like you're shooting a Diana 27 breakbarrel. No — it's not even that loud. All you hear is the click of the striker hitting the valve — and they're talking about how to make that even quieter!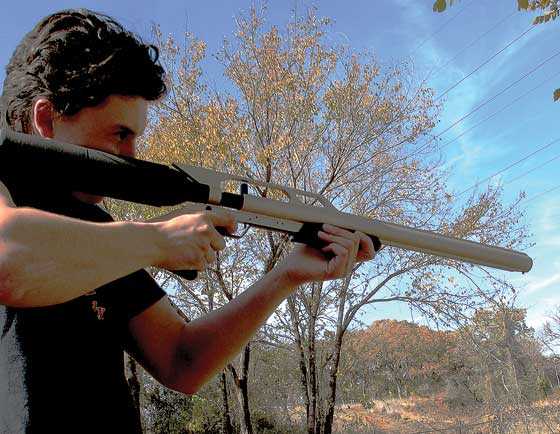 We shot the prototype Condor SS and the new Talon SS upgrade.
The new Condor SS has an 18-inch barrel, compared to the 24-inch barrel of the standard unsilenced Condor. It's a little slower, but not much. They get about 1,200 f.p.s. with .22-caliber 14.3-grain Crosman Premier pellets, where the unsilenced gun gets around 1,250.
Imagine a 55 foot-pound air rifle that's so quiet you have to watch your breathing. As I said about the Benjamin Marauder and thousands of shooters now know: When the rifle fires, it's the sound of a ballpoint pen falling onto a deep-pile carpet.
The technology
Like the current Talon SS, there's space ahead of the Lothar Walther barrel in the Condor SS. However, unlike the current guns, there's now something in that space. There are are 3 Delrin baffles designed to turn around the compressed air and direct it toward the rear of the gun. By the time it finally gets past the end cap, it has lost all its pressure and therefore makes no sound.
I'd love to show you those baffles, but they were still tweaking the design when I was there. All I can say is that the ones I saw looked a lot like large black diabolo pellets seen from the side. And they're separate and individual. There's also a spring that presses them tight so they don't rattle.
Here's some very good news for owners of the current Talon SS. These baffles will be sold separately so you can install them in your gun. Yes, I did get to hear a standard Talon SS with the new baffles, and it's quiet. But since it's impossible to be quieter than nothing, I can't really give you a rating. It sounds just like the new Condor SS.
I asked them to put a standard air tank on the new Condor SS to see what I would do. We saw Crosman Premiers going 970 f.p.s through the traps, which is 100-120 f.p.s. faster than the standard SS. The benefit of that is that, instead of about 20 good shots on one tank, you get up to 40 shots — and the longer barrel gives you performance in the 30-40 foot-pound region. They have no plans to build that gun (standard tank with an 18-inch barrel and new extended Condor SS frame), but any owner can just put a standard tank on a Condor SS and get it for themselves.
This report is just Part 1 of what I hope will be a complete series on the new Condor SS. That'll include the new trigger and safety, but I feel like I've already addressed that completely in this report. The gun will hit the market in 2013, hopefully sooner rather than later. As soon as it does, I'll be on top of it for you.
This report is about a single family of new airguns at the 2013 SHOT Show, but it doesn't really cover the show, so there will be several more SHOT reports coming.