by Tom Gaylord, a.k.a. B.B. Pelletier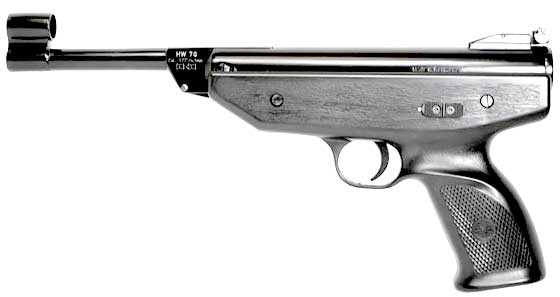 Beeman's HW 70A breakbarrel spring pistol.
I'm about 19 years late on this report. The Beeman HW 70A air pistol was around in 1994 when I started writing about airguns, and I ignored it — finding other guns to occupy my time. I guess there are several reasons for that.
For starters, this pistol always looked large and rough to me. I never saw one of these guns close up in the early days, and I certainly never shot one; but I did see the BSF S-20 pistol that looked for all the world like a small air rifle — cut down and fitted to an outlandish wooden pistol grip. I projected that image onto the HW70, as in the catalog photos it looked very similar.
It was called just the HW 70 back in those days. The "A" designator was added to the model number when they put it into a synthetic black pistol grip that's on the gun I'm testing for you now. And the size was mostly an illusion. This pistol is similar to a Crosman 2240 rather than the outlandish BSF S-20.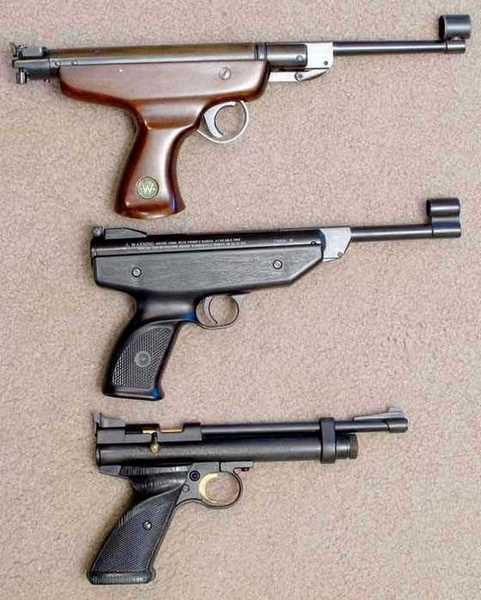 Compared to the BSF S-20 (top) and the Crosman 2240 (bottom), the HW 70A doesn't seem that big.
For those with a real collector bent, the automatic safety was added some time after the A model was already on the market — so the auto safety on the left side of the stock isn't what makes it an A version. It's the synthetic stock. There are A-version guns with synthetic stocks and no auto-saftety out there in collectorland, for those who obsess over minutia.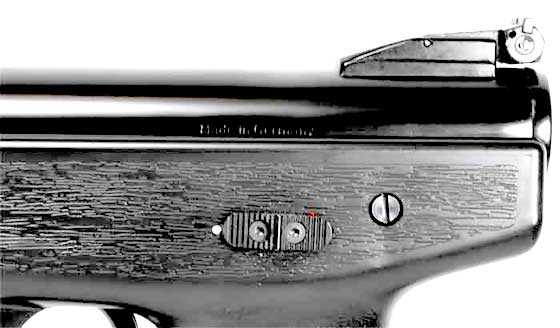 The automatic safety switch is on the left side of the stock.
Another turn-off for me was the anticipated cocking effort such a pistol was sure to require. I imagined cocking it would be like bending the bow of Hercules. I had also thought that about the big BSF and only discovered after getting one that the gun is relatively easy to cock. The HW 70A, on the other hand, does take some muscle power, and that can be attributed to its 6-inch barrel, which is rather short for a breakbarrel springer.
And, finally, I was concerned that the pistol would be very rough to shoot. When I got to shoot the BSF, its smoothness surprised me, but it's nothing compared to this HW 70A. This is a very smooth air pistol!
Perhaps, that's because the makers are not trying to send pellets downrange at the speed of light. The velocity specs of the .177 HW 70A have been 440 f.p.s. for as long as I've been writing about airguns. What it can really do is something we'll discover together as I test this gun for you.
I know this — the HW70A is not usually the top air pistol on anyone's list. Those who want power will gravitate toward the Diana RWS LP8 or the Beeman P1. Others wanting accuracy will go for the Beeman P17 or perhaps the IZH 46M. Almost nobody goes after the HW 70A as a first choice.
The pistol
This is a breakbarrel spring-piston air pistol that comes in .177 caliber, only. It weighs 2 lbs., 6 oz., and the grip is contoured to fit very well in medium to large hands. The grip/stock is black synthetic and checkered on both sides. The triggerguard is molded right into the stock.
Extensive use is made of aluminum in the construction of this pistol. The spring tube and outer barrel jacket are made of it, but the true barrel is a thin steel tube inside the outer jacket. The finish is a dark black epoxy that will fool everyone into thinking it's black oxide, which is what we commonly call bluing. I only know that from an old Beeman catalog entry.
Most of what the hand touches on this pistol is cold metal, except for the grips. Even the sights that could be made from plastic are metal.
The pistol is very nearly 100 percent ambidextrous. The only feature that favors one side over the other is the safety switch that slides on the left side of the stock.
The barrel is held closed by a ball-bearing detent that allows the barrel to open easier, while still maintaining a tight seal when closed. It's a classic means of locking the barrel when the pressure level doesn't go too high.
Trigger
The trigger is two-stage and adjustable for pull weight. A screw in front of the trigger blade is turned to make the adjustment. It seems like the adjustment acts on a direct sear, apparently decreasing the sear contact area. Even if that's not the case, though, I was able to adjust the trigger too light for safe operation. The second-stage stop disappeared, and I had a trigger that was guesswork instead of positive; so, I adjusted it back to where it had been from the factory, and that's where I'll leave it.
The trigger blade is wide and smooth. It's made of aluminum, which will appeal to many shooters.
Sights
The sights are thankfully NOT fiberoptic! The rear sight is fully adjustable. Elevation has crisp detents, but windage has none, nor is there a scale for reference. You just have to watch where the notch is and where it moves when you adjust it.
The front sight is a very sharp, square post that fits very well into the rear notch. It's covered by a steel hood to protect the hands when cocking.
Accuracy
The Beeman catalog used to claim this pistol could group 5 shots in 0.32 inches at 10 meters. I'll test that when we get to the accuracy report. The gun is not scopeable by normal means, but at one time Beeman sold a special model called the Black Arrow that did come scoped. It had a proprietary scope mount that replaced the rear sight, but it's no longer available.
That doesn't matter to me because I would only shoot a handgun like this with open sights anyway. But some shooters want to scope even their handguns, so they need to know that this one can't be scoped.
I'm looking forward to testing this airgun — I have been for nearly two decades. It's time to hear the fat lady sing!
And now for something completely different
Pyramyd AIR is looking for a manager for their tech department. This position was posted on the blog several weeks ago, but they're still looking. If you're interested, please apply. Below is the job info and where to send your resume.
Directs and coordinates activities of the department in providing customers technical services and support; directly supervises employees. Responsibilities include but are not limited to:
Coordinates technical support services between management, tech support staff, sales department, and customers.
Establishes and documents department procedures and objectives.
Accomplishes department objectives by selecting, orienting, training, assigning, coaching, counseling, and disciplining employees; communicating job expectations; and monitoring performance.
Maintains and improves support operations by monitoring staff and system performance, identifying and resolving problems, and preparing and completing action plans
Provides technical assistance to customers and labor quotes. Handles escalated calls or provides assistance requiring more complex issues.
Installs common accessories and kits in accordance with customer orders.
Performs tests on guns to determine advertised performance specifications.
Required experience, skills and background:
Bachelor's degree and 3 years managerial experience, or an equivalent combination of education and experience required. Previous industry experience required.
Must be detail-oriented with good mechanical aptitude.
Ability to prioritize and multi-task.
Good communication and customer service skills.
Good computer skills.
Hours: Monday through Friday, 9am until 5:30pm; longer hours and some Saturdays are expected, especially during our busy peak periods.
Preferred experience, skills and background:
Previous experience in airgun repair or troubleshooting desired.
Send your resume to resumes@pyramydair.com