by Tom Gaylord, a.k.a. B.B. Pelletier
Neat fix for bulk-fill CO2 guns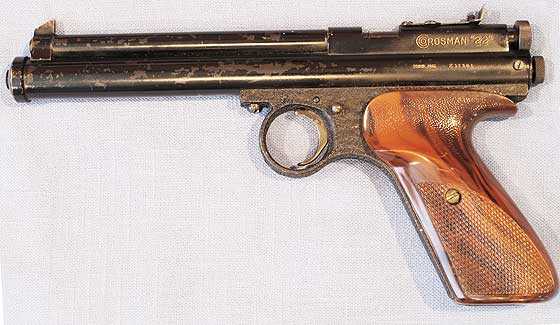 Crosman's 116 bulk-fill pistol is a .22-caliber single-shot pistol with power and accuracy that surpasses many of today's air pistols.
Before we start, a word on the "fix" for CO2 guns that Dennis Quackenbush gave me. Some folks are concerned that this will ruin the guns it's put into. Well, it will soften the seals, and eventually those seals will dissolve into a jelly-like material that won't seal the gun. How fast that happens depends on how much of the automatic transmission sealer you use. But here's my thinking. The gun already doesn't work. If this restores it to operation for a few years, or even for only a few more months, that's more than you have now. In the end, you may need to replace all the seals anyway, but that was what you faced when you decided to do this. No permanent harm has been done. And you got some use from a gun that needed seals.
Don't add the sealant if you don't want to — that's always your decision to make. But some of you are glad to know that there's a quick, cheap way to fix many of these guns right now.
For those who are paying attention, we've actually reported on the 116 in the past. One of these is a blog that I did, and the other is a guest blog by blog reader Paul Hudson. Today's blog is just the beginning of a traditional 3-part report, so we'll be looking at this gun in greater detail.
History of bulk-fill CO2 guns
Carbon dioxide guns descended from pneumatic guns in the 1870s, when Paul Giffard first started building and selling his 4.5mm, 6mm and 8mm gas guns for the public. They were based on the Giffard multi-pump pneumatics that had been around for 20 years, but these new guns offered something the older pneumatics didn't. They could be fired many times from one charged tank of gas. When the tank was finally depleted, it had to be returned to a filling station, which was hopefully located in the same country as the gun! That inconvenience overpowered the novelty of the guns that fired without gunpowder, and they did not last very long.

Giffard gas pistols can be restored to work today — 130+ years after they were made!
Crosman started experimenting with building and selling entire commercial shooting galleries for the public in the early 1930s, and they chose gas guns for these galleries. Each rifle, designated the model 117, was tethered to a large tank of CO2 (that was essentially a fire extinguisher) located inside the gallery, and they must have gotten tens of thousands of shots from one tank.
After World War II, Crosman redesigned the model 117 into a rifle that used a self-contained 12-gram CO2 cartridge, and they designated it the model 118. Perhaps a number of unsold model 117 rifles were rebuilt into model 118 rifles and sold to the public because 117 airguns are extremely rare today. Model 118 air rifles, in contrast, do exist in numbers large enough for many collectors to have them.
But these aren't the guns we're looking at in this report. We're looking at guns like the model 111 (.177 caliber) and 112 (.22 caliber) gas pistols that were filled from 10-oz. tanks of CO2. These started selling as early as 1950 and ended production in 1954, according to the Blue Book of Airguns. The 10-oz. tanks that filled them were designated as the model 110, though not very many people know it. These 2 pistols had 8-inch barrels and got as many as 70 shots per fill of gas. Of course, that depended a lot on the density of the fill, or how much liquid CO2 was put into the gun's reservoir.
Bulk-filling in brief
When you fill a gas gun from a bulk tank, the liquid CO2 inside the tank used for filling is under tremendous pressure from the gaseous CO2. Carbon dioxide has a vapor pressure of 853 psi at 70˚F. When it's forced as a liquid into a reservoir of any size, it evaporates instantly until the pressure inside the reservoir reaches the same pressure as is inside the tank that's doing the filling. This liquid will remain a liquid until the gas pressure in the tank drops, such as when filling another tank or a gun. Then, some of the liquid will flash to gas, boosting the pressure back up to whatever is dictated by the ambient temperature. So, CO2 is a gas that regulates its own pressure. Unfortunately, it's also a world-class refrigerant!
As CO2 liquid flashes to gas and expands, it takes a lot of heat from its surroundings. So much, in fact, that shooters run the risk of instant frostbite when a CO2 cartridge exhausts to the atmosphere. Because of this, CO2 will cool the gun in which it is used. As it cools, its vapor pressure drops. Guns that are fired fast in rapid succession will shed hundreds of feet per second of velocity. Many shooters think this is the CO2 bleeding off and losing pressure, but it's really just a reaction to the rapid change in temperature. Shoot the same gun slower, and the velocity will remain high and consistent much longer. That's true for all CO2 guns, whether powered by cartridges or bulk gas. Just for clarification, fast means as fast as you can pull the trigger, and slower means waiting at least 10 seconds between shots.
The 116
The 115 and 116 models are very similar to the models 111 and 112; except, instead of 8-inch barrels, both these pistols have 6-inch barrels. The Blue Book says they were introduced in 1951 and lasted until 1954, but what I think actually happened was all 4 pistols went away when the first model 150/157 came out. That was the first gun Crosman made that used a 12-gram CO2 cartridge. Their gas reservoirs, which are brass tubes under the barrel, are scaled to fit the shorter barrel, so of course they hold less gas. I've seen a .177 version of this pistol — the model 115 — get as many as 50 powerful shots on a fill, but I think 30 is a more realistic number. We'll test the 116 over a chronograph and figure out the actual performance data for ourselves.
All 4 pistols and the 2 rifles that were their companions (models 113 and 114 in .177 and .22 caliber, respectively) have adjustable power! That's right, they had adjustable power all the way way back in the early 1950s. A screw at the rear of the receiver is turned in to put more tension on the striker and thus give longer valve open time and more power. In that respect, these pistols function very much like modern PCPs.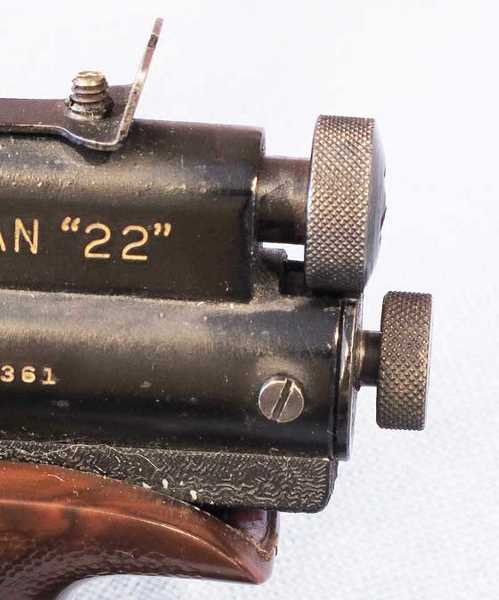 Turn the lower knob in to increase the power — out to slow down the gun and get more shots per change. The upper knob is where you grab the bolt
The sights are also adjustable. The rear sight is a simple notch and the front sight is a tall squared-off post. The rear sight leaf slides from side to side in an oval slot with a lock screw holding it position. A second smaller headless screw provides a range of elevation.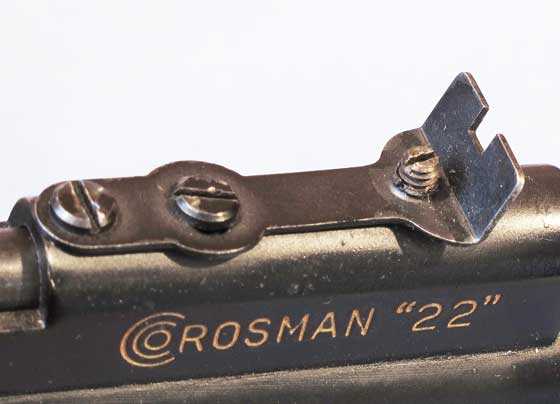 The rear sight slides from side to side and also adjusts up and down.
If the grips appear similar to what you see today, they are! Crosman got it right the first time and really didn't change it that much over the decades and across the models. These grips come in 2 pieces that wrap around the grip frame, where today they're flatter panels that leave the frame showing through; but the overall shape and angle are very similar.
The finish is paint, which was completely expected and acceptable in the 1950s. The barreled action is painted with a gloss black paint and the grip frame is painted with a crackeled finish. Hobbyists can reproduce these finishes today, so it's not surprising to see an old gun that looks like new.
The barreled action is made mostly of brass tubing and parts, and the grip frame is made of pot metal. Small parts such as the trigger, sights, screws and power adjustment knobs are steel.
The grips are plastic, and the .22 models started out with reddish-brown grips, while the .177 models were sold with whitish grips that sometimes have thin lines of other colors running through them. Of course, you can find any color grips on a gun today because the grip frames are all identical and a lot of swapping has been done in the past 60 years. The grips are ambidextrous and only the crossbolt safety keeps the entire gun from being completely friendly to people favoring either hand.
The pistol has a conventional turnbolt that both cocks the striker and opens the breech to load a pellet. I call it conventional, but it will only seem so to someone who has seen a lot of 1930- to 1950s-era airguns. There's no bolt handle. Instead, you turn a knurled knob counterclockwise; and when it unlocks, pull it straight back until the sear catches the striker. Then, the pellet trough is open to load one pellet. Pushing the bolt back home and twisting it clockwise seats the pellet into the rifling and also aligns the gas transfer port with a hole in the bottom of the hollow bolt.
Trigger
If these pistols can be said to have a weak spot, it's the trigger. It's a thin blade acting on a direct sear that releases the striker. It can be easily gunsmithed to be a light release, as long as you appreciate that it may not always be safe that way. I've owned all 4 models of this pistol, and a 111 that was my first one had a very nice, light trigger. The trigger on this 116 is neither light nor especially crisp. It's better than a lot of modern pistol triggers but is only average for one of these older vintage guns.
Accuracy
I'll never forget the accuracy of my first 111 pistol. I actually thought it was almost as accurate as a 10-meter target pistol. At 10 meters, I had little difficulty keeping 10 shots on a nickel. But since I haven't shot this 116 yet, I have no idea where it'll be. I do know that Crosman called it a target pistol, and it's hard to argue that it isn't. I think you'll be surprised when I test it.