by Tom Gaylord, a.k.a. B.B. Pelletier
This is an ongoing series about scope questions and issues. Blog reader David Enoch asked for it originally, but many other readers have jumped in since it began. Today, I'm going to give you some scope tips I've learned over the years.

Tom's scope tips
1. Get good glass!
You can't hit what you can't see! The quality of the glass in the lenses; the coatings on the glass; and the perfection with which the optics were ground, finished and handled during production are all more important than superfluous features like illuminated reticles and mil dots.
I look for clarity in a scope long before I consider anything else. I've been known to select a 4x scope over a 4-16x just for this reason.
If you have a chance to test a scope before buying, test it by trying to focus at close range and read fine print. Look out at the edges of the image. Are they as sharp? Point the scope into a dark area and see if it highlights what's there or just muddies the image.
2. Don't shop for a scope by the brand name.
Brand names mean nothing these days. Even Leupold, which does make some superior optics such as the Vari-X III models, also makes mediocre scopes…like the Vari-X II line. The same holds true for Leapers, Hawke and most others. I've seen Nikon, Burris and even Nightforce scopes that weren't very clear. The fact that a scope company can make superior scopes has no bearing on what they put into your scope.
Shop for scopes by the model and look only at reports for that exact model. You may get a sense that some makers put a lot of quality in certain scopes, and if you do, use that information. For example, I've told you several times that the Hawke 4.5-14X42 Tactical Sidewinder is a super scope. It stands head and shoulders above many other models and brands in the same price range. I know it's not cheap, but it's worth the price.
I have also touted several Leapers scopes in my reports. Leapers has been working to improve their scopes for the past 15 years, and it really shows. The top line of Leapers scopes is the Accushot Premium series, branded as UTG Accushot scopes. The UTG 8-32X56 Accushot rifle scope is an example of a scope that delivers about twice as much value as the price indicates. Yes, it's also not cheap, but it has all the desirable features.
What should you look for? Look for glass lenses. Look for etched-glass reticles that will automatically have the fine (but visible) crosshairs you need. Look for single coatings of magnesium fluorite or emerald on the lenses. Both will enhance light transmission, where multi-coated optics are always a compromise. Look for 30mm scope tubes whose lenses are larger and also transmit more light. And look for lockable reticle adjustments that don't need tools to adjust.
3. Don't adjust any scope above 3/4 elevation or more than 3/4 to the right.
This has become my mantra because I see it crop up every time there's a problem with "scope shift." Scope shift seems to be almost non-existent, except when shooters adjust the scope too far up or too far to the right that the erector tube return-spring is relaxed. No scope in the world can hold its zero at that point.
The problem is universal, and the diagnosis is simple. Simply adjust the scope knobs down and to the left a lot, then shoot a group at least 25 yards away (farther is better). Sure, it won't be in the right place; but if it's tight and you can shoot repeatedly without any wandering, you know the problem is not with the scope. It's with the mount. You need to align the scope's axis with the barrel axis, and the problem will be solved. Either shim the scope or use an adjustable mount…you can stop criticizing the scope and get on with the fix.
4. Pick the power carefully.
Just like you don't buy scopes by their brands, don't buy them by their power, either. An excellent 4x scope can often outshoot a mediocre 16x scope. And it's certainly easier on your eyes.
This is one reason I have so many vintage scopes. They don't have the power of the modern scopes, but their optics are so clear that it doesn't matter. This goes back to my first tip: Get good glass!
5. Consider a sidewheel objective adjustment.
It takes only a few minutes shooting field target to make this lesson clear. Instead of reaching out an arm's length to turn an objective bell that's probably very stiff to turn, a sidewheel objective adjustment puts the controls at your fingertips. I'd say that it's the difference between power brakes and manual brakes on a car, but very few who are under 40 know what manual brakes are anymore. You young guys will just have to trust me on this.
6. Think about where the scope will be going.
If you don't consider where the scope has to be mounted, it may not even fit on the gun you have or are about to buy. The same holds for scope mounts. Will they fit on the gun? Where's the scope stop located, if you need one?
The biggest mistake shooters make on this account is that they try to mount a short scope on a rifle whose scope stop puts the eyepiece too far from the eye when the rifle is held naturally. This happens a lot with UTG Bug Buster scopes on springers like Gamos and Hatsans. You're better off mounting a scope with a long eye relief, such as the CenterPoint Power Class 1TL 3-9×42 AO scope, on rifles like this, unless the scope tube is long enough to reach back.
7. Consider target turrets.
This may put some shooters off, but a scope with target turrets is so much easier to work with than one that cannot show you how much elevation and right adjustment has been applied. Target turrets usually cost more because they're found on better scopes, but they pay you back when you're setting up a gun or swapping the scope to a different gun.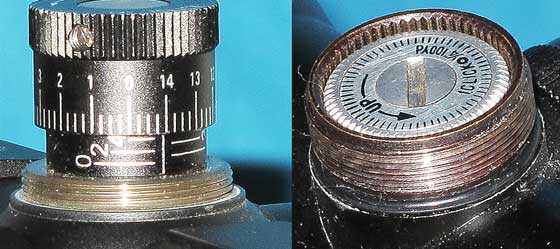 Which adjustment gives the most information about the scope's current state? The coin-operated knob on the right or the target turret on the left?
8. Get adjustable parallax!
Parallax does matter to airgunners because we always shoot so close to the target. Parallax changes dramatically between 25 and 50 yards, but almost not at all between 100 and 150 yards. Firearm scope users seldom need parallax correction (what some call focusing) like airgunners do.
Yes, you can change the distance for which a scope is adjusted when it has fixed parallax; but after you do, it's still fixed. It's only good (focused) at that distance.
9. Shop for a good dealer
The dealer is the bottom line. One dealer will stand behind everything he sells and another will not. I will pay a premium to do business with good dealers. Yes, I'm talking about Pyramyd Air, but it doesn't stop with them. There are many good dealers out there, and I make it my business to find out who they are before doing business with them.
Optics can have problems from the factory. More than other items, they're products that do need to be returned sometimes. Having a dealer support you when that happens means a lot.
Summary
If you were to talk to me in person about scopes, these are some of the things I would tell you. And I would jump up and down about the third tip. That's the one that hits me every time I'm called in to solve a scope problem. If the scope has target turrets, I can spot this problem from 10 feet away. I can also do it just by listening to the shooter converse with his buddy on the range…"I need more elevation, but I've got the scope dialed up as far as it will go!" That's a problem just waiting to be discovered.