by Tom Gaylord, a.k.a. B.B. Pelletier
Part 1
Part 2
Part 3
Part 4
Part 5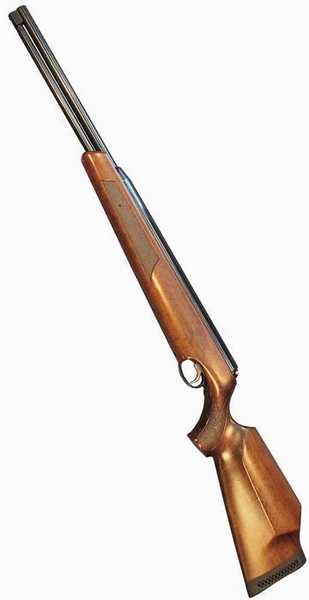 BB's TX200 Mark III.
This is my second trip to the rifle range to shoot the TX200 Mark III at 50 yards. Last time, I shot only heavy pellets; today, I'll shoot the hopefully more-accurate lightweight pellets, plus one JSB medium-weight pellet that several blog readers have had success with.
I also shot the rifle laying across the sandbag, instead of in the long groove down the center. Several readers said that was the best way to rest the rifle directly on the bag.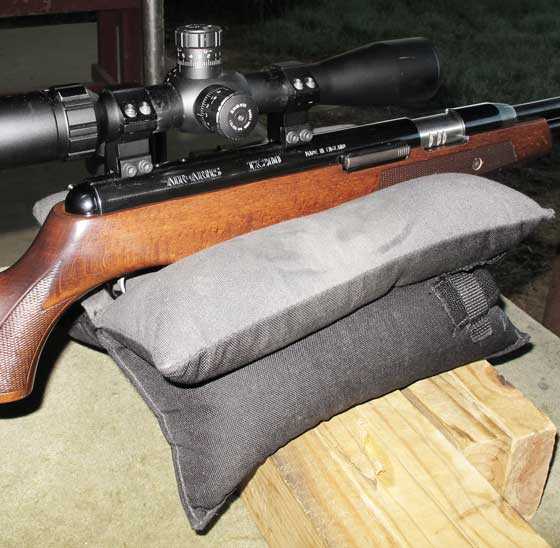 When I tested the rifle last time with heavy pellets, this is how it laid on the sandbag.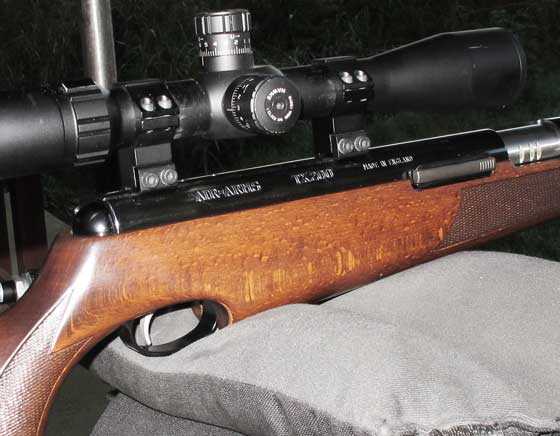 For most of today's test, the rifle laid sideways on the bag.
The day was perfect for shooting pellet guns at long range. There wasn't a breath of air during the entire session.
Crosman Premiers
The first pellet I tested was the Crosman Premier lite — a 7.9-grain dome that some say is the most accurate pellet of all in the TX200. The group landed about 2-1/2 inches above the aim point because the rifle was still sighted for heavy pellets. But it was centered perfectly, and 10 pellets made a group measuring 1.077 inches between centers. That's not a bad group, but I've seen TX200s do better at 50 yards.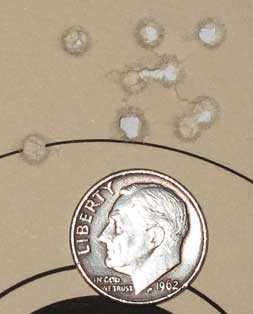 The first group was 10 Crosman Premier lites. It measures 1.077 inches between centers.
That was a good start. The group was only slightly larger than the smallest group fired in the session before, which was 1.042 inches.
Following the first group, I adjusted the scope down several clicks. I wanted to keep the shots on or near the bull at which I was aiming.
JSB Exact 8.4-grain dome
Next up was the JSB Exact 8.4-grain dome, a pellet that several readers said was the most accurate one in their TX200s. Alas, that wasn't the case in my rifle. When the first 5 pellets landed in a very vertical 2.40 inches, I stopped shooting. There's no way the last 5 shots can improve things. Clearly, this isn't the pellet for my rifle!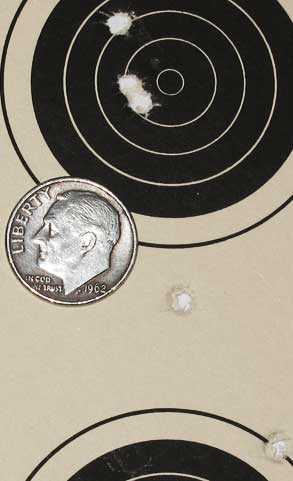 Five JSB Exact 8.4-grain domes landed in 2.4-inches between centers. This is not the pellet for this rifle.
JSB Exact RS
The next pellet I tried was one I had high hopes for — the 7.3-grain JSB Exact RS dome. It does so well in so many spring rifles; but, once again, the TX200 Mark III is not one of them. Ten pellets made a group that measured 1.957 inches. It's a vertical group, as well.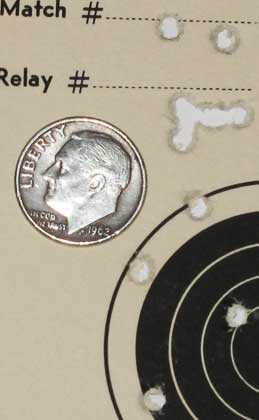 Ten JSB Exact RS domes made this 1.957-inch group. Another non-starter for my TX200.
Air Arms Falcon
About this time I was suspecting that the rifle does not like lightweight JSB domes. The next pellet up was the Air Arms Falcon, another lightweight domed pellet that's also made by JSB. While Falcons are great in many air rifles, the first 5 landed in an open group measuring 1.658 inches, and I stopped right there. It looked like this pellet wasn't for my TX, either.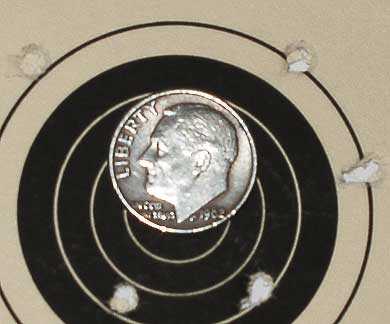 Five Air Arms Falcons spread out to 1.658 inches, so I stopped. No sense finishing the group.
What was happening?
Three out of 4 pellets I brought to the test were not good. Had I made a mistake with the Premier lites, as well? Was that good first group just a random event? I decided to shoot another one to see. This time, though, I laid the rifle the long way in the bag to see if there was any discernible difference.
Ten pellets went into a group measuring 1.241 inches this time. That is much closer to the first group than any of the other 3 pellets tried on this day, though it's still larger. Maybe, laying the rifle lengthways made the difference? I don't think so.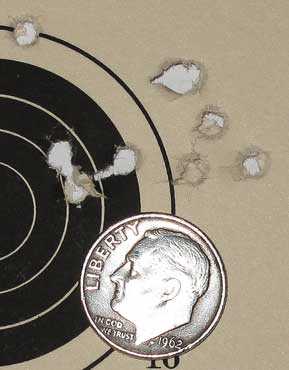 Ten Premier lites went into 1.241 inches when the rifle was laid lengthways on the bag.
I decided to shoot another group with the rifle laid lengthways, again, just for comparison. This time I hit the jackpot and all 10 pellets went into 0.658-inches.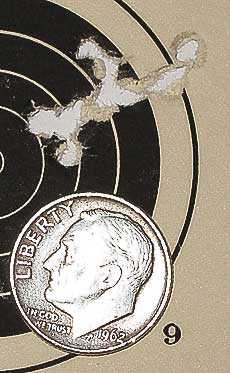 Now, that's a group! Ten Premier lites in 0.658 inches. The rifle was laid lengthways, once again. This is what I was expecting to see from my TX.
Lessons learned
The TX 200 Mark III is capable of phenomenal accuracy at 50 yards, even when rested on a sandbag. From the limited testing I did I can't say laying it crossways or lengthways is better. It works well both ways.
My rifle seems to shoot best with 7.9-grain Crosman Premier lite pellets. It does not seem to like any light pellets made by JSB.
This is not the end of our testing. Pyramyd Air has sent me a new TX200 Mark III that I promised you I would test right out of the box. Some of you have been concerned that my rifle is too well broken-in, and you think it may not reflect what you will get if you buy one. So, we shall see!
As a final note, I'd like to point out that I got several groups that were okay with the Premier lites and one group that's exceptional. That's the way it goes with any airgun — I don't care which one you're talking about. All the talk about half-inch groups at 50 yards has to be taken with this firmly in mind. You're going to shoot larger groups most of the time.
That being said, Premier lites seem to be the most accurate and also the most forgiving pellet we've tested in my TX200. They may not always shoot into a super-tight group, but they'll always shoot where you want them to. That's what's important.