by Tom Gaylord, a.k.a. B.B. Pelletier
This report covers:
• Silly exercise
• What's the point?
• Airguns I like
• My one airgun
• Firearms
• See where this is going?
• My one firearm
• What this tells me
• How my life has changed
…what would it be? Not long ago, blog reader Kevin asked me this question and I promised to get back to him with an answer. Today, I'm keeping that promise, although I'm not at all positive that in a year my answer won't be different.
Kevin asked what airgun and what firearm I would keep. There were no other guidelines beyond the number one — of each. This isn't the first time he's asked a question like this. Earlier this year, he asked me what guns I enjoyed shooting, and I wrote a blog titled What would B.B. shoot?
Here is what he asked me this time.
"B.B.,
Some of us have gone through difficult financial times, some of us are going through difficult financial times and some of us will go through difficult financial times in the future.
For this reason I'm very interested to hear what the ONE airgun is that you would keep and the ONE firearm is that you would keep while you would endure a financial crisis.
This is not a "WHAT GUNS I KEPT AND WHY" this is a ONE airgun and ONE firearm question.
kevin"
Silly
This is such a silly exercise — don't you think? At least it is until you try to form an answer. Because to do that, you have to think about all the airguns and firearms you own, as well as the ones you have owned in the past — and I suppose you can throw in any you might like to own but never have. Once you have all of them in front of you, it's time to weed through the mass and see what comes out the other side.
What's the point?
There is no point to this. Nobody is ever going to be confronted with this decision in quite this way, so why bother thinking about it? Well, it does force you to think about things at a fundamental level — a sort of giant who-do-you-love-and-why game. And Edith and I did actually go through it — not once but twice.
Airgun first
Because I write about airguns, you probably think it's harder for me to pick a single airgun, but it's not. It's actually much easier. When all the facade of accuracy, power and performance is stripped away and I'm no longer thinking about survival on a desert island or how many pellets I can carry in a backpack, the choice of a single airgun becomes simple. I shoot airguns for fun, when all is said and done.
Shooting for fun means I don't have to justify an airgun based on its power, long-range accuracy, nostalgia, value or anything beyond how much fun I derive from shooting it. That narrows it down a lot, but not to a single gun. I suppose there are at least a dozen, but probably more like 25 nice airguns that I really enjoy shooting.
Airguns I like
For example, I like to shoot my Beeman R8. It isn't powerful, but at 25 yards I know I can put a pellet within a quarter-inch of the aim point every time. The trigger is light and crisp, and the Burris 4.5-14×32 scope is so clear and sharp that the rifle is a delight to shoot. But it's not my one airgun!
I also really like my Crosman Mark I target pistol that holds so well and has such a beautiful trigger. But it's not my one airgun, either.
My one airgun
The one airgun I would keep, after having to get rid of all others, is my little .22-caliber Diana model 27. It's not really powerful enough to hunt with, but that's not why I'm keeping it. I'm keeping it because it's simple and accurate, light and easy to cock. It's an all-day airgun that I just enjoy shooting very much.


The Diana model 27 — this one badged as a Hy-Score 807 — is my favorite airgun. It isn't powerful, but it's light, accurate and has a great trigger. That's all I need.
I've owned several Diana 27s over the years. The first one was a rust bucket that I bought for $18 in a pawnshop in Radcliff, Kentucky, while stationed at Ft. Knox in the late 1970s. It looked terrible. You needed a tetanus shot just to hold it! But it shot like a dream, cocked smoothly and was accurate. I fell in love with it and the love has endured.
The second .22-caliber Diana 27 I ever owned is the one shown in the above picture. I bought it from the late Richard Schmidt at the Winston-Salem airgun show (the forerunner of the Roanoke show) in 1993. I paid $110 for it, which was way too much; but for some reason, they all went for way too much back then — and they still do today.
I pulled that rifle apart and lube-tuned it for my Airgun Letter and learned how to assemble the squirrel-cage of parts that Diana calls a ball-bearing trigger. I later pulled the gun apart a second time and tuned it, again, for a different magazine article. Since then, it's never been apart. That was more than a decade ago.
Some time in the late 1990s, I wrote an article about how to adjust the ball-bearing trigger. Diana triggers can be adjusted very fine if you know what you're doing; and, oddly enough, all you need is the owner's manual to learn how. Or you can just read the blog I wrote about it.
Every time I chronograph this rifle, I'm reminded of just how weak it is (under 500 f.p.s.). But that doesn't matter. I don't shoot airguns for their power — that would be futile. I shoot them for fun, and the Diana 27 has more fun per pound than any other airgun I know of. When I worked on the Bronco project, the Diana 27 was my inspiration.
The third Diana 27 I owned was a Winchester model 427. It's now owned by one of our readers. Why did I sell it? Because I didn't need two perfect airguns.
Don't think that I don't love many of my airguns a lot, because I really do. My Air Arms TX200 Mark III gives me immense joy, and of course I love my Whiscombe JW75. But the last airgun I'll sell is the Diana 27.
Firearms
What was far more difficult was to choose from all my firearms. I have been quite blessed at this time of my life to own some of the finest firearms that exist. My Wilson Combat CQB is especially dear to me, not only because of what a wonderful shooter it is, but also because it was a very special gift from Edith. I have a Dillon press permanently set up to reload .45 ACP ammo, and I cast all my own bullets for the round. While the rest of the world pays inflated prices for ammunition, I'm set to reload tens of thousands of rounds at less than a nickel a round. I can't shoot .22 rimfire as cheaply as I can shoot this pistol. But it isn't the one firearm I would keep.
Speaking of gifts, the readers of this blog gave me a Single Action Army revolver that means the world to me. I remember coming home from the hospital several years ago and seeing that revolver for the first time. I wasn't strong enough to hold it up to shoot, and my eyes would need another year to regain their strength, but I got out to the range with that revolver just as soon as I could. Every time I look at it, I think of you blog readers.
I shoot that handgun several times a year, and it always makes me smile when I do. The gun has an authentic fire blue finish that Colt put on their guns during the 19th century, and mine looks brand new. It's a gorgeous handgun, but it's not the firearm I would keep.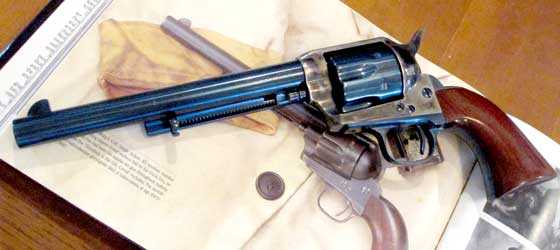 The single-action revolver I received from the readers of this blog is one of my favorite firearms. It shoots as nice as it looks.
I could go on and on with this thought process. Certainly, I would keep the Ballard. I certainly would not! While it's intriguing and a beautiful rifle, there's nothing practical about a Ballard built in 1876. The one firearm I keep has to be practical.


The Ballard rifle is beautiful and accurate, but it isn't the all-around firearm I need.
What about a nice .22 rimfire? I certainly own several of them, and lots of various kinds of ammo that would last me a long time — no? No. A .22 rimfire is not universal enough for me. Since I reload, I can turn almost any firearm into a .22 rimfire if I want to. What I need is a firearm that can be something more than a rimfire if the occasion calls.
See where this is going?
I am heading for a firearm that is as universal as it can be. Through reloading, it can be made to plink or pop squirrels, but it can also kill a grizzly bear if needed.
It has to be reliable, so complex is out and simple is in. That eliminates all semiautomatics.
It has to be accurate; but in my gun collection, there are no inaccurate arms. I just don't keep them. On the same note, I don't need my universal firearm to be suited for target use, so super-accurate guns with big scopes are also out. In fact, the scopes would eliminate the guns all by themselves.
My one firearm
The one firearm I would keep if all the others had to go would be my 1903A3 Springfield. It has a rugged bolt-action that has been proven over more than a century, and this one has adjustable peep sights that maximize the potential for accuracy. I've shot 5-shot groups under 2 inches at 100 yards, so the accuracy is all that I need.
When I reload, I have a choice of 5 lead bullets I can cast to produce everything from a .32 automatic up to a full-blown .30-06, if I need it. The cheapest rounds I make cost around 5 cents, and the most expensive costs under 50 cents. That's so much better than anything I can buy; but if I do buy, this caliber is certainly ubiquitous throughout most of the civilized world.
I have around a thousand empty cartridges; and with my reduced loads I'll get several hundred firings from each of them. And with reduced loads, I can use pistol powders and primers. So, ammunition will never be a problem.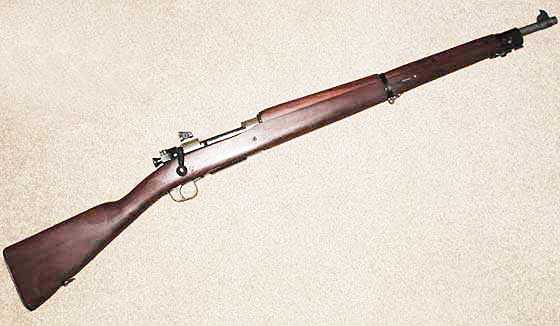 The O3A3 Springfield is a plain-jane rifle, but it's everything I need if I can only have one.
I got this rifle from my friend, Mac, but that's not why I'm keeping it. He sold it because it kicks pretty hard. But I discovered the secret. Soldiers wore field jackets and coats in the field, and the short pull of their rifles was compensated for by the thick clothing. When I shoot this rifle with powerful loads, I always wear a heavy jacket. The rest of the time a t-shirt is all I need. I can hit a pop can at 100 yards every time with my reloads, shooting from a prone or supported position.
What does this tell me?
Kevin forced me to look at my shooting from a very practical standpoint today. It wasn't sentimentality that helped me decide. And it wasn't value or beauty. It was utility.
I hope I never have to make a choice like this, because it would break my heart to say goodbye to many of my airguns and firearms. But now I know the two I would keep under any circumstance.
How the blog changed my life
Kevin's question prompted me to do more than just think about guns. This blog has had a major impact on my life. And from the comments many of you make, I believe it's also impacted your lives.
If you want to help me better understand my readers, I invite you to send me an email telling me the impact that this blog has had on your life. Pyramyd Air has created a special temporary email address for this. I'll be the only person to get these emails, and we're not going to generate any lists from the addresses.
My plan is to publish one or more blog reports with the more interesting comments. If you want, I will use your real name or blog handle; but you can be anonymous, too. I won't use your name or handle unless you give me written permission to do so.
This email address will be live for only a few weeks. We have tens of thousands of readers worldwide. Even if you've never commented on the blog, you can email me your message if you like. If you're reading this blog after July 2014, email submissions will no longer be forwarded to me, and you may get an auto-reply email stating that or your email might bounce back to you.
This could be interesting. I have no idea what will happen.