by Tom Gaylord, a.k.a. B.B. Pelletier
We learned this weekend that Robert Law, founder of the original Air Rifle Headquarters, has just passed away. For those who are new to airguns, Air Rifle Headquarters was the first informative airgun importer in the U.S., preceding Beeman Precision Airguns. ARH was the rocket that lifted airgunning off the pad, and Beeman boosted it into orbit. If you want to know more about this early history, read a three-part blog I wrote about Air Rifle Headquarters and Beeman Precision Airguns and how they started.
This report covers:
• Time to evaluate the gun
• The rifle
• Where is it made?
• Initial impressions
The day has finally arrived. And it isn't what I'd envisioned. When I left the SHOT Show in January, Crosman and I were on the same page with this new Benjamin Trail Nitro Piston 2. I told them how important I felt this rifle was going to be, and they assured me that I would get one to review for you at exactly the right time. So, when the guns became available, my reports would have just started. They told me that would happen in April, but I assured them I knew things don't always work out as planned.
Well, it's now June and not only is the rifle hitting the market a little late, it appears that Crosman plans pumping them out as fast as they can. Pyramyd AIR received a large shipment of rifles just a little over a week ago, and those arrivals have all been spoken for — but more are coming.
Pyramyd AIR shipped me a wood-stocked .22-caliber rifle the next day, which is how I came to have the test gun. It's serial No. 414DAO482, but that may not matter because I promised to buy the test rifle if it turns out to shoot like the rifle I tested in Las Vegas.
Time to evaluate the gun
I was pleasantly surprised when I shot the NP2 at the SHOT Show this year. The rifle I fired seemed to do everything Crosman said it would. It cocked easily for a powerful rifle with a gas spring, the trigger was smooth, light and crisp on the release, the shooting sensation was dead calm — and from the spinners I was hitting on the range, the rifle appeared to be quite accurate.
Of course, there were things I couldn't evaluate under those circumstances. I was told the rifle's discharge sound was less than that of a Benjamin Marauder, but there were a thousand other media members on the ranges, all banging away with firearms. It was liken a war out there, and I was unable to evaluate the sound of a quiet air rifle. But I can do that now.
I can also evaluate the accuracy potential much more precisely with paper targets that show the results. And best of all, I can address those nasty doubts that some people are trying to put in the minds of buyers that the NP2 Crosman is shipping is somehow not as nice as the gun that was available for testing in Vegas. The whole point of this rifle is to eliminate all those drawbacks that inexpensive gas-spring breakbarrel rifles have had up to now:
Heavy cocking effort (40-60 lbs.).
Heavy and creepy triggers.
Painful recoil and vibration at discharge.
Mediocre accuracy.
Sharp crack at discharge.
Gas springs have so many potential advantages over coiled steel springs that cleaning up this punch list of flaws makes perfect sense. You see, gas springs:
Can remain cocked without spring power degradation.
Are less sensitive to cold.
Have less vibration (buzzing) on discharge.
Have an even cocking pressure all the way through the stroke.
Are lighter weight.
If the new Benjamin Trail NP2 rifle addresses those faults mentioned above, then it will be a major step forward in spring gun technology, in my opinion. The rifle I tested at the SHOT Show certainly seemed to address as many of them as I was able to evaluate, which is why I said in my 2014 Gaylord Reports chapter in the new Blue Book of Airguns that the NP2 is the standout airgun product for 2014.
I said that because the majority of airgunners still shoot spring-piston guns. If that were not the case, the new NP2 wouldn't be the story that it potentially is because tens of thousands of customers wouldn't be interested in it.
From a technological standpoint, the AirForce Escape rifles are every bit as novel as the NP2, for what they are and what they can do. But the majority of airgunners in the U.S. do not shoot precharged guns, and that is not likely to change anytime soon. So, the NP2 is positioned to have a major impact in how the majority of airgunners view their sport/hobby.
I've explained my thinking so you'll understand that this is not just another product test. It may seem like that; and if you are interested in this gun, you'll get all you came to find. But there's more at stake here than just one air rifle, or even a line of air rifles. This is a potential upgrade to gas-spring technology that has for so long been stalled because of the drawbacks mentioned above. If Crosman has truly solved all or most of these faults in gas-spring technology, then the future of this type of airgun seems very bright.
The rifle
As mentioned, I'm testing a .22-caliber rifle in a wood stock. This is from the first shipment of NP2s to hit the market, but there are 2 other versions of this model coming. One will rest in a black synthetic stock, and the other will be set in a Realtree camo synthetic stock.
The first rifles will be in .22 caliber, which I think is very wise. As powerful as this air rifle potentially is, you'll want the bigger bore and heavier pellet to extract all the power to be had from the Nitro Piston. If you want a different caliber, I believe both .177 and .25 calibers will follow because the accompanying owner's manual lists all 3 calibers.
Speaking of power, there seems to be some confusion about just how much we can expect. When I checked the Crosman website, it said this rifle will get up to 1200 f.p.s. with alloy pellets and up to 900 f.p.s. with lead pellets in .22 caliber. Pyramyd Air's website description faithfully repeated that. But don't memorize those velocities because Crosman has changed them. I expect they need some time for these details to settle down.
On the box the rifle is shipped in, it says to expect up to 1100 f.p.s. with alloy pellets and 950 f.p.s. with lead pellets. And the owner's manual, which is extremely generic, is entirely mute on the subject. There are always slip-ups like this when a new product is launched, so I'll test the rifle with both alloy and lead pellets and tell you what it actually does.
The test rifle has a wood stock. The wood is some unidentifiable Asian hardwood that looks like beech. It has a very straight grain, and the finish soaked into the wood in couple places, leaving dark spots or streaks. The wood is smooth with a matte sheen and has no checkering or stippling.
The stock is an ambidextous thumbhole design with a straight line to the butt that keeps the rifle high against the cheek when you mount it to your shoulder. It's well-suited for mounting a scope. It's a hunting stock that has a rear detachable sling swivel anchor installed and a front sling swivel located under the base block of the barrel. The cheekpiece rolls over to both sides, and the safety is ahead of the trigger, making the rifle completely ambidextrous.
The pistol grip is very vertical, making the trigger fall right where a shooter with medium-sized hands will want it. The feeling is very comfortable, though the styling doesn't appeal to me. I liked the synthetic stocked rifle I tested at SHOT, but this wood stock feels very similar and not a bit heavier.
The stock is thick in places, but slims down where your hands will go. It seems to have been designed by a shooter. The buttpad is dense, black rubber that attaches to the stock with two screws. The fit isn't perfect, but it's close.
The metal parts are finished to a satin black that they call a hunter finish these days. The end cap, triggerguard and a couple parts of the barrel shroud are plastic and the rest of the action is metal. The front steel sling swivel has been thoughtfully covered in soft rubber to protect the gun's finish in the field.
A Weaver scope base is permanently attached to the top rear of the spring tube. This is the best way to anchor scope rings on a recoiling rifle, and I wish other airgun makers would take notice.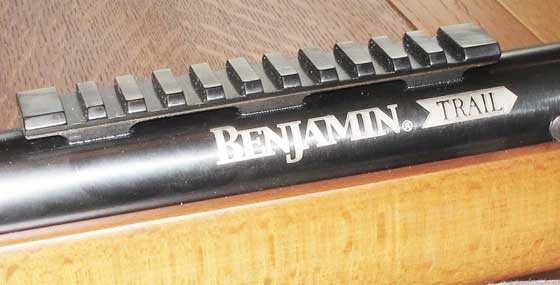 The Weaver scope base that comes on the rifle will stop all scope ring movement issues.
The rifle comes without open sights, but a 3-9X32 Centerpoint scope and rings are included in the box. All you need to do is mount it and start shooting. More on the scope after I mount it. I think Crosman is making a mistake by not at least offering an open sight option on these rifles. I hear a lot of requests for them from shooters.
The weight is given as 8.3 lbs., but that can vary with a wood stock. I weighed the test rifle, and without the scope it came in at 7 lbs., 12 oz. The scope and rings added exactly one more pound.
The barrel is one long shroud, making it look like a bull barrel but without the weight. Crosman mentioned integrated sound suppression and they showed me the guts of the shroud at SHOT. So, yes, there is some technology (baffles) in there.


The NP2 shroud has this technology inside.
Unfortunately, the shroud unscrews from the barrel, and the rear portion of the shroud is made from plastic. People may overtighten their shrouds, causing this plastic to crack.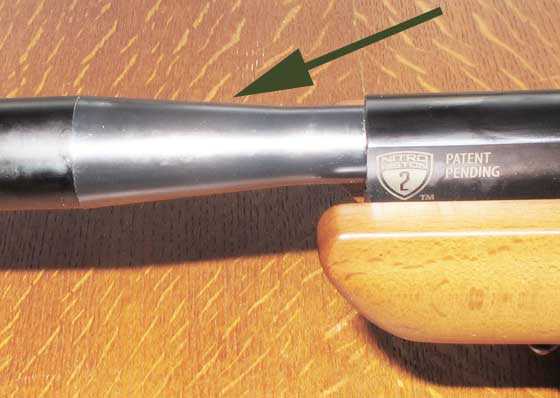 At the rear of the shroud, a plastic piece fits against the baseblock. This could be subject to crack if the shroud is over-tightened.
The overall length of the rifle is 46.25 inches, so it's very large. It will dwarf your Remington 700.
The specs say the rifle should cock with 28 lbs. of effort. This one feels like it's going to top 30 lbs. by quite a lot. I will tell you more about this in the velocity test that will come next.
Inside the box, there's a huge warning paper telling you never to dry-fire the gun (shoot without a pellet). They say it several different ways; and by the size of the paper and the size of the type on it, I would say this is something Crosman wants you to pay attention to.
Where is the NP2 made?
Lettering on the right side of the baseblock tells us the NP2 was "Designed, engineered and assembled in the U.S.A." Is there anyone who doesn't recognize those words as code for not made here? The wood stock is strong evidence of the origin, but these words confirm it. That said, we are going to evaluate this rifle on the basis of its performance — not the country of origin. I only mention this to address the inevitable questions.
Initial impressions
Here's what I see so far. The NP2 is relatively light and powerful. The trigger that Crosman calls the Clean Break Trigger is two-stage with a long, heavy first stage. But stage two is not breaking cleanly on my test rifle out of the box. There's a lot of creep. The trigger is adjustable, so I'll hold off commenting until I adjust it.
The test rifle definitely cocks with more effort than 28 lbs. That's something that differs greatly from the rifle I shot at the SHOT Show. There's little difference in cocking effort between this rifle and any other powerful gas-spring rifle. This one cocks on the light side, but it certainly does not cock with 10 lbs. less effort. Less effort than what is never addressed, but if they mean a powerful gas-spring air rifle, this one doesn't.
I'll check the cocking effort, again, after a hundred shots have been fired, just to ascertain if it's just due to the roughness of a new rifle. In fact, I'll bet that the one NP2 Crosman brought out to the range in Vegas probably had over a thousand shots on it, with everybody in the company trying it out. So, maybe I'll do something similar for you.
I'm pleased to report that the firing behavior feels identical to what I experienced in Las Vegas. It shoots dead calm. Of all the shortcomings of a gas-spring gun, that and accuracy are the two biggies.
As I end this first report, I'll address the discharge noise. I didn't notice it! What I mean is that this rifle is quiet enough that the sound of the pellet hitting the silent pellet trap is louder than the report. When I shot it the third time, Edith noticed that I was shooting in my office and asked if this was the NP2. I said it was, and she said it wasn't very loud. That probably says more than anything.