by Tom Gaylord, The Godfather of Airguns™
Writing as B.B. Pelletier
This report covers:
• Is this a 124?
• What the new rifle has
• Trigger overview
• Open sights: Done the right way!
• Scope dovetail needs a special mount
• Shooting behavior
• Evaluation so far
Let's take our first look at a rifle many airgunners have eagerly awaited — the Feinwerkbau Sport air rifle. I remember back in the 1990s when the FWB 124 was coming to the end of its production run. It seemed like dealers couldn't give them away. But after they'd been off the market for just 5 years, many shooters were whining that they just missed buying the best airgun ever made.
They said things like, "If Feinwerkbau would start making the 124, again, I would be willing to pay as much as $500 for one." Well, they're making a breakbarrel once more; and, although it isn't a 124 reincarnated, it does resemble the vintage gun more than a little. Only the price isn't $500 — it's $900. That's what happens when time passes and reality sets in.
So, will the mantra now become, "I would never pay $900 for a breakbarrel springer!"? I don't know how I feel about that. We will just have to wait and see. What I can do is tell you all about the new Feinwerkbau Sport as we discover it together, and maybe then we can all make up our minds about this new airgun.
The serial number of the rifle I'm testing is 12400043. I don't think that's is a coincidence. I believe the serial number incorporates the old 124 model number and therefore started at 12400001. If I'm right, then this is rifle number 43 off the assembly line.
Is this a 124?
The new rifle is not a 124 in the strictest sense of the term — not even an updated one. But I do see a strong family resemblance. Maybe that's due more to the pedigree of FWB than to any actual 124 DNA.
The test rifle is a .177, and I don't see any indication of other calibers on the horizon. Not to worry; because with this powerplant, .177 is where you want to be. There are 2 power levels being built — a 7.5-Joule German one and an 18-Joule U.S.-spec. version. In U.S. terms, that's 5.5 and 13.25 foot-pounds, respectively. So we can expect this new rifle to launch a 7.9-grain Crosman Premier pellet at around 850-875 f.p.s. That would make it ideal for sports like field target and small game hunting.
What the new rifle has
The new Sport has a thinner, trimmer profile and feel than a 124. The forearm, especially, is slimmer and less blocky than the 124 forearm. The new rifle's pistol grip is very steep, which gives your hand something to pull back on. And the area behind the grip where the meat of your hand fits is scalloped deeply for comfort. The early 124 had a Wündhammer palm swell on the right side of the pistol grip for many years, making those 124s favor right-handed shooters. But the new rifle has identical scallops on both sides of the grip, making this rifle ambidextrous. The automatic safety extends straight out the back of the spring tube, and a low cheekpiece rolls over  to both sides of the butt in a Monte Carlo hump, completing the ambidextrous styling.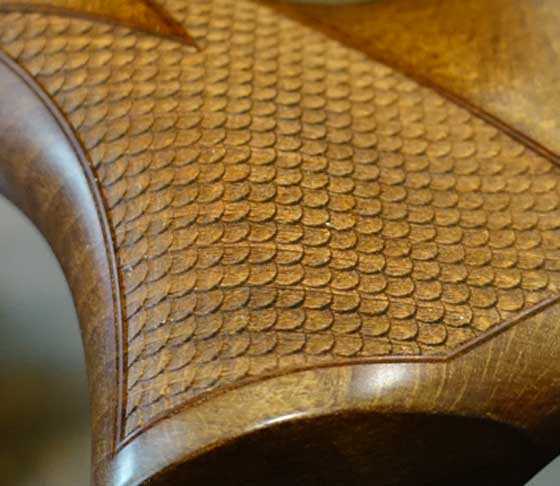 Fish-scale checkering is rough and grippy. This kind of custom touch used to cost a lot of money.
The beech stock is stained a different color than any other air rifle stock I have seen. And maybe it isn't just the stain; because although this stock is beech, I can see some real gain in the wood. It just looks different.
Both the pistol grip and the forearm have a rough fish-scale checkering that really grips you back. There's no finish in these areas, and they're as dry and grippy as you could hope for. Back in the 1970s, when this sort of thing was done by hand, it cost 500 Deutsche Marks for a job like this. I realize this is done by machine today, but the result is just as nice.
Feinwerkbau decided to shape the butt in the Bavarian style, and I must say that it looks classy on this rifle. The Bavarian style means that the cheekpiece, while raised, is still close to the butt, and the Monte Carlo comb slopes at the rear. The lines of the cheekpiece are sharp and add to the sleek styling of the rifle.
The butt has a thin rubber pad at the back to keep the rifle from slipping against your shoulder or when you stand it in the corner. The stock screws have Torx heads (star bits). Once, again, it's time to break out those strange tools that I never use.
The rifle weighs just over 8 lbs. and is 44.84 inches long overall. The pull is slightly over 13.5 inches, but it feels longer to me. The barrel cocks with 33 lbs. of effort on my bathroom scale, and it might lose a pound of that as it breaks in. At present, the rifle feels stiff and new, as it should.
Trigger overview
The trigger was a weak spot on the 124, but not on the new Sport. The new trigger is 2-stage and has an adjustment for the length of stage one. I'll save the release weight for Part 2, but I can tell you that it's both light and glass-crisp, as you would expect from a rifle this expensive.
The triggerguard is the only piece of plastic on the rifle. FWB took a LOT of heat when they made the 124 with a plastic trigger blade, though it made no difference in performance; and I think they've learned their lesson. I'm sure someone will find a reason to complain about this triggerguard, but to my eye it looks good.
Open sights: Done the right way!
The sights on a 124 were pretty good and Feinwerkbau has not rested on their laurels. These are even better. The 124 rear sight had some plastic in it, but this new Sport rear sight is all metal. There isn't one fiberoptic tube to be found on the rifle!
The rear sight has crisp detents on both the elevation and windage adjustment wheels. I know I'll have to scope the rifle for a complete test, but I'm looking forward to trying these conventional open sights that are the best set I've seen in years.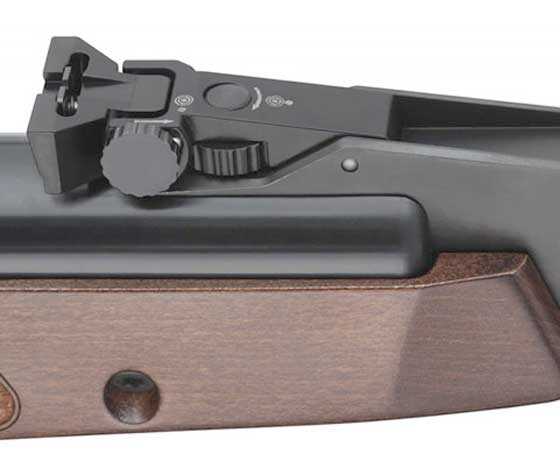 Feinwerkbau spent some money getting the rear sight right!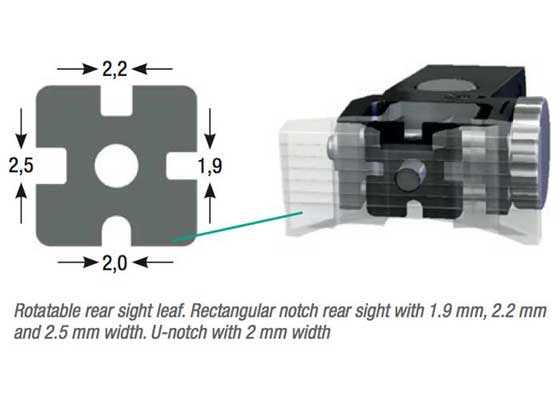 The front sight is a fixed post with a hood. There are no inserts, nor can any be installed in this sight.  FWB has made the sight easily removable for those who want to scope their airgun.
Scope dovetail needs a special mount
One thing they kept is their proprietary grooved scope stop. It takes a special crosspin on the base of one of your rings (or one pin for a one-piece mount). Regular scope mounts won't work on this rifle, but Pyramyd Air has 3 to choose from: 1-piece high mount, 1-piece medium mount and 2-piece medium mount.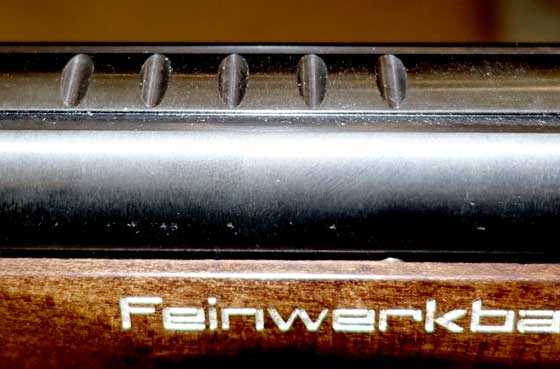 The scope mounts need a crosspin in their base to intersect one of these five slots.
Shooting behavior
The Sport is buzzy when fired. It may smooth out a little as it breaks in, but I think most of the buzz is there to stay. If this were my rifle, I would tune it to eliminate that buzz — which has to be caused by some tolerances that are larger than needed.
Evaluation so far
I think this is an interesting air rifle. I hope that it delivers Feinwerkbau's legendary accuracy.
I like the size, shape and feel of the rifle. I think it's going to break-in to be a real fine air rifle. But at the price, it faces stiff competition.