by Tom Gaylord
Writing as B.B. Pelletier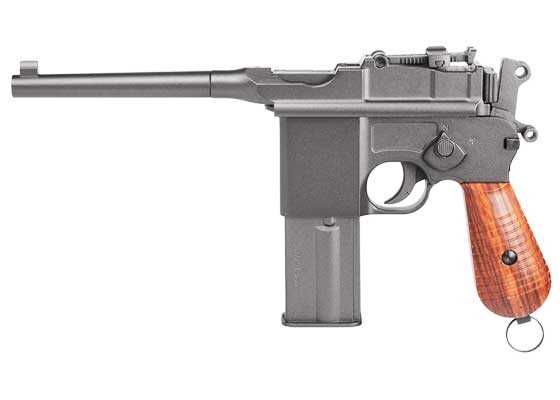 Legends M712 full-auto BB pistol.
This report covers:
• Velocity
• Shot count
• Summary of this test
• Full-auto test
• Pay attention to the magazine follower
• Cock the gun with the bolt
• Trigger-pull
• Evaluation so far
• I'm at the Pyramyd Air Cup
Today, we'll look at the velocity of the Legends M712 full-auto CO2 BB pistol. This pistol is powered by CO2, which means the gun cools down as you fire. As CO2 cools the gun, the pressure drops, so the velocity drops as well. Nothing new there, except this is a full-auto gun that has no limits to the number of BBs that can be fired in a single burst. You can empty the magazine of all 18 if you desire, so one of the things I'll be checking is what full-auto firing does to velocity.
Velocity
I loaded the magazine with 18 Umarex Precision Steel BBs , then I installed a fresh CO2 cartridge and shot a string of 10. The first shot went 364 f.p.s., and the final shot went 344 f.p.s. The average velocity for this first string was 352 f.p.s. I was waiting 10 seconds between shots to conserve gas.
Shot count
The second string average dropped to 335, with a low of 329 and a high of 344 f.p.s. A third string did almost exactly the same. Then, I waited 2 minutes and fired a shot at 332 f.p.s. That was followed by 4 fast shots that were not recorded, then a fifth shot at 309 f.p.s. So, shooting in rapid succession does cause the velocity to drop significantly.
I waited another 2-3 minutes, during which I topped off the BB magazine again. Shot 36 on the first CO2 cartridge went 332 f.p.s. Shot 40 went 330 f.p.s. At shot 43 the velocity was 322 f.p.s., so I waited another minute before shooting shot 44, which went 331 f.p.s.
At shot 46 the velocity began dropping fast, and I could tell the liquid CO2 was gone. As long as there's some liquid, the gas pressure remains the same and is affected only by the ambient temperature. Shot 49 went 309 f.p.s.
I continued to shoot, waiting a minimum of 10 seconds between shots and watched the velocity drop to 253 f.p.s. on shot 58. By this time, the blowback was getting very weak, making it very obvious the gun was running out of gas. Shot 59 went 245 f.p.s. and was the last shot I was able to get from the first cartridge.
Summary of this test
I babied the gun during this test to get the absolute maximum number of shots from one cartridge. No one is going to shoot this pistol so conservatively — especially not when there's a full-auto option! I don't think the M712 is a pistol you shoot targets with anyway. It's a gun you use to tear aluminum soda cans apart as they dance around the yard. Let's take a look at how the gun does when it's handled that way.
Full-auto test
A new CO2 cartridge was installed, and the initial velocity was 359 f.p.s. I shot several rounds to make sure things were working, then I topped off the BB magazine again. I waited a minute and shot one shot at 350 f.p.s. After that, I shot a short burst on full-auto. Don't ask me how many shots it was, because it's impossible to count when the gun shoots this fast. But the shot immediately after the burst went through the chronograph at 324 f.p.s. I shot another short burst and then another single shot, which went 314 f.p.s.
This illustrates what the full-auto function does to velocity. It drops rapidly, plus shooting the gun this way uses more CO2, because more liquid flashes to gas on each shot when the pressure drops. I say that because, after this test, I got one more burst before the pistol ran out of gas. If I had to guess I would say there were 30-35 shots in the gun when fired this way.
Pay attention to the magazine follower
When you load the BB magazine, the first thing you do is push down the spring-loaded follower until it catches. Then you can load the BBs without fighting the magazine spring. But after loading, you have to release the follower manually, or the BBs won't feed. You'll get 1 or 2 shots, and then the gun starts shooting blanks. Remember to release that follower! I forgot several times, which is why I'm telling you.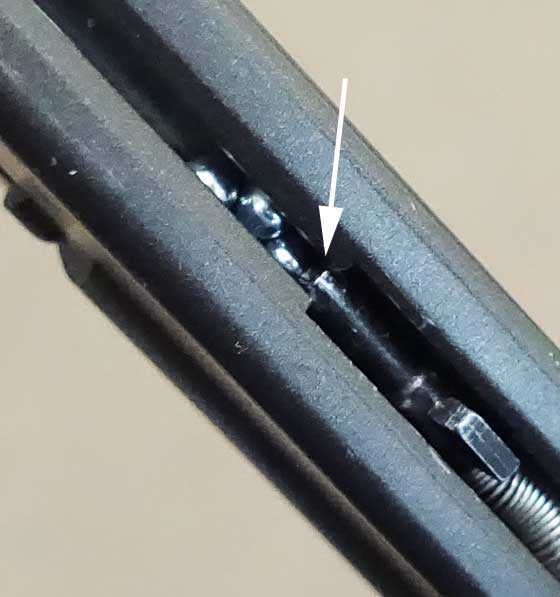 The magazine follower is pulled all the way down, where it locks in position on a shelf in the magazine body. Now the BBs can be loaded. But after the magazine is full, you have to press the top of the follower in so it slips off the shelf and can push the BBs up as they're shot.
Cock the gun with the bolt
Another caution is you must cock the gun with the bolt. If you don't, you'll shoot blanks, or maybe you won't shoot at all. Both things happened to me. Remember to not just pull the hammer back with your thumb like you might with a 1911 or a revolver, but do so by manually pulling the bolt all the way back.
Trigger-pull
The 2-stage trigger on the M712 is delightful. There's a very long first stage that very positively stops at stage 2. Stage 1 takes up almost 2 lbs. of effort. Stage 2 breaks at 3 lbs., 7 oz. It's a very nice trigger.
Evaluation so far
Umarex had me at the selector switch; so, unless this pistol does something horrible in the accuracy test, I'm prepared to like it a lot. You have to think of this one differently, because it really isn't a conventional air pistol. Even as a firearm, there's nothing conventional about a pistol that shoots full-auto at the flip of a switch.
I'm at the Pyramyd Air Cup
I'm flying out today to Ohio to attend the Pyramyd Air Cup. It's a 3-day event of field target and silhouette matches, fun shoots and more. I'll have limited time to attend to the blog and hope our regular blog readers who aren't attending this event will help answer reader questions.