by Tom Gaylord
Writing as B.B. Pelletier
Part 2
Part 3
Part 4
Part 5
Part 6
Part 7
Part 8
Today's report is the start of another guest blog from blog reader HiveSeeker. He's going to tell us about his Crosman 2400KT — an airgun many will not have heard of.
If you'd like to write a guest post for this blog, please email me.
Over to you, HiveSeeker.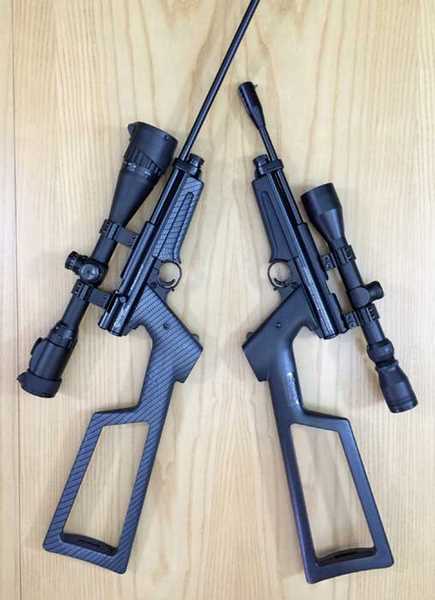 The 2400KT CO2 Carbine is available exclusively from the Crosman Custom Shop in several configurations.
This report covers:
• In the beginning
• Choices
• Crosman Custom Shop
• Special delivery
• "Sassy Sandy" .177 target carbine
• "HiveSeeker" .22 light-duty small-game carbine
• Pyramyd AIR Cup
In the beginning
A year ago, my beloved Crosman 1377 pistol stopped holding air. Yes, I know — I could have repaired it, and added a half-dozen upgrades in the process. But I'm not a modder. And with a Crosman 760, classic 2100B and MK-177 in the house, my left arm was ready for a vacation from pump pneumatics. A budget of around $150 made a PCP out of the question, so I decided that a spring-piston or CO2 pistol would be the way to go for a replacement.
I also wanted something with more punch than my old 1377 for light small-game hunting and pest control — a pistol that could handle a charging squirrel if things got out of hand around the bird feeder! I hoped this meant moving up to a .22, which is more efficient than .177 for muzzle energy.
I'd installed a Crosman 1399 custom shoulder stock and scope on my 1377; and, if possible I wanted to stay with a scopeable pistol that could be converted to a carbine, too. What I was looking for was something comparable in performance and features to B.B.'s subsequent Crosman 2240 conversion to PCP would turn out to be (see Crosman 2240 conversion to air). In that blog, G & G commented, "I will want to see just how close it comes to being the same as an existing gun you could just purchase." Without knowing it at the time, I was asking the same question — six months in advance!
I'm well aware that I tread on hallowed ground. More than a few of you can rebuild a Crosman CO2 pistol blindfolded, as we saw from the many comments (including G & G's) to B.B.'s 2240 conversion series. And there are probably more mods available for this much-loved family of guns than anything out there except the equally beloved 1377. However, I'm going to take the approach of an average consumer who is looking for a reasonably priced, high-performance pistol that they can simply take straight out of the box and start shooting. So, modders, please bear with me — but I don't think you'll be disappointed, either.
Choices
My caliber preference proved to be the most limiting factor. Choosing a .22 dramatically cut down the crowd of possible contenders. The power requirement — needing a minimum hunting velocity of about 500 fps or better — whittled down my choices even more. In very short order, I was left with only two pistols near my $150 price ceiling: The Hatsan model 25 SuperTact or the Browning 800 Express. In fact, these were the only .22 pistols I found that advertised the velocity I wanted without moving into pneumatic (specifically the Webley Alecto Ultra) or PCP territory.
I quickly discovered that the Hatsan 25 SuperTact, which is scope-ready with a removable stock, does not actually hit the mark in real-world velocity testing. Scoring under 500 fps with all but the lightest pellets, it got crossed off my list. That left the Browning 800 Express. This gun is advertised at 600 fps in .22, is billed as "the most powerful spring-piston handgun made" and is scopeable. However, it does not have an available stock add-on. I was not satisfied with the single remaining choice my research had turned up.
Then, something fortuitous happened. An online acquaintance that happens to know a bit about airguns asked, "What about the Crosman 2400KT? It's inexpensive, powerful, and more accurate than most springers!" Despite hours of research, I had missed this gun completely. It's not available from any third-party vendors. Even at the Crosman website, it does not show up when searching their pistol listings. This gun is tucked away inside the Custom Shop. The 2400KT had completely slipped under my radar.
Even with this lead, I still had some homework to do. Crosman is completely silent on 2400KT velocities — on their Custom Shop website, via email and over the phone. I think I understand this from their perspective. Velocities will vary between different calibers and barrel lengths, and customers will be dissatisfied if they don't order the right combination and get a different velocity than they're expecting. However, doing some online research, I found out that the 2400KT CO2 carbine shoots faster than the 2300KT pistol (the other offering in the Crosman Custom Shop), and that an un-modded 2400KT in .22 should shoot over 500 fps. My choice was made!
Crosman Custom Shop
B.B. tells an amusing story about the possible origin of the Crosman Custom Shop (see Crosman's 2240 Pistol – Part 1). The Crosman 2400KT CO2 carbine offered by the Custom Shop has a nice variety of part selections available. You can choose between .177 or .22, a variety of barrel lengths between 10.10 inches (in a .177 Lothar Walther match barrel) and 24 inches, pistol grips or carbine stocks, trigger shoes, muzzlebrakes, and scope or open sights. The widest selection of options is in the pistol grips, which range from maple ($35) to zebrawood or cocobolo ($60 — the price of a brand new Crosman 2240!). Custom engraving is free.
Special delivery
I placed my order. Crosman stipulates a three- to six-week delivery time on Custom Shop guns, but word on the street was that it usually takes only three. That's exactly how long it took mine to ship. The Crosman Custom Shop puts together a really nice-looking package. Double boxing, nice Custom Shop shipping label and certificate of authenticity — I was absolutely charmed. Until I opened the box, that is.
I wish Crosman had spent as much time making sure the product arrived safely, as they spent making sure it looked good. The foam padding the gun comes boxed with is inadequate to keep it from sliding the full length of the long box. Both my .177 and .22 carbines received a beating during delivery, though there was no obvious damage. I lost a weekend's shooting waiting to talk to Crosman customer service to confirm that both guns were probably just fine, and it should be safe to shoot them. This fine gun — and Crosman's customers — deserve better.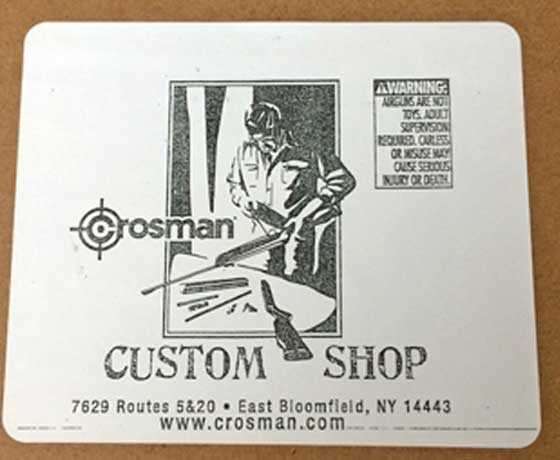 Nostalgic shipping label…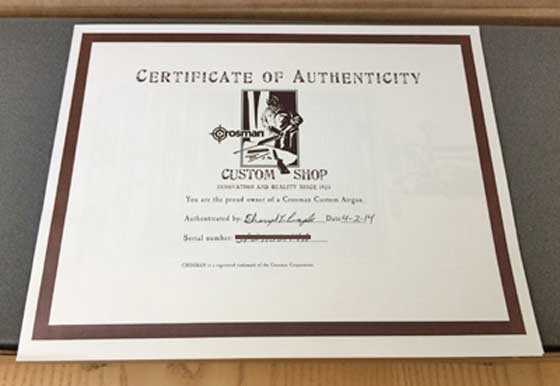 …and certificate of authenticity make a good impression on the customer.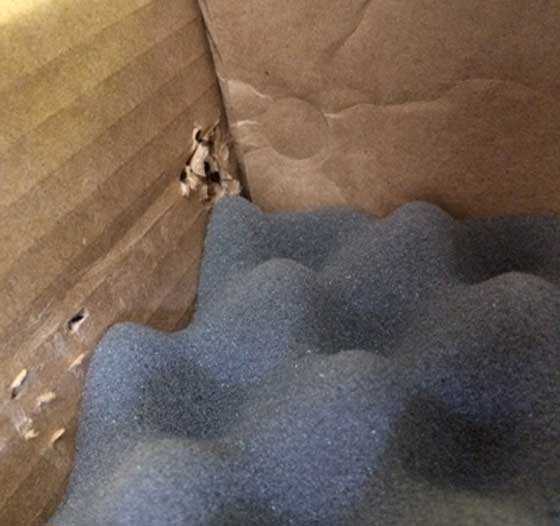 My brand new .22-caliber 2400KT received a beating enroute to its new home — this is a barrel impact on the inside of the box. I was glad I ordered the muzzlebrake! Better internal padding would have made the package perfect.
"Sassy Sandy" .177 target carbine
Disclaimer: The Sassy Sandy is named for my wife's feisty performance on the shooting range, and nothing more!
I'm incredibly fortunate to be married to a woman who will shoot and fish with me (and occasionally out-do me in both categories). I wanted to include her in my upcoming airgun adventures, and my real budget was planned for two of whichever pistol I ended up picking out. Of course, I knew what was right for me might not be right for her, but that didn't turn out to be an issue. When I picked the 2400KT, she was pleased with the selection, and especially with having a number of customizable options to choose from — she hadn't expected that.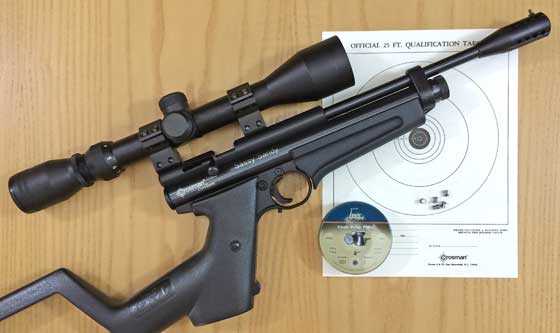 The Sassy Sandy is a target carbine in .177 with 10.10-inch Lothar Walther choked match barrel, black custom shoulder stock, black trigger shoe, and black muzzlebrake. The scope shown here is a CV Life 3-9×40. The cost of this setup was $142.68, not including scope and rings.
My wife doesn't hunt (or worry about charging squirrels), so she wanted to stick with the more accurate .177 caliber. That being the case, I decided to spring for the 10.10-inch Lothar Walther choked match barrel for her — the same barrel as on the Crosman 2300S. Ironically, this made hers the more expensive of the two guns, even though I'm the more avid shootist in the household. She was content with the black custom shoulder stock, and ordered a matching black trigger shoe and black muzzlebrake. Not including scope and rings, the cost for this setup was $142.68 — under my $150 budget with change to spare. The Lothar Walther barrel was the big-ticket add-on at $45.59, compared to only $7.90 to $12.72 for any of the other available barrels. Since I'm not planning to mod either of these guns, I also dropped an additional $10.00 each for Crosman's lifetime warranty. Shipping for both guns, plus some pellets and accessories, was a ridiculously low $2.50.
I already had a CV Life 3-9×40 economy scope that had served well on a couple other airguns, and planned to temporarily mount that on the .177 2400KT. After spending some time with this combo, however, my wife has come to like the scope and has warned me off replacing it with something better (and heavier). It's a lot lighter than the UTG that I selected for my own carbine. For a female or youth shooter eyeing a similar setup, I would recommend keeping the scope as light as possible.
For a valid accuracy test of the Lothar Walther barrel, however, I felt that she really needed an adjustable objective scope to minimize parallax. I finally talked my wife into letting me swap the CV Life for a Hawke Sport 3-9X40AO, the same length as the original scope and only a few ounces heavier. My wife and I will be testing both scopes and reporting on whether or not the better glass provides a significant improvement in accuracy.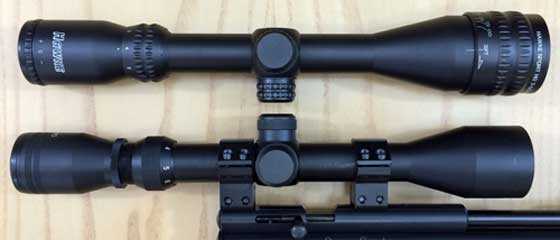 The CV Life 3-9×40 scope mounted on the .177 2400KT has performed well on several other airguns, but has no adjustable objective. Accuracy will be tested with this scope first, and then retested with the adjustable objective Hawke Sport HD 3-9×4 shown above it.
"HiveSeeker" .22 light-duty small game carbine
I already knew I wanted a .22 for my 2400KT and selected the 18-inch barrel to give me a little more velocity in the small game department (more on the relationship between barrel length and velocity later). There's a 24-inch barrel available, but I was concerned that would make the gun unwieldy in the woods. As it turns out, the 18-inch barrel is probably optimal for my configuration anyway. I went with the simulated carbon fiber shoulder stock for a little more visual pizzazz; although this stock looks black on the Custom Shop website, it's actually a dark blue. I stayed with the black trigger shoe and black muzzlebrake like my wife's gun. I didn't want too much shiny "bling" if I was going to use this gun for light-duty hunting, although brass accents would have looked very nice on this setup.
I had already picked out a scope for this gun, so I didn't include any Crosman optics in my order. Not including scope and rings, the total cost for this setup was $123.57 — well under my original $150 budget. My one splurge was $31.25 for the simulated carbon fiber shoulder stock, instead of $11.75 for the standard black stock. The latter would have dropped the total cost to just $104.07 with absolutely no change in performance.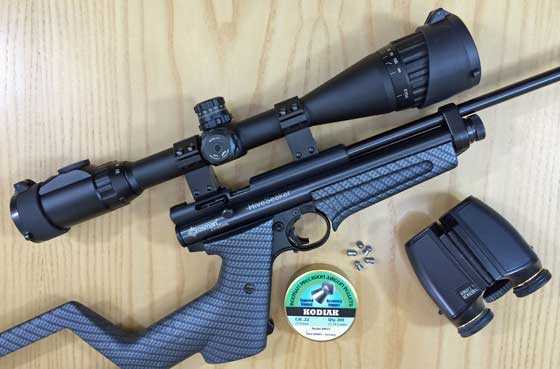 The "HiveSeeker" is a light-duty small game hunter and pest chaser in .22 with 18-inch barrel, simulated carbon fiber custom shoulder stock, black trigger shoe, and black muzzlebrake. The scope is a Leapers UTG 4-16×40. The cost of this setup was $123.57, not including scope and rings.
That's where the story ends today, but HiveSeeker will return soon to finish his description of the 2 airguns.

Pyramyd AIR Cup
Tomorrow, I'll be in Ohio to participate in the first annual Pyramyd AIR Cup. I hope to meet and and talk with any blog readers who can make the shoot. Even if you're not participating in the matches, there will be lots of opportunity to shoot guns supplied by Pyramyd AIR at the sight-in range.
Joining me at the event are airgun hunter and writer Jim Chapman and Airgun Reporter Paul Capello. I'm shooting in the hunter field target class with an Air Arms TX200 and scope provided by Pyramyd AIR. I'm not expecting to win, but I am planning to have a lot of fun! If you haven't made your motel reservations, get to it! All the info is on the Pyramyd AIR Cup website.