by Tom Gaylord
Writing as B.B. Pelletier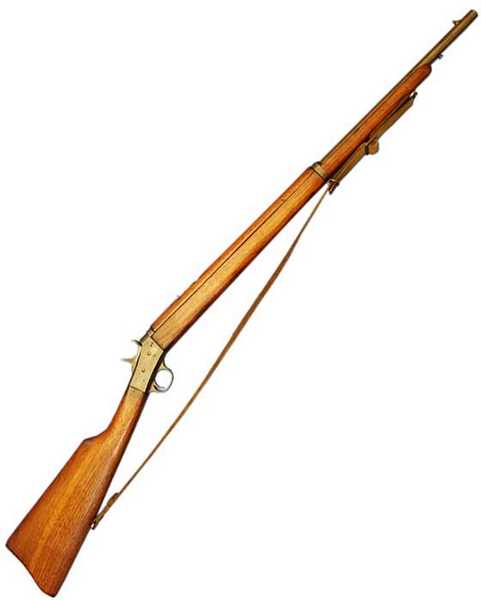 American Boy Scout rifle.
This report covers:
• History of the American Boy Scouts
• Remington rifle chosen
• Why a bayonet?
• Features of the rifle
• How it shoots
• How was the rifle used?
• Pyramyd Air Cup
And now for something entirely different, yet surprisingly similar.
History of the American Boy Scouts
In 1907, Lieutenant General Baden-Powell held the Brownsea Island scout camp, which is considered the start of the Boy Scouts. In February 8, 1910, American publisher W.D. Boyce founded the Boy Scouts of America, inspired by and based on the British Boy Scouts and with the blessing of Baden-Powell. The organization has grown to be a large and successful one that has touched the lives of many men in the United States.
But this report isn't about the Boy Scouts of America. It's about a Remington rifle that was made especially for the American Boy Scouts (officially American Boy Scout and later United States Boy Scout) — a different and very much rival organization that was founded in June 1910, partly by the publisher William Randolph Hearst. Two publishers founding two different boys' organizations within months of one another. One grows into a large, successful organization that's strong a century later — the other dies out within about 10 years. It makes you wonder whether the second organization was real or just done in spite.
This organization was more of a paramilitary group; and as time passed, it moved ever more in that direction. In 1916, they were involved in a fracas with the law in which it was alleged they were armed and had orders to "shoot to kill." At who, and for what reason was not fully explained in the newspaper article. This was probably just a rumor that got out of control; but in 1912 an American Boy Scout in uniform had shot and killed a fellow scout at an official function.
Remington rifle chosen
Remington was contracted in 1912 to make a specially marked version of their No. 4 musket, a .22-caliber rolling block single-shot chambered for the short cartridge for the American Boy Scout, and that's the rifle you see here. Besides being made in the musket-style, which meant a long stock that had a separate upper handguard like the military rifles of the time, this rifle was fitted with a bayonet! The rifle was sold in 1912 and 1913.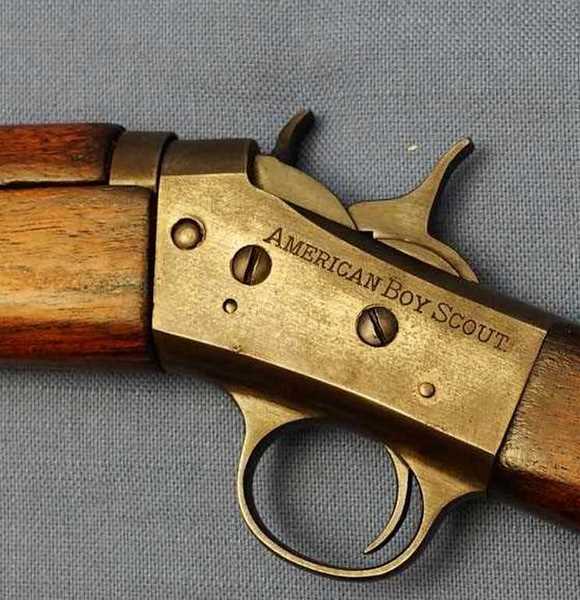 American Boy Scout rifle markings. This has to be rare!
Collectors' know that the Remington 4S musket is not a common rifle today, but one marked for the American Boy Scout, with a lug for a bayonet, is quite uncommon. There was a bayonet for this rifle listed on Ebay at $2,200 as this report was written! It was listed as being 1 of only 1,000 made. While I can't substantiate that number, it seems very reasonable. Presumably, parents separated the bayonets from the rifles and put them aside "for safekeeping." That means more may have survived than rifles, and also that they'll be extremely hard to recognize and find today. There's a similar situation with the Daisy Model 40 air rifle that also had a bayonet that was similarly separated from the gun.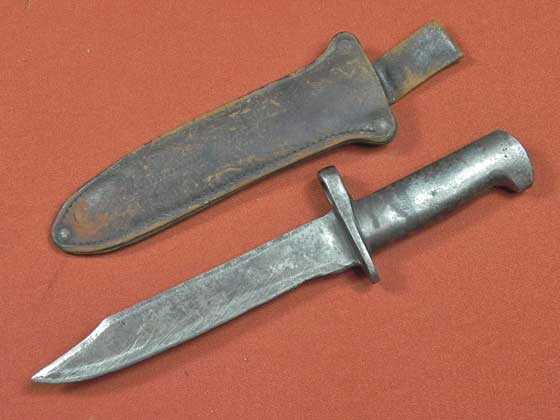 American Boy Scout rifle bayonet. Try to find another!
Why a bayonet?
We may wonder why a rifle that was built for target practice (.22 short cartridge and adjustable sights in 1912 suggest nothing else) would come with a bayonet. The short answer is parents were concerned that their sons would grow up to be "manly." I'm not making this up — it's in the history that the public school education system no longer permits to be disseminated. But a quick read of period literature will confirm it.
Features of the rifle
The rifle is a rolling block action, which means the breechblock is rolled back by the thumb to expose the chamber for loading. The hammer must first be cocked before the breech is rolled back, so this design is a very safe one. The shooter must deliberately open the breech to load and unload the rifle.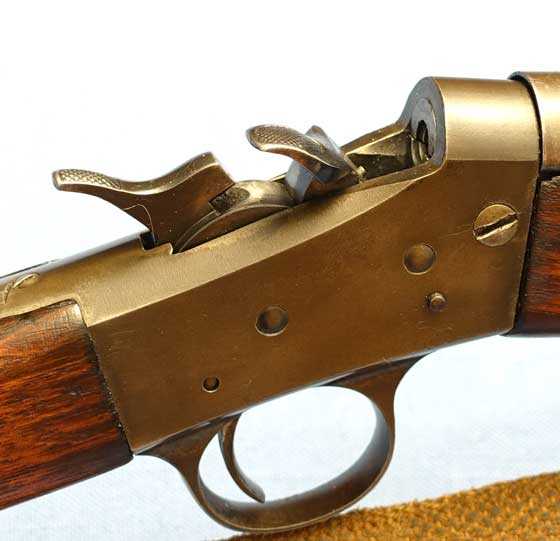 Rear sight leaf flips up for elevation adjustments.
The rifle is 42-1/4 inches long, with a 28-1/4 inch barrel. The pull measures 13 inches on the dot. The rifle weighs 5 lbs., 4 oz., which seems light for such a long gun, but the walnut stock is very thin all around. The result is a rifle that feels wonderful in the hands and brings a smile to any rifleman's face.
The specimen I'm examining also has a web sling that has to be fairly rare. It appears to be original to the rifle and in pretty good shape. If you look closely at the stock, you'll see that the sling has a second keeper on the stock, so it was probably for both shooting and carrying. I say that because it would be easy to make a hasty sling with this arrangement, and that was the accepted method of the day.


The sling has an extra keeper at the front to stiffen it for shooting.
The sights are a tapered post in front and an adjustable leaf in the rear. The rear sight sits in a cutout in the upper handguard that precludes any adjustment to the side. There isn't any windage adjustment, other than drifting the front post sideways in its dovetail (opposite the direction you want the bullet to move). The rear leaf lifts up to provide a small but useful amount of elevation adjustment. That makes this one of the guns that was supposed to be "regulated" at the factory for left and right, which we've discovered almost never are.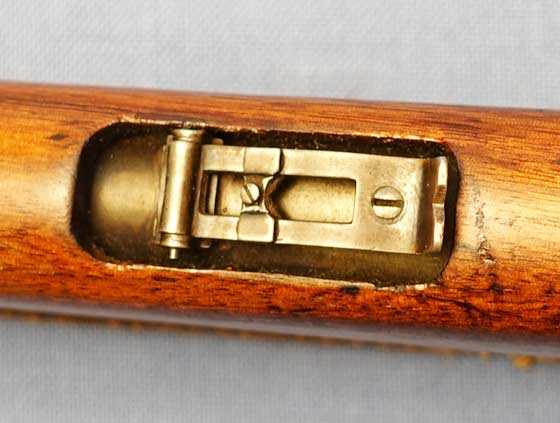 Rear sight leaf.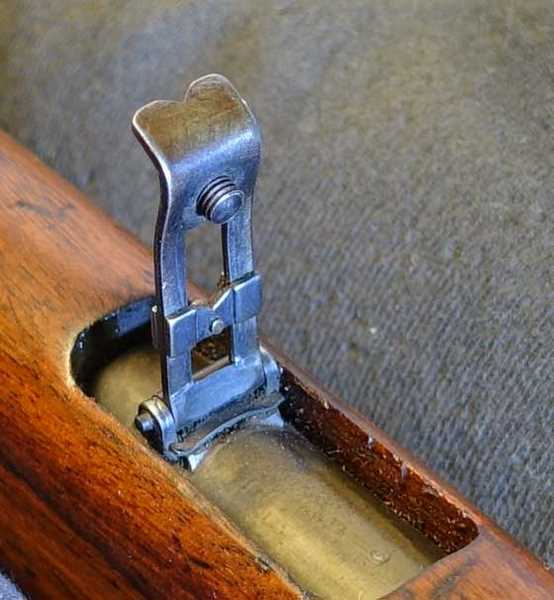 Rear sight leaf flips up for elevation adjustments.
The single-stage trigger breaks very crisply at exactly 4 lbs. Single-stage triggers were in vogue at this time, and 4 lbs. is a light one for a rifle. The trigger is so crisp that it would feel fine on an airgun today.
How it shoots
The owner said I could shoot his rifle for this report, so of course I did. I started out at 50 yards with both .22 short CB caps and .22 high-velocity shorts. The best I could do was about a 3-inch group for 5 shots with the high-velocity rounds. The CB caps didn't do very well at all, and the group was centered about 12 inches low and 6 inches to the right.
I moved to the 15-yard (45-foot) range that most probably was about the distance the rifle was intended to shoot. At that distance, I got some results. Five Winchester Gallery shorts with frangible bullets (wax and lead powder pressed together into a bullet) went into 0.755 inches, and 5 Remington High-Velocity shorts made a 0.883-inch group that consists of 2 smaller groups. The Gallery ammo is 53 years old, and yet there were no misfires. That's pretty good for rimfire ammo!

Old Winchester Gallery rounds did well at 45 feet.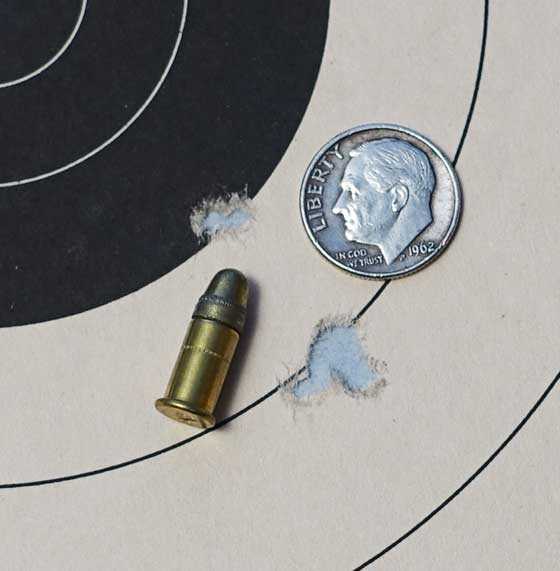 Remington High-Velocity rounds grouped tight, but in 2 different places.
How was the rifle used?
In my opinion, this rifle was used for marksmanship training and for drill. The bayonet would have been used in the drills, but I think marksmanship training was the primary purpose. The .22 short caliber is what leads me to think that.
An air rifle would have been perfect for this application; but in 1912, there weren't that many that were high enough quality to do the job. The BSA was the only one I can think of, and two things worked against it. Because it was a pellet rifle, there would have been a lot of opposition from Americans, whose only experience with airguns was at the toy level. Second, and most important, I'm pretty sure the BSA would have cost more than this Remington — and pellets were not commonly available…certainly not quality ones.
Unfortunately for this rifle, it came at a time when Lesmoke cartridges were popular. These were loaded with a mixture of black powder and smokeless powder, which by wasn't that bad. Yes, black power residue does cause rifle barrels to rust, but not if they're properly cleaned right away. But the priming in these cartridges was corrosive, and the gun had to be cleaned repeatedly over the period of many days to remove the corrosive salts. Shooters weren't used to that, and most of them didn't do it. Most smallbore barrels of that time rusted and were destroyed.
So, from an original run of possibly around 1,000 rifles, perhaps 200 survive today in shootable condition. The one in this report is in very good condition with a bright shiny bore that has lots of sharp rifling. It's a survivor and a top-quality one, at that.
The owner of this rifle wanted me to share it with you. I was hesitant because of the potential value of the gun, but he insisted. So, today, I've met my obligation.
Why show a firearm in this blog instead of an airgun? Because this kind of firearm is more tied to the history of airguns in America than many people realize. The story of this gun is closely associated with the time of the birth of adult airguns, and it's instructive to learn its history. It would be easy to replace this rifle today with a fine spring rifle that would be more accurate and cost relatively less to buy and shoot. That's what airguns have going for them!
Pyramyd Air Cup
A week from today, I'll be in Ohio to participate in the first annual Pyramyd Air Cup. Although the last day to sign up for the matches has passed, you can still come to observe the matches, shoot some of the guns Pyramyd Air will have for anyone who wants to take some shots at the practice range, and chat with other airgunners and Pyramyd Air employees.
Joining me at the event will be airgun hunter and writer Jim Chapman and Airgun Reporter Paul Capello. I'm shooting in the hunter field target class with an Air Arms TX200 and scope provided by Pyramyd Air. I'm not expecting to win, but I am planning to have a lot of fun! If you haven't made your motel reservations, get to it! All the info is on the Pyramyd Air Cup website.