by Tom Gaylord
Writing as B.B. Pelletier
• Nice air rifles
• Nice air pistols
• There will be more
A lot has changed since I did this last year, and I'm going to do it differently this time. Not so much structure, but I'll list gifts in certain price ranges. This year I'm going to tell you what I would want, if I were you. If something is left off this year's list, be sure to speak up!
Nice air rifles
Let's start low and work our way up. Multi-pumps are among the least expensive rifles, and I would pick the Crosman M4-177. When I tested it I liked it so much that I bought the test rifle. It's accurate, has good sights and feels as good as a black rifle can.
If your taste runs to conventional rifles, the Crosman 2100B is hard to beat. Remember, it's the rifle Dennis Quackenbush picked as the basis of the $100 PCP.
If you have a little more to spend, the Air Venturi Bronco is a good pick. It has a great trigger and good accuracy, plus it fits both adults and older kids. It's also very easy to cock. My only regret is the blonde stock finish is no longer available.
Another rifle I would always recommend is the Diana RWS 34P that we just started reviewing, again. It has power, accuracy, a good trigger and the feel of an adult precision air rifle. I don't think there's a better choice in this price range.
Okay, if you want to test the exotic waters of the precharged pneumatic world, my first choice would have to be the Benjamin Discovery. If this is your first PCP, let's cut right to the chase and get the version that comes with the hand pump. The rifle needs only 2000 psi, so most adults and teenagers will be able to fill it. I can't think of a better way to get your feet wet. If you feel you've outgrown it later on, you don't have to sell it. Just do what I did — upgrade with Lloyd Sikes' Disco Double kit. All the information you need is in my 7-part series.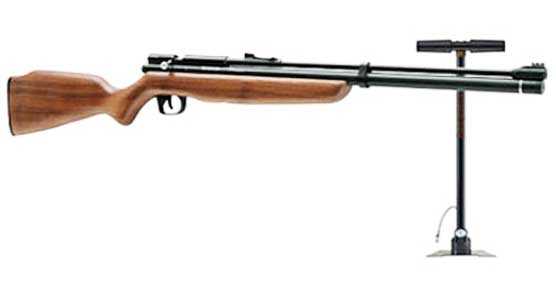 Benjamin Discovery and hand pump.
Want the world and can afford it? Then you know my next pick, which will be the last rifle for this report. How can you not know that I would recommend the fabulous Air Arms TX200 Mark III? It brings you accuracy, power, reliability, a great trigger, smooth operation and heirloom quality wrapped in a beautiful package. No tuning required!


Air Arms TX200 Mark III. This one has an optional walnut stock.
That's my rifle list for this report, but there will be more in the next report. Be sure to leave a picture of your desired gift in the pages of mom's Look magazine, where she'll be sure to find it!
Nice air pistols
Starting low, again, my first pick has to be the Beeman P17 single-stroke pneumatic air pistol. I've had several of these that gave me no problem, and the one I own is still shooting well; but there have been reports that this pistol develops leaks. The fix is apparently quite simple and is explained several places online. I just want you to know that. The P17 is a Chinese version of the more expensive Beeman P3 pistol, which is made in Germany.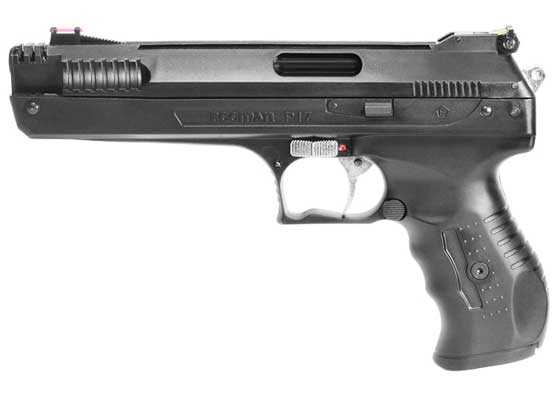 Beeman P17 single-stroke pistol is an economy version of the Beeman P3.
For a little more money, you can't go wrong with Crosman's 1377 multi-pump pistol. It gives you accuracy, power and the ability to vary the power with the number of pump strokes. It's a classic. If you want greater power, choose the 1322, which is .22 caliber.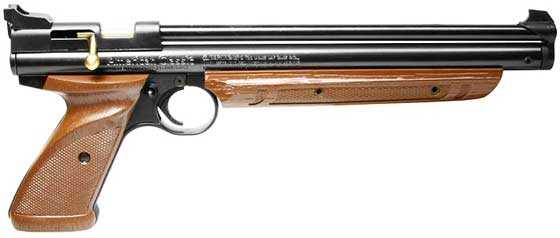 Crosman 1377 multi-pump pistol also comes in .22 caliber as the 1322.
Let's move up a little to 3 BB pistols that I'm wild about. The first one is the Dan Wesson. I like the one with the 8-inch barrel because that's what I would want in a firearm. I like the way this revolver shoots, handles, loads and looks. And it's accurate.
The next pistol I like is the new Legends P.08 with blowback. In fact, I love this airgun! It's so realistic! How it was built to be so realistic and yet still so affordable is beyond me. If you like Lugers, this one is for you!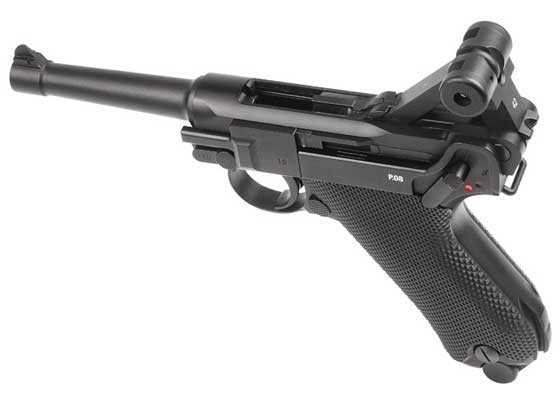 Legends P.08 with blowback from Umarex USA is a winner!
And, finally, although I haven't fully tested it, yet, I have to select the new Umarex M712 pistol. I like it already from the little shooting that I've done. This thing rocks; and if you like full-auto guns, how can you not own one of these? It's heavy, realistic and functions just like the firearm.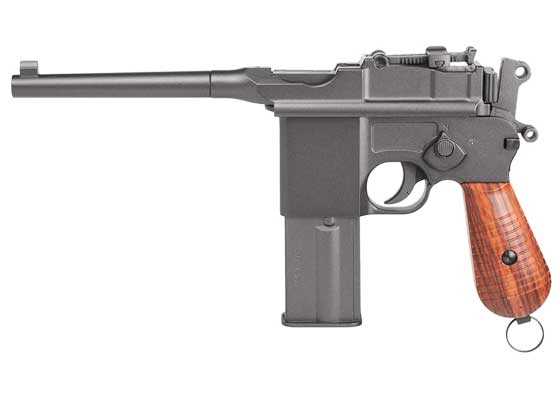 Legends M712 pistol is both full-auto and semiauto. Very realistic!
There will be more
I'm just getting started today, so you'll have time to hide those pictures where mom is sure to find them. There are more picks, plus some things you need that aren't guns at all.