by Tom Gaylord
Writing as B.B. Pelletier
This report covers:
• Right Now Range
• American Airgunner TV show
• Air Ordnance
• Leapers
• Airsoft
• Dan Wesson
• One more report
Today, we'll continue our look at the 2015 SHOT Show. Let's begin back at Media Day at the Range. This is held the day before the SHOT Show opens, and it gives the manufacturers and importers a chance to demonstrate all their new products to the media. A line of ranges that's over a quarter-mile long is open to hundreds of different vendors, and the media gets a chance to shoot the guns they'll soon be seeing at the show.
I showed you some of that already, when we talked about the Crosman and AirForce airguns that I shot. And, if you follow any of my 4 Godfather of Airguns social networks, you have been exposed to dozens more pictures and videos.
Right Now Range
But there are also products other than guns on display. And one of them was right up our alley. The Right Now Range — formerly called the Ready Range — was in a display booth off the range. There, I met the inventor and founder of the company, Neely Burks. Neely is a casual shooter who noticed every time she went out to shoot that targets were the real problem. So she invented one that folds flat until needed and then opens to become several paper targets as well as a holder for all sorts of action targets like clay pigeons and spoiled fruit!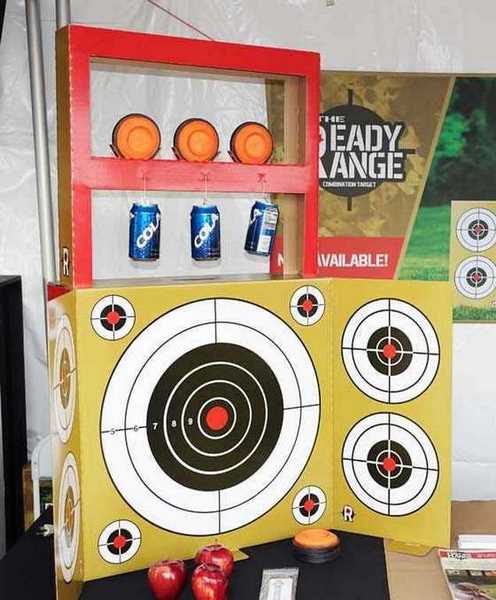 The Right Now Range comes as a flat cardboard box. The top is inside and there are stakes to hold it in place on the ground. Those apples will sit on top of the red riser.
The target you see still says Ready Range, but that will change. And I know what you're thinking — no airgunner will pay $30 for a cardboard box to shoot at when there are plenty of them to be found for free. You're right! This isn't a range for an individual. It's for those organizations that have a smallbore rimfire or airgun shooting event coming up and don't have the time to build all the targets they need. Sometimes, time is shorter than money.
This one will absorb thousands of shots, which makes it ideal for events and even for large family reunions. I can see Boy Scout troops and JayCees using them for their ranges at various events.
Neely is planning on having a booth at the 2015 North Central Texas airgun show to be held in Pooleville on Saturday, August 29. If you want to see her range in action, plan to attend.
American Airgunner TV show
We filmed a special Roundtable segment of American Airgunner in the Pursuit Channel booth while the SHOT show was running. The public was welcome to watch the filming, and Edith took lots of pictures of the crew in the background. Now you can see what it takes to film a broadcast television show.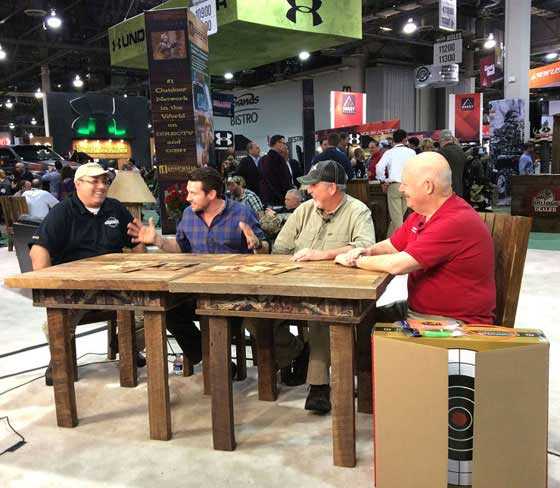 The American Airgunner Roundtable. From the left are Rick Eutster, host Rossi Morreale, Jim Chapman and me.

This is what it takes to film a broadcast television segment like the Roundtable.
During this segment, we interviewed the inventor of the new MAC 35 big bore that uses air cartridges. Since big bores were in such great numbers at this show, we were quite interested in what he had to say. I hope to be able to test one of these rifles for you at some point.
Air Ordnance
Speaking of big bores, we also saw the new Remington Rolling Block that's being offered by Air Ordnance — the same folks who make the SMG 22 belt-fed submachine gun that many of you have asked about. This rifle is a full sized Remington No. 1 action (the largest action Remington made) and also used air cartridges. Spokesperson Brad Tippman (yes — THAT Tippman!) told me the rifle will sell for around $1,200 and will generate 1,000 f.p.s. with an 81-grain JSB 9mm pellet! Folks, that's 179.9 foot-pounds at the muzzle, and that's the LOWEST power you're going to get. Heavier bullets (they have used up to 123-grains) will generate more power!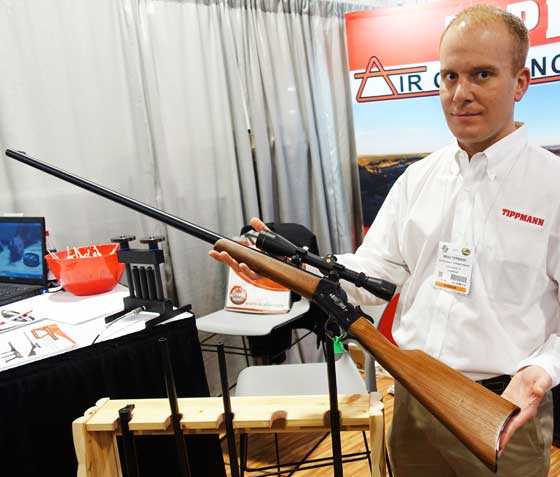 Brad Tippman holds the new Air Ordnance big bore.

An air cartridge, complete with pellet or bullet, is loaded into the rifle.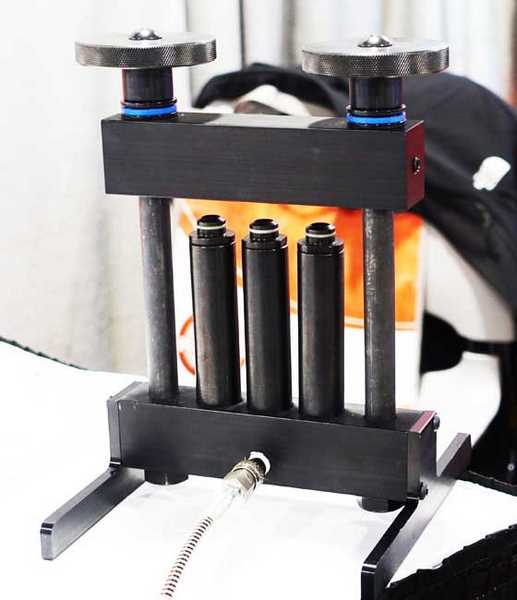 This steel fill station and 3 steel air cartridges come with the rifle. Each 9mm cartridge is filled to 4,500 psi.
The rifle comes with 3 air cartridges and the filling station included at that price. I asked Brad for one to test for a Shotgun News feature, and he said I could get it! I don't know if Pyramyd Air plans to carry this rifle. If they do, I'll also report on it in this blog.
Leapers
You probably thought I was finished with Leapers in the last report. The truth is that I saw as many new products in their booth as I did in any 10 other booths at this show! Those folks are extremely busy! If I showed everything here, it would look like a Leapers ad.
But a couple things are very important and have to be seen right now. You already know they're going to begin manufacturing scopes here in the U.S. this year. But did you know they're running 24/7 making accessories for law enforcement and our troops? Their new Ceracoating and injection-molding capabilities feed into that end of the business, which is one of the largest segments of what they do.
Along with scopes, they're making mounts. We're very familiar with all their innovative mounts, but this year they'll bring out a new premium ring. It has alignment features that no other ring has (that I'm aware of). They keep the base jaws aligned perfectly. I can't wait to test them!

Leapers' new premium scope rings have a spring-loaded base clamp that rides on precision guide rods.
The final Leapers product I'll show you is a new bipod they have. Not only does it function like a conventional bipod, the head is fully articulated so the rifle can be moved through a wide range of motion.

Leapers' bipod is fully articulated.
Dan Wesson
I stopped by the Action Sport Games (ASG) booth to look at their new products. As many of you know, ASG is an airsoft manufacturer. They've decided to push BB and pellet guns for 2015, making those inroads into the market that we have discussed in the blog many times. As we've discussed, BB guns and even pellet guns can grow from airsoft platforms.
Bob Li showed me their new 15-2 Dan Wesson revolver that's slated to come to the market this year. I was impressed by the weight of the revolver that I was told is within a few grams of the firearm. The version he showed me was an airsoft gun, but I was told the BB gun and even the pellet revolver are both coming, too!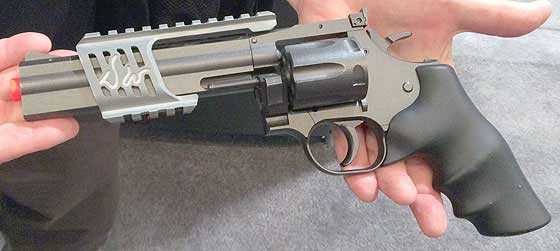 The new Dan Wesson revolver from Action Sport Games is incredibly realistic. This one is airsoft, but both BB and pellet versions will be coming.
I asked about the possibility of pistol pacs (cases with multiple barrels for the same gun) and was told the technology doesn't support doing that. Then, they showed me a replica CZ 75 that's so realistic I asked to test one as soon as possible. I don't know why, but I love that handgun. Probably the ergonomics! It appears that it's not a new gun, but I just saw it for the first time at the show.
One more report
With all I've shown you, there's at least one more SHOT Show report coming. Even then, I've just scratched the surface of what's new for 2015. This will be a good year for airguns!