by Tom Gaylord
Writing as B.B. Pelletier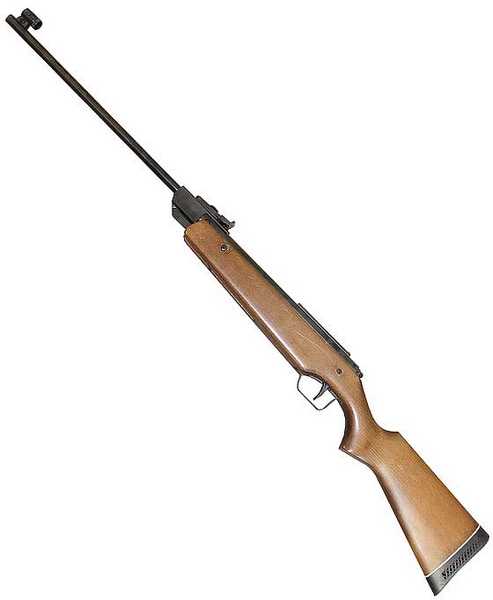 Diana 45 is a large breakbarrel spring rifle.
This report covers:
• Repairs first
• Accuracy test parameters
• Premier lite pellets
• Air Arms Falcon pellets
• RWS Superdome pellets
• More pellets?
• How the rifle behaved
• Next
Today, we'll begin to learn about the accuracy of the Diana 45 we're testing. This rifle belongs to a friend of mine, and I want you to remember that the ultimate goal of this series is to completely tune this vintage air rifle to remove as much of the vibration as possible. We aren't looking for greater power. We want smooth operation. What we're doing today is just baseline testing.
Repairs first
Before I shot the rifle, it was necessary to address a problem with the sights. The front sight was loose in its dovetails and could not be tightened with the screw. Loose sights do not make for good accuracy, so that had to be addressed before the test began.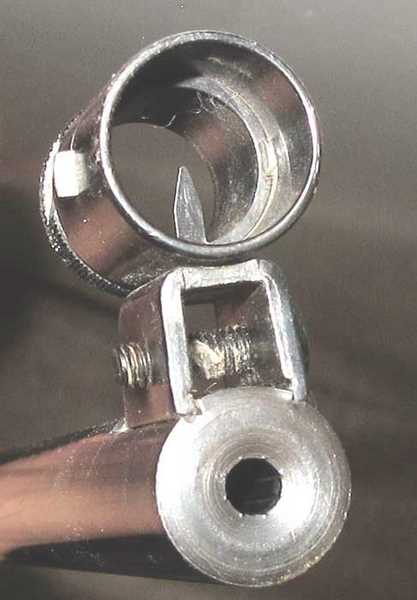 This photo clearly shows the dovetail grooves that are swaged into the barrel near the muzzle. The legs of the sight were squashed together to clamp in these grooves firmly.
I removed the sight, a globe unit with replaceable inserts, that's held on the rifle by a sheet metal clamp at its base. The clamp legs slide into twin dovetails that are swaged into the end of the barrel. When these grooves are swaged in, the metal around them distorts and constricts the muzzle a tiny bit. That's the source of the choke that can be felt near the muzzle of these rifles. They're not intentionally choked, though some people refuse to believe that.
With the sight off, I installed the base clamp in a vise and tightened the jaws a bit, then I struck the vise with a 2-lb. hammer. That impact sends a shock wave through the metal, distorting it to a new tighter dimension. Sure enough, I had to drive the sight back onto the barrel grooves with a plastic mallet. The front sight is now rock-solid, and I should be able to get better accuracy.
Accuracy test parameters
Since I don't know this airgun, this first test is conducted at 10 meters. Given the open sights, I'm pretty certain it'll be on paper at that distance. Once the accuracy is confirmed, I can mount a scope and back up to 25 yards for a more thorough test.
I shot off a bag rest and used the classic artillery hold that was designed for spring-piston air rifles like this one. The front sight element is a tapered post, which matches perfectly with the rear v-notch that's selected from the 4 notches that are available.
Premier lite pellets
The first pellet I shot was the Crosman 7.9-grain Premier — the one we call the Premier lite. Ten of them went into a group that measures 0.491 inches between centers. That's not bad for a sporting rifle using open sights at 10 meters.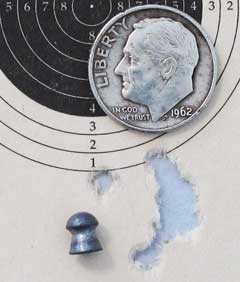 Ten pellets in 0.491 inches isn't too bad. These are Premier lites.
Air Arms Falcon pellets
Next, I shot 10 Air Arms Falcon domes that went into 0.546 inches at the same 10 meters. This pellet loaded easily, in spite of a head diameter of 4.52mm.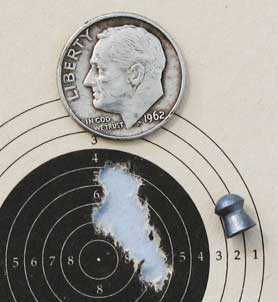 Ten Air Arms Falcons went into 0.546 inches. That's also okay, though the group is more vertical than I would like.
RWS Superdome pellets
Next up was the pellet that I thought might steal the day. Usually Diana guns do their best with RWS pellets, and the RWS Superdome is at the top of the list. However, these pellets scattered a bit more than I expected. While this group is rounder than the first 2, it's also larger, at 0.686 inches between centers. It might not be the best pellet for this rifle.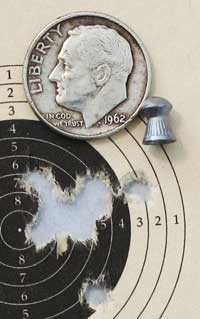 Ten RWS Superdomes made this 0.686-inch group at 10 meters. While it's rounder than the first 2 groups, it's also larger.
More pellets?
With 3 groups in the bag, I could have been finished with this test. Just for fun, I shot 2 more pellets. However, I didn't waste time on either of them. When I want to test pellets quickly I shoot 5-shot groups and only go on to 10 shots if the first 5 are sufficiently tight.
The first pellet I shot was the H&N Baracuda Match pellet with the 4.50mm head. After 5 shots, I looked through the spotting scope and saw that this wasn't a pellet for the 45. It measures 0.493 inches between centers, which is as large as the first group of 10 I shot with the Premier lites. Shooting another 5 shots is not going to make this group any smaller, so it was time to move on.
I'll admit that I'm on the fence with this pellet. I was using open sights, and it might tighten up if I used a scope. I just don't know.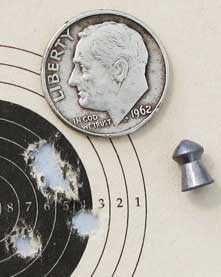 Five H&N Baracuda Match pellets with 4.50mm heads made this 0.493-inch group at 10 meters. Shooting another 5 pellets is not going to make this group any smaller, so this pellet is out — maybe.
Lastly, I tried 5 H&N Baracuda Match pellets with the 4.53mm heads. These landed in 2 separate groups at 10 meters The total group size measures 0.562 inches between centers, so this pellet also isn't one for the 45.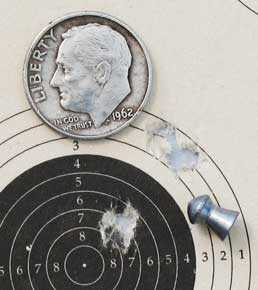 Five H&N Baracuda Match pellets with 4.53mm heads made this 0.562-inch group at 10 meters. This is actually 2 separate groups, demonstrating that this is also not a pellet for this rifle.
How the rifle behaved
I'm tuning this rifle because it buzzes when shot, and that came through during this test. It isn't the worst rifle I've tested, but it does have that characteristic 1970's buzz of a spring-gun powerplant.
The trigger is adjusted very nicely. There are 2 distinct stages, and stage 2 breaks crisply. It breaks at over 3 lbs., but I don't find that to be a problem.
The recoil (a separate issue from the buzzing) is actually quite low. I think that has a lot to do with the rifle's short piston stroke.
The rifle cocks smoothly and relatively easily. A short-stroke piston needs a heavier mainspring to generate the same power as a longer-stroke gun, but this one isn't so bad.
Next
Next comes the 25-yard accuracy test, which will be a completion of baseline testing. After that, I'll know what this rifle can do before being tuned.
After the 25-yard accuracy test, I'll disassemble the rifle and do what I can to eliminate the vibration. That means eliminating as much slop as possible between all the parts. I'm lucky that the owner of the rifle is a machinist, because I plan on giving him the parts I want modified or rebuilt.
I'll take pictures throughout the process, so you can follow along. I know several of you are waiting to see how this rifle comes apart so you can work on your own guns. I promise to take pictures with that in mind.
Stay tuned — this will get interesting!