by Tom Gaylord
Writing as B.B. Pelletier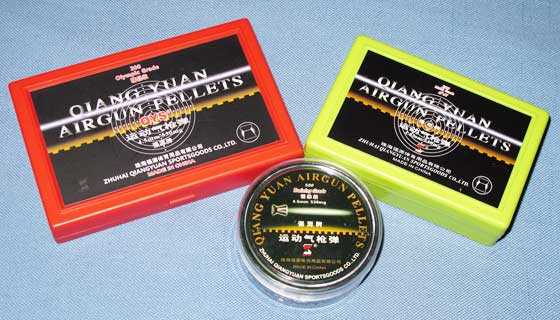 Qiang Yuan is a pellet name that's unknown in the U.S. Olympic pellets in the red box (200), match-grade pellets in the yellow box (200) and training pellets in the round tin (500). These 3 will each be pitted against equivalent pellets that are well known.
This report covers:
• Qiang Yuan match-grade pellet
• FWB 300S air rifle
• Crosman Challenger PCP rifle
• Summary
• Up next
Let's look at the second Qiang Yuan pellet — the Qiang Yuan Match Pellet. The test structure is the same as before.
Qiang Yuan match-grade pellet
Let's talk about this pellet for a moment. As of the publication date of this blog report, this pellet sells for $12.99 for a box of 200. Inside the box there are 4 foam trays with 50 pellets each. They're arranged in rows of 10, which is the universal way airgun 10-meter competitors want them, because all matches are shot in multiples of 10 targets — 40 targets or 60 targets, and so on. A competitor uses his pellet box to know exactly where he is in the match. This prevents him from shooting at the wrong bull, since only one shot is fired per bull in a match. If a second pellet hits the same bull, the lower score is taken.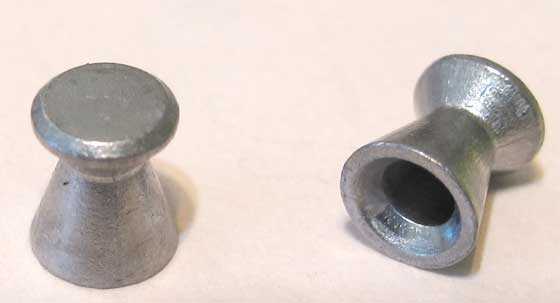 Qiang Yuan Match Pellet is well made and looks very uniform.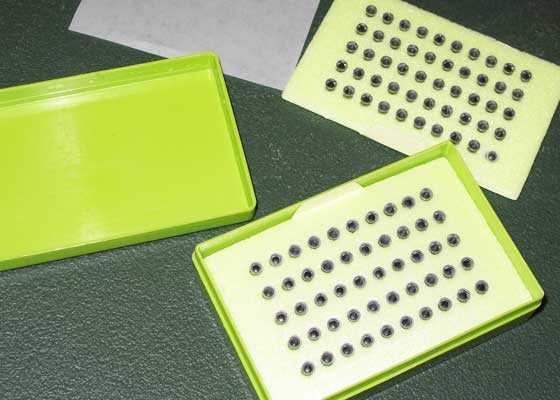 Each box of Qiang Yuan match-grade pellets comes packed in 4 foam trays, with 50 pellets per tray. This is how target shooters want their pellets packed.
At the box price, this pellet retails for $32.48 for 500. That is still a lot less than RWS R-10 Match Heavy pellets in similar 500-count boxes ($47.95), but I bet it's an eye-opener for some of you! This is not a pellet to trifle with. You buy them only if they're the absolute best in your target airgun, or you buy a box to try them once.
For the premium match-grade pellet used in today's test, I selected an RWS Meisterkugeln. That will probably draw a lot of criticism, because Meisters are really for training, but competitors are only interested in the all-out competition pellets. The concept of a training pellet doesn't work for competitors. They pick the best pellet for their guns, then buy a huge quantity of the same lot of that one pellet. In a serious competitor's eyes, training with anything less than what you would use in competition isn't training at all.
But there's a place for training pellets, because not everyone who shoots 10-meter target rifles and pistols is going to compete. Also, at the junior level, during the time the kids are learning how to shoot, any good pellet is going to be more accurate than they are. And the 75 to 90 percent savings in ammunition costs is well worth it.
However, when a shooter starts scoring above 85 percent in a match (above 340 points in a 400-point match), it's time to stop saving money and go with the best pellets you can can find. The best pellets will add a couple more points to your score when you shoot at that level. But this discussion is taking us away from today's topic, which is how well these Qiang Yuan match-grade pellets shoot in our 2 test rifles.
FWB 300S air rifle
First rifle up was the venerable Feinwerkbau 300S sidelever. In the last report, there were several comments that said I should be using a modern 10-meter target rifle to make this test more realistic. Why? The FWB 300S is just as accurate as any of today's most expensive PCP target rifles. Where it falls short is in ergonomics. The new target rifles are far easier to shoot accurately than the 300S, plus they cock much easier — they're not more accurate. However, since I'm shooting off a rest, none of that should make any difference.
I warmed-up the action with 4 shots before beginning the test. I used that session to make some small adjustments to the rear sight based on where the groups were printing last time. Then, it was time to shoot.
The first pellet tested was the RWS Meisterkugeln. This pellet comes in 2 different weights in .177 caliber. I used the heavier 8.2-grain pellet. Is it match grade? No. RWS doesn't advertise it that way. It's a training pellet at best. I chose it because it costs more than the RWS Hobby I used in the last test, but there's no guarantee this rifle will like this pellet.
You can't base pellet performance on cost. That's like basing scholastic achievement on hair color. You base pellet performance on what I'm doing in this test. So, we can discuss the fact that this isn't a fair comparison, and I'll agree with you, but I don't see any way to make the test fair. It's always going to end up being the Qiang Yuan pellet against some other pellet, and I don't know what pellets this 300S likes. So, it is what it is.
What I'm saying is that just because I happened to select this pellet for this test doesn't mean a thing. The test will show how good this pellet is in the 2 rifles.
Ten Meisterkugeln pellets went into a group that measures 0.381 inches between centers. Remember, there are 10 pellets in this group, not 5. After seeing this group, I now know that this is not a good pellet for this particular FWB 300S. All you have to do is read Part 1, where the same rifle put 10 RWS RWS Hobby pellets into a slightly smaller group that measured 0.328 inches between centers. And it put 10 Qiang Yuan Training pellets into 0.234 inches.

Shooting the FWB 300S, 10 RWS Meisterkugeln made this 0.381-inch group at 10 meters.
Next, I tried 10 Qiang Yuan Match grade pellets. Ten of them made a group that measures 0.314 inches. That's much better than what the Meisters did, but still not as good as the Qiang Yuan Training pellets. See how this works?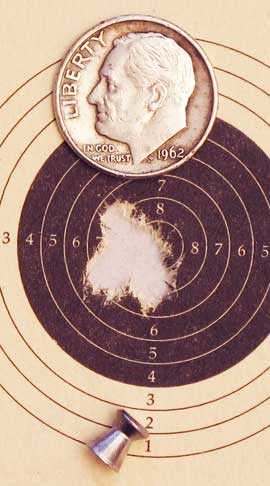 The 300S did better with the Qiang Yuan match-grade pellets. Ten are in 0.314 inches at 10 meters.
Crosman Challenger PCP rifle
It's time to try the Crosman Challenger PCP. I began with RWS Meisterkugeln pellets and did the same warm-up/sight adjustment as with the FWB 300S. Then, I shot for record. Ten Meisterkugeln pellets  went into a group measuring 0.272 inches between centers. That's much better than the same rifle did with RWS Hobbys (0.424 inches), but not as good as Qiang Yuan Training pellets (0.181 inches).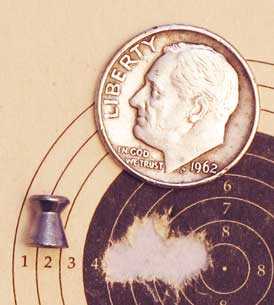 Ten Meisterkugeln pellets went into this 0.272-inch group at 10 meters.
It was time to try the Qiang Yuan Match pellets in the Challenger PCP. Ten made a group measuring exactly 0.25 inches between centers — a quarter-inch group! It was the best group shot today, but not the best of the entire test. So far, the Qiang Yuan Training pellets shoot the best in this rifle.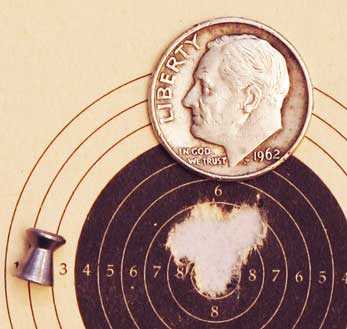 Qiang Yuan Match pellets in the Challenger PCP went into 0.25 inches at 10 meters. This was the smallest group of today's test, though not the smallest group we've seen with Qiang Yuan pellets.
Summary
We're now two-thirds of the way through this pellet test. So far, I think we've found that these Qiang Yuan pellets are very good pellets in general — certainly belonging with the other pellets we think of as premium. However, today we have discovered that the Training pellets outshoot the Match pellets — even though they cost only one-third as much! I hope that lesson sinks in.
At the price today's pellets sell for, they really do have to excel to be worth it. Of course, it's always worth trying them, but make sure when you do that you have a yardstick for comparison.
Up next
The next test will be with the Qiang Yuan Olympic Pellets. They cost even more than these and are certainly among the most expensive pellets in the world. The same 2 rifles will be used. This time, I'll select the most accurate premium pellet (based on past tests performed for this blog) for each rifle. I haven't checked, yet, but I believe that will turn out to be 2 different pellets — one for each rifle.