by Tom Gaylord
Writing as B.B. Pelletier
This report covers:
The show begins
Grab 'em when you see 'em
Something for everyone
Hot show
New book coming
Look, but don't touch!
In the aisles
Pellets!
More to come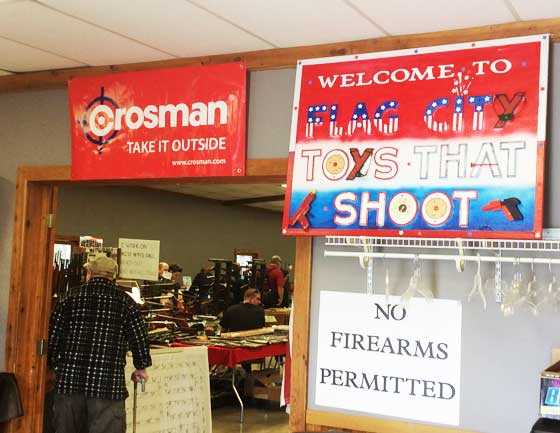 The show begins
It was good to see the old gang, again, at this year's Findlay airgun show. Findlay is a show that combines the old with the new, and you never know what will walk in the door. I sat at Dennis Quackenbush's table, so I'll begin there.
Dennis usually doesn't have big bore guns to sell at the show, because he's busy filling orders all the time. But at this show, he had 3 of them — one .458 and two .308s. These were guns with extra-long barrels that nobody had ordered, so Dennis could sell them without pushing anyone back on his list. All 3 sold in the first 42 minutes after the doors opened at 9 a.m., and one was sold while a second customer was on his phone trying to decide whether or not to buy it. Before his call was finished, the gun sold. Folks, if you see something you like at an airgun show, buy it. And if you think you want to buy it, never set it down until the deal is made.
Grab 'em when you see 'em
Which brings me to my second story. I was cruising the hall early in the day, looking for a gun or guns to write about when I saw it. At Don Raitzer's table, a blog reader was contemplating buying a vintage HW 35. He finally set it down and walked away.
But this was not just any HW 35. This one is either an E or a Luxus model (I think), with a Bavarian-style walnut stock and an extra-long barrel. In other words, it's a very desirable HW 35. So, the moment he left the booth, I bought the rifle. It's an airgun that has been on my short list for several years. Some of you readers have been asking me for a review of a 35, and this one was not only priced very reasonably, it's also a model that's not seen in the U.S. that often. I plan to test it and then most likely tune it and test it again. Most HW 35s are buzzy and underpowered. I plan to bring this one back to spec (about 750 f.p.s. with lighter .177 pellets) and get rid of as much of the buzz as I can.
Weihrauchs are much easier to tear apart than that Diana 45 I just did, so this should be a walk in the park. This is the second or third HW 35 I've owned, but I never had this variation before. It's decidedly European, with the Bavarian-style stock (which I will explain in greater detail when I start the review), and I'm excited to test such a classic breakbarrel. Remember — the HW 35 was one of the 4 Horsemen that ushered in the age of high-velocity spring rifles.
Something for everyone
Speaking of something neat, I remember my late buddy, Mac, loved youth model airguns. Something about their diminutive size just captivated him. Well, it turns out that our blog reader Eric Jones likes them, as well. He found 2 different rifles at this show. I will not embarrass anyone with the price he told me he paid for one of them, but 2 people could have seen a 3-D movie for the same money! Both look like copies of the Diana 23. One was made in Spain, and the other was made in Japan. Both appeared to be of the same quality as the Diana guns. Eric says likes to collect these youth guns from as many countries as he can find. He plans to tear these two down and tune them.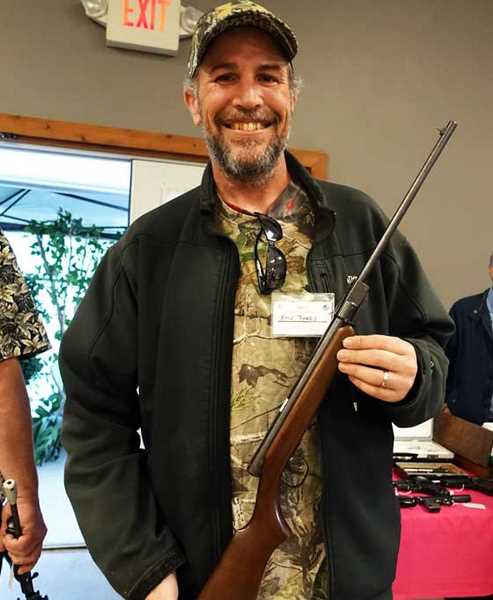 Eric Jones was thrilled to find this Japanese copy of a Diana 23 breakbarrel at the show.
While we're talking about super buys, here is one that happened right under my nose. A young man walked up to the table next to mine and found a vintage Diana 36 in the rack. He then came over to my table and told me about it. He thought the gun was in rough cosmetic condition. He then asked if $35 was too much to pay for a Diana 36!
The rifle turned out to be a Milbro 36 variation that has a safety switch, and the condition was not as rough as he supposed — the bluing was just shot. I would have bought it if he hadn't, but he did — so another good deal was made. But seeing that airgun so close to me made me look closer at the table ajoining mine.
Sitting on that same table was a new-in-the-box Daisy 499 that sold for $80 a few minutes later. Ironically, I'd advised another man earlier that same day to use a 499 to train new shooters, but I never knew there was one that affordable in the room! This one sat 5 feet from me until the very end end of the show!


I sat next to this new-in-box Daisy 499 throughout the show and then watched it sell for a very reasonable $80.
And speaking of good deals — how about $125 for a Diana 27? I saw it when I walked into the show in the morning, and I almost bought it on the spot. If I hadn't previously owned 8 other model 27s, I'm sure I would have. No doubt that one didn't last long. Findlay is a one-day show that draws a large crowd, so you have to act when you see the deals.
Hot show
When the doors opened to the public at 9, the aisles filled with people and it was busy the rest of the day. Findlay is so well-known in the airgun community that there were even people from Canada in attendance!

Fifteen minutes after the doors opened, the hall was packed for the rest of the day.
People will often drive for several days to attend a good airgun show. One of the dealers at Findlay had attended our Texas airgun show last September, and he told me he was so impressed by the crowd there that he intends coming back this year on Saturday, August 29.
There are precious few airgun shows in the entire world, and the majority of them take place here in the United States. You can see more airguns on a single table at one of these shows than are typically present at an entire gun show, so it's well worth the effort to attend. I met folks from New York, South Carolina, Texas (besides me), Missouri, Pennsylvania and other states outside of Ohio, so you know this show has a good draw! The time to make hay is when the sun shines, so don't pass up an opportunity to see an airgun show if you possibly can!
New book coming
Enough lecturing — for the moment. In the aisles I ran into Larry Behling from New York. He's an airgunsmith who repairs Daisy BB guns. He is also the man who promotes the airgun show in Baldwinsville, New York, which takes place every third weekend in July. But important to this story is the fact that he's the man who wrote the book on BB machine guns.
Larry is now finishing a book of Philippine CO2 guns. I'll tell you when it comes out and how to order one. I know there are many readers who are interested in these curious, almost-homemade airguns. He had a real odd one on his table at the show, and I photographed for you. It's a 20-gauge single-shot air shotgun, and it was for sale.


Larry Behling displayed this unusual Philippine 20-gauge air shotgun.
Later in the day, Larry found another scarce Philippine CO2 gun at the show and shared it with me as the show was closing. This is a model he hasn't seen, yet. He thinks this one was made by the well-known Philippine maker LD, but it will take more research before he knows for certain.


Behling found this odd Philippine airgun at the show. He hadn't seen one like it!
Look, but don't touch!
I walked the aisles of this show a lot, looking for strange airguns, but sometimes the guns came to me. One was a super classic Beeman R1 that was stocked by master stockmaker Gary Goudy. Goudy is a contemporary of Al Biesen, and his stocks have similar classic lines. This rifle stock is 100 percent barred walnut, which is as rare as curly maple with the same amount of figure — and even more costly.
While I photographed the rifle on my table, a dozen people stopped to admire it. That's how you know when something's a classic!


The wood on this Goudy-stocked R1 looks good enough to eat!
Of course, there were hundreds of airguns that were priced more conventionally. I saw a couple FWB 124s on tables, and Kevin Hull had no less than 3 or 4 Diana 48 sidelevers and a model Diana 54 that looked great. Kevin also had a Theoben SLR 98 on his table. It wasn't cheap, but where else are you going to get one?
In the aisles
While I was talking to someone in front of my table, I saw a Diana 70 or 72 youth target rifle walk by. This looked like a bluebird that just walked in the door. I never saw it again, so probably someone else owns it now. I also examined a Diana 75 target rifle that the owner priced at $350. He said the seals were fine, and I could see that the target sights were complete, so this was a great buy that was just walking around. If you wanted something more powerful and modern, you might have been interested in the .22-caliber Theoben Eliminator that walked up to my table.
Pellets!
Unlike some airgun shows, there were lots of pellets for sale at this one. People who go to an airgun show instead of a discount store don't want to shoot discount-store pellets. The venue of the show is a guarantee for pellet sales — something many dealers fail to recognize. But at Findlay, you had a good choice of ammo and CO2 cartridges.
More to come
I'll stop right here, but there's a lot more to show. There's one airgun that will have you history buffs (Kevin) drooling. And this is also a toy gun show. Next time, I'll show you some of those, too.