by Tom Gaylord
Writing as B.B. Pelletier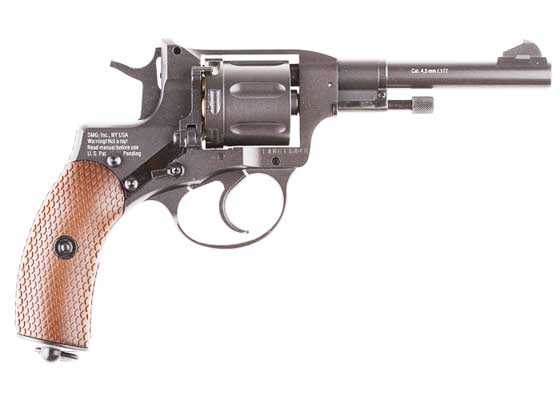 Gletcher Nagant CO2 BB revolver
This report covers:
No safety
Some problems with the CO2
Second cartridge
Velocity
Daisy BBs
Crosman Copperhead BBs
Shot count
Sound
Trigger-pull
Evaluation so far
Today, we'll look at the Gletcher Nagant CO2 BB revolver. We'll check the velocity, the trigger-pull, and one or two other things that might come up with this interesting BB gun.
Some of you said you own Nagant revolvers and were glad to see this BB revolver. This is one time when I feel ill at ease with you readers, because I don't have any experience with the firearm. Of course, the gun I'm testing is a BB gun that differs from the firearm, so I can learn as we go.
No safety
Someone asked if this revolver has a safety, and that started a discussion on revolver safeties. The Nagant revolver does not have a safety on either the firearm or the CO2 BB gun.
Some problems with the CO2
The CO2 cartridge is installed in the grip by removing the left grip panel, inserting the cartridge and turning the lanyard loop at the bottom of the grip to pierce the cartridge. Put a drop of Crosman Pellgunoil on the tip of each new cartridge before you install it.
The first time I did this, I noted that the lanyard loop has to be turned pretty far to pierce the cartridge; and there's a spot where the gas starts flowing out rapidly but the cartridge hasn't sealed. At that point, you have to keep turning the lanyard to seal the CO2 cartridge against the face seal.
After piercing the first cartridge, I wasn't able to put the left grip panel back on the gun. When I finally used pressure to get it to snap over the cartridge, it unsealed the cartridge and all the gas came out. I determined that the CO2 cartridge was not sealed well enough. So, the next time I knew to turn the piercing screw a full turn more than I did the first time.
Second cartridge
I installed the second cartridge and noted the same amount of turning before the cartridge was pierced. This time, I was prepared and kept turning the lanyard loop after the gas started to flow. Once the gas stopped hissing out, I turned the lanyard loop one additional full turn to better seat the cartridge against the face seal.
If you remember, I had a similar problem with the Gletcher Mosin Nagant rifle I tested recently. I mentioned then that I thought the face seal was thicker than what I'm used to seeing. And, here it is again. I think this is not a problem as much as it is a difference that you have to take into account when installing a CO2 cartridge. Be prepared to turn the piercing screw more than you're used to with other CO2 airguns.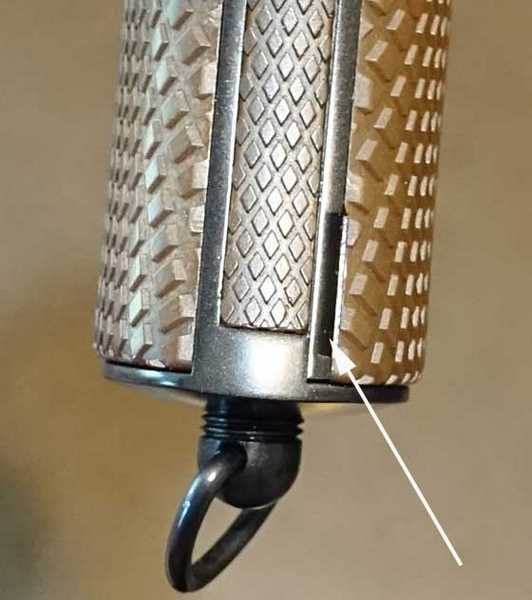 That small notch in the front of the left grip panel (arrow) is where you insert a fingernail to pop off the panel. Be sure to screw in the piercing pin an extra turn before trying to replace the panel.
This time, the grip snapped in place as it should and no gas was lost. I think this will happen to some people, depending on the cartridges they use. And, this cartridge was the same one I used for the test. After you see the results, I think you'll agree that it did well.
I shot each shot and waited a minimum of 10 seconds before the next. If you shoot faster than that, the velocity will drop a lot faster than what you see here. You'll also get fewer shots, because more cold, dense gas will be used on each shot.
Velocity
The Nagant is both single-action and double-action. Sometimes, how you fire the gun makes a big difference to the power, so I'll try it both ways.
Daisy BBs
The first BBs I loaded were Daisy Premium Grade steel BBs. In single-action, they averaged 390 f.p.s., with a high of 403 and a low of 375. The spread was 28 f.p.s.
In double-action, Daisy BBs averaged 386 f.p.s. — so virtually no difference. The high was 396 f.p.s. and the low was 377 f.p.s. So, the spread was 19 f.p.s. I wouldn't make much of that, though; because when the CO2 cartridge is new, it tends to get a few shots at a higher velocity.
I will say that all the BBs loaded into the tips of all the brass cartridges easily. In fact, I was surprised how easily they loaded. I don't know if that's due to a larger size hole or a softer material inside the cartridge.
Crosman Copperhead BBs
Next up were Crosman Copperhead BBs. They averaged 385 f.p.s. in single-action, with a 17 f.p.s. spread from 377 to 394 f.p.s.
In double-action, Copperheads also averaged 385 f.p.s. The spread here was also 17 f.p.s. and ran from 375 to 392 f.p.s.
Shot count
How many shots will you get from a CO2 cartridge? I estimated 80-90 in part 1, when I thought the average velocity was only 328 f.p.s. Here's what I actually got with Daisy BBs:
Shot…..Vel.
50…….352
60…….325
70…….326
80…….305
90…….257
102…..171
A couple shots failed to register through the chronograph near the end, which is why the final shot was 102. Based on these numbers, I see at least 11 good cylinders on one cartridge. That's 77 good shots. You'll hear the power start to drop off after shot 80.
[Note: I said in part 1 that this revolver is rated at 328 f.p.s. with a steel BB. That's what it said on the Pyramyd Air website description. The owner's manual says the gun shoots at 361 f.p.s. After reporting my results to Pyramyd Air, their website has been updated to show a max velocity of 403 fps. I also spoke with a Gletcher representative, and he stated that they used average velocity. That's what they'd been using in Europe, where this gun has sold for years. They'll be retesting their guns.]
Sound
For some reason, this revolver is very loud. I normally make no comment about the sound, but this Nagant seems louder than the average CO2 pistol. I think you'll notice the difference.
Trigger-pull
I estimated the single-action trigger-pull at 3 lbs. But it measured 5 lbs., 8 oz. on my electronic gauge. This means the revolver has a very nice single-action trigger.
I estimated the double-action pull at 12 lbs., but it's actually 8 lbs., 8 oz — give or take. The double-action pull has a number of stops through the pull, so it isn't very smooth. I imagine that's what the firearm trigger is like, only much heavier.
Evaluation so far
I like this little revolver a lot. So much, in fact, that I'm considering buying a firearm to go with it. I may keep buy this test gun if it's accurate. If not, then it will have been a good experience to test this one.