by Tom Gaylord
Writing as B.B. Pelletier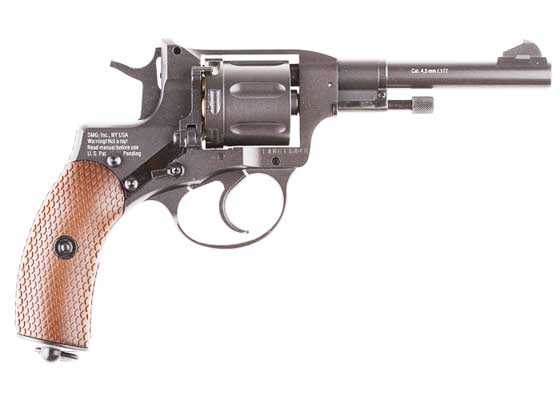 Gletcher Nagant CO2 BB revolver
This report covers:
Grip won't go on
First group
Deep seating for accuracy
Umarex BBs
4.4mm lead balls
Daisy BBs, again
Evaluation
The action works with the loading gate down
We'll look at the accuracy of the Nagant CO2 BB revolver today. I learned a good tip for improved accuracy, and I'll also show you how the action of the revolver I am testing works with the loading gate open. Let's get to it.
Grip won't go on
The first thing I did was install a fresh CO2 cartridge. And I had the same problem I reported in part 2 of getting the grip back on the gun after the cartridge was in place. But this time, no matter what I did, it wouldn't fit on the gun.
I shot the test with the left grip panel off, then removed the Crosman CO2 cartridge and tried installing an ASG Ultrair CO2 cartridge. Problem fixed!
I had heard that Crosman CO2 cylinders are too long to fit some airguns. The Crosman cartridge I used measured 3.274 inches long, while the ASG Ultrair  that I installed next measured 3.250 inches. You may remember in part 2 that I said I had to tighten the piercing screw an extra amount to get the grip panel back on, and now I think I know why. If you're going to shoot this air pistol, and you have this problem, switch the cartridges you use.
I next measured 4 Crosman cartridges at random from a box, and they ranged from 3.248 inches to 3.265 inches. Four random ASG Ultrair cartridges ranged from 3.250 inches to 3.256 inches. So, the 2 cartridges are similar in size, with the Crosman cartridges being ever-so-slightly longer. It isn't black and white; but if you're having a problem like I had, try a different brand of CO2 cartridge.
First group
I shot the gun from 5 meters with my gun hand resting on the UTG Monopod. I can't say enough good things about this rest that is steadier than most bipods.
The first group was shot with Daisy Premium Grade steel BBs, and it measured 1.266 inches between the centers of 7 shots. There were really 2 groups — one high and the other low. I felt this wasn't a good start to the test, but I also wondered if I'd seated the BBs deep enough in the cartridges.
Deep seating for accuracy
I noticed while loading the cartridges that if the BBs are pushed in deeply, they pop past some kind of restriction. The pop is soft and must be felt, and not all cartridges do it. But those that do, do it every time, so it isn't random.
The next time I loaded the cartridges, I paid attention to the pop and felt it on 5 of the 7 cartridges. I think this is something that matters for the best accuracy with the Nagant, though just seating the BBs randomly will still work.
Umarex BBs
I took care to seat 7 Umarex Precision BBs next, and the results were dramatically different. These BBs shot a half-inch lower, which was right to the point of aim. They also grouped 7 in 0.775 inches. That's a difference worth working for in my opinion. It also shows the Nagant revolver can shoot.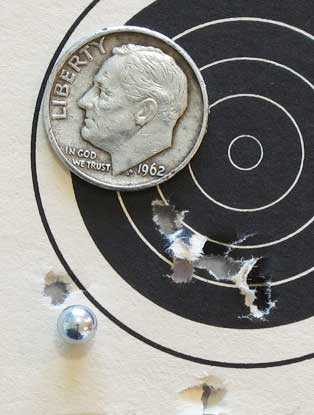 Seven Umarex BBs went into 0.775 inches at 5 meters from a rest.
4.4mm lead balls
Now that I knew the revolver could shoot, I tried something different. I loaded 7 4.4mm copper-plated round lead balls. People are always asking me if a BB gun will shoot lead balls; at 4.4mm, these German balls are as close to the actual size of the 4.3mm BB as you can get. If someone made 4.3mm lead BBs, I would buy them, but I'm not aware anyone does.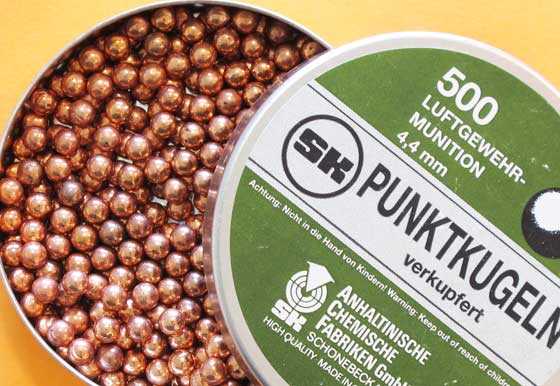 I have several tins of these 4.4mm copper-plated round lead balls for certain older airguns.
Where can you buy these balls? John Groenewold sells them, though not the ones shown here.
Anyhow, the lead balls made a 1.057-inch 7-shot group from 5 meters. In light of what the Umarex BBs did, that's hardly worth the effort.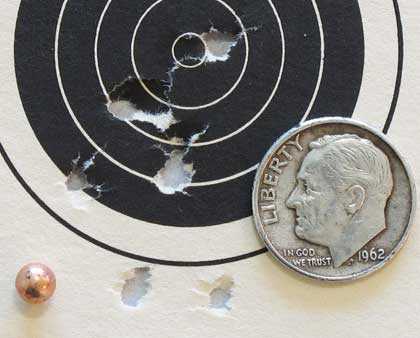 Seven 4.4mm lead balls went into 1.057 inches from 5 meters, rested.
Daisy BBs, again
Now that I knew the loading secret, I tried the Daisy BBs, again. They landed lower on the target than the first time, and the group measures 1.078 inches. I think I was starting to fatigue at this point, so perhaps these BBs could have done a little better.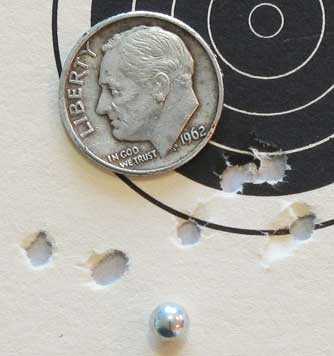 After seating them deep in each cartridge, Daisy BBs made this 1.078-inch group at 5 meters from a rest.
Evaluation
The Nagant revolver works well, as long as you use the right CO2 cartridge and seat each BB deep in its shell. The air pistol has good power and is very realistic. The size is small and fits my average-sized hand quite well. I recommend it as a good buy in a BB revolver.
The action works with the loading gate down
The last thing I did was film a video of how the action operates with the loading gate down. Owners of the silver models of this revolver have said their actions lock up when the gate is opened; but as you'll see, this one functions flawlessly.