by Tom Gaylord
Writing as B.B. Pelletier


Diana N-TEC 340 Classic air rifle
This report covers:
Baracuda Match pellets, 4.50mm head
Baracuda Match pellets, 4.53mm head
RWS Superdome pellets
Fast action
Learning the trigger
JSB Exact heavy pellets, 10.34 grains
The bottom line — so far
Let's start looking at the accuracy of the Diana 340 N-TEC Classic rifle. I used the open sights that come on the rifle, and I shot at 10 meters today. I did that because air rifles with gas springs are, in my experience, not all that accurate. I did feel the 340 N-TEC is a different breed of gas-spring rifle, but I wanted to play it safe. So, 10 meters off a rest.
Baracuda Match pellets, 4.50mm head
The first pellet I shot was the H&N Baracuda with a 4.50mm head. It hit the target a little high and to the left; so, after shooting the group, I adjusted the sights.
I rested the rifle on my off hand forward on the cocking slot. While that isn't the classic artillery hold, it does steady the rifle a little better. Ten shots went into 0.65 inches at 10 meters. That isn't very good for shooting from such a close distance; but for a gas-spring rifle, it's okay.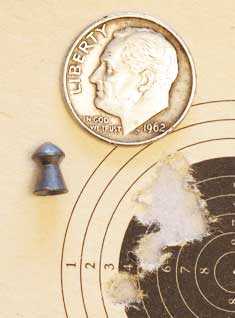 At 10 meters, 10 H&N Baracuda Match pellets with 4.50mm heads made this 0.65-inch group. It's vertical, which means my aiming might be off.
The first group is vertical, so my aiming could be off. Vertical groups come from not getting the right front sight height in the rear notch. Horizontal groups are usually the rifle's fault — at least they are for me.
Baracuda Match pellets, 4.53mm head
Next, I tried Baracuda Match pellets with 4.53mm heads. I didn't know what to expect; but when I saw the wide group they made, I knew they weren't the right pellets for the 340 N-TEC. I also tried them and the 4.50mm Baracuda Match pellets with my off hand touching the triggerguard, but it didn't seem to matter. Both shot about the same, though the impact points were different.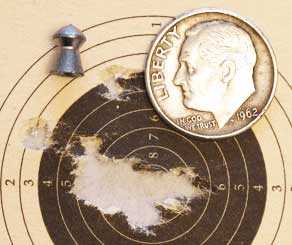 Ten Baracuda Match pellets with 4.53mm heads went into 0.836 inches at 10 meters. This is also not a good pellet in this rifle.
RWS Superdome pellets
Next up were RWS Superdome pellets. They don't have a head size marked on the tin, but my new pellet gauge says they are a uniform 4.51mm. They produced an odd group. Seven shots went into a spectacular 0.148 inches, but 3 other pellets opened that up to 0.817 inches. While the numbers don't look good, my instincts are telling me that this is a potentially accurate pellet. That's based on that small central group. This pellet will get a second chance at 25 yards with a scoped rifle.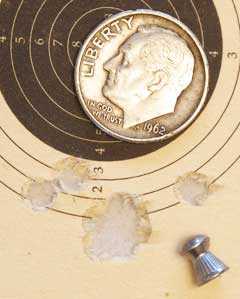 Ten Superdomes made this 0.817-inch group at 10 meters, but 7 of them went into just 0.148 inches. This is a pellet to consider!
Fast action
This 340 N-TEC is one of the fastest spring-piston actions I've ever seen. I would say that it's the fastest, but I tend to forget things these days, so I might have seen another rifle just as fast. The instant the trigger breaks the pellet is at the target. There's virtually no movement to the rifle other than the pulse of the shot. This is one very smooth gas spring, considering all the power it has!
Learning the trigger
I am also learning the feel of the trigger. While it has a vague second stage, I can now feel where it begins. Stage one is a bit creepy, which throws me off at first, because this trigger is so light. The rifle fired several times before I was ready for it. Fortunately, I was in position, so it caused no problems.
JSB Exact heavy pellets, 10.34 grains
The last pellet I tried was the JSB Exact heavy 10.34-grain dome. These also had very uniform 4.51mm heads, in spite of the tin being marked 4.52mm! That gauge is becoming handier and handier.
Ten of them went into a very round group measuring 0.432 inches at 10 meters. That's definitely worth a spot in the 25-yard test!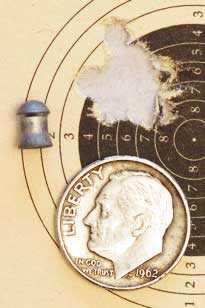 Ten JSB Exact Heavy 10.34-grain domes went into this nice round 0.432-inch group at 10 meters. Given that I used open sights, I'll take it!
The bottom line — so far
So far, I'm impressed by the Diana 340 N-TEC rifle. It's smoother than any gas-spring rifle of the same power I've tested, and also more accurate. The trigger takes some getting used to, but it's light. The rifle can be cocked with one hand, which isn't that common in a powerful gas-spring rifle. If you're looking at getting a spring gun with a gas spring, I would watch this one very closely.
I'll mount a scope and shoot the rifle at 25 yards. Hopefully, it'll continue to impress.