by Tom Gaylord
Writing as B.B. Pelletier


Walther's Terrus rifle with synthetic stock.
This report covers:
A sweet action
The artillery hold
Accuracy
Pellets that were less than promising
Groups that seem to hold promise
Where does this leave us?
Today, we'll look at the Walther Terrus breakbarrel air rifle accuracy with open sights at 25 yards. I lit the target with a 500-watt halogen light and shot from a dark position, so the fiberoptic sights blacked out completely and looked like conventional post-and-notch sights.
A sweet action
When I cocked the rifle for the first shot, I was reminded of what a sweet action this rifle has. The cocking effort is light, and the breech locks up positively in a way I can't describe. One click and it's closed — solid. No muss, no fuss and no movement after the click. It feels like it has a barrel lock, but it doesn't.
The artillery hold
We have a lot of new readers, so when I mention using the artillery hold for best accuracy, they'll need to watch my short video to learn what it's about. That's usually the only way to get accuracy from a breakbarrel spring rifle, although there are a few exceptions.
I mentioned the artillery hold because the synthetic Terrus stock, with its wide beavertail swell on the forearm, forces you to rest the rifle with your off hand touching the triggerguard. Maybe forces is too strong a word. It strongly encourages you to do so. But when you do, the rifle feels good as it fires. The twang I mentioned in the earlier reports is now down to a minimum, although it's still noticeable.
Accuracy
I'll tell you right now — you aren't going to be impressed by the accuracy from today's test. The groups are all larger than I'd hoped. I shot off a rest at 25 yards using the open sights, and, lest you think I can't shoot well that way, I'll remind you that I did pretty good with the .22-caliber Walther LGV Challenger breakbarrel with open sights at 25 yards.
Today's groups are not as good as those I shot 2 years ago with the LGV. They do show some promise, though — at least a couple of them do. So, I have hope that when this Terrus is scoped, it'll become more accurate. Let's see what it did.
Pellets that were less than promising
The first pellet I shot was the RWS Superdome. I thought it might do well, but 10 pellets went into a group that measured 1.773 inches between centers. That's hardly good, and looking at the group you can see that the shots are scattered everywhere. I think Superdomes are out for this Terrus.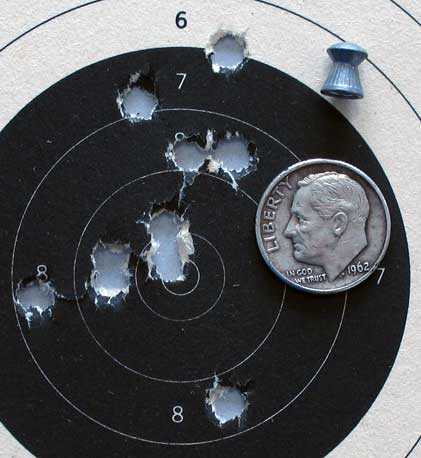 At 25 yards, 10 RWS Superdome pellets made this 1.773-inch group.
The second pellet that seemed less than promising was the 15.89-grain JSB Exact Jumbo pellet. Ten of them made a 2.734-inch group that's also a grouping of scattered pellets. This group is more vertical than horizontal, but it's big no matter how you look at it.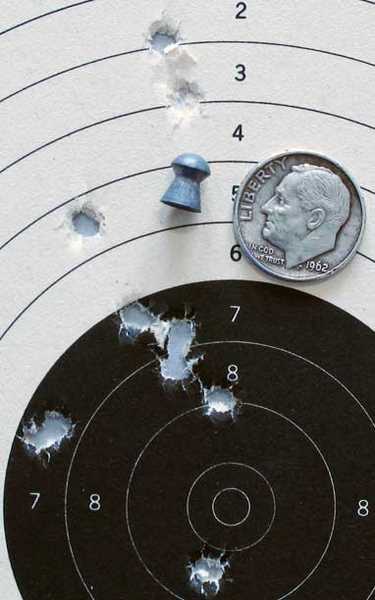 At 25 yards, 10 JSB Exact Jumbos went into 2.734 inches.
Groups that seem to hold promise
Let's look at a couple groups that seem to offer promise of better accuracy. These groups are still too large; and by their numbers alone, they don't give much hope. But let's examine them closely.
The first group was shot with Crosman Premiers. Ten shots went into 2.151 inches, which is terrible. But look at the group. Six of those pellets are nestled in a 0.849-inch cluster. That's much better, and I wonder if aiming errors sent the other pellets away from the main group.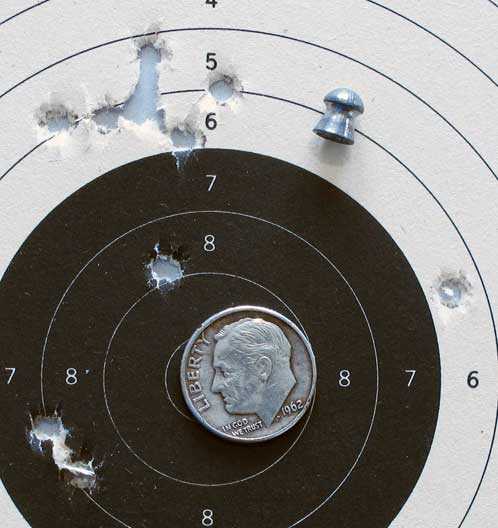 Ten Crosman Premiers went into 2.151 inches, but 6 of them are clustered in 0.849 inches. Is this a better pellet for the Terrus?
The other pellet that seemed to want to do better was the JSB Exact RS. While 10 went into 1.806 inches, it was a very vertical group. If I hadn't messed up the aiming, this would be more of a half-inch group.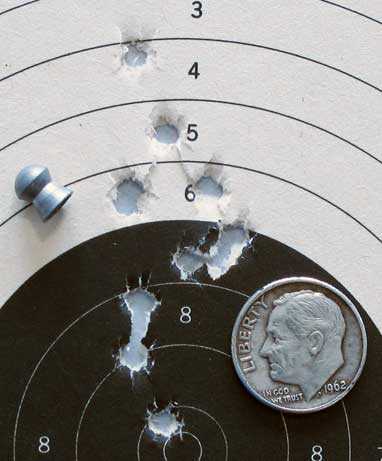 Ten JSB Exact RS pellets went into this long group measuring 1.806 inches between centers. It's too large, but is this due to an aiming error? It looks like it.
Where does this leave us?
I'm not making excuses for the rifle's performance, but I don't want to write off the Terrus as inaccurate just yet. I really need to get a scope mounted and see what that does.
There's so much to like about the Terrus. I like the easy way it cocks. I like the trigger. I like the positive way the breech closes. And I like the price. Man, do I like the price! If it's also accurate, I want very much to give it my blessing as the best buy at the price.
I won't be unreasonable in my demand for accuracy. But a rifle is supposed to hit what it shoots at; and no matter how nice the Terrus is, I haven't seen that yet.
Next, I'll scope the rifle, and we shall see what it can do.